Tips From the Stars: The Sexiest Horoscopes for 2014
What's your sign baby? Do you read your horoscope religiously or only in the waiting room?
This time it's a little bit different and like just about everything here at Lovehoney, these horoscopes have a sexy twist. I've invited Cosmic Courtesan, Yolanda Shoshana back to help us interpret our stars for the coming months.
Curious what's in store for your love life in 2014? Whether you're a true believer or just a looking for a horoscope-inspired birthday gift for a lover or friend we've got ideas for you.
We hope you enjoy these horoscopes with sexy suggestions to spice up your year ahead. Special thanks to Shoshi for her inspiration and insight.
Guest blog by Yolanda Shoshana
---
Capricorn (December 22-January 19)
It's time to shake up your sex life a bit by trying some new things in the bedroom.
You've fallen into doing the same routine in the boudoir, but a few new pleasure items will fix that. Act out one of your fantasies and allow your sexy alter ego to come out and play.
We Recommend: Pick up the Fifty Shades of Grey and Hard Limits Restraint Kit plus the Booty Call Booty Rocket Butt Plug to get your kink on.
---
Aquarius (January 20-February 18)
It's time to add a touch of sensuality into your pleasure play.
Take time to experience sex on a whole other level by incorporate slow sex moves. It will bring you closer to your partner, plus you may even experience more orgasms.
We Recommend: Add the Tracey Cox's Kama Sutra and sensual Lelo Tantra Feather Teaser Tickler to your toy box. Both will tickle your fancy.
---
Pisces (February 19-March 20)
Variety is the spice of life, and sometimes you like things romantic in the bedroom, while other times you like it a little bit rough.
Going in different directions in the bedroom can be a good thing allowing you to enjoy sex in different ways depending on your mood.
We Recommend: Be prepared for anything with the Lovehoney Jessica Rabbit 2.0 G-Spot Vibrator and the Cock Locker Inflatable Monster Dildo.
---
Aries (March 21- April 19)
Make sure that you start to get some wild sex into your routine (even if it is with yourself). This will unleash some frustrations and inspire you in other areas of your life.
Experiment with different sensations and go as far as you want within your comfort zone.
We Recommend: Try a Gläs Pacifier Glass Butt Plug and have a read of the Tracey Cox Pocket Kama Sutra to bring erotic and sexy positions to the horizon.
---
Taurus (April 20- May 20)
Get out of a typical sex routine by doing it in different rooms of the house (if you have kids, send them to grandma's house!) You could also book into a hotel which could be even sexier.
Switching up your love location can make things more exciting which opens up creativity in bed.
We Recommend: Get out of your comfort zone with the Sex Position Harness and a Fetish Fantasy Hot Seat.
---
Gemini (May 21-June 20)
Oh Gemini! There are more than 50 Shades of you, with all of your different personalities.
There is so much that you want to explore and a great way to express your personalities could be to unleash some of your sexy alter egos. A change of a costume or two can really help you switch things up.
We Recommend: Spice it up in the Fever Miss Whip Lash Catsuit or the Saintly Sinner Nun Costume. It doesn't have to be Halloween to show off a sexy costume.
---
Cancer (June 21-July 22)
You tend to go with the flow and like it mellow.
Aim for a deeper connection in your sexual routine by exploring your sexy spirit. It will blow your kundalini energy wide open which will awaken a part of your mind and soul.
We Recommend: Lovehoney Hot Massage Rocks and Annabelle Knight Shhh! Vibrating Panties to experience sensual, slow sex.
---
Leo (July 23-August 22)
Try some new lotions and potions enhance your pleasure play. There are many delicious creams that can spark creativity and passion.
Whether it's for an erotic massage or for backdoor action, adding a new cream or arousal oil can open up a new door of sexual delights.
We Recommend: Doc Johnson Golden Girl Anal Jelly or Yes Oil Based Organic Lubricant.
---
Virgo (August 23-September 22)
Do something fun like sending yourself or your partner a sex toy as gift. It's a nice way to receive a new gadget with a twist.
Is there a toy that you have been curious about? It's time to toss away the mystery and try it out.
We Recommend: Treat your partner to the Bondage Seductions Sex Game and the Nalone Miu Miu Remote Control Vibrating Kegel Balls - they're the kind of gifts anyone would love.
---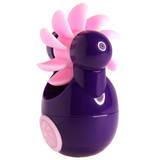 Libra (September 23-October 22)
When's the last time you had a really good orgasm? If you have to think about it, it's been too long.
Indulge yourself with a sexy new toy just for you. The more speeds and patterns, the better!
We Recommend: The Sqweel Go Oral Sex Simulator or the Lovehoney Bedtime 10 Function Bullet Vibrating Butt Plug should be able to make you smile.
---
Scorpio (October 23-November 21)
You are known for being quite the sexual one so keep up your reputation by exploring a new fetish or two. There must be a couple that you have been wanting to try… Now is a very good time!
Pull out your diary (or start one) and write out your fantasies as you think of them. Then try to make them a reality!
We Recommend: Fulfill your fantasies with the Sex Fortunes Coupon Book and the 50 Shades of Grey You. Are. Mine. Metal Handcuffs.
---
Sagittarius (November 22-December 21)
You are known for being flirty, so how about getting down and dirty for something a little more kinky. You know that you want to…
Which naughty fantasy are you ready to act out? Maybe a little spanking or blindfolding will give you the thrill you desire.
We Recommend: Get inspired by the one and only Bettie Page with the Bettie Page Picture This Spanking Bat and the Bettie Page Badgirl Blindfold to get sexy in pin-up style.
---
About Yolanda Shoshana
Yolanda Shoshana is a BadAss Bruja, Celebrity Clairvoyant, Celebrant, and Author that helps people have amazing love, toe curling sex, and release their magick. Check out her radio show, Courtesan Candy, on iTunes. For more information: www.yolandashoshana.com
---
You may also like: