10 Rabbit Vibrator Tips and Tricks You Need to Know
So you're the proud owner of a rabbit vibrator, and we bet you can't wait to bounce around the bedroom with your brand new bunny.
And why wouldn't you? They offer deliciously explosive blended orgasms thanks to their iconic ears and satisfying shafts.
But do you know how to make the most of your scintillating new toys?
Keep reading for the hottest tips and tricks to enjoy your rabbit.
---
1. Start slow
Jumping in at the deep end can be a bit scary.
Start on the lowest setting and let your body get used to the sensations. When you're ready, and only if your body tells you so, work up to more intense speeds or patterns. Some rabbits have very powerful higher settings, so you'll want to ease into those vibrations slowly, or else you'll be more deer-in-the-headlights than happy bunny.
What Lovehoney customers say:
"It makes the vibrating sensations so much more powerful if you learn to use the lower settings as much as the higher ones." -bex1213
---
2. Use it on other areas
Just because it has rabbit ears and an insertable shaft, doesn't mean its usage is exclusive to your nether regions.
Use the tip of the shaft or ears to caress your nipples and other sweet spots first, building anticipation before moving on to the main event.
What Lovehoney customers say:
"I like to use my vibes on my nipples... adds a little something different to the situation!" -wildflower
---
3. Try different positions
Just because it feels good one way, doesn't mean there aren't more options to explore! Position your vibe 3/4 of the way in, so the bit that wiggles most is at just the right part of the opening - where all those nerve endings are.
Some rabbits, like the Happy Rabbit G-Spot vibe, have curved, angled shafts that are designed to stimulate the G-spot – that's the cluster of nerve-endings found about 3 inches up on the vaginal front wall that can lead to mind-blowing orgasms when stimulated correctly. It might take some time to find yours, so it's important to try different positions until you get it right. But, when you do, those blended orgasms are all yours.
What Lovehoney customers say:
"Find the right position. Sometimes toys just demand you to find what position works." -squirtypanda
---
4. Liquid assistance
Of course lube makes everything better.
But why not kick things up a notch with a warming, cooling or tingling gel to make your points of stimulation as sensitive as they can be? Try the Ignite pleasure Gel to enhance all sensations where they matter most.
What Lovehoney customers say:
"The sensation was definitely heightened when playing with toys and the orgasms have been strong." -AmyA
---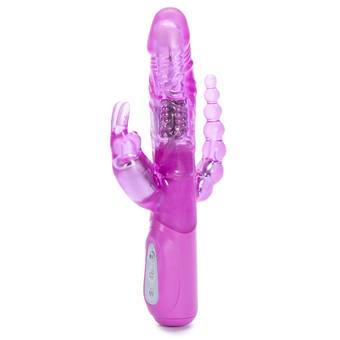 5. Mix it up and keep mixing
Play with the settings. All of the settings. In as many combinations as possible.
Some dual motored rabbits allow for independent patterns in the shaft and ears – try experimenting with one motor on and one off to experience acute and intense sensations for more exciting play.
Importantly, for the majority of women, clitoral stimulation is key to an amazing orgasm. Different rabbits will have different ears so how they feel will vary greatly. Play with pressures and angles until you find the most mind-blowing method for you.
What Lovehoney customers say:
"Sometimes the best rabbit play involes running the clitoral vibe and leaving the shaft static for a bit." -Forum Member
---
6. Turn it around
While the pleasure from dual clitoral and G-spot stimulation is undeniably excellent, try turning your rabbit around while it's inside you and let the long flexible ears provide super stimulating anal pleasure.
Add a blindfold or handcuffs to the mix and take turns to tease one another with the vibrations.
What Lovehoney customers say:
"Turn the rabbit the other way round when it's inside you and let the long, flickering ears tantalise your backdoor." -annalee
---
7. Explore oral possibilities
Many men find vibrations incredibly stimulating.
On a low setting, try using the shaft of your rabbit against your cheek while giving oral sex to your partner. If they have any reservations about sex toys, this is a surefire way to help them come round.
What Lovehoney customers say:
"Holding a vibe on the tip of your penis or partner's penis while performing oral or giving a hand job makes things more intense." -lil_known69
---
8. Share the pleasure
You don't have to keep your toys to yourself.
A rabbit can really spice up couple's play. Something like the Mantric Rabbit Vibrator is non-realistic, non-intimidating and great for stimulating the prostate and perineum.
What Lovehoney customers say:
"At first I just ran the tip over my balls, shaft and head, as you would with a wand, and this got me really hard. I can't describe how good this felt and came close to climax several times doing this." -misterE82
---
9. Portable pet
If you love the sensations of your rabbit, but want something a little more portable, or something easier to incorporate into your lovemaking, try a rabbit-ears only clitoral vibrator.
Try the Tracey Cox Supersex Rabbit Ears Clitoral Vibrator. Under 5 inches in length, it's the perfect pocket-sized play partner.
What Lovehoney customers say:
"Perfect for solo or couple's play thanks to its nifty, sleek size. Foreplay or climax, we always find a use for this one. Very quiet too, even on the higher settings." -mr happy fiance
---
10. Cleanliness is key
Keeping your rabbit clean is vital. It's best to clean them before and after use for optimum hygiene. A good quality sex toy cleaner like the Fresh Sex Toy Cleaner is perfect for giving your rabbit a thorough going-over. This will help prevent dust and bacteria build up and keep it in tip top condition.
What Lovehoney customers say:
"The spray smells very clean and leaves the toys clean of germs and smelling clean as a whistle." -Utah1997
---