The Ultimate Guide to a Sexy Christmas
A sexy Christmas? It can be done.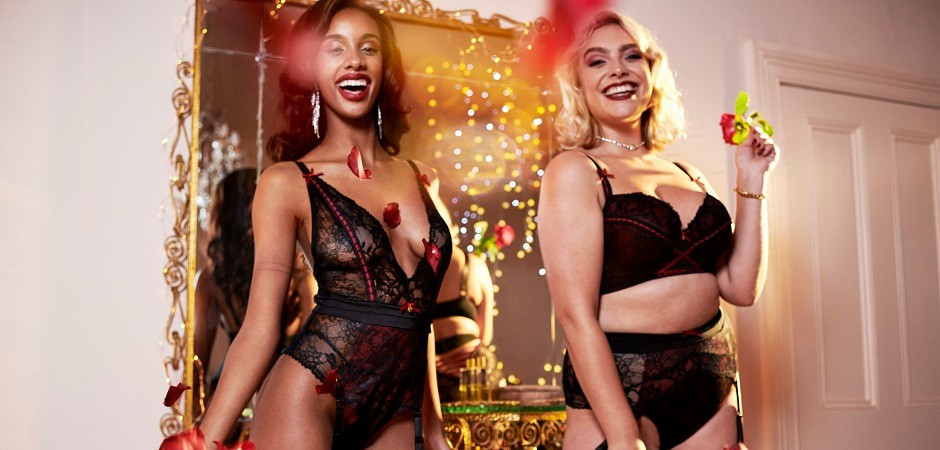 The festive season should be about giving and receiving and then giving and receiving some more - and no, we don't just mean Christmas cheer. It's a holiday to spend time with your favourite people and show them just how much you love them and the same goes for your lover(s).
Giving the gift of pleasure is sometimes the greatest gift of all and if there was ever a time to lean into it, it's the holidays. The hedonists in all of us are already letting us eat, drink and be merry as much as we want so why not throw some fantastic sex into the mix?
Navigating the sleigh ride which is sex and the holiday season can be tricky though. From making sure someone doesn't accidentally put your discreetly wrapped dildo under the tree by mistake to trying to sneak in a quickie before heading to the Christmas party—coming armed with a get-off plan is always a good idea.
To help you out, at Lovehoney, we've put our heads together to come up with the ultimate guide to making your christmas magic. We didn't just stick to our own advice either, we got the Lovehoney forum members involved to tell us what they do to make sure their holidays are always rocking.
First things first, why you should gift sex toys this year...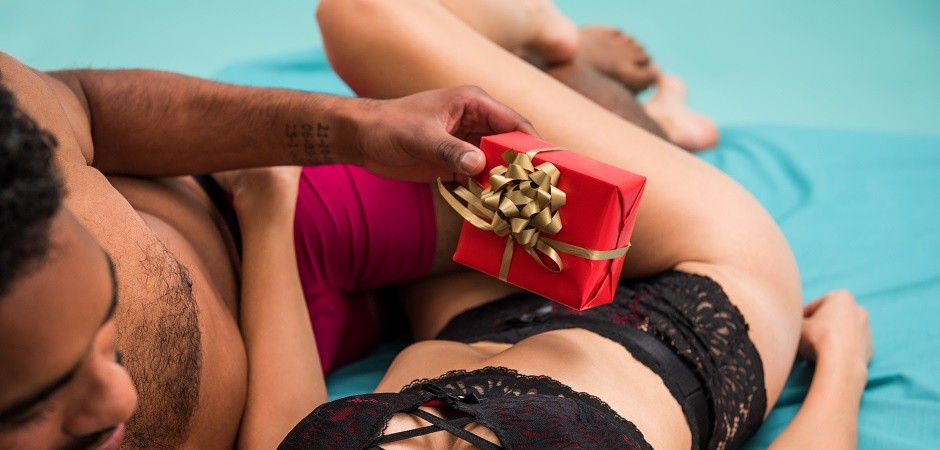 Giving a sex toy for Christmas
There's a lot to think about when it comes to buying a gift for someone. Do you go for something thoughtful, functional or fun? What will they like? Will they even use it?
Gifting a sex toy may feel a bit strange or taboo—especially if it's not something you are regularly discussing with the receiver—but by taking it back to what pleasure products are all about, it makes perfect sense.
By giving a sex toy to someone, whether it be your S.O., your mate, your friend with benefits or even a family member, it shows them you are prioritising their pleasure and sexual wellness. It can also give them the space and confidence to do the same for themselves.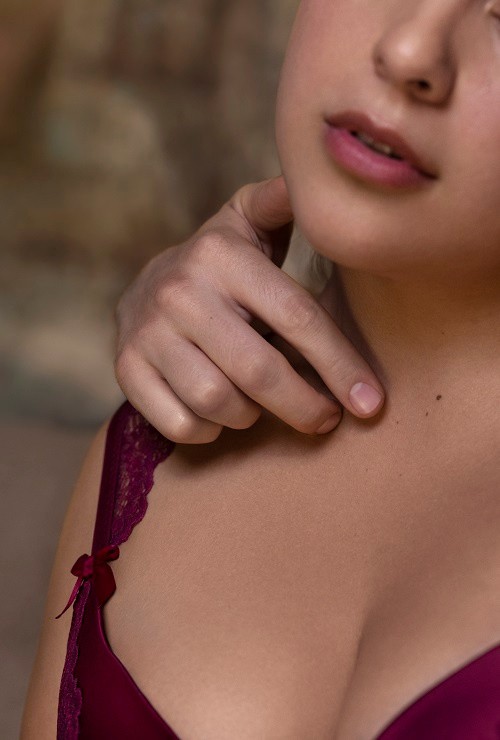 There are heaps of benefits when it comes to sex and sex toys. One of those benefits is stress relief and we all know how stressful the holidays can be for many reasons. It can also help you to increase your libido, reach climax and feel more in tune with your body. Who's not going to like a pressie which does that?
Not to mention if you're in a sexual relationship with the person receiving your gift, you'll no doubt get a piece of the Christmas pudding when you get to use their new toy together. A gift from me, to you, for me, so to speak.
If you're still not convinced, we're pretty sure no one has ever forgotten the time (or times) they
got a sex toy as a present. Boring old socks and candles be damned!
How to know what sex toy to gift
The best way to know what your lucky giftee might like to receive is by talking about it. You don't have to blurt out your plans and spoil the surprise, but slipping in a casual chat about sex should do the trick.
Without making it obvious, ask how they like being sexual, what kind of stimulation they prefer or whether they own a toy already. If either of you are not comfortable discussing these things together, you might want to rethink the sex toy idea and go for a seductive massage oil or a light-hearted confessional card game.
Once you're armed with the tea, it's time to go shopping for what's going to make it the holliest jolliest Christmas they've ever had.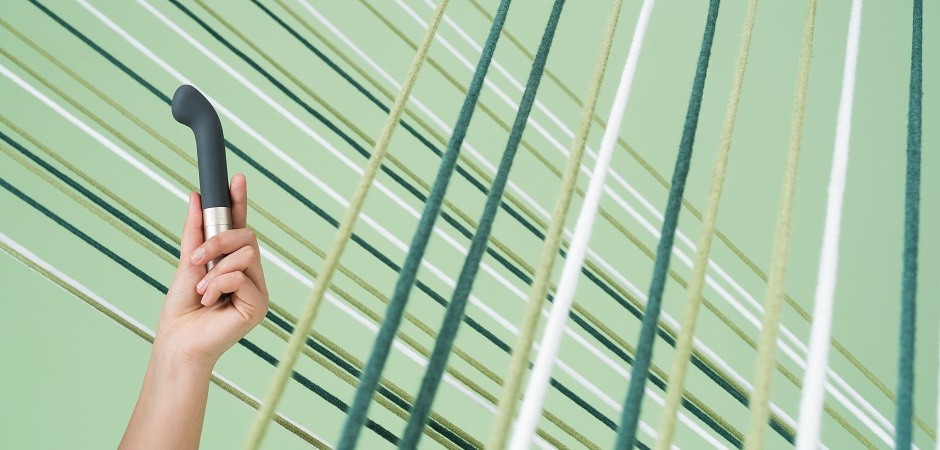 A vibe like this one is excellent for all over simulation for anybody to use alone or during play. If your giftee has a penis, a stroker is a great option as most of them are one-size-fits-all and deliver unique and enhanced stimulation.
On the topic of wish lists: there's no harm in asking to see theirs. Yeah, it might spoil the surprise but it's a sure-fire way of knowing they'll definitely like whatever you get them.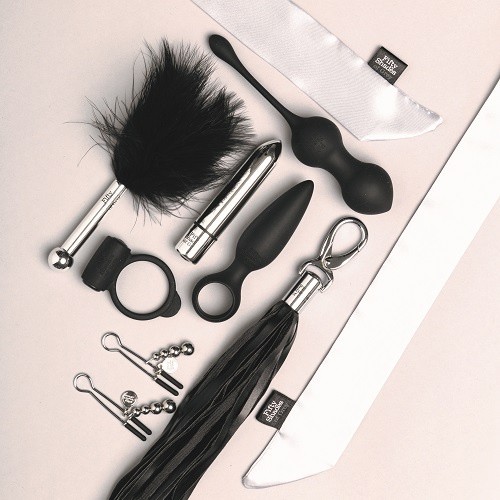 When in doubt, a sex toy or bondage kit where they can try a few different things will always do the trick.
Have you and your partner talked about trying a different kind of sex from your usual such as bondage or temperature play but haven't had the motivation or time to go for it? This could be a perfect opportunity to open up the doors to something new as well.
Okay, somehow your lucky giftee has all the sex toys they could ever need (not sure if possible, but okay) or maybe we just haven't quite convinced you that sex toys are the right pick for them. What else is going to make their Christmas magic?
The best lingerie to give as a present
From racy stocking-fillers to Christmas Eve treats, lingerie makes for a flirty and fantastic gift. There's no doubt something feels extra special about someone giving you a cute set they think you'll look (and more importantly) feel amazing in.
Again, lingerie doesn't have to be restricted to your lover. Got a friend going through a break up and needs a confidence boost? A sweet little teddy like this could be just the thing they need. Want to make Christmas with your mates a little bit more interesting? Our Christmas-themed lingerie will be a hit in any secret santa game.
At first, gifting lingerie might seem like a bit of a mission when it comes to picking a style, knowing their size and deciding on whether they are a floral lace fanatic or a wet look lover. There are few things you can do to get started though.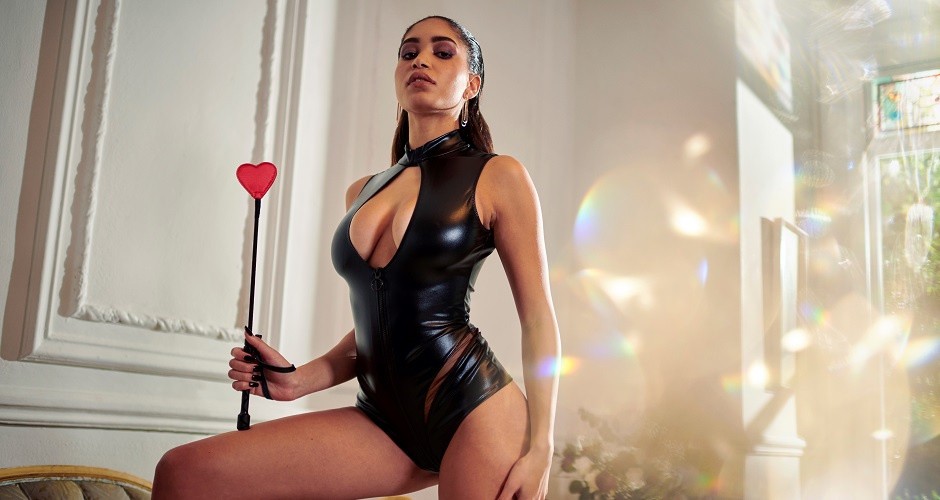 Kick things off by reading our guide on the different kinds of lingerie you can get before delving deep into our huge range of styles like basques, bodystockings and baby dolls (oh my!). You'll want to find something which is going to make them feel like a stunner so think about the clothes they wear to make themselves feel good and go from there.
For example, are they all about bold colours and prints? They are bound to love a popping pattern like this gorgeous body. Is an L.B.D. their go-to for a night out? A sensual black bra set is a good way to go.
Worried about getting the right size? You can't go wrong with a one-size-fits-all style and at Lovehoney, they are our specialty. Check them out here.
You know what else is one-size-fits-all and comes with two different styles included? Our 7-day lingerie advent calendar.
When and how to give a sexy present at Christmas
Whatever you do, don't gift in front of granny.
Picture this: It's Christmas morning, the whole family is sitting around the tree, Nanna is on your left and a 10-year-old cousin is on the right. A Santa costume-clad uncle hands you a wrapped present which you open eagerly because you know it's from your S.O. who is just realising what's happened. Before they can stop you, you're holding up the strap-on kit—which you've been dying to try—in front of everyone.
Now unless you have a particularly sexually open family, this is not an ideal situation to find yourself in. You can of course, laugh it off and have a hilarious story to tell at Christmas every year or you could avoid it all together.
For starters, once wrapped, do not let your bawdy bounty out of your sight or hide it away until it's time to give it. If you're really committed to the tree thing, set one up in a corner of your bedroom for frisky festive gifts to sit under.
It can sometimes feel impossible to have alone time with your partner during the holidays but having private presents to gift is a good reason to make time for each other. If you're waking a little earlier, staying up later or fighting the urge to succumb to a post-feast nap, make sure you give it more than a few minutes. Chances are you'll want to try out your new treats right away.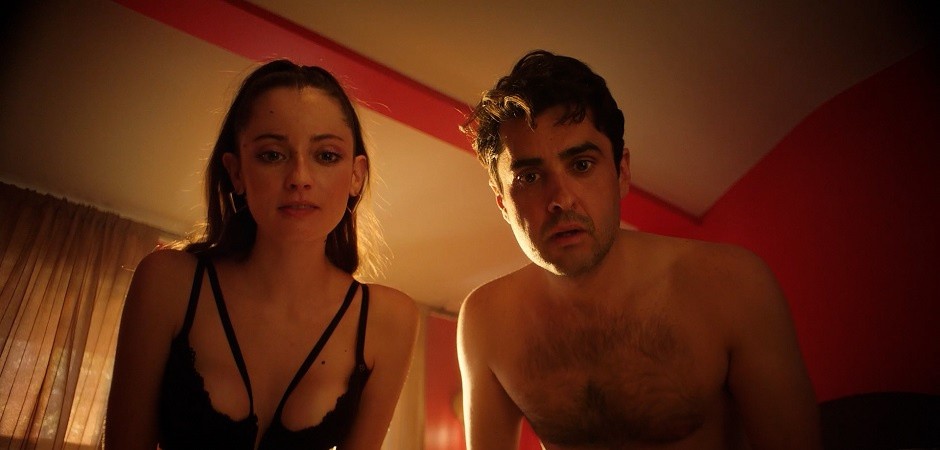 How to Sex Up Christmas according to Lovehoney Customers
We pride ourselves on fun at Lovehoney and so do our customers which is why when we asked the forum what they do to sex up the festive season, we knew they'd nail it. We definitely weren't wrong.
These holiday traditions are ones to take note of while coupled up or flying solo this year. Check out a few of our faves below and see the forum thread here.
WillC
"Always make time and effort for Santa to empty his bulging sack on Xmas Eve, few drinks and dressed up. Maybe wear my Xmas jumper with "I can get you on the naughty list" on the front and special Lovehoney boxer shorts.
Christmas day, deliver presents and upon return, a quick "present" before dinner.
A kiss beneath the mistletoe…worn tucked into my waistband!"
Talk about spicing things up.
Joe_90
"We always dress up in our favourite Lovehoney undies on Xmas Eve after sharing a hot bath.
We settle down on a rug in front of the log burner with a good bottle of wine and some 'finger food' and maybe a couple of toys and a sexy film.
Xmas and Boxing Day are always manic so we use Xmas Eve to just have some quality time together.
This is something we've done for the past few years and really helps us prepare for the mayhem that follows!!"
All we want for Christmas is all of this.
Amberswann
"All the advent calendars I can get my hands on! And I have a very saucy Ms. Santa apron."
The gift that keeps on giving.
BDSMKinkyCouple
"Well the usual Dom/sub dynamic becomes Santa deciding whether the sub has been naughty or nice… and it's always the former!
If we can wrangle an evening to ourselves, the stockade gets covered in fairy lights to match the tree and give things an extra-xmas twist. Sometimes the bulbs get a bit hot but that adds to the fun!
Finally, the abundance of chocolate around makes food sex a lot easier."
Being on the naughty list suddenly sounds like the place to be...
Green_Eyed_Girl
"I have been quietly making myself a list of holiday themed erotica and romance novels to read."
Vibrators at the ready!
LRLRL
"We usually try to bust out the red stockings, sexy Mrs. Claus miniskirt, and red corset for fun play sometime in December. Recent years we've made a point to wake early and get a real quickie on Christmas Morning before the kids are up and at the gifts. That way we ensure we each get ours before we're all worn out and helps put us both in a solid mood before the day spent with family and presents and cooking!"
Ever thought about doing Christmas roleplay? You have now.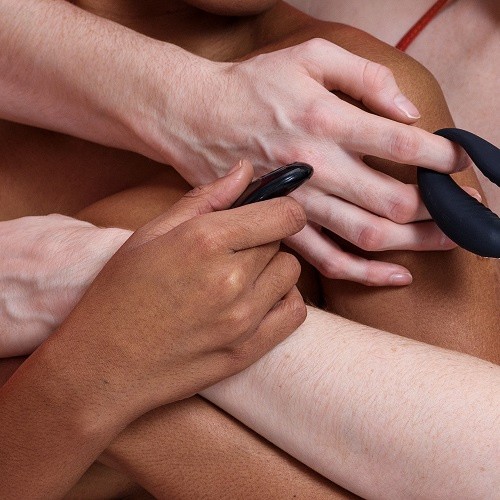 How to make a long distance Christmas hot AF
Won't be home for Christmas? Doesn't mean you can't give the gift of pleasure. In fact, you can make sure your partner gets their holiday kicks from anywhere in the world with a remote control toy.
Seasoned long distance couples will most likely know the wonder of sexting, phone sex and faraway fireworks but getting a
toy involved is a game-changer. These clever pieces of tech come with a remote and/or an app which can control the speeds, patterns and intensity of the vibrator.
This means one person can physically control their lover's play from the other side of the world if you want to. Plus, there are heaps of vibrator types to choose from when it comes to these toys including rabbits, cock rings, love eggs and prostate massagers.
Wondering how to pull off a seductive surprise with this kind of pressie? Wrap the toy up separately to the remote control, give your partner one piece of the puzzle and make sure they don't open it until you're talking on the phone (alone). When they open it to find the remote control or toy is missing, you can reveal it's with you and then the real fun begins.
If that doesn't convince you of how sexy the holidays can be, I don't know what will.