Writer Feature: Let Violet Blue School You
Here at Lovehoney.com, we've been lucky enough to catch up with Violet Blue: award-winning journalist, author, editor, adviser and educator.
Violet is a charming and very well-informed force to be reckoned with when it comes to all things sex, so we were delighted she was able to take time out of her busy schedule to give us her thoughts on achieving sexual happiness, editing erotica and the hardships of, er, conducting sex toy research…
Q: How did your career begin, and when did you decide to professionally write about sex and work in sex education?
A: My writing career began early, as I was published in local papers and online publications from 1996, but it wasn't until I was hired at a sex toy company as their Senior Copywriter in 1998 that I began to focus on writing about sex education, sex culture and writing about porn.
Going through sex educator training in 1998 made me realize that sex needed to be written about in a whole different way: sex-positive, accurate, and for all genders and sexual orientations.
I also saw a huge need for non-judgmental sex writing in nonfiction, and a huge need to critique porn, sex toys, sex culture and media attitudes about sex - especially from the perspective of consumers, and underserved populations. This writing, to me, needed to be accurate, joyously celebrating sex and unafraid of taking shit. The reader and viewer needed to stop being shamed by writers and content creators. This, I felt, would evolve us. I became determined to change the conversation.
I wrote porn movie and sex book reviews as well as educational articles for the company and various publications until 2000, when I founded the company's magazine. The magazine continues today, and it was where I was Editor in Chief (hiring lots of great writers) and wrote a porn column and sex ed features from 2000 - 2005. In 2000, I was noticed by a prominent publisher, who had used my reviews as pull-quotes on their book covers, and they approached me to write sex ed books and edit erotic anthologies for women: that was Cleis Press, and my first two contracts for them in 2000 were for Sweet Life: Erotic Fantasies for Couples, The Ultimate Guide to Fellatio, and The Ultimate Guide to Cunnilingus.
I freelanced a lot, and quit the company in 2005 when I was tapped to be the first hire - and later Editor - at Fleshbot, which at the time was a Gawker property. By then I had been running and writing my own sex blog, tinynibbles.com, since late 2000/early 2001. I felt that online was the place we could change the conversation by having it on our own terms, because for the first time in history we the people as content creators could control our content and its distribution.
Q: You've written guides on everything from flirting to strap-ons; it seems there's nothing you can't advise on when it comes to sex. How do you conduct your research for these guides; how much of your advice is based on personal experience?
I take my research very seriously, and that's not a subtext for saying I have a lot of crazy sex; in fact, I seldom disclose what I do personally because I feel that's inappropriate for a sex educator to do if they truly mean to provide sex ed information or advice. I do actual research: I seek out doctors and nurses, psychologists, toy makers, MFTs (marriage and family therapists), studies, other educators, people who work in counselling, sex workers, fetish practitioners, interviewees, I read all the known books on a given subject, and more. The personal experience I bring to my books is the near-decade of peer sex crisis volunteering and counselling, and firsthand knowledge from my 7+ years working a day shift in a sex toy store, which included things like sex toy evaluations, and yes, trying things out. Which, as you can imagine, has been utter drudgery…
You're an award-winning erotica editor; have you ever written erotic fiction yourself? Which erotica authors inspire you most, and why?
I've written two short erotic stories, but that was the only time I've tried my hand at fiction and it was ages ago, though it was a lot of fun having other characters act out my own sexual fantasies. The erotica writers I get to work with on my anthologies consistently astonish me with their skill and strange gifts; there's no way I could only pick out one, or even five writers as the most inspiring.
Lovehoney's strapline is The Sexual Happiness People - to your mind, what are some of the key ways in which people can achieve sexual happiness?
This is a great question with many answers. The first way to achieve sexual happiness is for each person to ask themselves what sexual happiness is for them. What do you mean when you say sexual happiness? What does it look like, in your head, when you think of sexual happiness? What are some things you don't have, or aren't getting, that would make you happier with your sexuality? Remain flexible, and know that what you like one day, you may not like the next -- our sexual tastes and interests change all the time.
Of all your books, which did you enjoy writing/editing most and which did you find most challenging?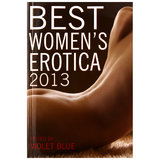 The books I've enjoyed writing the most have been The Smart Girl's Guide to the G-Spot, Fetish Sex, The Ultimate Guide to Sexual Fantasy, The Ultimate Guide to Cunnilingus and The Smart Girl's Guide to Privacy.
Insofar as editing, Best Women's Erotica is incredible to edit: I get to put it together every year, and I read hundreds of erotic short story submissions sent in from women all around the world. I get sent upward of 300 stories, and they're really the best pieces these driven female authors have produced in a given year. It's incredible!
What's also amazing about the experience of curating the series is that each year, there is a trend in what I get sent: the authors don't know each other, of course, but I'll be amazed to get several stories in one year on a particular female sexual fantasy, that is different than the trend I saw the previous year. Sometimes the trends are intense. For example, one year it was the fantasy of having sex with soldiers (and men returning from war), another year I got five different stories about crowded, nasty, hot anonymous subway sex!
It's pretty much the best job in the world.
---
About Violet Blue
An author, editor and journalist on hacking, privacy, sexuality and critical issues that affect at-risk populations, Violet Blue is known for being outspoken and controversial. Her 13-year-old sexuality blog TinyNibbles is awarded and infamous.
---
You may also like: