The Best Toys to Celebrate We-Vibe's 15th Anniversary With
We've been vibin' with We-Vibe for 15 years now!
2023 is the year of We-Vibe! Well, actually, it's the 15th year of We-Vibe, which is even better in our books. To celebrate the groundbreaking sextech company and its impact on couples and the pleasure product industry, we're giving a brief overview of We-Vibe's rich history and origin story.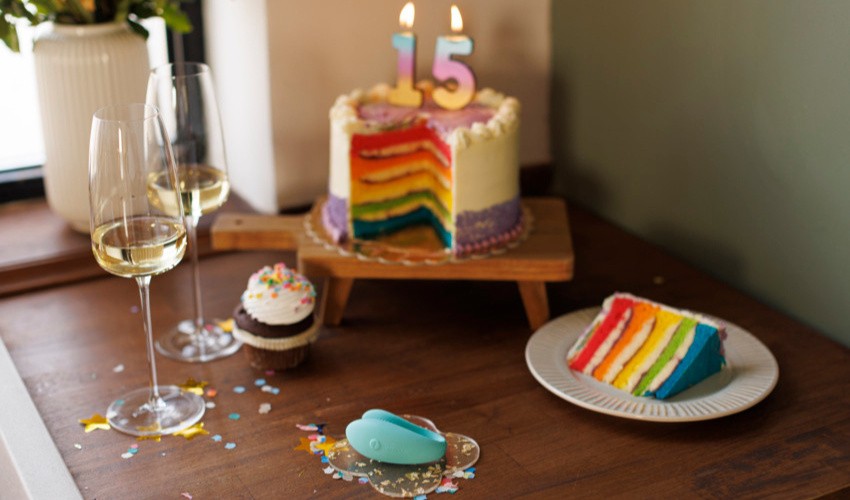 As a sex toy manufacturer that caters to couples, it makes perfect sense that We-Vibe was founded by a couple in Canada. When We-Vibe first emerged, it wasn't a brand but the name of the now-company's flagship product: a C-shaped wearable vibrator for P-in-V sex. The first of its kind, the original We-Vibe product launched an entirely new category of sex toys, with many other pleasure product manufacturers following suit and creating similar styles of wearable couple's vibrators.
The product's inventors conceived the toy as a solution to the orgasm gap to help vagina owners orgasm more frequently and in better timing with their partners' climaxes. The iconic vibrator evolved as We-Vibe's research and capabilities increased, with improvements and new features being added over time, like a waterproof design, adjustable form, and multiple motors.
We-Vibe led the way for today's tech-filled sex toy marked when they launched their app, WeConnect, which allowed users to control the vibrator from their phones, even from long distances. Enhancing pleasure via technology and research has always been We-Vibe's mission, and it's one they stay true to this day.
The Best We-Vibe Toy for You
We-Vibe's impressive catalog of vibrating toys has grown immensely over the years. If you're struggling to decide which of their moan-worthy offerings to add to your bedside table, peep our customer-specific recommendations below! And don't you worry - every single one of these recommended We-Vibe products is compatible with the WeConnect app, which makes long-distance play and customized vibration patterns a breeze.