Which are the Best Kegel Balls?
The world has gone silver ball crazy thanks to Fifty Shades of Grey but there are so many random names to describe them (jiggle balls, ben wa balls, kegel balls) that you may be finding it hard to figure them out.
As well as providing pleasure, regular use of vaginal balls will help to strengthen your pelvic floor muscles over time which will make your vagina feel tighter, improve bladder control and best of all, bless you with more intense and longer lasting orgasms. No wonder Ana Steele loves hers so much.
Sizes, shapes, weights, materials and designs vary wildly and this guide will help you decide which kegel balls are right for you.
---
Kegel exercisers, also known as toner balls or duo balls, are designed as a health device. They do come in a wide range of sizes and weights, allowing women of all ages and shapes to enjoy their effects.
Kegel exercisers are designed to tone up your pelvic floor, the muscles in and around your vagina. You can walk about wearing them but their major potential comes from accompanying exercises which involve squeezing your vaginal muscles around the kegel balls. The retrieval strings make it easy to remove the balls.
Postnatal women and older women should start with larger, lightweight kegel exercisers like the Lovehoney Main Squeeze Single Kegel Ball.

Key features:

Beginners weight of 30g
Ideal for older women who have given birth
4.6 inch circumference
Silicone
Free-roaming jiggle balls

Younger women and those who have not had children should start with heavier kegel exercisers like the Lovehoney Main Squeeze Double Kegel Balls.

Key features:

Intermediate weight of 60g
Perfect for younger women who have not had children
4.3 inch circumference
Silicone
Free-roaming jiggle balls

Women who have already used jiggle balls and are looking for a challenge should try advanced exercisors like Lovehoney Main Squeeze Heavy Double Kegel Balls.

Key features:

Advanced weight of 90g
Suitable for women who have already used kegel exercisors
4.8 inch circumference
Silicone
Free-roaming jiggle balls
Wearing kegel exercisers also has a pleasurable side effect. They house free-roaming weights that career around inside the balls, causing your vaginal muscles to contract around the exerciser. A sexy side effect is rumbly and spontaneous G-spot stimulation that feels especially fantastic if you happen to be wearing an exerciser on the morning commute.
---
Commonly misspelled as Ben Wah balls and also known as jiggle balls by the new generation of fans, these are more like a sex toy than a sexual health tool.
There are two types of Ben Wa balls - those with weights that roll around inside (like Chinese stress balls you play with), and those that are solid. They also come in a wide range of sizes with some being small enough to wear during penetration.
Those containing weights are every bit as pleasurable as wearing kegel exercisers but because of their lighter weight and spherical shape they're easier to wear for longer periods of time. The Lovehoney BASICS Jiggle Balls are a great example of Ben Wa balls designed for pleasure.
---
Kegel exerciser sets like the Tracey Cox Supersex Kegel Toner Set are popular with women who are committed to improving their pelvic floor strength over time. The interchangeable set features balls of different weights that allow you to slowly tone your muscles and work up to heavier weight over time.
Simply start by popping the lighter balls in the silicone case and wearing them as often as you feel comfortable. Once you feel like more of a challenge, try substituting one or both of the balls for the heavier size. You should immediate notice a difference in the difficulty of keeping the balls in place. If you fancy an even harder workout, try wearing the balls without the silicone case to encourage your muscles to work harder, leading to a stronger vagina in no time.
---
Silver Balls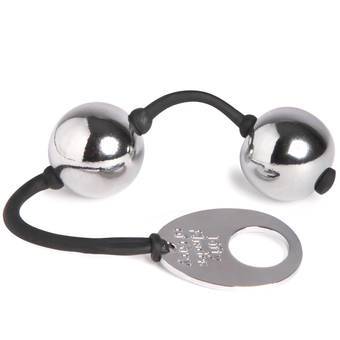 Made famous by Anastasia Steele in the modern classic Fifty Shades of Grey, silver balls have become somewhat of an icon to women worldwide.
The Fifty Shades of Grey Inner Goddess Silver Pleasure Balls were designed in collaboration with E L James, and at 221g they're the heaviest jiggle balls we offer. These weighted metal balls offer a challenge to most women, with a petite circumference of only 3.75 inches.
If you want to play like Grey but need to work up to silver balls, try the Fifty Shades of Grey Delicious Pleasure Silicone Ben Wa Balls instead. The lighter weight of 64g is more manageable for most women and offers a stepping stone to the heavier size.
---
The ultra-modern sibling of the Ben Wa balls, vibrating love eggs substitute internal weights for multispeed motors.
If you want to try vibrating balls publicly then check out remote controlled love eggs. The Lovehoney Thrill Seeker Remote Control Vibrating Love Egg is a singular ovoid ball that sits against the G-spot. The remote control functionality makes the Thrill Seeker egg ideal for playing with your partner; just hand over the remote and enjoy the exquisite torture that is spontaneous sexual stimulation at their whim.
---
Top-Rated Jiggle Balls and Love Eggs:
---
Need more help?
You can Contact Customer Care, who will be able to help you find the perfect kegel exercisers. You can email, telephone or live chat to an experienced advisor 24 hours a day, 7 days a week.
The other great place to look for people's advice on kegel balls is on the Lovehoney Forum, where our community is on hand to give their opinions and tips.
---
You may also like: