Here's What Happened When I Tried a Remote Control Vibrator
Remember that scene in the 2009 rom-com The Ugly Truth where Katherine Heigl's character finds herself wearing a remote control vibrator at a restaurant?
She's trying to talk to her colleagues but she can't stop squirming because the kid at the next table is playing with the remote.
It's a very uncomfortable and cringe-worthy scene in a not otherwise memorable movie, but I've secretly wanted to try a remote control vibrator ever since.
Something about the idea of handing my partner the remote and giving them total control over my pleasure really gets me going.
The Mantric Rechargeable Remote Control Egg Vibrator seemed like the perfect way to live out this fantasy. Here's what happened when it arrived…
---

First Impressions
The box contained the egg-shaped vibrator and the circular remote, a USB charging cable with two wires to connect to both parts, and an instruction manual.
They were packaged in protective foam and a small bag, which made me feel like I was unpacking a very high quality item.
The smooth silicone of the vibrator and the remote was very pleasing to the touch and the purple and black colour scheme made the toy look sophisticated and elegant.
I liked the subtlety of the remote control – it was stylish and ergonomic without it being immediately obvious what it was. Plus, it was small, so it fitted easily and discreetly in a handbag or pocket.
To charge the love egg and the remote, you first have to pierce the silicone with the charging cable.
I was worried about breaking it but I needn't have been because the cable slid easily into the socket. Flashing LED lights confirmed that it was charging.
After the flashing lights turned to continuous lights to show that charging was complete, I wasted no time in giving my new vibrator a test drive.
---

Taking it for a spin
With a lot of excitement and a little water-based lube, I excitedly tested out my new toy.
The love egg is slim and easy to insert, with the ring on its tail making it easy to remove again.
When I turned it on, the vibrations were strong and rumbly and each of the seven settings felt incredible.
After playing with it for a while on my own, I decided to try it out with my partner.
When he picked me up in his car for date night, I handed him the remote, and he had me squirming in the passenger seat all the way to the restaurant.
The sound of the buzzing was faintly audible in a quiet place. While some vibrators sound like a swarm of angry wasps nearby, this love egg is more like a bumble bee a few rooms over.
I then discovered that while remote control vibrators are amazing for foreplay and teasing, they're not just for hands-free fun.
My partner used it during oral, giving me a perfect combination of clitoral and G-spot stimulation for incredible orgasms.
---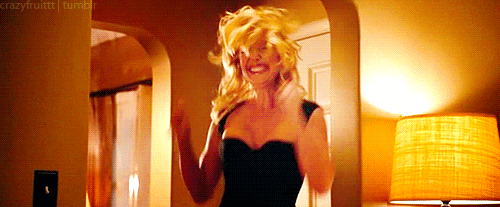 My review
I fell in love with my new remote control vibrator from the moment I took it out of the box.
It's beautiful, discreet, and delivers mind-blowing orgasms – what more could a girl want?
It's the ideal toy for foreplay – handing your partner the remote is a great way to get them aroused before you've even touched them or taken any clothes off.
Plus, it's a great addition to oral sex and can even be used to work out your most important sex muscles: your kegels.
The Mantric Remote Control Vibrator is perfect for giving your partner complete control over your pleasure.
If you have an orgasm-related kink (for example, forced orgasms or orgasm denial), or if your kink is more related to public sex or being submissive, this vibrator is a must-have.
Or, if you're like me and have been thinking about that one particular scene in The Ugly Truth since 2009…
---
Cara is a student blogger for Lovehoney. She studies English and appreciates grammatically correct erotica written in the active voice.

---
You may also like: