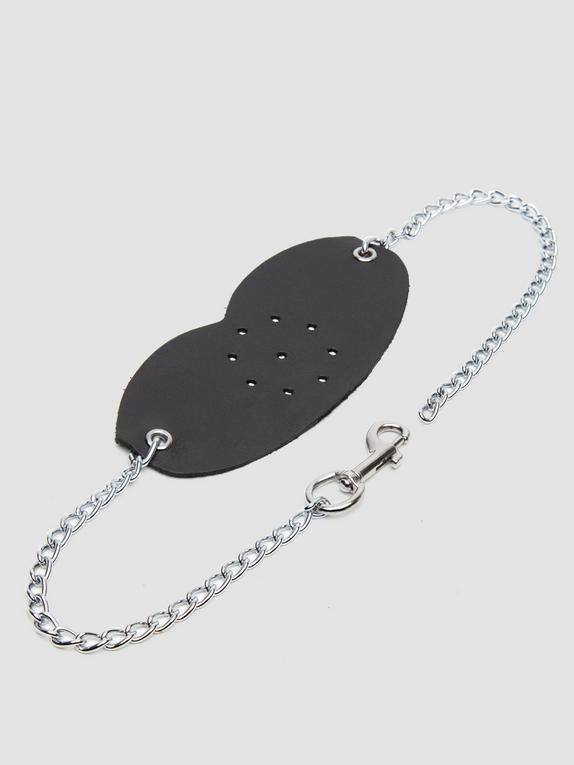 DOMINIX Deluxe Leather Lips Gag
Last chance! This product is not going to be re-stocked!
Leather lips gag for quick and easy gag play
Air holes allow for comfort during long-term wear
Fits heads of up to 25 inches around
Your sub won't make a peep once you strap them into this sensational leather lips gag from DOMINIX Deluxe. Shaped to cover the wearer's entire mouth and then some, it has a pattern of air holes so the play can last as long as you both want it to.

Flat and non-invasive, this lips gag lays against your sub's mouth and limits their ability to speak without putting anything into their mouth.

Fasten it behind their head with the clip and enjoy gag play in a snap.
Essential Info

How it Measures Up

How it Feels
Bondage Advice
If you're looking to dip your toes into the world of Bondage and BDSM, our advice guides are here to help you get started in the easiest possible way.
Frequently bought together
Popular combos for more sexy fun
Customer reviews
1.3
1.3 star rating
4 Reviews
1.3
1.3 star rating
4 Reviews
Thank you for posting a review!
We really appreciate your opinion and hope to see you again soon.
Thank you for posting a review!
Your review was sent successfully and is now waiting for our staff to publish it.
Search reviews
5.0 star rating

4.0 star rating

3.0 star rating

2.0 star rating

1.0 star rating
What's the point?
Review by Candace on 3 Jun 2021
review stating What's the point?
It doesn't stay up. The chain means it can't even be held there by the stretch of elastic. And even if it did stay up... it doesn't function as a gag. It's also pretty big and just looks silly. Luckily it was cheap or I'd be mad I wasted my money.
Cons:
It doesn't work as a gag. Doesn't fit. Pointless.
Bottom Line:
Don't but it.
On DOMINIX Deluxe Leather Lips Gag
Disappointing
Review by PhilJones on 22 Jan 2021
review stating Disappointing
I was luckily enough to be picked to test and review this interesting beginner-level gag. Though it will probably linger at the bottom of our toy draw, I would recommend it for anyone dipping their toes into the world of BDSM, power-control play, or anybody who is already into both but does not enjoy using gags because they do not like things in their mouth.

As is always the case with Lovehoney, this product arrived in a discreet cardboard box so no-one would have any idea what was inside. Privacy concerns need not be an issue when ordering from Lovehoney.

The toy was in a single plastic bag with the brand's label printed on. Though there was nothing wrong with it, it was not classy or luxurious, but simple and functional. It was not suitable for storing the toy in, and it quickly went in the bin.

The actual gag is quite, white simply, a piece of deep-back faux leather with a high-quality metal chain at the back with a clasp on that can be fastened around the back of the head.
The faux-leather has air holes which help with breathing, although as it is not possible to get the gag so tightly around the mouth so as to stop breathing, and additionally the nose is not covered by the gag this seemed a little unusual to me. I was not impressed by the appearance of the product - it felt quite cheeply made, using an off cut off faux-leather. The edges of the faux leather were rough, bumpy and not uniform.

The gag fixes to the face by using the chains. These chains fastens by a simple metal clip, and can be fastened anywhere along the opposite metal chain so in theory it should accommodate all head sizes. However, to make the gag stay on your face, it has to be fastened so tightly at the back of the head that the chain digs into the neck and hurts. If it is not this tight it simply slides off your face.

In use, even if fastened very tightly, you can still move your mouth and talk. The words are a little muffled, but it is nowhere near as effective as other gags which go inside the mouth. Despite this, the gag did feel kinky - having it chained to your face definitely invoked feelings of kink and submission, even if it did not stifle noise as well as hoped.

Overall, I would recommend this to anyone wanting to sip their toes into gags, but if you are even relatively experienced with gags, you will be underwhelmed by this product.
Cons:
Hard to use, ineffective
Bottom Line:
The worst gag I have come across
On DOMINIX Deluxe Leather Lips Gag
More like a Gag Gift
Review by TheCoffeeRain on 8 Jan 2021
review stating More like a Gag Gift
I really wanted to give this a proper work out, because I was determined to find a way for it to be... good. It has all of the ingredients of a good gag, that's for sure, but somehow it just went wrong in the bake. The leather is lovely quality - there is unfortunately a smell off of it which is somewhat pungent, especially since it's right at your mouth and nose, and I know that can be overwhelming or distracting for people. You could try cleaning it with scented wipes or maybe massaging into it a little body-safe flavouring that you might use for baking. Something along those lines. It's softer on the inside, which is nice, and the air holes are at the right place and well spaced to suit different mouth sizes. The look of it is pretty good, just what it says on the tin, it looks like lips.The chain is very heavy though, which is unfortunately detrimental to the product. It has good strong eyelets to protect the leather from wear and tear, but it is almost impossible to comfortably attach.The chain is just like those basic dog leashes you would get, and the clasp is so hard to attach. You need to angle the clasp in order to fit it through one of the rings, but in doing so, you're then attaching the gag looser than it needs to be to stay on. And the metal just slinks right off, down your hair and the whole thing sits around your neck like a collar instead. It's almost impossible to put on alone, and even with help it is an awful struggle which is such a mood killer. It's too awkward and uncomfortable to sit above the ears, and I have short hair as does my partner, so you can't balance it on hair accessories either. I really wanted this to work and be great, but unfortunately, it's a pass. Even if you lay down specifically to ensure it stayed on, it's a struggle.
Bottom Line:
An unfortunate failing.
Cons:
It just does not function as a gag at all.
Pros:
It looks nice, and the materials are all high quality.
On DOMINIX Deluxe Leather Lips Gag
Oh no
Review by Forever_his on 21 Dec 2020
review stating Oh no
Firstly to say, I received this as a tester product for review.I was so excited about and this seemed right up my street! Unfortunately it just did not work for us.Firstly the material is fab, it really does have a dominant feel with the fairly heavy chain and clasp. Its a great size, the breathing holes are in the right place and this seemed to be perfect when just measuring it against my face. However when coming to use this we noticed issues.When trying to clip the clasp onto the chain links, this was extremely tricky. The links didn't seem to be quite big enough. Once we managed to get it clipped in, it then kept just falling down, ripping strands of hair out in the process. If that's something you like then great, I however did not. You could use it placed over a hair bobble if you hair was up but this would not suit everyone.I'm unsure if I did something wrong, although I couldn't see how. Sadly this just did not work for us. Had I have paid for it I would have returned it.
Bottom Line:
Great on paper, but just did not work for us.
Cons:
It kept slipping down and the small chain links.
Pros:
The material and overall feel.
On DOMINIX Deluxe Leather Lips Gag