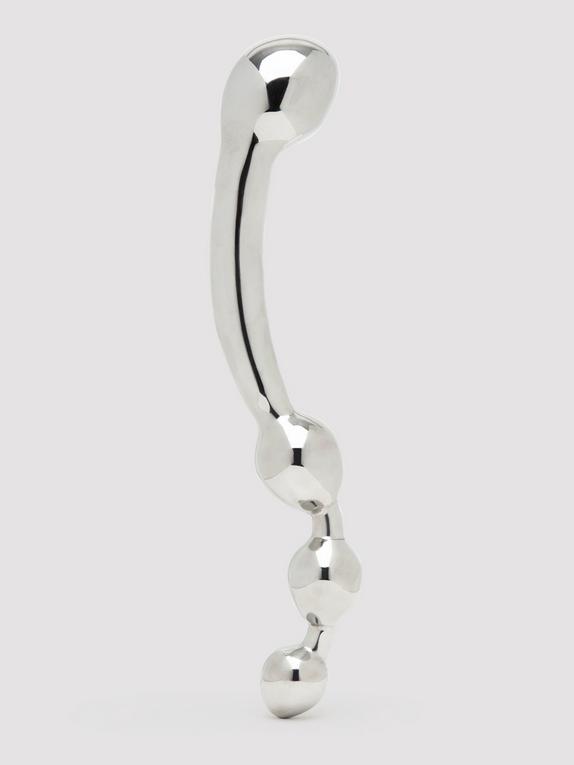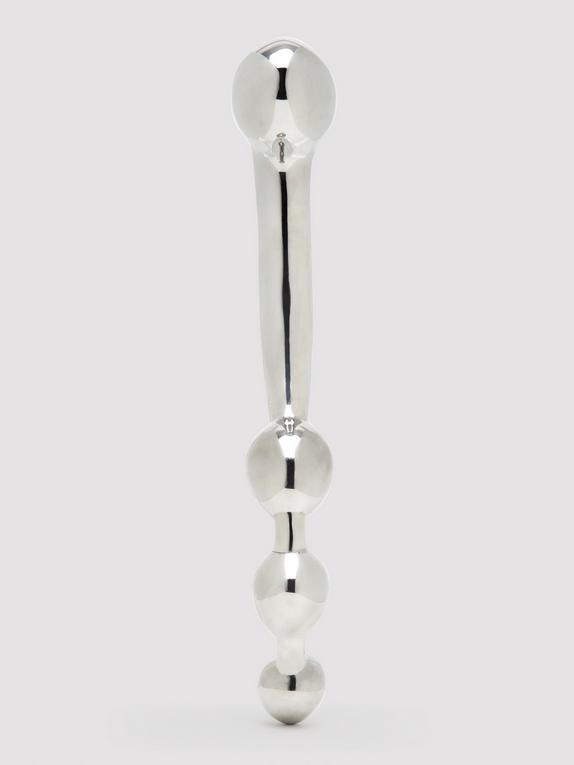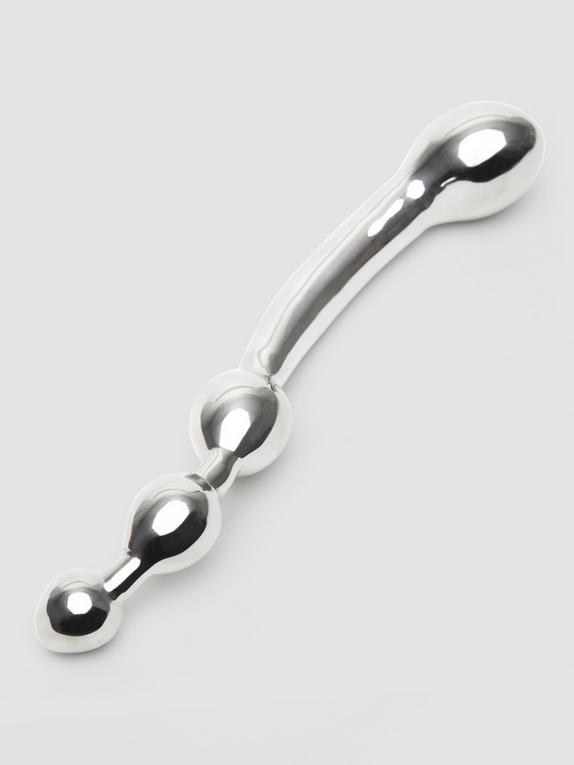 Pleasure Wand Stainless Steel Beaded Dildo
Last chance! This product is not going to be re-stocked!
Stainless steel beaded dildo for internal hotspot discovery
Explore temperature play by submerging in cold or warm water before use
Satisfyingly weighty for firm massage and targeted pressure
Insert either end for different sensations
Your body is a wonderland, so treat to it to some luxury with this elegant stainless steel dildo. This glimmering dildo is blessed with smooth beads – perfect for a heavenly internal massage, or thrilling temperature play.

Suitable for vaginal and anal play, this metal maverick is an ideal gender-neutral sex toy. Simply coat with your favourite lube and discover firm, precise pressure on your internal hotspots.

Made from medical grade stainless steel and weighing in at an impressive 28 oz, this pleasure wand provides satisfying, filling sensations.

Unlike most sex toys, stainless steel can be used with all lubricants. Your dildo is also perfect for indulging in a little temperature play: simply submerge it in warm water, or cool it in the fridge for 10 minutes before use. Be sure to test the temperature on your arm before directing it towards more intimate areas.

Always use with lubricant to enhance your experience.
How it Feels

Flexibility: Rigid
Material: Stainless Steel
Product videos
Your body is a wonderland, so treat to it to some luxury with this elegant stainless steel dildo. This glimmering dildo is blessed with smooth beads – perfect for a heavenly internal massage, or thrilling temperature play.
Dildo Advice
If you're looking for a Dildo but aren't sure where to start, our handy guides will show you how to choose and use the best dildo for you.
Frequently bought together
Popular combos for more sexy fun
Customer reviews
4.7
4.7 star rating
3 Reviews
4.7
4.7 star rating
3 Reviews
Thank you for posting a review!
We really appreciate your opinion and hope to see you again soon.
Thank you for posting a review!
Your review was sent successfully and is now waiting for our staff to publish it.
Search reviews
5.0 star rating

4.0 star rating

3.0 star rating

2.0 star rating

1.0 star rating
Heaven
Review by Ellie H. on 9 Feb 2021
review stating Heaven
Life's got hectic for me and as a result I haven't reviewed most of the stuff I've recently bought but I just couldn't resist reviewing this one. This metal dildo is heaven. If you've experienced it you'll know what I mean but for the (yet) unenlightened, I'll explain what it's like.

So I went into this having never tried a pure dildo before, or at least, not a conventional one. I've been a vibes gal and I have to admit, investing in this I was nervous. I was half convinced it wouldn't do anything for me, that the lack of vibrations would mean I was unable to climax, but my god how wrong that proved to be! I wanted a metal and glass dildo to complete my toy collection, so when this went on sale I decided to go for it. Having now used it I would pay the money again and not on sale for this pleasure.

I have a few sex toys by this point, and up until now I've not had a favourite. Everything changed when this walked through my door and since then I've taken it away with me and while at home it's lived on my bedside table. I've only used my trusty internal vibes once since getting this, it's just that addictive. I'll admit here, I use it in combination with a bullet vibe but for people who don't require simultaneous stimulation I doubt you'd need that.

Metal is an amazing material, it always feels cold to the touch when you pick it up (although you can easily change that with a quick run under hot water). At first I found it distinctly odd to have something so cold down there, but as I've got used to it I've come to crave that first sensation, particularly when I'm very in the mood. There's nothing that makes you perk up and notice something sliding inside you quite like the heavy cold bulb of this dildo. Speaking of, apart from the temperature, the other thing you immediately notice when you pick it up is weight. It doesn't feel that heavy in your hand, but I can promise you, once you've been using it for awhile you notice the weight. I'm not in shape if I'm honest, but using this certainly gave me a good workout. The first few days of use I found my arm ached while using it and I'd sometimes struggle to climax a second time because that was distracting me, but over time I think the muscles in my arm must have grown slightly stronger because I hardly notice it as much now.

The one thing I would point out, however, (that I nearly forgot to add -> which should show you how insignificant it's become) is the size. It's probably about comparably sized to the desire luxury beaded stainless steel dildo (go check out that page, they have a picture comparison to a model's hands), meaning that it stands at around 20cm. This is all well and good until you realise it's split into two sides, and so both sides only occupy around 10cm, which for a toy, feels small to me. It is also not very girthy, at the widest point probably only 2.5cm in diameter. All this meant that when it arrived and I opened it up I was actually rather disappointed. In addition, stainless steel is fairly easily scratched. This shouldn't be too much of an issue and mine is still incredibly stunning and shiny, but if you cause decent damage to it, you're going to need to sand that down very gently to keep it safe. There are plenty of guides for that online to help out though. As you can probably tell from the rest of this review, however, none of this has been a detractor in use. With regards to size, I do sometimes wish it had slightly more length and/or girth, but I feel this just makes me more desperate and hardly detracts from its use.

On the topic of use, it's incredible. I'd 100% recommend it. Both ends in fact; sometimes I find I'm in the mood for one of them and sometimes the other, but I always switch between them, so I'm incredibly glad I chose this one with too ends for the price of one!! I don't use the beads anally, but I'm very much looking forward to trying that out on my boyfriend (pros of steel toys you can thoroughly sterilise). Having just come from using it I can say nothing else compares to how heavy and full it is inside you, hitting all the right spots. It slides in incredibly easily due to the steel, and although I still prefer to use it with lubricant it honestly doesn't need any most of the time.

On top of all that, as if it wasn't already incredible enough, it comes in a beautiful black and red box, although mine had a barcode sticker on the top which I didn't appreciate. Once off though it make a very nice presentation box and finds a home as mentioned on my bedside table. I have to say, it was the most expensive of the toys I have but it is so worth the money, and by far the best I have. On top of that, it will last. Stainless Steel is a lifetime investment -> when you consider that, it's an absolute steel…

What more can I say? I thoroughly recommend this and implore you to give it a very thorough trial!!
On Pleasure Wand Stainless Steel Beaded Dildo
Beautiful dildo
Review by Hippiechick on 26 Dec 2020
review stating Beautiful dildo
I'm all about the hard dildos. Glass and steel all the way! This is my first steel one and I will definitely be getting more. I love the weight of it. I start out using it on myself while my partner watched. I used the shaft fand as it went in and out the bulb bit felt lovely rubbing on my clit. My partner then used it on me which was amazing. I must admit, when I first saw it I thought it was a bit small but it hit all the spots, regardless. I then used the first ball it anally while I was riding my partner. Oh me, oh my! This dildo is amazing!
Cons:
I probably would have liked it a bit longer and girthier.
Bottom Line:
One of my faves.
On Pleasure Wand Stainless Steel Beaded Dildo
The Bitter Kiss Of Cold Cast Steel
Review by Blonde_Bunny on 2 Nov 2020
review stating The Bitter Kiss Of Cold Cast Steel
Finally, my prayers have been answered. An affordable steel dildo that can fulfil every one of my vaginal and anal desires. I own a lot of toys, I mean A LOT of toys, all in a variety of sizes, shapes, girths and textures. I'm a real glass girl at heart, but I have to say, I'm a bit of a maniac for metal too. There's no arguing with steel, it screams disobedience to authority. When I saw this new metal masterpiece arrive to Lovehoney, I knew it would be going straight into my collection.The packaging of this dildo is beautiful, the toy is gifted to you in a smooth black jewellery styled box with a spectacularly eye-catching red band center. Lifting the lid, you are presented with the flawless steel wand glistening in its mirrored finish of perfection, securely positioned in a black moulded foam insert. Honestly this boxing is erotic elegance at its purest - and the toy itself is just as enrapturing.By my own measurements, this weighty wonder has an overall length of just under 8 inches, with an insertable length of approximately 5 inches either side. The larger ball on the one end actually has a maximum circumference of 3.75 inches, while the other side's anal balls have graduated girth's of 2.5, 2.75 and 3 inches from small to large. If you love anal beads like myself, you'll be thrilled to know that each are spaced about half an inch apart giving plenty of room to anally clasp the narrow 0.9 inch shaft between beads.Being a solid steel sex toy, it can be used with whatever lube you like, although my preference is always a quality water based lube - and my all time favourite is the creamy cum style lube Lovehoney sell, you should check this out, trust me. Also, due to being completely metal, this dildo is super easy to clean after use with either warm soapy water or wipes, and because it's steel and non-porous, the entire toy is scentless nor has the ability to retain any scents at all. Ever.Although I'm a real lube lover, I can tell you hand on heart, I do not need any whatsoever when using this dildo. When gently bring the solid shaft between my thighs to be graced with that first bitter cold kiss of icy steel to the raging hot inferno of my clit, I am dripping - and that's before it's even inside me.That first dilating pop of insertion of the larger bulging head, combined with the raw cold steel coming into unity with my searing hot internal body parts, is an indescribable pleasure. It still makes me gasp every time. It leaves me breathless when the frigid, shaped metal slides inside me and I gasp again as it guides itself home to massage my G-spot with acute accuracy, and all of this requires very little effort from my fingers gripping the external section of beads.I'm one of the lucky girls who can cum from G-spot stimulation alone, but it takes a certain kind of toy and method to get me gushing. I require very fast and firm pressure just up and inside the first two inches of my vagina with either very girthy dildos or completely solid, rigid and unforgiving toys. After some gentle rocking up and down of this dildo (not in and out) followed by some short, shallow and very quick thrusts, I'm a shaking and shivering puddle in minutes.Now sit down my friends and let me tell you about the other end of this dildo, those beaded balls of bliss, that exhilarating scorpion tail of elation. I'm a massive anal play lover and crave the sensations of solid anal toys inside me. I lust for steel butt plugs, but beads, beads send me insane. When I combine reciprocating thrusts of these little orbs of excellence with finger stimulation to my clit, they delivered me some of the most delicious orgasms I could dream of.The first ball is a tiny tapered teardrop, a smooth and slender tulip of easy insertion. It effortlessly slides into yourself and then is instantly snatched within. The strong tension and release, the pleasing endeavour pushing the next ball in and pulling it back out, the breakthrough pressure of plunging each bead back in and out and in again is just an indescribable pleasure this dildo enforces upon you. You really feel each solid bulge 'popping' in and out all the way until your anal entrance clasps tight around the thicker central shaft. This, is anal at its best, this is anal perfection.In summery, there can be no doubt about it, this steel wand is a wondrous work of art. It's sensational for G-spot play and gives me guaranteed gushing. It's breathtaking for anal and the triple beads are far from intimidating, even for anal beginners, while the single balled end can provide thoroughly filling delight for more of an anal challenge. It's pretty, its satisfyingly weightyand it's cool in all senses of the word. It may not be the perfect toy for everyone, but I am truly in love with this versatile dildo and it now has pride of place at the top of my toy box.
Cons:
I have none. I am speechless.
Pros:
It's versatility and design. It's material and wonderful weight.
Bottom Line:
This double ended steel gifts effortless orgasms.
On Pleasure Wand Stainless Steel Beaded Dildo