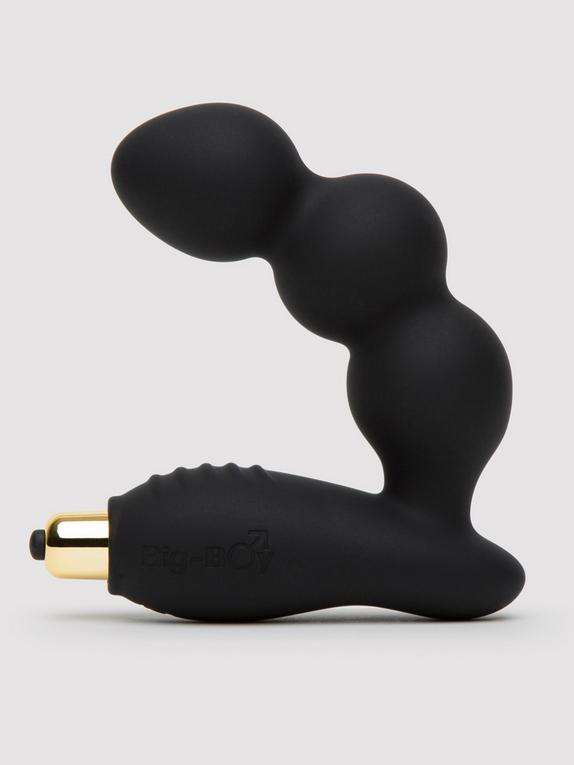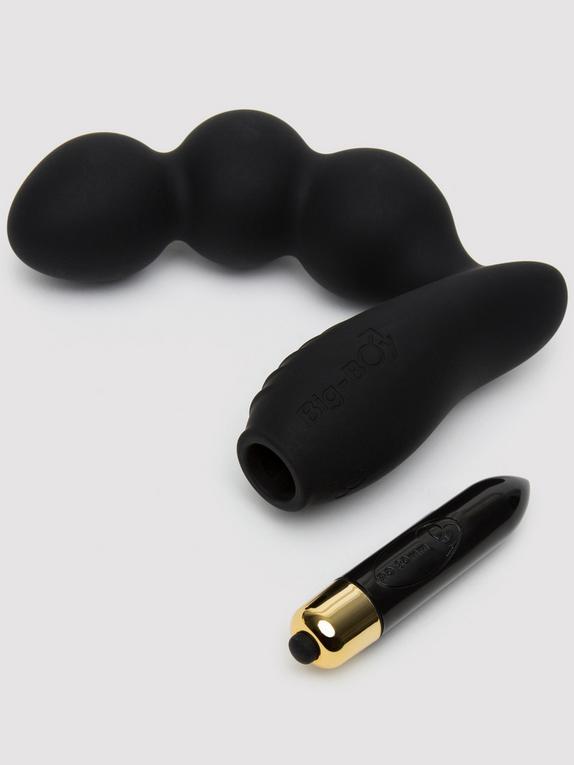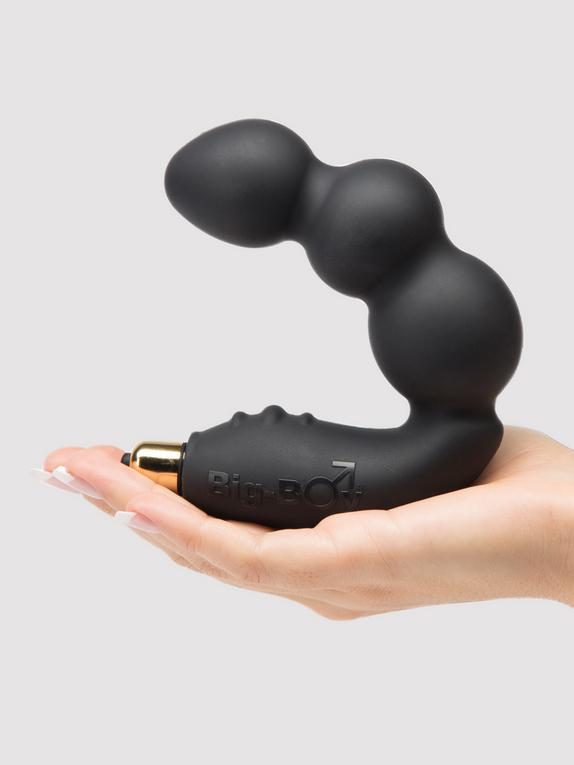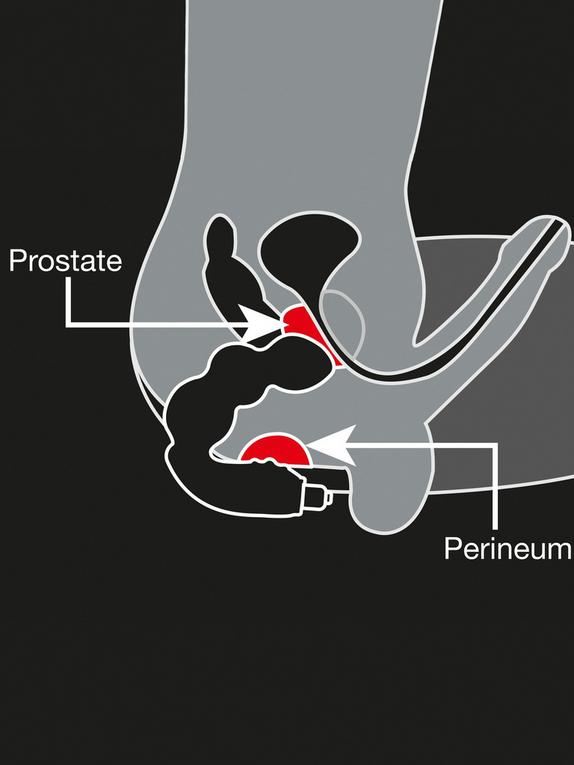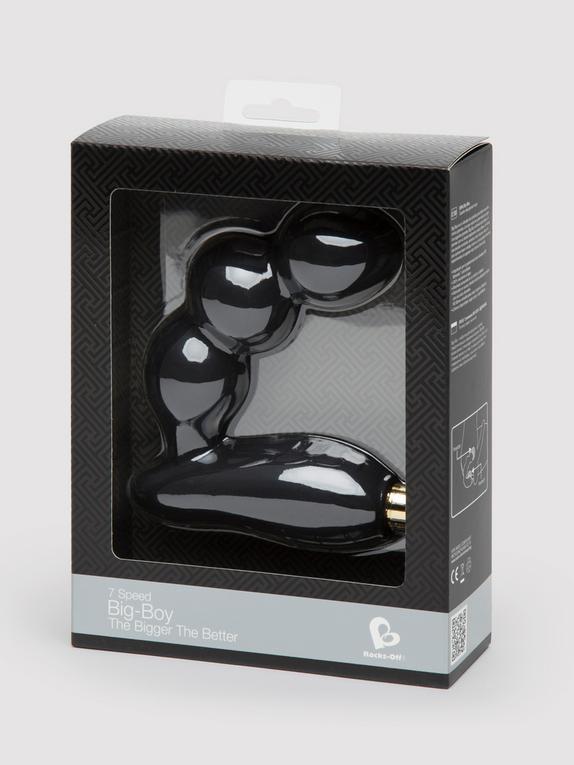 Rocks Off 7 Function Big Boy Vibrating Prostate Massager
Big Boy vibrating prostate massager for experienced anal fans
7 function vibrator offers a fully customisable experience
Big proportions create an intense feeling of fullness
Can be used hands-free and while penetrating
Bulbous waves stimulate the anus
Oh hello Big Boy. Revel in the freedom of a hands-free vibrator with this 7 function prostate vibrator from Rocks Off. Shaped to stimulate the prostate and perineum in tandem without additional support, a multitude of play positions are yours to explore.

Moulded with bulbous waves to stimulate the anus and massage the P-spot with expert skill, the Big Boy comes alive with 7 powerful functions from the RO-80mm bullet for knee-bendingly intense sensations.

A wide boy if ever we saw one, its proportions fill you to the brim for large scale pleasure.

Ready for even more excitement? Make full use of its hands-free operation and wear the large bum toy during penetration for the epitome of climactic experiences. It's even waterproof for easy cleaning and fun-filled bath time.

Top tip: Lube up baby!
Essential Info

Allergens: Latex-Free , Phthalate-Free
Features: Flared Base
Waterproof: Submersible

Power and Speed

Battery Info: 1 X N battery
Power Type: Batteries (included)
Vibration speed: Speeds and patterns

How it Measures Up

Circumference: 5 inches
Insertable Length: 5 inches
Length: 12.5 inches

How it Feels

Flexibility: Firm
Material: Silicone
Color: Black
Product videos
The Big Boy prostate massager has been crafted with a large bulbous head to offer a deeply erotic massage to your inner pleasure zones. With a 7 function RO-80mm bullet to titillate and caress, and pleasure nodules to stimulate the perineum.
Male Sex Toy Advice
Unlock unlimited pleasure by consulting our Male Sex Toys guides, written to help you choose and use the best Male Sex Toy for you.
Frequently bought together
Popular combos for more sexy fun
Customer reviews
4.2 star rating
4.2
71 Reviews
Design:
Ease of use:
Quality:
Orgasm rating:
Vibration Strength:
Quiet:
Thank you for posting a review!
We really appreciate your opinion and hope to see you again soon.
Thank you for posting a review!
Your review was sent successfully and is now waiting for our staff to publish it.
O
Openguy84
5.0 star rating
Design:
Ease of use:
Quality:
Orgasm rating:
Vibration Strength:
Quiet:
Design:
Ease of use:
Quality:
Orgasm rating:
Vibration Strength:
Quiet:
Wow factor
Review by Openguy84 on 1 Jun 2020
review stating Wow factor
Was a little reluctant to try another prostate massager at first. I have tried a few cheaper one's, and they never did anything for me. Finally bit the bullet and thought I would try this one. And as always, LH deliver promptly and in discrete packaging. Upon opening, there are basic but strait forward instructions on the side of the box after you remove the outer sleeve. material of the product feels so sleek and smooth. I was really happy with my purchase at this point. I decided to try it while I stayed at my girlfriends. Insertion was fairly easy for me, though I play with toys a bit. But as a lot of people have said, the 3rd bulb does take a little longer to get in, but once in it feels great. you just have to clench your cheeks a bit to keep it in when with a partner. during penetration with my girlfriend I turned on the vibrations, and oh my, they are strong. she could feel them as well, and it made us both cum within minutes. Second time I tried it solo. Again, you have to be persistent withe last bulb, but once in it feels great. Little trick that worked for me, was putting a thumb at the base of insertion and slowly pull the vibrator away from the body. When it hit my prostate, oh boy, it was amazing! This toy can make you cum hands free if you just play with it and work it out. Well worth it. bottom line. it's a great toy for intermediate users and above. Good for solo and couples. yes it takes N size batteries but you can buy them on lovehoney
Pros:
Loved the girth and the vibrations. Girlfriend loved the vibrations while I was inside her.
Bottom Line:
Not for a beginner. Great toy for an intermediate user to try. Value for money.
On Rocks Off 7 Function Big Boy Vibrating Prostate Massager
Design:
Ease of use:
Quality:
Orgasm rating:
Vibration Strength:
Quiet:
Design:
Ease of use:
Quality:
Orgasm rating:
Vibration Strength:
Quiet:
Rocks Off Big Boy
Review by Samyboi on 18 May 2020
review stating Rocks Off Big Boy
This is a great toy. But it has a few issues: - The shape of the toy makes it nearly impossible to insert fully. The curve needs to be at either less of an angle, or the insertable length needs to be shorter. It's not anatomical with it's current design. Unless you are 6'3" or taller there will likely be a size issue, not because of girth, but because of shape/length. The toy actually isn't that long, but it hits the prostrate at the end of the 2nd bulge for the average 5'9" to 6' guy. - The toy does not stay in unless it is completely inserted, which is currently impossible. On the plus side, it's medical grade silicone which makes it very safe. It works well with water-based lube. It has a great strong vibrator. The 7 settings work and aren't just a gimmick. And it comes with a neat bag to store it in. Unfortunately, unless you can somehow heat up the silicone and reshape it, this toy can't ever be fully inserted. It's fun trying, but it will not stay in unless it is fully in. Inserting it backwards doesn't work either, tried that, in more ways that one.
Pros:
Strong vibrations works well.
Cons:
A few minor issues, nothing major.
Bottom Line:
I would give it 9 out of 10.
On Rocks Off 7 Function Big Boy Vibrating Prostate Massager
Design:
Ease of use:
Quality:
Orgasm rating:
Vibration Strength:
Quiet:
Design:
Ease of use:
Quality:
Orgasm rating:
Vibration Strength:
Quiet:
Wow 😯
Review by Big S. on 6 Apr 2020
review stating Wow 😯
I'm never really one to have anything go inside me as I have me a top all my life. Was curious about prostate vibratiors and though let's try one. OMG well worth it. This device made me climax so many times and created some of the best climaxes in me life. Well worth it and it's so durable
On Rocks Off 7 Function Big Boy Vibrating Prostate Massager
Design:
Ease of use:
Quality:
Orgasm rating:
Vibration Strength:
Quiet:
Design:
Ease of use:
Quality:
Orgasm rating:
Vibration Strength:
Quiet:
First toy and (multiple) prostate orgasm experience and toy review
Review by The D. on 14 Mar 2020
review stating First toy and (multiple) prostate orgasm experience and toy review
I got this toy I think about a year ago. My experience with Anal play was non existent, beyond using my fingers with little to no success. I heard of the elusive prostate orgasm somewhere well before shopping for a toy. Hearing about the male's path to multiple orgasms, a concept that I was sure was just nonsense; BUT I was somewhat intrigued by the fact so many male prostate toys existed and started my research on how to do it, and then buying a prostate toy. The design appealed to me, the bulb like shaft, and that it had a vibrator, so I went and made the purchase. Also I didn't want to buy something I'd get sick of once I was somewhat experience in anal play, so there's that too. The toy came shipped in a brown wrapped box, discrete and professional, just like the neat slick black box the toy itself was wrapped in. Simple bullet vibrator, battery goes in, gently tighten the top, and insert it into the base of the toy. The toy itself is smooth to the touch. I don't think I've held anything of this material before toys like this, so it's rather unique for me. When it comes to using the Big Boy, I take a chair, a sturdy wooden chair, and lay a towel on it. I can then gently work the toy in until I feel the tip resting on my prostate. I grind myself on it for a few minutes, music playing in my ears to get myself zoned out and into what I'm doing. This is where I'm a little envious of toys that have remotes, but it isn't a big deal. Once I fire up the bullet vibrator (Usually the strongest continuous vibration setting, or one of the two On/Off vibration patterns) it feels like heaven. I can't say how long I go for, anywhere from 15 to 45 minutes in a session. Once I get my first orgasm of the session, the rest follow suit much more easily, and I'm spent not long later. My first experience of a prostate orgasm was unreal. Not only did it make me cum in such an intense way that I was actually crying out/moaning/whining for the first time in my life without restraint (Not a noisy guy in this regard for normal jerking), I had several other similarly powerful orgasms soon after. My fucking god I've never experienced anything like it in my life. Everything was amazing, intense. The build up in my pelvis, my abdomen tensing, all the precum that leaked out of me, and then everything seizing as I came. About a minute later, maybe not even, it happened again, then again. I think I had like... 5 or 6 orgasms. Maybe more? After that I had my fill, my stomach was starting to get sore, and I was tired. I finished the old fashion way and stayed on that chair for maybe 5 - 10 minutes after just taking it all in. Cleaning the toy is simple. Rinse off the toy of anything, lube and fluids etc. I use soap to wash the toy, since if it's good enough after using the bathroom it should be good for this. Never had any issues, though I use generous amounts of soap after rinsing the toy off till it's visibly clean. Overall my experience with this toy is perfect, after the learning curve which was rather disheartening as I struggled to reach a hands free orgasm. As a beginner to anal play and toys in general, I had gone into this with an unrealistic frame of mind that it would easily make me cum just my turning it on and putting it in. While now that I'm somewhat experienced in the act and it's almost that simple, I think for beginners it's best to take your time with this toy. If you've never had a P-orgasm before, just take your time and experience using the toy rather than trying to cum with it. That's what I did one free day and was caught a bit off guard by the orgasm half an hour in when it was really feeling good. See where it rests naturally, play with the patterns, and in general be relaxed. Ride on top of it or lie down on something and manually toy yourself. Don't overthink it, don't stress over it, and find the way that it feels good. The orgasm will come with time. My first many sessions I didn't cum hands free (Or at all prostate wise), and I got frustrated wondering if I wasted my money on an explicit paperweight. Practice, and overall patience is key. More than you think. Everyone says "You'll know you're approaching prostate orgasm when you feel it" or something and yes, it really is like that. It's hard to describe, so I'll make an analogy for the different orgasms. Imagine a sneeze, there's the tickle when you know it's coming, then the quick build up, and strong release. That's a regular male orgasm. Now imagine a yawn, where you feel it coming, but like an actual sneeze, you can loose it if you focus too much or too little on it. It requires the build up, and the stretch for the full pleasant feeling. It'll hit hard if done right. Practice makes perfect. Don't hurt yourself. Douching/Enemas are of course needed for Anal play. I do so every time or have terrible accidents. In the End a great product.
Pros:
Shape. Bulbs. Vibrations, perfect prostate pressure/stimulation et cetera.
Cons:
Third bulb took a while to fit.
Bottom Line:
An amazing toy for anyone looking for powerful prostate orgasms. Highly recommended.
On Rocks Off 7 Function Big Boy Vibrating Prostate Massager
Design:
Ease of use:
Quality:
Orgasm rating:
Vibration Strength:
Quiet:
Design:
Ease of use:
Quality:
Orgasm rating:
Vibration Strength:
Quiet:
It's okay, not as brilliant as stated
Review by Agent86 on 8 Mar 2020
review stating It's okay, not as brilliant as stated
Upon opening the box I thought damn, this is going to be a challenge. Not so, I lubed it up and teased my bum a little. With a little push I felt the first nodule slip in and damn, that felt nice, then the second and then I thought let's try for the 3rd as a lot of reviews started that this was the most difficult one. To my surprise the 3rd popped in with ease. Yes it feels full. Yes it feels nice but for me it failed to give my prostate the workout that I was hoping for. I can't see myself achieving the elusive hands free cumming like others have reported. The vibrations are OK but nothing mind blowing. Just to clarify, I've only just started to insert things in my butt so I'm not stretched out like other seasoned butt fans. Perhaps it's just my anatomy. I've tried different positions, angles, etc but nope, not to be. I'm going to look for a different bullet that fits as the N battery is an odd size and much pricier than a AAA. The bottom line is that this toy for me at least is rather disappointing. Good thing I ordered the inflatable vibrating butt plug as that has become my new favourite go to.
Cons:
Failed to massage my prostate as expected.
Bottom Line:
Nice enough but not ideal, for me at least.
On Rocks Off 7 Function Big Boy Vibrating Prostate Massager