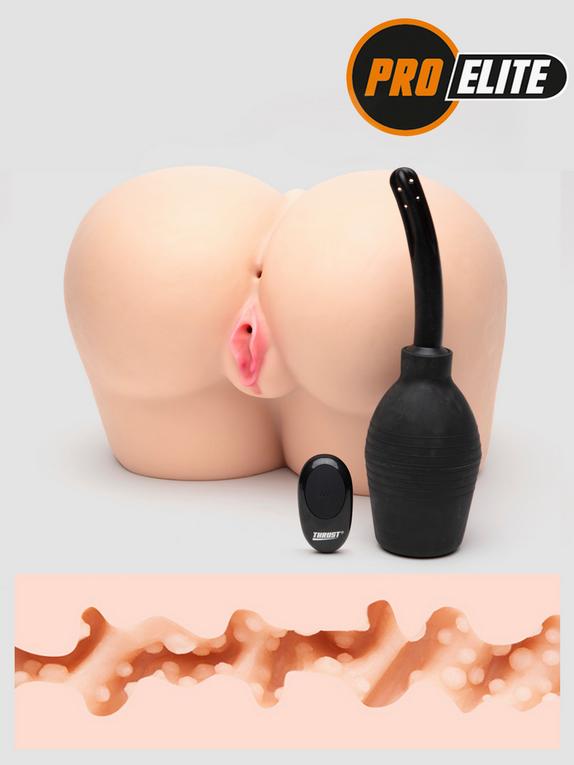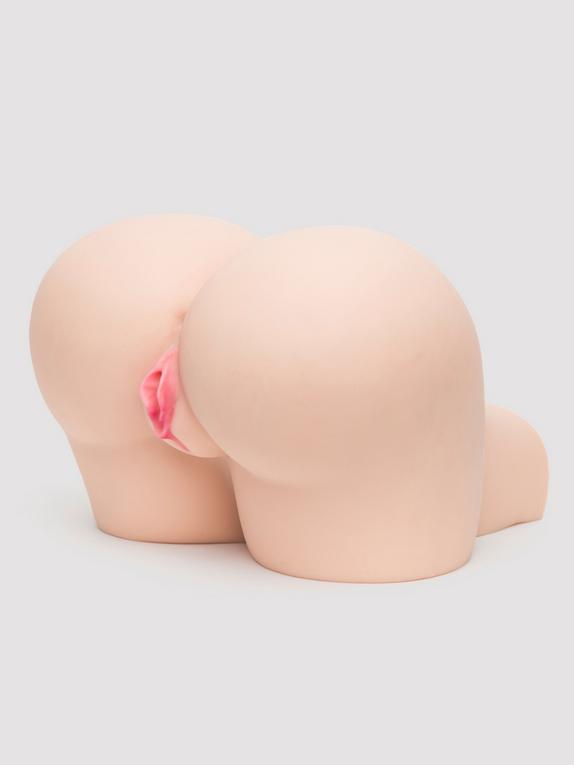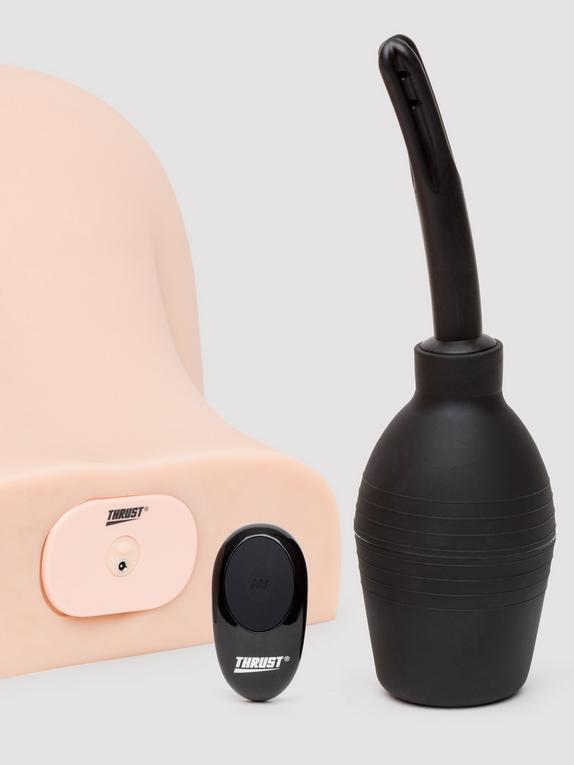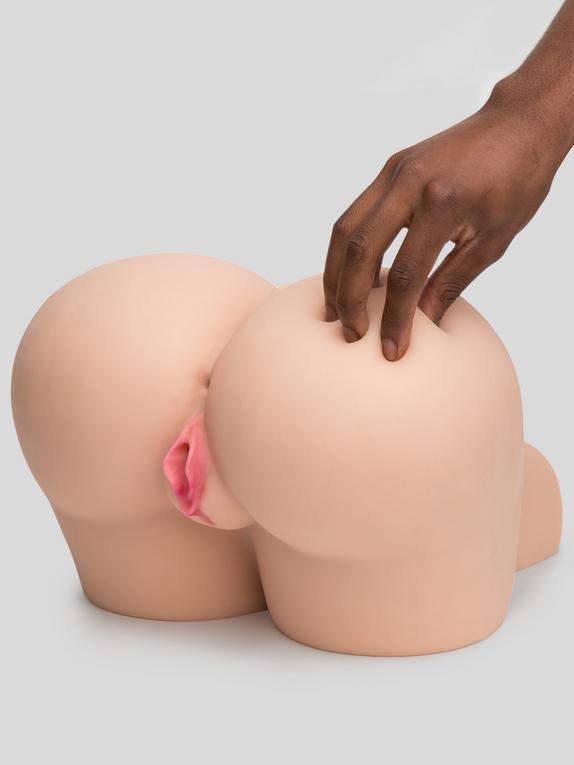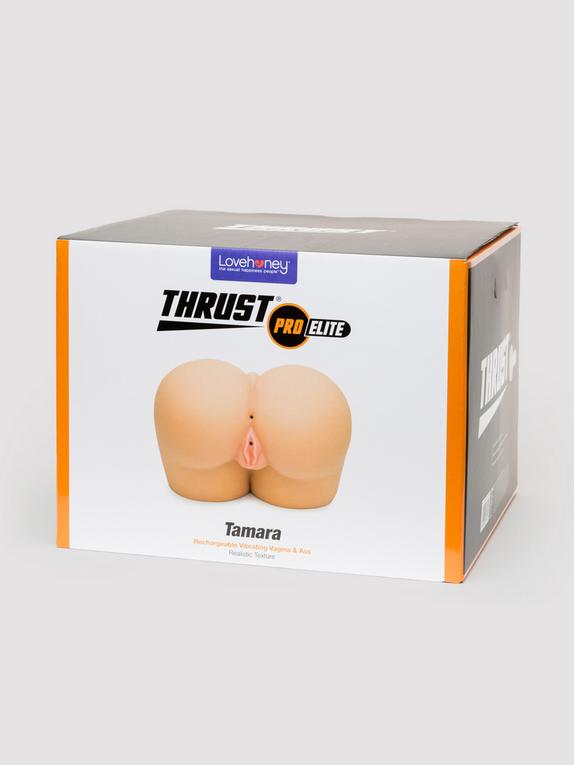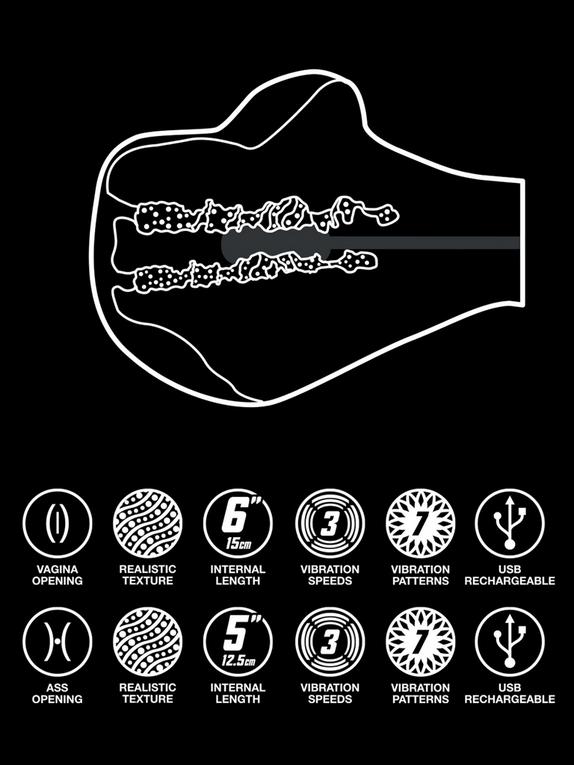 THRUST Pro Elite Tamara Rechargeable Vibrating Masturbator 370oz
Last chance! This product is not going to be re-stocked!
Uber-authentic vagina and ass masturbator for solo fun or threesome fantasy couple's play
Includes a removable pair of 10 function bullet vibrators for added sensations
Squeezable cheeks and super-soft, supple skin to grab hold of
Tight ass and intricately detailed vagina opening welcome you in for a sensational ride
Heavily textured canals provide intense sensations with every thrust
Tamara's irresistibly arched, rounded rear is here and it's positioned doggy-style for your delight. She's weighty and stable enough for hands-free fun, so you can slip into her pussy or ass and ride to ecstasy, spurred on by the strong vibrations.
Both entrances are tight and realistic, leading to independent canals lined with lifelike textures – the vagina is 6 inches deep and the ass is 5 inches deep.
Tamara comes with a powerful 10 function double bullet vibrator, which you can slot into the masturbator to add extra thrills to your play. Plus, it's remote control operated and rechargeable for pleasure whenever you please.
Tamara is splashproof and comes with a douche for easy cleaning after play. Be sure to dust her with renewer powder after use to keep her feeling supple.
Ladies love lubricant, so slather Tamara with loads of water-based lubricant before play.
Explore other customer-favorite products:
Elsa Jean Fleshlight
from Fleshlight
Riley Reid Fleshlight
from Fleshlight
Clear Fleshlight
from Fleshlight
Fleshlight Mount
from Fleshlight
Fleshlight Blowjob
from Fleshlight
Essential Info

Allergens: Phthalate-Free
Features: Rechargeable , Remote Controlled
Waterproof: Splashproof

Power and Speed

Battery Info: 1 x CR2032 battery (remote)
Power Type: Rechargeable
Run Time: 55 minutes
Vibration speed: Speeds and patterns

How it Measures Up

Internal Length: 6 inches
Opening: Vagina & Butt

How it Feels
Male Sex Toy Advice
Unlock unlimited pleasure by consulting our Male Sex Toys guides, written to help you choose and use the best Male Sex Toy for you.
Frequently bought together
Popular combos for more sexy fun
Customer reviews
5.0
5.0 star rating
7 Reviews
5.0
5.0 star rating
7 Reviews
Thank you for posting a review!
We really appreciate your opinion and hope to see you again soon.
Thank you for posting a review!
Your review was sent successfully and is now waiting for our staff to publish it.
Search reviews
5.0 star rating

4.0 star rating

3.0 star rating

2.0 star rating

1.0 star rating
Do yourself a favor and buy this
Review by Verified-Customer on 15 Apr 2021
review stating Do yourself a favor and buy this
I'm a simple man, with simple tastes. This is everything I want, only con is it doesn't clean itself.
Pros:
It's an ecosystem of pleasure.
Bottom Line:
10/10 this changed my life.
On THRUST Pro Elite Tamara Rechargeable Vibrating Masturbator 370oz
Simply stunning
Review by Mystic M. on 10 Apr 2021
review stating Simply stunning
Ok so this will be my first review on this site and I'd like to get straight to the point.

I have a few toys of my own but nothing quite like this one. Personally, I wanted to take things to the next level and Tamara really does that for you.

Upon arrival with the box being delivered; it's only then that you truly realise what to expect. The pictures on this site do not do Tamara justice!

Firstly, after opening the box and removing the plastic from around her; you will notice that Tamara is sculpted to perfection. Arched and ready to receive your pleasure. Her life like size and proportions alone will leave you impressed (not to mention the sheer weight of her; a massive 10.5KG) Take a moment to just appreciate all the details… everything about her is very life like which adds to the overall experience.

Secondly, the way she feels is amazing too; her ass is squishy, soft and slappable to the touch, both entrances are tight and realistic. The canals are textured and independent, also unique from each other. The added bonus here comes with the vibration function, which is powerful, has several modes and makes the whole package come together to bring you hours of additional playtime in the bedroom.

This wouldn't be a real review without some downsides however. You do need to factor in that this toy is large; if space is an issue for you it may not be suitable. There is also the matter of cleaning after use which can be difficult due to its weight. If you are looking for something which is quick and easy this isn't it.

Overall however, if space and weight is no issue and you're looking for a realistic experience like no other - do yourself a favour and buy Tamara, she will not disappoint!
Pros:
Hands free fun, realistic proportions & very life like
Cons:
Cleaning process can be quite a task due to It's weight
Bottom Line:
Amazing product
On THRUST Pro Elite Tamara Rechargeable Vibrating Masturbator 370oz
You get what you pay for
Review by Neil on 3 Oct 2020
review stating You get what you pay for
I've owned a few different masturbators in my life, namely a budget Fleshlight and one of the $40 silicone pussy/ass toys from Amazon. Both of those were enjoyable enough and got a decent number of uses, but there really is something to be said for quality sex toys, and this piece is QUALITY. I understand now why the other reviewers went on about it for so long. This toy is everything it claims to be and more.
Perhaps most notably, the internal vibrator is VERY powerful, enough that I have to keep it off or at a low setting for awhile because it can be a bit overstimulating during penetration.
Some functions usually make me cum immediately if I leave them on for more than a few seconds, which makes them great for a quick and intense finish to porn sessions. If I don't feel like going through the process of cleaning it, I can cum just by dry-humping the outside with the vibrator on.
It feels great even for non-sexual purposes: Tamara is very comfy to spoon or sit on for a lower-back massager, and makes for comfortable sleep (although her skin feels so realistic that you might be tempted to slip it in or jerk off on her ass - she really is that arousing.) Unfortunately there are no controls on the remote - it's just a single button that cycles through modes or can be held to turn off.
Still, it's comfortable and functional as it is, and surprisingly quiet. The size of this toy really is remarkable, and is a huge contributor to the overall realism. If you lay down and have her sit on top of you, it really feels like the weight of an actual person. This makes her great for fucking doggie style or reverse cowgirl because the natural weight makes it bounce back to you like a partner would.
Unfortunately, it makes cleaning require a bit of effort. I wouldn't advise submersing her even with the battery removed because the power adapter isn't sealed in. I usually set her in the bathtub and use the handy douche and hot water to clean the canals and surface, then spray a squirt of cleaning foam into each hole and finger it around a bit. It's a bit hard to conceal because she's so large compared to most masturbators, but it's perfect if you live alone or with people who you don't mind knowing about it.
The canals feel amazingly realistic, as good or better than the real deal, as they retain heat and moisture well. They're super tight and grip your shaft without being uncomfortable. I'm pretty well-endowed and tore through my Amazon toy on the first use (as well as my frenulum - YOUCH!) but I think this one could easily accommodate anyone, big or small.
Sometimes I like to just slip a finger or two inside Tamara because it's so close to the real thing. The super-defined tailbone is a bit strange, but doesn't make any difference either way.
Her ass is incredibly squeezable, and once you've applied some renewal powder and warmed it up a bit, you'd swear it's the finest ass you've ever grabbed. Although not perfect due to reasons I've mentioned, I'm very satisfied with this purchase. If you're on the fence but understand the drawbacks and are willing to keep her clean and maintained, Tamara is well worth the money. She will bring you intense pleasure, comfort, and sexual release. Highly recommended!
On THRUST Pro Elite Tamara Rechargeable Vibrating Masturbator 370oz
Worth every penny
Review by Steve P. on 8 Aug 2020
review stating Worth every penny
I was hesitant on this purchase because of not knowing how really big it is and how it feels but once I unpacked it and gave it a shot it was well worth the price. Very realistic feeling, very heavy, and lots of fun. Can be used as doggy style or flipped over to mix it up.
Super soft and feels great to grab.
Haven't tried it with the vibrator feature yet but looking forward to it. Highly recommended.
On THRUST Pro Elite Tamara Rechargeable Vibrating Masturbator 370oz
A game changing male sex toy
Review by Phil J. on 14 Jul 2020
review stating A game changing male sex toy
The THRUST range is a Lovehoney male sex toy range, and so unsurprisingly it absolutely did not disappoint! Previously THRUST toys I have owned I have considered less impressive in terms of luxury than the female-orientated 'Desire' range, but the presentation, experience using, and luxury-feel of this excellent more than equals the fantastic 'Desire' range. The toy can not be faulted in terms of orgasm experience, and the product went above and beyond any other experience with a male sex toy that I have ever used. I appreciate that it is a costly option, but as some who has owned male sex toys ranging from £5 all the way up to £400, and everything in between, I think investing in this excellent product is worth every single penny. As such, I would recommend it to everyone with a penis. As is always the case, the product arrived in super discreet packaging so that no one would have any idea what was inside. In fact, I was out when it was delivered and so it was left at my neighbours and I had absolutely no worries about them guessing the contents of the ambiguous brown cardboard box. The packaging is tasteful and professional, with no cringe factor at all. In black, white, and striking orange, the outer packaging was 'manly' and attractive. One side contained a picture of the product and the product's name (in an angular, stereotypically masculine font), and the others containing product descriptions and directions. Overall, I cannot fault it. On opening the box I noted there was an instructions manual, a battery power pack, a douche to clean the inside of the toy (such an amazing touch!), and the toy itself, all neatly presented, and protected from any postage mishaps by some polyester packaging.
After taking it out of the box, the toy was double wrapped in separate plastic bags.
Though this kept it dust-free, to get to the toy these had to be ripped, meaning the only place to store the toy between uses was in the cardboard box, which I'm not a massive fan of as however thoroughly it is dried after cleaning, there is inevitably still a small amount of water inside it which sleeps out and makes the cardboard damp.
This isn't the end of the world, and will not affect my opinions of this great product; besides, I'm sure many people who don't like in shared housing would be able to air dry it - however, as I live in a shared house this is unfortunately not an option.
On removing the toy from the packaging there was no nasty smell, although I gave it a rinse under water before use out of habit. It had a slightly funny texture on the surface of the 'skin' when first removed, as if it had been lightly coated in renewal powder before it was sent out. I assume the idea was to keep the toy looking and feeling great in storage, which it certainly succeeding in doing.
The toy is intended to be realistic is an attractive flesh colour, and it certainly achieves this; it is incredible lifelike in appearance, save for the vulva which did not look quite as realistic as the rest of the toy. I knew this toy was going to be heavy.
I'd seen the specifications. But even with this knowledge I was shocked at the weight; it was far heavier than I was expecting, and due to the fact that it respond to touch like a real bum would (jiggling and rippling), it can be challenging to move.
However, this weight is exactly what makes the toy so excellent in use; it stays put hands free, and 'bounces' back in to you as you thrust in to it, just like a real person would.
The pliability of the material feels just like skin when it is touch, thrusted into, or laid on, and when lube is applied the internal and external parts of the vagina and ass feel so realistic to touch that I got erect.
When inserting a finger into the toy it felt exactly like inserting a finger in to a woman.
The product has two separate holes, a vagina and a bumhole, and both can be reached in a number of position; missionary, doggy, cowgirl and reverse cowgirl are all positions that I have enjoyed so far. Both have separate tunnels, and are textured slightly differently.
Both feel incredibly realistic. If my eyes were shut, I could tell whether I was in the vagina or bum part of the toy, just by it's realistic feel. I have had explosive, leg shaking orgasms several times using both holes, and they are incredible fun to move between during a single session. Another perk of the toy is that it vibrates. Unlike a cheaper models, where bullets need to be inserted, this toy had a rechargeable battery pack that is inserted at the far end of the toy - where a woman's stomach would begin. When turned on it feels absolutely incredible - it feels just like having sex with someone who is wearing a vibrating butt plug. Amazing! The vibrations are powerful and travel through the whole vagina and bum canals, leading to intensive stimulation of the whole penis, even if you are not
On THRUST Pro Elite Tamara Rechargeable Vibrating Masturbator 370oz