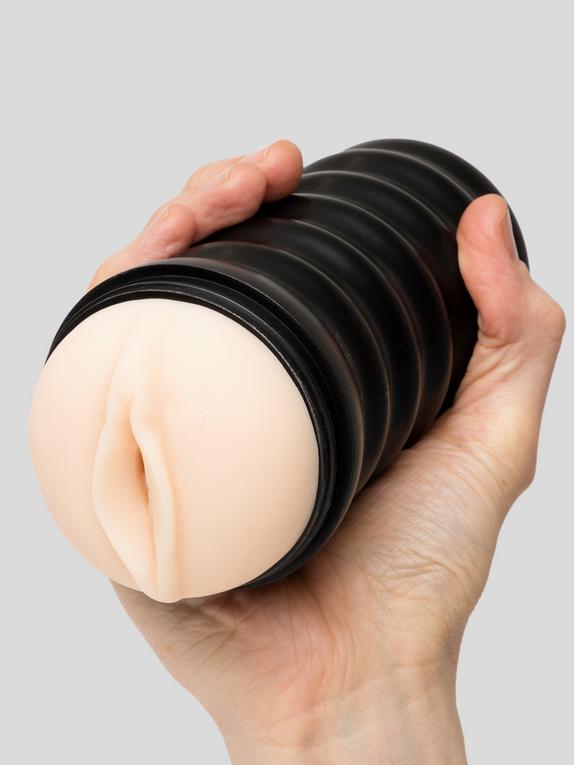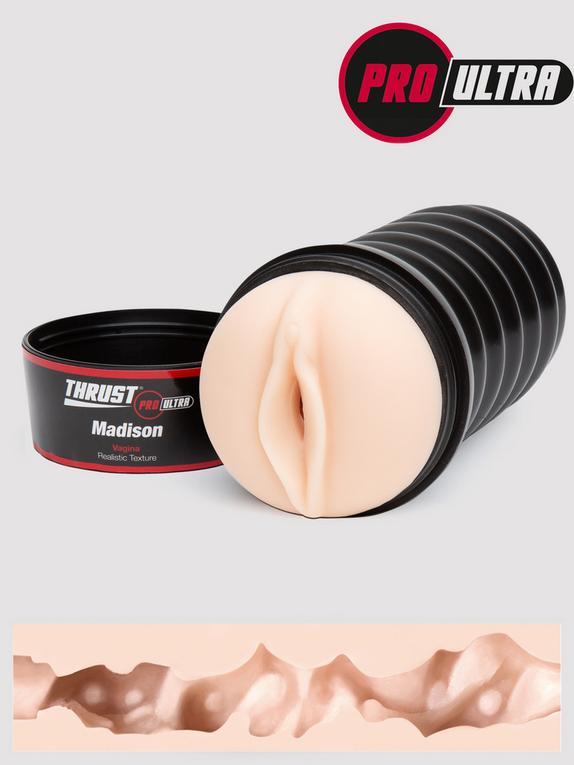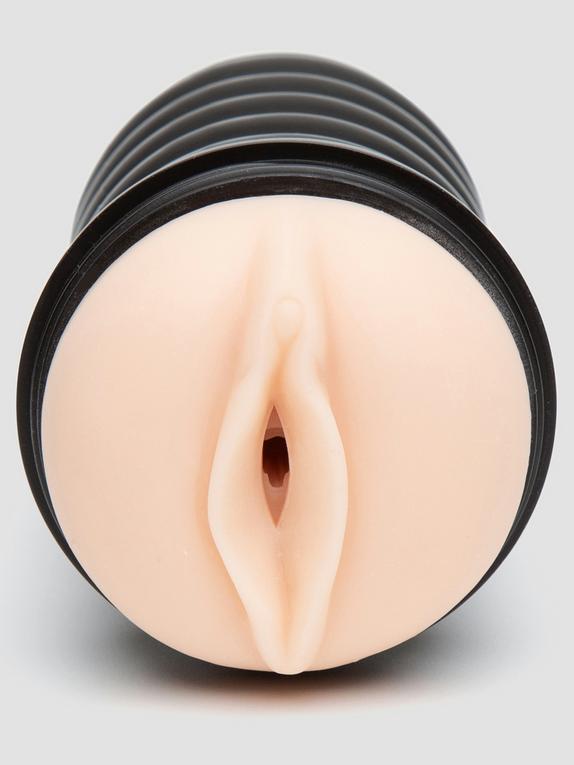 THRUST Pro Ultra Madison Realistic Vagina Cup
Last chance! This product is not going to be re-stocked!
Realistic vagina masturbator with welcoming textured canal to thrill with every thrust
Features adjustable suction control and realistic textures for intense all-over shaft stimulation
Soft vagina opening looks and feels super real
Bullet vibrator compatible for extra intense sensations
5 inches of internal length to accommodate most men
Surrender to absolute pleasure with Madison, a realistic male masturbator with a mission to please. Enclosed within a discreet casing, and offering a 5 inch canal adorned with realistic nubs and bumps, this ride is a thrill from start to finish.

For customizable climaxes, the Madison male masturbator offers fully adjustable suction control.

To take your pleasure to new levels, slide a bullet vibrator into the hole in the base and enjoy explosive sensations with each stroke.

Slather Madison's entrance and canal with water-based lube to enjoy her at her very best.
Essential Info

Allergens: Phthalate-Free
Waterproof: Submersible

How it Measures Up

Internal Length: 5 inches
Opening: Vagina

How it Feels
Male Sex Toy Advice
Unlock unlimited pleasure by consulting our Male Sex Toys guides, written to help you choose and use the best Male Sex Toy for you.
Frequently bought together
Popular combos for more sexy fun
Customer reviews
4.3 star rating
4.3
3 Reviews
Design:
Ease of use:
Quality:
Orgasm rating:
Thank you for posting a review!
We really appreciate your opinion and hope to see you again soon.
Thank you for posting a review!
Your review was sent successfully and is now waiting for our staff to publish it.
C
Colonel L.
3.0 star rating
Design:
Ease of use:
Quality:
Orgasm rating:
Okay, just okay
Review by Colonel L. on 8 Jul 2020
review stating Okay, just okay
So this little masturbater arrived to check out. I have used a few thrust products in the past and been pretty impressed so was looking forward to seeing how this one performed. The vagina cup is a simple beast. A black, plastic holder with a ridged/corrugated surface for easy grip, with a hole at the bottom for suction avoidance and a screw on lid. Inside is a standard fleshy pink vagina shaped orifice in which to insert your penis. It is plenty long enough to fully engulf most men I would imagine, my average length fit easily enough. The ridged design of the outer case is a really good idea. When all lubed up these sort of masturbation aids can become quite slippy, this design made that less likely to happen. Now as anyone who has used this kind of thing before will tell you they often smell a bit when first opened but that chemical smell dissipates quite quickly when first used. Sadly the thrust pro did not do this. The smell was stronger than any similar product I have used and even after several cleanings it still lingered. This is dissappointing and unusual. In use the thrust pro did the job, but I did find it needed a hell of a lot of lube to smooth the flow. Way more than I have used on similar products. In fact until a few minutes into the business part of the test the ineffectiveness of the lube made it borderline unpleasant. I tried it with a few different water based lubes with no difference. Part of me thinks that strong chemical smell and the lube issue are related, have thrust changed the chemical they use? That said once the lube had fully worked its magic the product worked well and brought a quite distinctive climax. I am not sure what nodules and other things are at the bottom of the thrust pro but they made the tip of my penis very sensitive (in a good, no a very good way) when climaxing. One of the things I like when using a fleshlight is the twisty bottom to adjust the level of suction to change the intensity. The thrust pro attempts this in a primitive way. There is a hole at the bottom, if you put your finger over the hole then suction occurs. It is essentially an on/off switch for suction and works quite well but provides little room for finesse of the effect. An additional feature of the thrust pro is the ability to add a bullet vibe to the bottom of the vagina section. Once inserted pleasant vibrations spread through the whole thing. Personally i found this a little too intense when coupled with the aforementioned tip sensitivity, but you it is a nice addition. Once finished cleaning is pretty easy, pull out the inner sleeve, give it a rinse and allow to dry. Thrust do sell a renewer powder to ensure it keeps in tip top condition. I personally have never had an issue as long as you clean/dry things thoroughly though. If I am being honest the whole package felt a little cheap compared to other products out there on the market. The effect was saved by the very intense ending to the experience, but I am not sure that is enough to recommend it. In short I would use the thrust pro but I would be thinking of a fleshlight.
Pros:
Ridged case is a good idea, and the intensity at the tip was awesome.
Bottom Line:
Good but not great.
On THRUST Pro Ultra Madison Realistic Vagina Cup
Design:
Ease of use:
Quality:
Orgasm rating:
Wow, what a treat
Review by Don't G. on 7 Jul 2020
review stating Wow, what a treat
So first things first, absolutely delighted to be asked by LH to review the Thrust Pro ultra Madison realistic texture Vagina. Postman arrived with my goodies and as always super fast delivery and super discreet packaging, simply 10 out of 10 LH. So What's this Thrust Pro ultra all about, well I opened the brown unmarked box and inside simply sitting in the box packaging is this well, no frills looking Black plastic cylinder with ribs running all around it, one end is bevelled the other has a screw cap, on the outside of the cap is a removable shiny black and red product label describing what you have got, how to use it, what it's made from and that's it. So looking at this at first I felt a little underwhelmed, so I un screwed the lid and WOW, how wrong can you be with first impressions, I mean WOW, now I am looking at the most beautiful pair of pussy lips a simply beautiful looking clit and again just WOW a very tight looking entrance to what is simply a stunning looking vulva. I ran my hand over the lips and again I was just blown away at how it felt , here I am holding a cylinder in one hand and with the other I am touching and looking at a very realistic pussy and trust me it felt simply amazing to the touch having pushed my finger inside and again WOW, I could hardly wait to feel how this felt wrapped around my cock. Well 2 mins later naked very hard fully lubed and lying on the bed I started to rub my gland over the lips and clit, ohh my god it felt well....real, so with my gland posed I slowly pushed my cock into the entrance and I slowly lowered Madison onto my shaft, It is so easy to describe this feeling, I was being pleasured by a very tight beautifully moist pussy and I was absolutely blown away. 30 seconds in and I figured out the hole in the bottom on the tube, finger over this and again wow, this thing just sucks the pleasure from your body straight into your shaft, Madison gets a turbo boost on pelvic contraction holding you so tight, finger off and you slide beautiful deep inside her again. So I have to say within 2 mins I had fully explored every inch of here 6 inch cavity, this is perfect even for the bigger than average guy, it offers some real push against resistance , I guess about 4-5 inches inside her there is a beautiful narrowing that rubs the gland with stunning effects, once I hit this little gem I was gone past the point of no return in know time at all, I gave Madison a very health orgasm and boy it was very, intense. Think its all done, well no there is a little more, cleaning is straightforward and easy enough simply remove the insert and your good to give it a good wash, it was at this point I noticed the second hole at the bottom of the insert on investigation there is a little Chanel to push in a bullet vibrator, so had to give that a try and oh my god takes Madison to a whole new level, amazing. So all clean and left to dry then pushed back in to the case lid screwed on, and safely stored away I thought about what I would say in the review. There are one or two things I disliked the first is the bevelled end, the reason I say this is the material as soft and as beautiful as it feels is also a magnet for dust so putting it down for any reason on a surface without getting unwanted dust and fluff is not easy, a flat base would help massively and enable it to stand up. The other little issue I disliked was the slight whistling noise from the hole in the base when using with more.....shall we say haste but all in all, I loved this and will definitely get lots of happy memories with Madison, next up the wife will drive so really looking forward to spending an evening with them both. I can also recommend the renewer powder, this really does keep her in top condition.
Pros:
The realistic look and feel of this sleeve is amazing.
Bottom Line:
Wow wow wow.
Cons:
The bevel base makes it a little tricky to place down when using.
On THRUST Pro Ultra Madison Realistic Vagina Cup
Design:
Ease of use:
Quality:
Orgasm rating:
Best one to date
Review by 12 M. on 3 Jul 2020
review stating Best one to date
As usual the package came promptly and discretely packaged from LoveHoney. Upon opening it I noticed the outer casing to be similar to an older masturbator cup I have but the plastic felt a lot thicker on this one which I felt was a bonus. After removing the suction sticker on the bottom and unscrewing the top you're presented with a very lifelike feeling vagina. Compared to older toys the material is very soft and the internal textures are quite literally the most lifelike I've ever seen in a toy. After a good few squirts of lubricant I was good to go and it actually blew my mind to how realistic it felt. It was very easy to control the amount of suction by covering the hole on the bottom and I didn't have any issues with the sleeve popping out the casing when the hole was fully covered. Cleaning is a doddle, simply remove the sleeve, few squirts of toy cleaner, leave to dry and put away. A sprinkle of renewer powder now and then will make sure it stays in tip top condition. One point I will mention is there is an opening on the bottom of the sleeve for a vibrating bullet so you can add even more fun. 100% recommend, you won't be disappointed.
Pros:
Simplicity of the design and the lifelike textures.
Bottom Line:
Lifelike lover for a good time solo or in couples play.
Cons:
Absolutely nothing.
On THRUST Pro Ultra Madison Realistic Vagina Cup