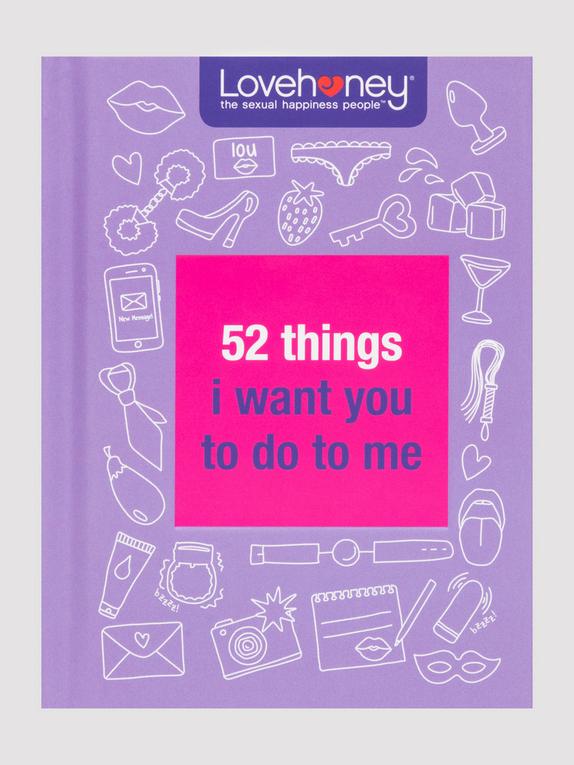 Lovehoney 52 Things I Want You To Do To Me
Pocket-sized book of intimate ideas for spicing up your relationship
Hard-backed and brightly coloured for the perfect cheeky gift
52 sensual ideas for plenty of inspiration
Keep your lover on their toes with our little book of sexual mischief, featuring not 50, not 51, but – you guessed it – 52 sensual ideas to try together. From the sweet and innocent to the downright filthy, our pocket-sized guide has it all.

Turn to a new page each week for a new way to boost your sex life and get intimate with your partner. While the pages do ascend to realms of X-rated fun, the majority of the activities are designed to get you and your other half connecting better and having plenty of fun.

Includes a to/from page for gifting to your lover.
Essential Info

Book Format: Hardback
Book Contents: Sex Tips
Frequently bought together
Popular combos for more sexy fun
Customer reviews
3.8 star rating
3.8
4 Reviews
Thank you for posting a review!
We really appreciate your opinion and hope to see you again soon.
Thank you for posting a review!
Your review was sent successfully and is now waiting for our staff to publish it.
A
Aceamdjay
2.0 star rating
Ok (ish)
Review by Aceamdjay on 20 Feb 2020
review stating Ok (ish)
There are some good things in here, but overall if this isnt your first visit to a lovehoney type site, they'll be very little new. May stretch some people's boundaries a bit more than normal and quite good fun reading together. Brought it with 52 positions which looks better
Cons:
More riskier things needed.
Bottom Line:
Okay. But a bit of fun.
On 76867
L
Labyrinth
5.0 star rating
52 weeks, 52 adventures
Review by Labyrinth on 9 Dec 2019
review stating 52 weeks, 52 adventures
I was thrilled to be asked to read and review the new book, '52 things I want you to do to me'. As with any Lovehoney product, the book arrived with me in record time, in discreet brown packaging. After impatiently tearing open the box, I discovered my new read! The book itself is a hardback, pocket-sized manual in beautiful Lovehoney colouring of lilac, pink and purple. My first thought is that it will tuck away nicely into a bedside drawer or handbag, it is just the right size! Inside, the book presents itself as a gift, with space to write both gifter and giftees names which is a lovely touch. Notes on boundaries and consent are laid out eloquently. As an impatient person when it comes to reading, I simply had to read through all of it. The book is laid out as one task per week for a year (totalling 52). The tasks begin with a more romantic air, from a single foot massage, escalating up to some raunchy, sexy scenarios. Each task is very well written. All are simple to undertake, but are sure to receive a warm reception from the recipient Each page is beautifully laid out with simple instructions, sensual bedroom colours and cute illustrations to demonstrate the task at hand. The first half of the book holds the romantic tasks, while the second half presents the raunchy side. As someone who likes to mix it up, I would be tempted to flick between different pages rather than follow word for word. Overall, this book is well presented, easy to read and follow. It would make an excellent gift for any partner, especially for those that tend to struggle with romantic gestures! I'm sure my fiancè will love his new gift!
Pros:
Pocket sized, easy to follow!
Cons:
Romantic stuff at the beginning, raunchy towards the end. I would mix them up.
Bottom Line:
A fab little guide to new romantic and raunchy treats to spoil each other.
On 76867
Great stocking filler or random gift
Review by Phjh on 5 Dec 2019
review stating Great stocking filler or random gift
Received this little hardback book as a test review, arrived promtly and it is a sweet little book, small in stature but has a lovely theme and meaning to it. 52 pages of ideas, a mix of sensual, erotic, romantic and loving. Has a page where you can write a "To" and "From", it's a nice touch as gifting this is definitely the best option. The book consists of page per week ideas on how to inject love, a gentle touch or a little added romance to a relationship. Some lovely ideas and my OH would really appreciate some of the concepts, a great way to ensure the year and the relationship stays close and loving. Nothing ground breaking but more a re-focus on ensuring the recipient feels special, attractive and loved. This would make a great stocking filler, little valentine day gift or even just a random gesture to stay you are thinking of someone and that you want to work on your relationship, it will help life stay interesting so that it doesn't go stale or monotonous. Keep it by the bed and turn a page a week like an all round little guide to relationship happiness!
Pros:
Small book with a big heart.
Cons:
Will only last a year!
Bottom Line:
Lovely little book for a better relationship.
On 76867
N
Nibble N.
4.0 star rating
Fun little book
Review by Nibble N. on 3 Dec 2019
review stating Fun little book
I was invited to review this book in exchange for an honest review - somewhat out of the blue as it wasn't in response to a forum post inviting people to review. Maybe I am reading more into this than is reality but I had responded to a quiz post earlier in the day and one of my answers hinted that I was not enjoying as much action at home as I might like. The book is aimed at helping couples connect together. It is a small format book with, as the title suggests, 52 ideas that you can suggest to a partner to initiate romance, fun or sex. Reading it page to page only takes a few minutes but that isn't really the point of the book. Without spoiling the book for others ideas range from running a bath with candles, treating your partner to a massage up to role play ideas such as pretending you are an escort. A fun little book which does make you think about the extra little things that maybe go missing a bit in a long term relationship with day to day pressures. If it was sent to me as a result of my other forum post then thank you very much Brenna, a lovely touch.
Pros:
Fun and flirty ideas.
Cons:
Some of the suggestions are a bit run of the mill.
Bottom Line:
Good fun for new and long-term relationships.
On 76867