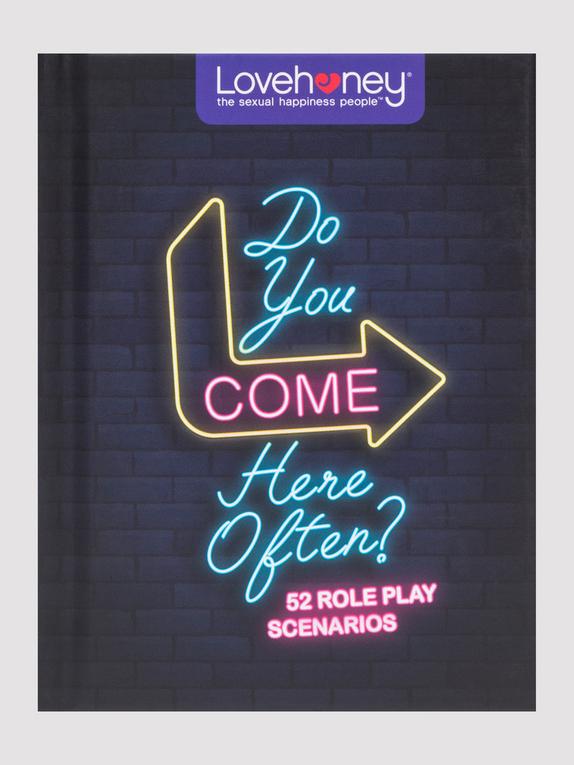 Lovehoney Do You Come Here Often? Role Play Book
Last chance! This product is not going to be re-stocked!
Pocket-sized book of 52 role play scenarios for a thrilling new game every week of the year
Makes a great birthday, anniversary or Valentine's gift for your partner
Sturdy hardback cover protects your role play games for years to come
If you've always wanted to try role play but haven't been sure where to start, this book will give you a helping hand. With 52 sizzling scenarios to explore, you can live out your friskiest fantasies each week for a whole year of fiction-fuelled fun.

From classic favourites like doctor/nurse to less common scenarios involving vampires, hypnotism and more, it's ideal for any couple looking to expand their erotic imagination together.

Includes a to/from page for gifting to your lover.
Essential Info

Book Format: Hardback
Book Contents: Sex Tips
Frequently bought together
Popular combos for more sexy fun
Customer reviews
4.3
4.3 star rating
6 Reviews
4.3
4.3 star rating
6 Reviews
Thank you for posting a review!
We really appreciate your opinion and hope to see you again soon.
Thank you for posting a review!
Your review was sent successfully and is now waiting for our staff to publish it.
Search reviews
5.0 star rating

4.0 star rating

3.0 star rating

2.0 star rating

1.0 star rating
Nothing the internet won't tell you for free
Review by Anonymous N. on 25 Jul 2020
review stating Nothing the internet won't tell you for free
Was expecting more information in this book. You could easily guess the majority of the ideas in the book or search online and find them all. There is a brief explanation but I was expecting so much more such as how to start the scenario, how to build it up, things to say, how to set the scene at home and more but it doesn't deliver on any of that. I also don't know why half the pages are taken up by a big number telling you what number the idea is, it's irrelevant information.
Bottom Line:
Not enough information to warrant it being a book you should buy.
Cons:
You can find the information online for free!
On Lovehoney Do You Come Here Often? Role Play Book
Great little addition to our adult collection
Review by A&J27 on 30 May 2020
review stating Great little addition to our adult collection
This a great little book, it has 52 different scenarios for you to have a go at... one for every week of the year. It has scenarios such as office worker and cleaner, vampire and sex worker. These have definitely spiced up our sex lives, can't wait for lockdown to be over so we can try the meeting a stranger and others :)
Bottom Line:
Great book, really helps spice up your sex life.
Pros:
Small and full of ideas.
On Lovehoney Do You Come Here Often? Role Play Book
Exciting ideas
Review by Naughty N. on 10 May 2020
review stating Exciting ideas
A nice little book with fun and exciting ideas of role play scenarios. 52 role plays which includes being a cleaner and officer worker and a stripper to name a couple of my favourites. This book gives a scenario for you which is brief and your imagination then takes over with the details of your fantasies coming to life. Comes with a page 'to and from' so can buy as a gift for a partner to spice things up. Also contains a page welcoming you to role plays and info on safety, all relevant and well written to guide you through your journey. My absolute favourite is the cleaner and office worker. We have a secretary LH outfit including a short skirt and see through top which is perfect for me to become the cleaner. This book gives you a great guide which you and your partner can choose your faves and take it turns to act out and see where the scenario takes you both!
Pros:
Lots of exciting ideas all different, compact easy to read and role play immediately.
Bottom Line:
Possibilities are endless.
On Lovehoney Do You Come Here Often? Role Play Book
Grefun little book
Review by Fizzy on 9 Jan 2020
review stating Grefun little book
This is a fun little book which is perfect for a gift. If your stuck for some ideas, want to reignite your love life or want to gentle broach the subject of role play with your other half this is a great little book. The book its self is small which makes it easy to pick up and hide away if necessary. At the beginning of the book it has some hints and tips including a bit on safety and consent. Each page has a idea and a detailed scenario to help you put the sence into action. Thier are 52 to chose from and although some might not be to your taste , thiers plenty of ideas to choose from.I've had this book a few weeks now and me and my boyfriend have had a go at some of the suggestions. My favourite was number 46 new colleagues as it reminded me of when we first got together and number 1 doctors and nurses was a great excuse to get my nurse outfit out again.
Bottom Line:
A helpful book packed with lots of roleplay ideas.
Pros:
Easy to use and contains some good ideas.
On Lovehoney Do You Come Here Often? Role Play Book
Little Book of Prompts
Review by Mint-Monster on 16 Dec 2019
review stating Little Book of Prompts
It's always a pleasure to be sent something to test from the generous Lovehoney - thanks a bunch! So what do we have here? A book of role-play ideas to get your imagination bubbling, that's what. There's 52 in all, so you're sure to find something in here that appeals to you. I consider my myself very fussy, but even I liked about 30% of them (yes, I actually worked it out). To be honest, I expected the most vanilla, overdone scenarios but was surprised by a good few of them. Don't get me wrong, all the classics are here; fire-fighter, nurse, office temp, etc. which aren't my cup of tea but I'm sure they are for someone. The book is a nice, compact size which is convenient for storage or travel. You can feel the quality in this book with its matte hardcover and thick, hardy pages - it's built to last, put it that way. The only problem with the matte cover is the way it picks up fingerprints, but that's a given with this material. The neon light design theme that runs throughout the book is cool to look at and easy to follow. There are no photos and text is kept to a minimum. The first few introductory pages include a gift idea "to-and-from" page and a "how to use" page. There's also an important message about safety and consent as a reminder to keep things fun for all members. There is a large role-play number on the left page and the idea name, simple illustration and scenario description on the right page. One could argue that having just the number on a single page like that is a bit of a waste, but I think it keeps the book simple and less cluttered. You can hold the book in a way where you can only see the numbers which can make picking one a surprise, too. There's no rule to say you have to read the book in order- just flick to a page and there's your scenario. If you did want to read the whole thing, you could comfortably do so in one sitting- probably less than 30 minutes depending on your reading speed. The scenarios are kept short and vague enough for you to get your imagination going. It won't go into great detail and it encourages you to go with the flow- it's up to you what happens next. The main themes tend to be: - Meet and do - Give in to temptation - Control/Do as you're told There's also a number of scenarios that I'd place in the "other" category. Because of the overall themes, there can be similarities in some of the descriptions. For example, obeying a monarch is almost like the hypnotist and devil scenario as you are essentially doing the same thing. I suppose what I'm getting at is that some of the themes tend to repeat themselves except with a different skin. This alone is probably enough to set them apart because even I prefer some ideas over others despite them having the same theme. There's ideas that are wackier than others, but there's potential fun in all of them. I can't really say if the fantasies are good or bad because everyone is different and will have their own unique experiences. Some I liked, some not so much. Nothing is really gender specific in this book, so anyone can take the role they desire. It's aimed as a couples book as all the scenarios require 2 people to act them out and I think it could be equally enjoyed by straight and same-sex couples. There's not much in the descriptions about adding more than 2 players, but hey, it's your fantasy (just add an extra fire-fighter or two). Even if you're single or just want to play alone, there's plenty of fantasy prompts here to be had. So basically, this book could be for anyone. However, if you prefer more in-depth descriptions/stories, then look elsewhere. If you like to use your imagination after a simple prompt, then it's more up your street. Dressing the part isn't required to have fun, but all the ideas are here in case you do. The tone of the writing is kept light and flirty with nothing being too taboo or offensive. This is a very nitpicky thing I had while reading the book which probably won't bother most people, but here goes. Even though the scenarios are kept vague, there's some extra info that I think should be left out. For example, "you're in a New York skyscraper". Why does it have to be New York? Or "you meet an alien that looks and feels just like a human". Can't an alien look like anything? I know Lovehoney probably want to play it safe, but I think little details like that should be more up to the reader's imagination. Again, you could just ignore certain things in the prompts and make them all your own. Well, there's 52 ideas in this book for you to select from- that's enough for each week of the year! It's sure to keep you busy but not with the reading material - it's short, sweet and to the point. A great source for those with a feisty imagination just waiting to act out a playful scenario. Which one are you going to do first?
Pros:
Cool and simple design. Storage and travel friendly. Plenty to choose from.
Cons:
Some ideas feel similar to one another. Imagination required as descriptions are short.
Bottom Line:
Will depend on taste of the individual, but it's fun to experiment with.
On Lovehoney Do You Come Here Often? Role Play Book