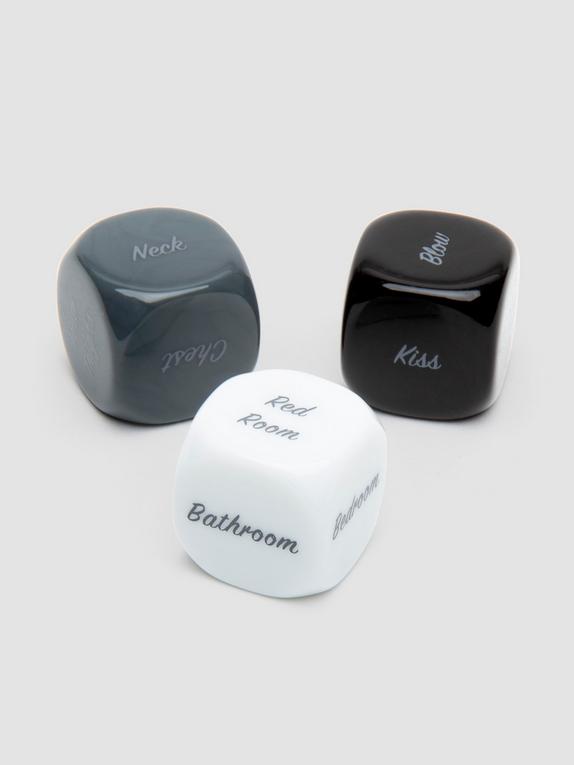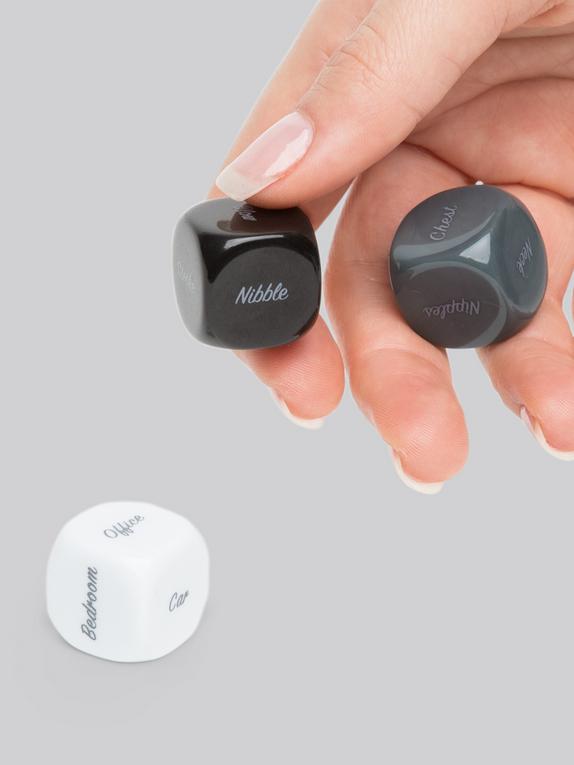 Fifty Shades of Grey Play Nice Kinky Dice for Couples (3 Count)
Last chance! This product is not going to be re-stocked!
3 x couple's dice inspired by the Fifty Shades of Grey books, designed to spark erotic play
Dice display either location, body part or action, for exciting, unpredictable scenarios
Complete with tips and suggestions on how to play for a more thrilling experience
Kickstart an evening of erotic discovery with this trio of kinky dice for couples. Inspired by the Fifty Shades trilogy, this seductive game of chance will lead you and your lover on a sensual journey of discovery, fun and fulfilment. Adventure awaits.

"Game on, Miss Steele." - Fifty Shades Freed

Complete with tips and suggestions on how to play, this seductive game of chance is sure to inspire many an erotic scenario.

Part of the Fifty Shades of Grey Official Pleasure Collection approved by author E L James.
Frequently bought together
Popular combos for more sexy fun
Customer reviews
2.7
2.7 star rating
3 Reviews
2.7
2.7 star rating
3 Reviews
Thank you for posting a review!
We really appreciate your opinion and hope to see you again soon.
Thank you for posting a review!
Your review was sent successfully and is now waiting for our staff to publish it.
Search reviews
5.0 star rating

4.0 star rating

3.0 star rating

2.0 star rating

1.0 star rating
Dicey Encounter
Review by handbanana on 29 Dec 2020
review stating Dicey Encounter
Male Perspective:For such a simple concept, I must admit it was extremely effective. A dice each covers what action you take, one covers which body part and the last explains where you do it. I found it not only a fun game to play, but obviously made for very exciting foreplay and I even found myself paying particular attention to areas I may have previously neglected or even performing actions I hadnt previously considered may feel good on a certain area and so led me to learn more about my partner! The simplicity of it means you can set as much or little time to each roll as you or even remove the location dice entirely (although it does add a very exciting element to let the dice decide it all!). The dice even offer an option to decide for yourself depending on what is rolled but by the time I landed one we were a few rolls in and I was too worked up to feel the gratisfaction of that!Ultimately I would say they are a very fun way to start an encounter and the dice themselves even feel quite satisfying to hold Female Perspective:A really fun and easy introduction into some playful bedroom antics. The dice are easy to use and understand, and have a satisfying feel to roll and play around with. The three dice offer a really nice range of options/actions to engage in with your partner, and we had a lot of fun exploring areas and zones we may have previously ignored! What can start as a silly bit of fun can quickly escalate and leave you trembling with readiness for the next roll. It's VERY easy to get carried away and find these dice popped to the side whilst you go wild for each other. Over all, a really fun and interesting way to build up and tease your partner!
On Fifty Shades of Grey Play Nice Kinky Dice for Couples (3 Count)
Great box, disappointing game
Review by A F. on 29 Dec 2020
review stating Great box, disappointing game
Upon receiving the package from lovehoney I was rather excited to open it, it was presented in a large well designed box with some reflective text and outlines to really accentuate the otherwise dark and secretive box design. Opening the box to take out the dice keeps up the great design work, with an intricate folded card insert that nestles them securely inside. Unfortunately the box was my favourite bit.The box describes the rules easily enough; three dice, one for the room you will go to, one for the location of the body you will enjoy and one for the action. This has some design issues and really isn't worthy of the fifty shades branding. The room and the body part dice both have a special side where you can pick anything, which helps keep the game somewhat interesting, however the default selection is lacking severely. The grey body part dice has omitted the bum. Seems a very large oversight given everyone has one, yet it has a side for chest and a side for nipples, which could just have easily been combined as pointed out by my girlfriend. The others are expected and bum could be played with using the special side, but I feel it's a big thing to miss out when I'd also like to play with my partners ears (as she seems to really like it).The next disappointment is the action dice. Being fifty shades of grey I was expecting some form of pain pleasure such as bite or slap or even tickle, however none of this is present. There isn't even a special side to add in your own mix! Expect actions like lick, blow and stroke.The box contains only the three dice, which are weighty and large. They give a good satisfying clunk when you pick them up and roll them in your fingers to build up the excitement before a throw. Given the large size you would think they would be easy to read? Well the great box design didn't carry over to the dice… All the text is in a flowing grey font, maybe because of the 50 shades of Grey branding. This is fine and clear on the white dice (this tells you which room to go and play in) however the black and dark grey ones are incredibly hard to read, distracting you from the actual fun.Given the design flaws for us (no bum, nothing more interesting than a lick) it was hard to build up the enthusiasm to really enjoy the dice on their own. It was the first set of dice we bought and we may bring them back out to combine with the card game we own to make our own game, otherwise they are likely to sit in the cupboard most of the time.Last thing to mention (just to kill the mood entirely haha) is I really feel like the box and everything was designed to go on a shop shelf i.e it's large and bold. It might make a nice silly present however it feels really bad for online stores like lovehoney. Quick maths and you could fit 60 individual dice in the box! There's nothing extra in the box so it feels like a huge carbon footprint especially as everything gets posted to your homes. At least it's card and not plastic...
On Fifty Shades of Grey Play Nice Kinky Dice for Couples (3 Count)
Not too bad
Review by Roo95 on 27 Dec 2020
review stating Not too bad
This is quite a tame game, with a few exciting rolls, but most of it would be just general foreplay. The dice themselves are good quality but they could be a bit more exciting... we have used them several times now to get a few different combinations. If you are wanting really saucy foreplay I wouldn't recommend these.
On Fifty Shades of Grey Play Nice Kinky Dice for Couples (3 Count)