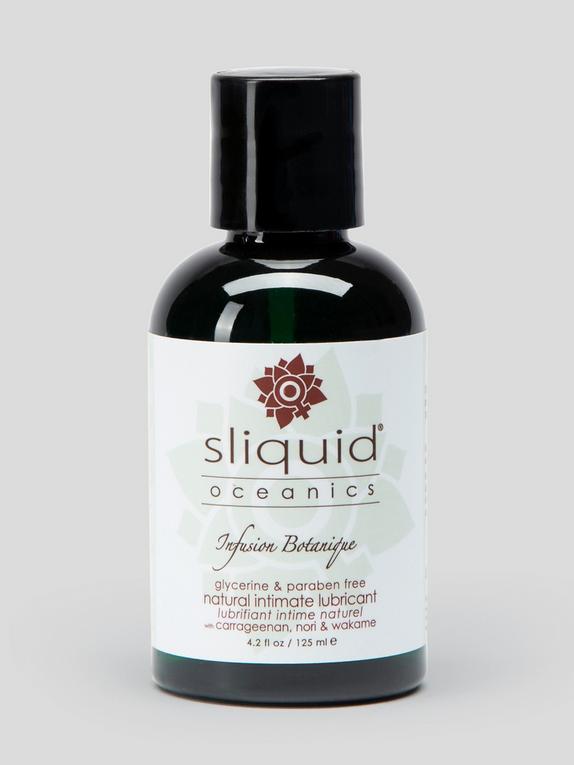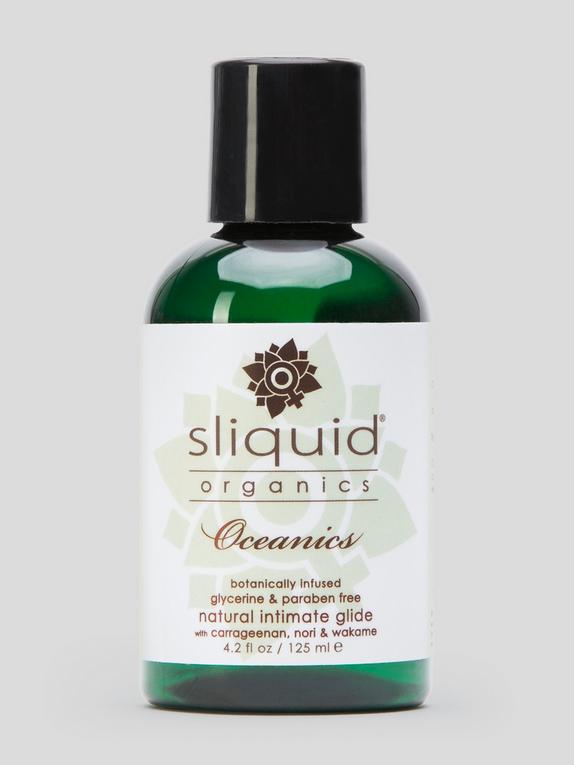 Sliquid Organics Oceanics Natural Lubricant 4.2 fl oz
Organic aloe-based lubricant for enhanced slip during intimate play and sex
Infused with aloe vera and nori seaweed that nourish your skin
Vegan formula is compatible with all toy materials and skin types
A clean and simple water-based lubricant infused with natural extracts from the sea. Latex, rubber, plastic and vegan friendly with no nasties. Just pure, slick and sensual lubrication for you, your partner and your sex toys.

Offering a healthier choice to women who can be sensitive to many lubes on the market, Sliquid Oceanics is a lubricant that has been blended with certified organic botanical extracts that heal and support the body.

With a light, barely detectable taste and slight scent.

Suitable to use with condoms, sex toys and during all-kinds of sexy play. 100% Vegan.

Ingredients: Organic Aloe Barbadensis Decolorized Leaf Juice*, Organic Agar Agar, Carrageenan, Organic Nori, Organic Cyamopsis (Guar) Gum, Organic Hibiscus Extract, Organic Flax Extract, Organic Green Tea Extract, Organic Sunflower Seed Extract, Potassium Sorbate, Citric Acid
*reconstituted
Essential Info

Bottle type: Squeeze
Lubricant Type: Water-based
Volume: 125 ml
Frequently bought together
Popular combos for more sexy fun
Customer reviews
4.7 star rating
4.7
9 Reviews
Thank you for posting a review!
We really appreciate your opinion and hope to see you again soon.
Thank you for posting a review!
Your review was sent successfully and is now waiting for our staff to publish it.
I always forget how much I like Sliquid Lubes
Review by Calie on 23 Sep 2020
review stating I always forget how much I like Sliquid Lubes
I don't use huge amounts of lube and, being a creature of habit, tend to reach for the nearest bottle when I need some. I have used Sliquid lubes in the past and they work really well for me, I particularly like the Sliquid Sea and so this one seemed to be a good option as it is essentially the organic version. The consistency of this lube is really nice. It is quite thin but it isn't so thin that it just runs off and it is nice and smooth. Although it doesn't quite mimic natural lubrication, it doesn't feel too fake either. For a water based lube, it also lasts a fair amount of time. Granted, I tend to use lube at the beginning for play before my own lubrication kicks in but this certainly lasts well into that. When it does absorb in, it doesn't leave behind much of a tacky residue like some lubes can. It does have a faint smell and taste to it, but it doesn't taste particularly bad and there isn't much of an aftertaste to it. I do prefer a pump bottle, but the press cap lid does loosen with use. You do need to squeeze the bottle to get the lube out, but it is a fairly soft plastic. However, if this is difficult, you can unscrew the lid easily and pour the lube. This is definitely not a cheap lube but, in my opinion, it is worth it for being a good consistency, not sticky when it dries and not having tons of chemicals in it.
Pros:
It does what I need it to do.
Bottom Line:
A good lube.
On 29133
S
Sappho, W.
5.0 star rating
Sliquid comes through again
Review by Sappho, W. on 25 Jul 2019
review stating Sliquid comes through again
So this isn't the first sliquid lube I've tried, so I knew what .org of quality to expect and it did not fail to perform. The lube feels super natural, as close as you can get to your own natural lubricant. Once it's in you it honesty becomes pretty indistinguishable. Great feel, not tacky at all and does not leave gross marks on your sheets. Doesn't really smell of anything and I can't really attest to taste but my partner didn't complain at all. Definitely worth what you're paying for, as cheaper, non-organic lubes have caused me problems in the past but the organic formula of the sliquid oceanics doesn't cause any irritation. Would recommend to anyone looking for a high quality, great feeling lube, undoubtedly beats every other brand I've ever tried.
Pros:
It feels natural and improves penetrative sex with partners or toys.
Bottom Line:
Best addition you could make to your penetrative sex life.
Cons:
Nothing. No complaints, and I am fussy.
On 29133
A
Adventure F.
2.0 star rating
Hit and Miss
Review by Adventure F. on 24 Mar 2018
review stating Hit and Miss
We got two bottles from the get go as the reviews were raving about it but unfortunately one bottle seemed good while the other one disappointed. We had to use quite a lot of it to get any kind of lubrication going and would not recommend for anal sex as we didn't find it slick enough. It dries quite quickly as well.
Pros:
Its neutral scent and taste.
Bottom Line:
Underwhelming.
Cons:
The slickness of the product and inconsistency.
On 29133
Ocean fresh fun
Review by Fun L. on 5 Aug 2017
review stating Ocean fresh fun
I purchased the sliquid organically oceans lubricant as I wanted to try to use a more natural lubricant. This is glycerine and paraben free, and 95% organic ingredients, as well as being 100% vegan. So this is ticking all my idealistic boxes. It's not the cheapest at £11.99 for 125mls, but I'm a great believer in you get what you pay for. The bottle has an easy to use pouring click lid, that allows for easy one handed dispensing. The lubricant itself is clear, fragrance free (as best as I can smell) but it does have an extremely subtle taste. It's difficult to describe, but it's delicate, fresh and light, although honestly I'm struggling to identify what it tastes of. It's nice, and not at all chemical or artificial in its taste. The first test I gave this love was with one of my silicon dildos. It's waterbased so it's perfect for use with silicon toys. In fact it's perfect to use with any to toy! The lube is a little bit runny, it's smooth and feels very much like natural juices when in use. There is no sticky residue, and it doesn't leave a mark on your bedsheets. (Always nice to know). It lasts fairly well but my overwhelming feeling is that it's real. It's very close to the feeling of my natural juices, and for me this makes solo fun more enjoyable. I really hate the feeling of sticky mess that lubricants with glycerine oftern have. The second test of this lube was in giving my OH oral sex. The delicate task was almost not noticeable, but the lubrication again felt perfect. My OH agrees that it feels very natural. This is the best lubricant I have ever used and it's formy on my "need to buy more of this" list. In summary, if you want a natural feeling lubricant, that has a subtle taste, and no smell, buy this. In fact if you ever need to buy a bottle of lubricant again buy this one, it really is worth every penny.
Pros:
Delicate taste, no smell, feels completely natural, organic, vegan friendly. Everything.
Bottom Line:
This is the single best lubricant I have ever used. It's worth every penny.
Cons:
Nothing, you get what you pay for.
On 29133
N
Notmadetomeasure
5.0 star rating
Gentle lube
Review by Notmadetomeasure on 26 Mar 2014
review stating Gentle lube
I bought this as I hate the thought of lots of chemicals and it's veggie so animal friendly too. I also get thrush quite a lot so I thought this might be more gentle and natural. I was right. No sting when applied as I would normally get with other lubes. It also made my partner feel soft and moisturised after sex unlike other lubes which cause him dry skin which can irritate. I love the fact it feels realistic and not as watery as others lubes. The only thing I don't like is trying to get it out the bottle. Maybe it's just me but it's pretty hard to squeeze any out which takes a bit of the spontaneity out of sex but the quality of the lube makes up for that.
Pros:
It's very gentle for sensitive skin.
Bottom Line:
Must have for sensitive skin.
Cons:
It's hard to squeeze out the bottle.
On 29133