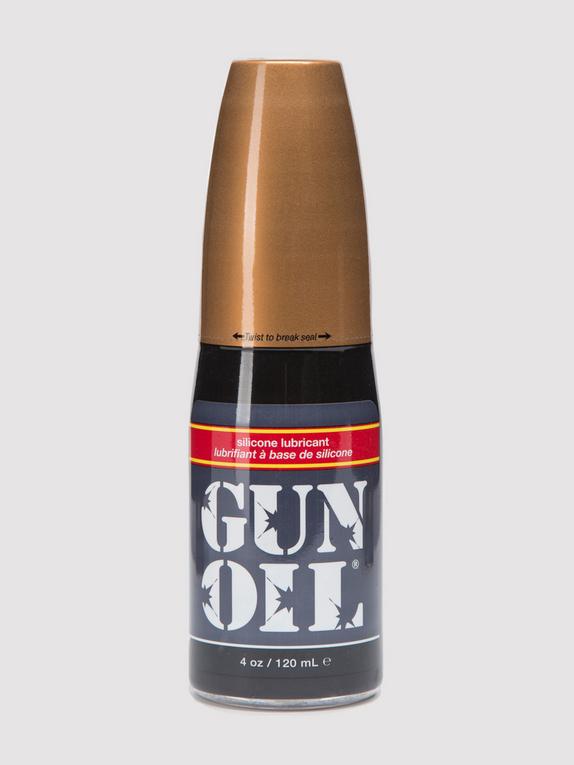 Gun Oil Personal Silicone Lubricant 4.0 fl oz
Silicone-based sex lube for sensational slip and slide during intimate fun
Ideal for solo operations, shared operations and Project S.E.X.
Formulated for long-lasting, rapid fire action
Contains vitamin E and aloe vera for their moisturising properties
Not suitable for use with silicone toys, but condom-safe and great for shining latex garments
The premium condom-safe personal lubricant that keeps a man's most important weapon well oiled. If the military issued a lube, this is what they'd distribute with the condoms and artillery. Developed by marines for marines.

During Operation Desert Storm, marines jacked off with actual military-issue gun oil while hunkered down in the trenches of Kuwaiti battlefields. A group of those marines developed a high-tech, condom-safe formula for smooth, rapid-fire action.

This silicone-based lube keeps a Private's parts well-lubricated with added Vitamin E and Aloe Vera for longer lasting, slicker ride and minimized skin irritation.

The ultra-concentrated formula is designed to last and last and last - a few drops lubricate thoroughly without breaking down or drying out.

Ingredients: Dimethicone, Vitamin E, Aloe Vera, Dimethiconol, Cyclomethicone.
Essential Info

Bottle type: Squeeze
Lubricant Features: Condom-safe
Lubricant Type: Silicone
volume: 120 ml