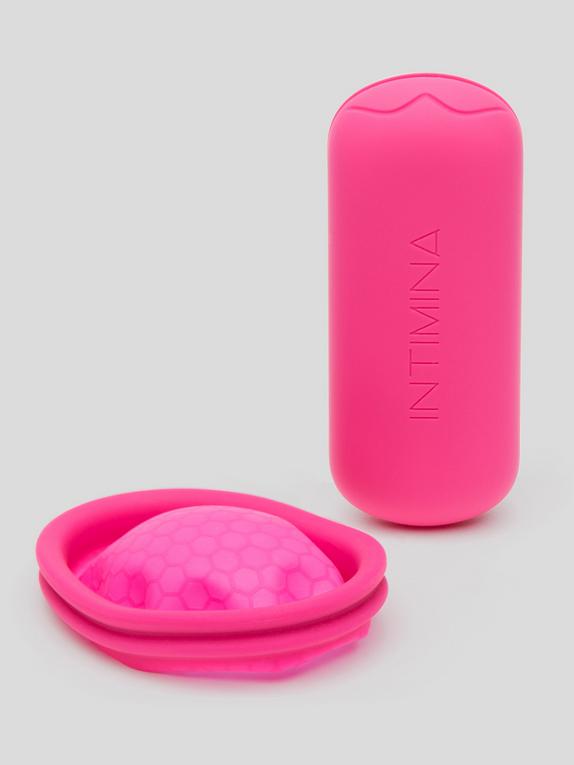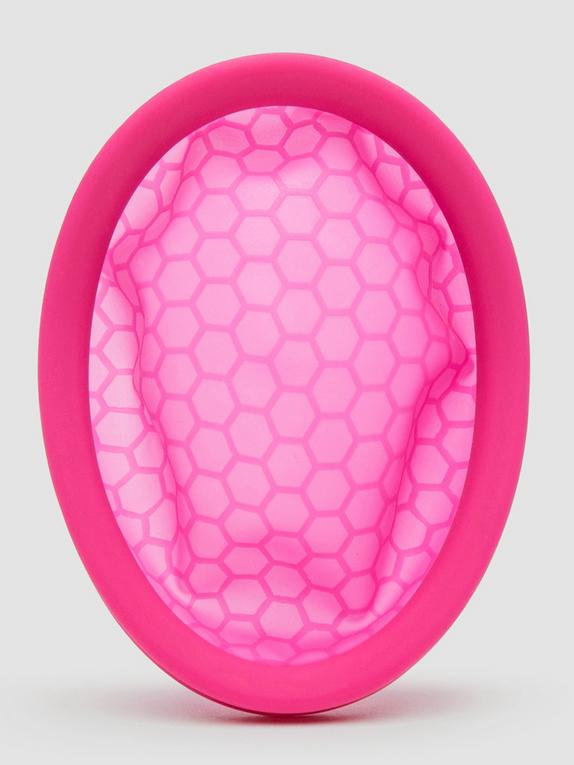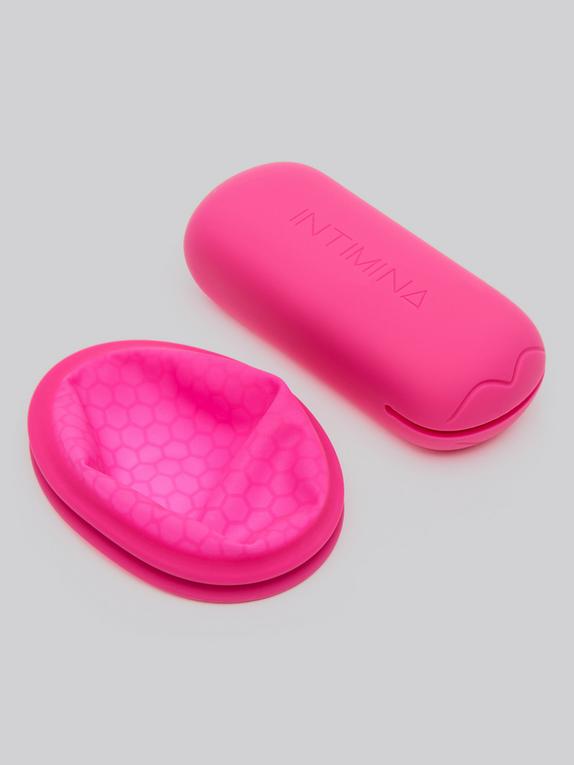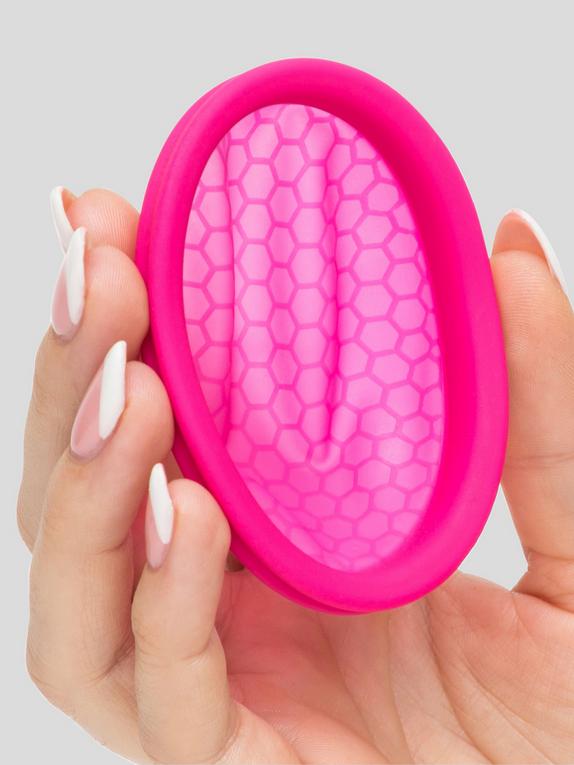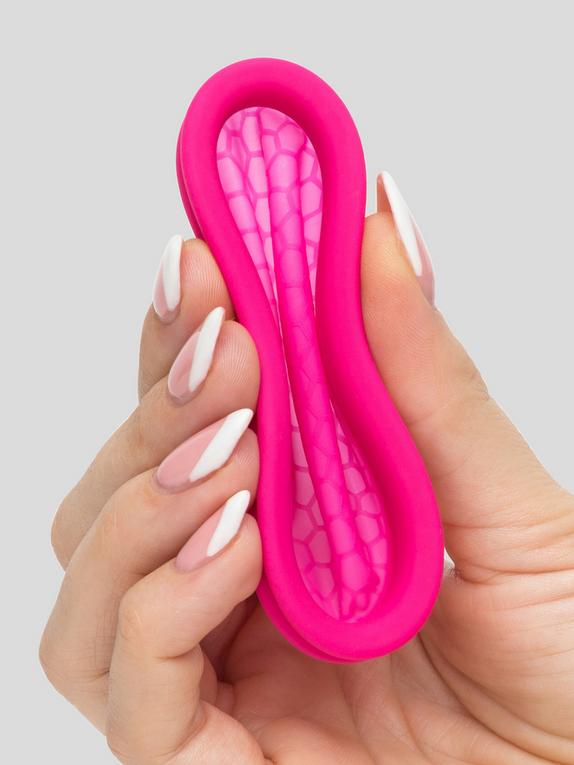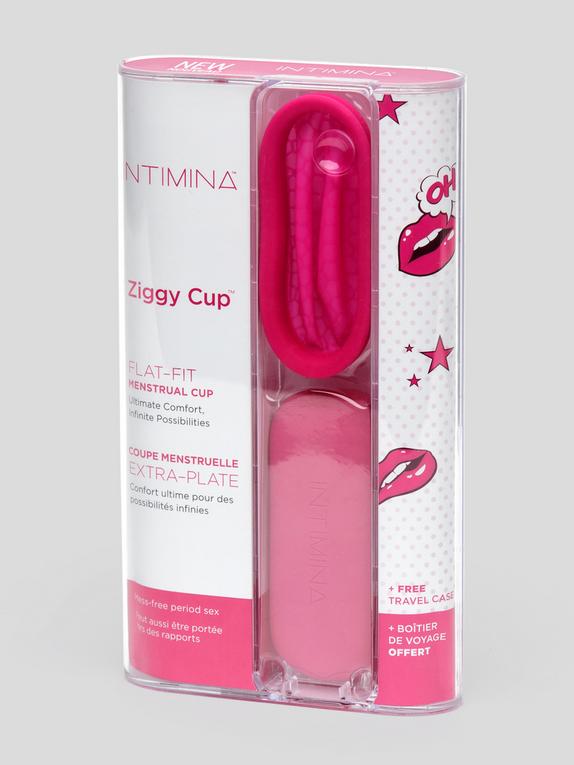 Intimina Ziggy Ultimate Comfort Flat-Fit Menstrual Cup
Last chance! This product is not going to be re-stocked!
Slimline reusable menstrual disc for mess-free sex even during your period
Petal-thin design and leak-proof double rim offer up to 12 hours of protection against leaks
Medical grade silicone is body-friendly and easy to clean
Eco-friendly sanitary product that can be used again and again
2.5 fl oz capacity covers light to heavy flows
A period shouldn't come between you and sexual satisfaction, and with Ziggy, it won't happen again. This specially shaped menstrual cup slips inside the vagina to give you up to 12 hours of protection – that's 12 hours of fun, freedom and feel-good.

Made from smooth, thin silicone and specially designed to provide non-intrusive protection during sex, Ziggy can hold up to 2.5 fl oz of menstrual fluid and can't be felt once it's been inserted.

Plus, it comes with a travel case so you keep it with you and avoid being caught unawares.

It slides inside even without lubricant, but feel free to use some water-based to make things smooth. Sexy times are go!
Essential Info

Allergens: Latex-Free , Phthalate-Free
Waterproof: Submersible

How it Measures Up

How it Feels

Flexibility: Flexible
Material: Silicone
Frequently bought together
Popular combos for more sexy fun
Customer reviews
4.0 star rating
4.0
7 Reviews
Thank you for posting a review!
We really appreciate your opinion and hope to see you again soon.
Thank you for posting a review!
Your review was sent successfully and is now waiting for our staff to publish it.
Design:
Ease of use:
Quality:
Orgasm rating:
Everyone who has periods needs this
Review by Xx A. on 26 Nov 2020
review stating Everyone who has periods needs this
This is completely life changing! I have heavy (and I mean the shining level heavy) periods and so had always been a bit sceptical about menstrual cups just not being practical and had not been a fan of period sex purely on an admin front, you have to get a towel ready, you have to have a shower straight after, you can't be spontaneous etc- cut to end of Lockdown 1.0 and I am going to get to see my boyfriend for the first time in 100 days and of course my period is also due the same weekend. So I did some research and found out about menstrual discs and IT. WAS. LIFE CHANGING.First up the disc itself is really well designed, it comes in its own little silicon case which is quite small and could be easily slipped into even the smallest handbag. The disc and the case are both body safe silicon and can be easily cleaned with soap and water, and at the end of my period I sterilise cup and case in water with a milton tablet (you know the ones you get for sterilising baby bottles etc). The cup really easy to fit (though the packaging isn't helpful on this front- I looked it up on youtube):1. Take the disc out of its convenient little silicon case and you can see its slightly teardrop shaped - you want the widest end to go in first. 2. Sitting on the loo (it's very hard to fit stood up) squeeze the sides of the disc together and push it into your vagina wide end first - it's going straight back, like a drawer, not up, down or to the side. 3.When you have most of it inside push the last bit in with you finger and hook the rim of the cup behind your pubic bone. When its fitted correctly you basically cannot feel it at all!If you aren't sure if it's in right, feel for your cervix (this feels like the tip of your nose), as it should be covering it like a little hat, if you can feel your cervix is not covered by the cup, pull it out, rinse it, and try again (you will get the knack pretty quickly don't worry). You can wear it for up to 12 hours without having to change it so you don't need to worry about sleeping in it.To empty it sit on the loo and bear down which should break the seal, hook your finger under the rim of the cup and pull it out like a little drawer.You WILL get blood on your hands, its fine, after a couple of goes you will get the knack of removing it quite neatly. Empty the disc into the loo and wash it before reinserting. Note that blood is heavier than water so you may need to flush the loo twice to get rid of all traces (you may find you see a little blood in the loo at other points of the day even if your knickers have stayed clean, this is because of the vacuum breaking when you bear down rather than it leaking/overflowing) I would recommend having two of them, as if you need to change it in a bathroom where you don't have immediate access to a sink, eg a public toilet cubicle or a loo which is in a separate room to the bathroom, then you can take the old one out wipe it down with loo roll and put it in the case and put the fresh one in and then go out and wash the used one after. I had to change mine in a motorway service toilet and immediately bought a second one so I wouldn't have to go through the faff again.As I have very heavy periods I still put a sanitary towel in my knickers for peace of mind but I haven't found it to leak yet!! ( I can NOT stress how impressive this is) Though I very rarely leave it for longer than a few hours before changing it (max 4-6) however people with medium to light periods would definitely be fine!Now for the most exciting bit : PERIOD SEXThe first time we used it we were understandably cautious so we put down a towel just to be on the safe side --- blood stains who? I don't know her!Honestly completely mess free and let me tell you we hit some ANGLES! There was not a single drop of evidence afterwards and no late night showers were necessary! Which was particularly impressive when I changed it afterwards and found it was very full but still hadn't leaked at all!It's also actually incredibly comfortable during sex, I couldn't really feel that it was there and my boyfriend said that though if he thought about it, it was there, 'it just felt like you'.You can notice it a bit during fingering BUT most importantly of allllll my boyfriend was able to go down on me on my period and not come up looking like Dracula AND because all the menses are caught in the cup he could just taste my wet and not blood! In short this product is A. MA. ZING. everyone who has periods should own two! Though that's a large initial outlay, the amount I've already saved on sanitary products, It's DEFINITELY worth it + it's so much better for the environment than all those tampons going to landfill. Save the planet, be kind to your wallet and have mess free period sex - you will NOT regret it!
Pros:
Mess free period sex - I cannot stress this enough! It brought the spontaneity back!
Cons:
The instructions to fit it are not clear, hopefully my review helps, if not, YouTube!
Bottom Line:
Super practical for sex, sport (inc swimming), Life, buy two + tell your friends!
On Intimina Ziggy Ultimate Comfort Flat-Fit Menstrual Cup
Design:
Ease of use:
Quality:
Orgasm rating:
Better than expected
Review by Caz56761 on 23 May 2020
review stating Better than expected
So as it states in the title it was better than I expected, this is my second cup the first being a boots special... it worked it did the trick so it lead me to look further into things and I discovered this amazing ziggy cup, it is comfortable to wear and easy to fit. It holds way more than I would have ever expected, and ladies if you suffer from that dreaded pulling feeling where your period is that heavy your not sure if your insides are about to fall out this helps to ease all of that. I have not attempted to have sex using this but I feel it would be the same as using the contraceptive cap.. Also just to help with size guidance too I'm a mom of 5 and it's a snug fit
On Intimina Ziggy Ultimate Comfort Flat-Fit Menstrual Cup
L
Littlemisswinelips
4.0 star rating
Design:
Ease of use:
Quality:
Orgasm rating:
Comfortable but a little tricky
Review by Littlemisswinelips on 23 May 2020
review stating Comfortable but a little tricky
I tried the ziggy menstrual cup as I have used cups for a long time, needed a new one and loved the idea of being able to use this for mess free sex. The cup itself is soft and strong, comes with a good little carry case and is easy to clean. The instructions on the package are really vague, so I watched the video info on lovehoney and others online to make sure I was doing it right because it is a bit tricky to get into place. The first time I properly got it into place it was really comfortable, totally leak proof and I almost forgot it was there. For sex while wearing it, it did its job no mess anywhere. I was just a little concerned about my partner feeling it. But I couldn't feel it, only in my mind! and I don't think he noticed much, nothing of note anyway. But then during normal wear out and about, once I thought I'd got the hang of it and was happy with it, I found that it kept slipping. I don't know if your cervix changes position along your cycle, but I just couldn't get it to stay up there! I've read various comments saying the same, that they couldn't wear it for the beginning of their period but could at the end.. so I'll try again next month and hope I crack it because I really want it to work for me! It's good for the environment, comfortable to wear, with the added bonus of no sexless weeks mid month.. I just need to practice I think, but surely it shouldn't be that hard!
Pros:
Comfortable, environmentally friendly, easy to clean, can wear during sex.
Cons:
Probably a bit messy to empty in public toilets, difficult to get the hang of.
Bottom Line:
Probably excellent once you get the knack but a bit tricky to master.
On Intimina Ziggy Ultimate Comfort Flat-Fit Menstrual Cup
Design:
Ease of use:
Quality:
Orgasm rating:
Just perfect
Review by If T. on 16 Feb 2020
review stating Just perfect
I love this cup. It is easy to use, effective, discrete, reusable, causes no irritation and best of all: it can be worn during sex! I've used other intimina cups before, but got to admit I always found the tip of the cup poking out quite uncomfortable, and having had disposable discs before I thought I'd give this a try. It is super comfortable (you don't feel it at all) and the seal it forms can also help with cramps. Yes, it takes a little practice to get used to it, but most things do, and once you get the hang of it you'll be able to do it in seconds. I wear mine throughout my period, for sex and all other activities including swimming and cycling. My partner can just about feel it but says it doesn't detract from the experience, and it means the sheets aren't stained afterwards. I also love that you can just rinse it out every 12 hours so you don't need to be constantly changing it through the day. My only gripe with this is the packaging, so much of it! I've repurposed it as makeup and jewellery drawer organisers but I really feel like this was a bit over the top. That being said 10/10 for Lovehoney for supplying this and empowering women to have sex throughout their cycle!
Pros:
Comfortable and easy to use. Highly effective!
Cons:
Too much packaging.
Bottom Line:
Worth every penny!
On Intimina Ziggy Ultimate Comfort Flat-Fit Menstrual Cup
Design:
Ease of use:
Quality:
Orgasm rating:
Mess-free period sex
Review by Limasm on 12 Feb 2020
review stating Mess-free period sex
as a long time menstrual cup user I was intrigued and excited at the prospect of mess free period sex using a menstrual disc. The Ziggy is soft, flexible and easy to use. It even comes with its own silicone pouch. During my period it worked great from the start although I think it may be a little big so a range of sizes and would be an advantage. But it lived up to expectations, I had mess free sex while on my period for the first time ever!! I'm a convert from cups to discs for sure!! The only thing I will say though is mess free removal is an art, it can get very messy at cleaning time!!
Pros:
Mess-free period se.
Bottom Line:
Brilliant for period sex but messy removal.
On Intimina Ziggy Ultimate Comfort Flat-Fit Menstrual Cup