$2.99
$9.99
You save:
$7.00 (70%)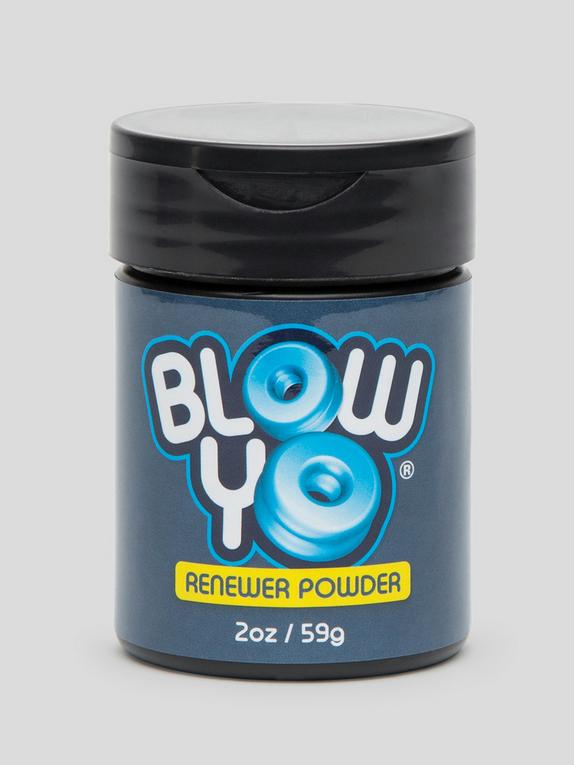 BlowYo Stroker Renewer Powder 2oz
$2.99
$9.99
You save:
$7.00 (70%)
Last chance! This product is not going to be re-stocked!
$2.99
$9.99
You save:
$7.00 (70%)
Renewer powder to restore the lifelike feel of your BlowYo super strokers
Non-toxic formula helps extend the life of your super strokers
Apply after cleaning and drying to keep your toys soft, supple and just like new
Keep your BlowYo super stroker in tip-top condition with this easy-to-use renewer powder. The soft, supple material of your BlowYo toy will stay as good as new when it has a post-clean dusting of this powder after every use. Open, sprinkle, job done!

First you wash your stroker with warm soapy water and an antibacterial sex toy cleaner. Leave it to dry naturally, then sprinkle a light dusting of BlowYo Renewer Powder on it until a thin layer forms. Then you can just pop your BlowYo in its storage case somewhere nice and dry, and keep it safe, soft and supple till next time.

Ingredients: 100% cornstarch
Essential Info

Pharmacy drug type: Powder
Frequently bought together
Popular combos for more sexy fun
Customer reviews
4.3 star rating
4.3
6 Reviews
Thank you for posting a review!
We really appreciate your opinion and hope to see you again soon.
Thank you for posting a review!
Your review was sent successfully and is now waiting for our staff to publish it.
L
Little B.
2.0 star rating
Blow No
Review by Little B. on 3 Jun 2018
review stating Blow No
While we all know sex toy cleaning ad maintenance is essential, it is something none of us like doing, products like the the blow yo renewer powder probably contribute to that. While the shaker itself is discreet, small and easy to pack away, the powder itself its packed in so tightly it fails to be easy to apply. The shaker like top is nice and helps to manage the dispersal of the powder, however it takes multiple shakes, taps and prods to get any out. It feels like a workout in it's own right. The sprinkle is inconsistent, if at all and you are often left having to unscrew the cap. The powder itself works well ad keeps your toys fresh between uses and stops them feeling sticky and tacky. Sadly n mind slightly inferior to a popular male masturbators equivalent.
Pros:
Presentation and shaker style cap.
Cons:
Difficult to use and apply.
Bottom Line:
A necessary evil but better alternatives are out available.
On BlowYo Stroker Renewer Powder 2oz
Magic powder
Review by Lil K. on 24 Apr 2018
review stating Magic powder
Sex toy maintenance is essential and one thing people don't seem to realise, but if you have a favourite toy then you should take good care of it. With lots of different products on the market to keep your toys fresh and clean from bacteria but you also need a renewal powder to keep most of them looking and feeling their best. I bought some of the Blowyo toys but this product seemed perfect for all my other toys too and some of my lady's favourite dildos so we purchased a tub straight away! The package arrived from lovehoney and was discreet as always, inside was a nice little tub of renewal powder with flip lid. A plastic seal is around the product so you know it hasn't been tampered with and this also makes sure the powder inside is clean from any external bacteria or damp etc when it has been stored in the warehouse. We flipped the lid and the packaging was really nice and by easily removing the label you could keep this on a shelf without anyone knowing what's inside. The label does give you all the instructions required for use and it simply has the "BlowYo" logo on the outside. Inside the box we received the following: 1 x 59G renewal powder (Ingredients: 100% cornstarch) The powder is easy to use, once you remove the packaging you flip the lid to reveal a kind of salt shaker top which allows you to simply powder your toys after a nice wash and dry. Just use your toys as you normally would and once finished give them a good wash with warm soapy water or anti-bacterial wipes and then dry them, once they are dry give them a light dusting of this and slightly rub the powder in so it's a thin layer and leave the toys until the next session. One important note to take is to make sure the toys are dry or the powder will clump up and wont work effective, it will be a big waste but if used properly the powder is easily used and spreadable. Experience: After using the Blowyo stroker I decided to give it a nice warm soapy bath and get it all clean, I gave it a dry using a towel and once it was super dry I got the renewal powder and flipped the lid. I sprinkled some of the powder onto the toy and gently spread it all over with my finger to make sure it had a good thin coat or the powder, it instantly felt smoother and softer and I put the toy away till next time. I was worried about the powder the next time we played but this was 100% corn-starch and seems to be natural and didn't cause any reactions but my toy was extremely soft and nice to touch, it almost felt like real skin. My partner has started using this on her realistic dildos and it really has kept them in top condition, just a gentle tap to remove the excess powder and usually but the time you go back to use the toys the powder is non-existent. I would highly recommend this product to anyone who wants to keep their toys in a brand-new condition and make them nice and soft, a word of warning is to make sure the little pot is closed up after use to make sure dirt/dust and any excess water gets itself inside as this will clump up all the powder.
Pros:
Easy to store and super easy to use, discreet and keeps toys new.
Cons:
Nothing to dislike.
Bottom Line:
Great and an essential to keep your toys good as new!
On BlowYo Stroker Renewer Powder 2oz
Don't turn your BlowYo into a BlowNoNo
Review by Gay G. on 4 Oct 2017
review stating Don't turn your BlowYo into a BlowNoNo
The BlowYo renewer powder works identically to the Fleshlight powder in the sense it keeps your toy, looking and feeling great after each usage. Stored in a little compact shaker container it's easily applied, the only downside is it can be a little generous with the amounts so I place my finger over some of the holes in the lid to prevent over powdering.
Pros:
Compact, easy to use, fairly priced.
On BlowYo Stroker Renewer Powder 2oz
Handy essential
Review by Alex S. on 30 Jul 2017
review stating Handy essential
Item arrived on time and discreetly as is always the case with Lovehoney. I have reviewed several different renewing powders now, and iust begin by saying the same thing that i always do. The powder itself is just cornflour, which can be purchased for very cheap in a supermarket. Now that is said, it is definetely worth using this renewal powder on your BlowYo to make sure it is kept dry, and doesn't develop a slimy texture. The renewal powder comes in a nicely sized pot, with some fun branding on the outside. It is a straight forward shale dispenser with a lid, and therefore is very easy to use, even in a hurry. I must warn you whenever using a renewal powder on do it in your bathtub/shower/sink, or over a towel as it can get messy. Overall this powder does what it says on the tin, and is a must have to ensure you keep your BlowYo in tip-top condition.
Pros:
Easy to use dispenser, nice size pot, works well.
Cons:
Gets a bit messy putting on.
Bottom Line:
An essential to have alongside your BlowYo.
On BlowYo Stroker Renewer Powder 2oz
D
Devoted H.
5.0 star rating
The perfect addition to keep your BlowYo like new
Review by Devoted H. on 27 Jul 2017
review stating The perfect addition to keep your BlowYo like new
BlowYo Renewer Powder I was given the opportunity to test out this product. It comes in a small discrete container. It has an easy to pop lift lid. Then there is a disperser which is made up of a lot of small holes to prevent the powder from all coming out at once. It is a great little container, as it is small and compact. The side has instructions on how to clean and use this on your BlowYo stroker. This is ideal as if your like me I never keep packaging, so although the stroker packaging had cleaning instructions, I have already disposed of that. So a reminder on cleaning and renewing to keep the toy like new is always welcomed. To use it is very easy and a little powder goes a long way. So although it is a small container, it will last a long time. I have used this powder after every time I have used my BlowYo and it certainly does feel fresher than the other strokers I have. These other strokers, although cleaned and sterilised but not powdered, end up feeling slightly sticky and turns me off using them. My partner has also used this powder to clean the BlowYo for me and was surprised that it wasn't messy and very easy to use. This is a perfect addition to add when purchasing a BlowYo Stroker. After all, you want to get the most life out of the toys you buy.
Pros:
Small compact container. Easy to use. A little goes a long way.
Bottom Line:
A must-have when you purchase yourself or your partner a BlowYo.
On BlowYo Stroker Renewer Powder 2oz