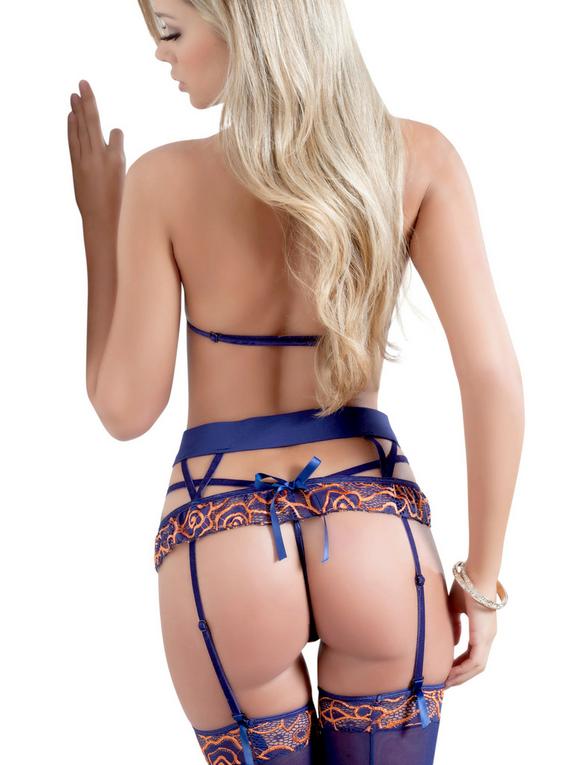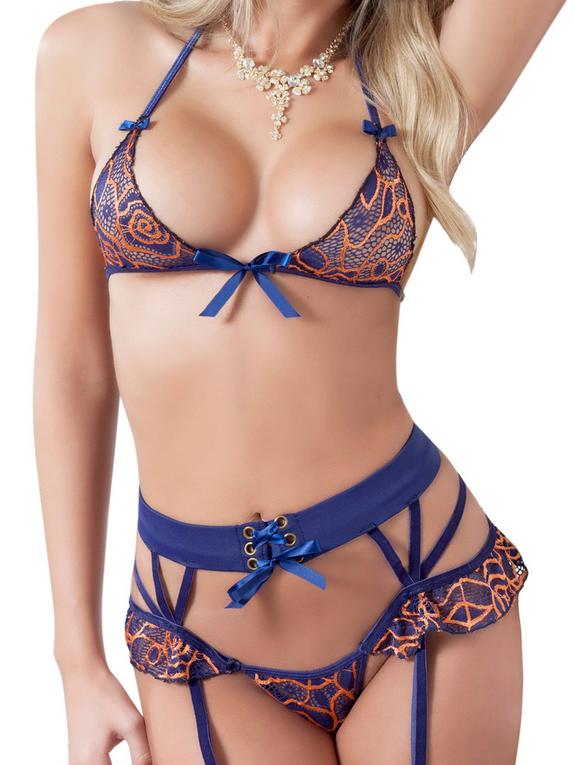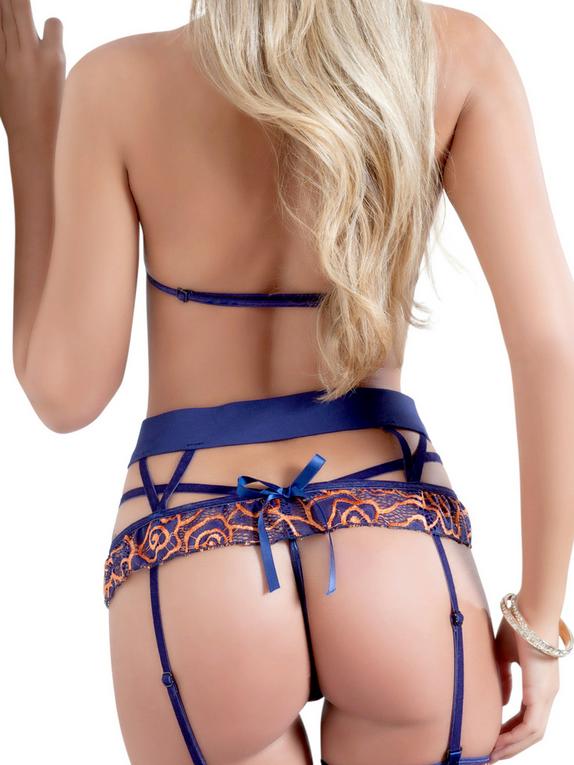 G World Embroidered Bra Set with Garter Belt and Stockings
Last chance! This product is not going to be re-stocked!
Body Size: One size - Dress size 4 - 8
Sexy embroidered hip hugger and bra set with stockings for sophisticated seduction
Triangle cups in orange and blue colourway that show off your breasts
Lace-up hip hugger creates a slimming silhouette
Ruffled thong features removable and adjustable suspenders to wear with or without stockings
Matching stockings with embroidered band to complete your seductive ensemble
Wow your lover in this sophisticated, embroidered hip hugger and bra set by G World. With its halter neck, pretty bows, strapping and lace-up waistline, it creates a seriously sexy silhouette.

The bra features pretty orange and blue embroidery on the triangle cups, a large band of soft fabric that hugs the waistline, leading to pretty straps and a ruffled thong that draws all eyes downwards. Wear the matching stockings by clipping to the adjustable suspenders, or simply remove for a fuss-free look.
Frequently bought together
Popular combos for more sexy fun
Customer reviews
2.7
2.7 star rating
10 Reviews
2.7
2.7 star rating
10 Reviews
Thank you for posting a review!
We really appreciate your opinion and hope to see you again soon.
Thank you for posting a review!
Your review was sent successfully and is now waiting for our staff to publish it.
Search reviews
5.0 star rating

4.0 star rating

3.0 star rating

2.0 star rating

1.0 star rating
Not As Sweet As A Chocolate Orange
Review by Mint-Monster on 5 Jun 2021
review stating Not As Sweet As A Chocolate Orange
Thanks to Lovehoney for sending me this interesting set to review.

I absolutely love the colouring. Reminds me of Terry's chocolate orange packaging... Mmm. I like the way it complements my pale skin, too. You'll probably have to spend a few minutes cutting all the white tags off first as they're easy to see against the dark material.

The bra is more of a bikini top with a front tie and halter neck - so technically 2 pieces. You can avoid some fiddling if you tie one of them together before putting it on and doing the second after. The front ribbon is the biggest pain to get right! I always had to get my partner's help. Neither of us can tie a pretty bow to save our lives, so it didn't end up like the one in the photo. I trimmed off the excess since it was hanging down to my belly button. It also tends to go off-centred sometimes making the hold slightly asymmetrical. Even with my small handfuls of boobage, this bra just about covers them with no real support. Still pretty cute! Not too small or baggy and I can adjust it in 3 ways if I'm not content. However, I'm not sure how larger breasts would fair with the limited fabric.

The bottom half looks quite daunting as it's all one piece. When you look down it's just a cluster of straps, lace and belts. Thank goodness for the reference on the box. Sometimes it just takes a leap of faith. I'm happy that it comes with hip strap adjusters as I can get self conscious about that area. The belly band part arrived on the tightest setting which fitted me fine and meant I didn't have to mess around with it like that damn bra. Some of the decorative "V" straps between that and the skirt hang loose. This can be improved slightly by attaching and tightening the suspender straps. I'm half tempted to chop 'em off as they're quite small and probably wouldn't take away from the piece. The thong can't be removed it, but you can easily shift it to the side if you want to keep it on during sex. With all this going on, it brings a lot of attention to your hip and waist area. I like the way the skirt flirts around my hips and how the belly belt cinches in.

I'm not a fan of the seams at the top of the stockings as they're unforgiving on any chub you have there - mainly around my inner thigh. It made me want to hike them up to hide it which doesn't look quite right as the front suspenders bunch up badly (the back ones were still fine, though). But having them any lower doesn't fill me with confidence either. They would also roll down often despite being attached to the belt. As the tights are just plain sheer blue, you can see right through them. I thought I should mention this if you preferred to cover things like spots or cellulite since this won't help. You can always switch them out with your own fave stockings. It still looked ok with a pair of black ones I had. I liked the old fashioned stocking seam that runs up the back of them, at least.

I gotta say, this isn't the easiest of pieces to get on without assistance. The bra is the main offender here! There's just so many ties, straps, clips and adjusters. I'm glad I'm not getting timed on it otherwise my score would be embarrassing. You can get the set off without much hassle, though. It helps to keep everything together in a bag for storage and cleaning. I put it in one of those netted bra bags and it all survived the washing machine. Some of the ties came undone or there were little stringy bits, but no major concerns.

I'm 5'1 and a UK size 8 with minimal boobs. Most of it fits comfortably after a few adjustments and help from my partner. The overall quality isn't bad and you can't beat that flamboyant colouring which is great as a set. Even though it can be a pain to get right, the outcome is still a nice sight. My partner likes it and doesn't see the issues I do, but can still understand them. It's not all a perfect fit and I want to swap or chop half of it out. Maybe different choices of seams and sizing would make it better? I felt confident enough in it, but still had some awkwardness here and there - like I had to keep my eye on it. The fiddliness also doesn't make me want to grab for it as much as I'd like.
Pros:
Colouring. Adjustable. Eye-catching design around the hips/waist area.
Cons:
Stockings. Straps bunch up in places. White tags. Bra is fiddly without help. Needs trimming.
Bottom Line:
Lovely colouring, but misses the most marks on harsh stockings and the bra puzzle.
On G World Embroidered Bra Set with Garter Belt and Stockings
Non existent bra absolutely tiny
Review by M on 11 Feb 2021
review stating Non existent bra absolutely tiny
The bottom bits nice but the quality and size of the bra is ridiculous.
Not one size fits.
I'm a size 10 and a D cup it was too small and the material is flimsy. The top wouldnt even cover my nipples. Nothing like the model picture.
Really not happy - not worth 32.99 absolute joke.
Bottom Line:
Overpriced undersized
On G World Embroidered Bra Set with Garter Belt and Stockings
Unusual piece, size depending.
Review by Fizzy M. on 8 May 2020
review stating Unusual piece, size depending.
I love the unusual colours and style of this outfit set.The Panties/Suspender part of the outfit is very adjustable and also quite comfortable. I'm a size 10 on the bottom and fit in it comfortably.The suspender straps are also adjustable, which is good for me as a short girl (5'1"). I adjusted them as short as they go, and they fit great, holding the stockings up nicely.The waistband is stretchy and withstood me yanking it around when putting it on. You need to tie the bow in the middle yourself so it takes a bit of wrangling - but this means it's more adjustable, so it's a plus and a minus.I was slightly disappointed with the workmanship - some of the stitching is poorly finished and could be of better quality. Although it seems sturdy enough. There also was a strong workshop-y type smell on the items (I'm hoping this will fade after I hand wash the item though).The Bra part of the outfit releases at the front, you have to tie the front and the halterneck yourself so it takes a bit of work getting into it. My boobs are about 30DD and, they are not entirely covered by the little triangles of material on this bra. My bf seemed to like the "too big boobs exploding out of a too small bra" look though. The bra doesn't offer very much support really. Tying the strings carefully though, I managed to get a sort of sexy underboob look going on.The Stockings are a beautiful match with the rest of the set. They come up quite high on the thigh for me (short girl), but fit fairly well, not too much squeezing. They are not fitted in any way and look kind of baggy when not worn. This is particularly noticeable in the feet, where there is no shaping at all to them. I would say that if you're much smaller than a size 8 or bigger than about a 12 they may not fit you very well - they don't have much stretch in them. The stockings have a blue seam that runs down the entirety of the back.The outfit can be a little confusing to put on as straps can get tangled on themselves when in storage etc. Allow plenty of time to get this outfit on if you're planning on surprising someone!Despite all I've said, I'm still happy with the outfit.It looks good and it had the desired effect on the bf, distracting him from his at home work.
Pros:
It's a surprisingly classy look, love the colours.
Bottom Line:
Looks beautiful, but needs a little more quality control.
Cons:
Size of the bra, and the loose fitting stockings.
On G World Embroidered Bra Set with Garter Belt and Stockings
Not like picture
Review by Seh on 15 Jan 2020
review stating Not like picture
I am a size 8, 32d breast and 5'1 the bra piece was way to small.. I would say more of an a or b cup. The stockings are exactly what others are saying they just don't fit right. They are all baggy in the wrong places. I got this on offer but I will be sending it back as it just does not look right at all. Gutted as the set online looks great, just wish it fitted me better.. i would not say it is 8-12.
Bottom Line:
Not great at all.
On G World Embroidered Bra Set with Garter Belt and Stockings
He loved it
Review by Hotwife90 on 21 Sep 2019
review stating He loved it
Let hubby use my account to order, so this was a lovely surprise when this arrived. The material is a good quality & feels great when wearing. Price is fantastic especially for a full set like this.I'm about a size 10/12, fits perfectly.It's a great set & hubby loved it when I wore it to seduce him!
Pros:
Full set. Great quality.
Bottom Line:
Great price for a full lingerie set.
Cons:
Nothing, it's great.
On G World Embroidered Bra Set with Garter Belt and Stockings