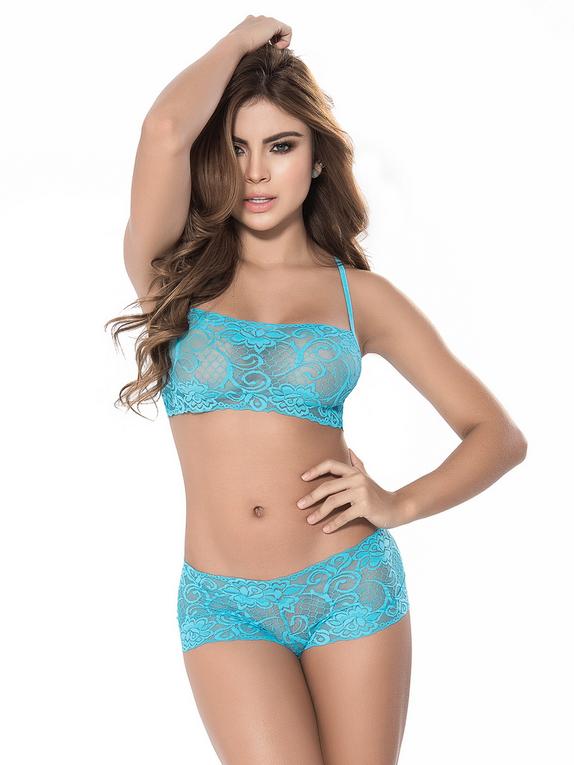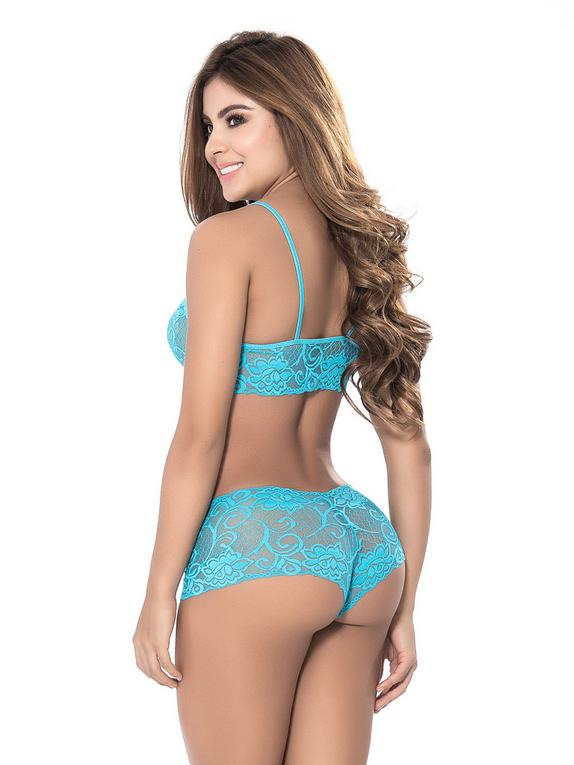 Mapale Blue Lace Bralette Set
Last chance! This product is not going to be re-stocked!
Longline lace bralette and shorts set for laid-back sexy appeal
Longline bralette features no padding or underwiring for comfort
Booty-loving shorts flatter and flaunt your behind
Stretchy, sheer floral lace gives tantalizing glimpses of skin
Get a sexy, cool and laid-back bedroom vibe with this fabulously flirty sheer lace bralette and shorts set from Mapale. This sultry set is available in different colours, so you can mix and match to your heart's content.

Style and comfort go hand in hand here, with the soft cups of the longline bralette giving a natural shape, as well as a tempting glimpse of bare skin through the floral lace. The cute shorts cup your cheeks and perfectly frame your peachy posterior.
Frequently bought together
Popular combos for more sexy fun
Customer reviews
4.8
4.8 star rating
5 Reviews
4.8
4.8 star rating
5 Reviews
Thank you for posting a review!
We really appreciate your opinion and hope to see you again soon.
Thank you for posting a review!
Your review was sent successfully and is now waiting for our staff to publish it.
Search reviews
5.0 star rating

4.0 star rating

3.0 star rating

2.0 star rating

1.0 star rating
Simple but sexy
Review by Bella_1 on 13 Jul 2021
review stating Simple but sexy
Although a simple design, the lace feels great against my skin and I know that under my work clothes I have on a set that makes me feel sexy and no one can tell. I went for size medium for 10 to 12 fit and it fits perfectly and has a little stretch to the fabric but feels secure enough for my needs. Package was discreet as always and upon arrival was put on straight away as been waiting to see if picture matched reality - and it does. Already ordered more.
Pros:
The simplistic design but lace temptation at great value
Cons:
Could be a little longer to bra so sits a little more under Breast
Bottom Line:
A great buy. Good value with naughty but nice vibe. Good fit that is comfortable but sexy.
On Mapale Black Lace Bralette Set
Sexy lingerie designed for comfort
Review by Joey on 5 Jun 2021
review stating Sexy lingerie designed for comfort
A wonderfully simple and sexy lingerie set. Really impressed with the soft feel and quality of the material which makes it so comfortable to wear and to feel great in.

Usually a size 10-12 and this was a perfect fit in a medium with a good bit of stretch to give a little bit of leeway. I love the design being partly see through which makes me feel amazing and clearly my partner loved it too! I actually think they look even better than the photos on the product page.

All in all a really simple great set for a quick way to spice things up!
Pros:
So simple easy and sexy
Cons:
Could be a little plain for some
Bottom Line:
Really lovely simple easy set for quickly spicing things up
On Mapale Black Lace Bralette Set
Lovely in Lace
Review by For_Your_Eyes_Only_X on 3 Jun 2021
review stating Lovely in Lace
I love it when I can review an item that ticks all the boxes and that I can't fault at all. This set is one of those.

I'm a size 10 on top and 12 on bottom and received this in a medium. Both bralette and knickers fit very well, being made out of lace with a considerable stretch that could give a little leeway in sizing. Unlike a lot of lace items, I didn't feel too worried about having to handle these with the utmost care. They don't feel delicate; they can withhold a bit of manhandling. The material is soft too, not scratchy, and sits against my skin without anything digging in, and there are no loose threads or snags. Being lace, it also gives a great tease of what's underneath, both bottom and top, without actually revealing all.

The vibrant blue is what "makes" this set though. It is beautiful. It heavily contrasts my pale skin and differs from the blacks and reds that make up the vast majority of my underwear drawers.

The bralette is a very simple design with one big strip of lace forming the front panel, and another to the back. There isn't anything to give support if that's what you're looking for, but my 36C's sat comfortably beneath the lace looking very pretty. Another benefit of the basic design is that there's no fiddling around with clasps or having to adjust straps etc. I slip this on over my head, pull it into place and I'm ready to go.

The knickers, similarly, are rather standard, however still faultless. The "shorts" style are great for comfort but are also very sexy, and I think that's how I'd sum up the entire set... Simple, sexy, and very very comfortable.
Pros:
Colour, design, fit and comfort, simplicity
Bottom Line:
A lingerie set designed for comfort and sex appeal.
On Mapale Black Lace Bralette Set
share
' Share Review by For_Your_Eyes_Only_X on 3 Jun 2021
facebook
facebook Share Review by For_Your_Eyes_Only_X on 3 Jun 2021
twitter
twitter Share Review by For_Your_Eyes_Only_X on 3 Jun 2021
LinkedIn
linkedin Share Review by For_Your_Eyes_Only_X on 3 Jun 2021
Was this review helpful?
0
0
Perfect fit, super comfortable, lovely colour and very SEXY! :)
Review by UKlovingcouple on 31 May 2021
review stating Perfect fit, super comfortable, lovely colour and very SEXY! :)
I wanted this bralette set because I have always loved the feel of bralettes, but I didn't own many so I was curious to buy a new one that was particularly more sexy! When it arrived, I was really amazed by how lovely the blue colour is! It really is a bright, fun and sexy colour and I am sure, based on this blue one, that the other colours for this specific bralette must also be really lovely!

Very importantly for me, it is super comfy to wear, with a nice stretchy material that makes it fit perfectly on you! It actually is the most comfortable bralette that I have, which is really exciting and if it wasn't so sexy/naughty I would want to wear it more often and out and about, but it is see-through although that is exactly what I was looking for and why I wanted this bralette, so in this case that it is really great thing! Honestly, the material on the bralette and knickers is a consistent light blue colour, but the cheeky peeking through of my nipples and vagina makes it the perfect tease for evenings! :)

The only negative, and it really is the only negative, is that in the design of the knickers, they had to have a kind of thick blue line across the middle of the front, which I assume is to hold it all together, but it does stand out quite harshly against the rest of the design. If that thick blue line was made thinner or wasn't in the design, that would have been even more perfect, but it is a point to note as it wasn't hugely clear from the photos! Otherwise, everything about it's design is amazing! :)

Also, as always, the delivery from Lovehoney was fantastic and really quick! Always have the best experience on their website and have loved every item I've ever bought from Lovehoney. I think what sets them apart from other brands is that you have trust and confidence that any item you order, whether it is sexy lingerie or sex toys or anything else more exotic, the items are always amazing, well priced, deliver on time and are fantastic! Love this company, and love this bralette set! :)

Overall, if you are looking for a cheeky bralette set that really is very sexy, feels super comfortable and is a lovely colour, I really could not recommend this set enough! It is close to perfect, if the designers ever released a new version of this exact bralette set but with crotchless knickers, now THAT would be super sexy! :) But for now, and for anyone who doesn't want crotchless knickers, which I completely understand as they are a bit less hygienic, this is really perfect, a great price and super lovely! :)
Pros:
I love how comfortable it feels, the colour is lovely and it's cheeky that it is see-through! :)
Cons:
A minor thing, the design on the front of the knickers has a thick blue line that doesn't look great
Bottom Line:
It's a really comfortable and sexy set, the perfect bralette to drive you and your partner WILD! :)
On Mapale Black Lace Bralette Set
Absolute confidence booster
Review by Moki on 29 May 2021
review stating Absolute confidence booster
As usual, this set arrived promptly - and I was happy to see that the packaging was not just discrete, but also without the excess use of plastic.

First impressions & practicalities: When taking the set out of the bag, I could already feel that it was nice and soft. I was slightly worried as it is lace all over and sometimes that can equal to itchy, but it was not the case at all - though I did need 20 minutes or so to get used to them. Both the bralette and the knickers have lovely, seamless finish meaning a comfortable fit without anything pushing in. Due to the style and colour (I ordered black), they can be easily paired with other lingerie giving you great flexibility when it comes to deciding on your outfit. What I particularly liked about this set is that despite being almost completely see-through, it is not too much out there and only reveals the right amount.

Sizing: I have ordered a size small (8-10) and despite being on the smaller side of it, it fit perfectly. I imagine that it would be great for someone on the larger end as well as the fabric is stretchy and figure hugging. Also, the straps of the bralette are adjustable for extra comfort.

All-day wear: I felt incredibly empowered by this set - I wore it out and about and it was my little self-esteem boosting secret. I will definitely wear it whenever I need a bit of extra confidence. Plus, as it can be easily worn under your everyday clothes, it can be used as a lovely tease if you have a partner around. It is, however, a bit hard to fit a panty liner in it stably - and if you are anything like me, it is better to have one in when out and about. But then again, you can still wear your bralette with another pair of knickers and keep the pants more for special occasions.

In the bedroom: with the lovely flower details revealing just the right amount of detail here and there, well, let's just say that the air got rather heated after the arrival of the delivery and it wasn't just about trying it on anymore. They are easy to move in and - as my partner highlighted - they provide easy access to the areas being covered. This means that you don't necessary need to take them off to have fun - but if you want to, they are quite easy to remove.
Pros:
Easy to mix-n-match, soft fabric with seamless joins, comfortable to wear in and outside the bedroom
Cons:
Not the best for regular panty liner users for the whole day.
Bottom Line:
Lovely little secret to wear under everyday clothes to boost confidence and tease your special one.
On Mapale Black Lace Bralette Set