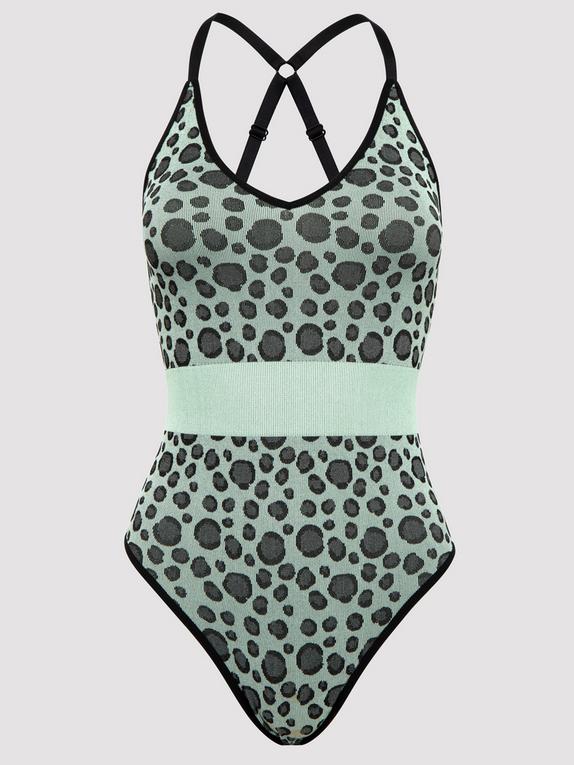 Lovehoney Mindful Mint Green Leopard Print Seamless Teddy
Last chance! This product is not going to be re-stocked!
Seam-free, leopard pattern teddy made from pre-consumer recycled yarns for sultry, sustainable style
Seam-free, pull-on design brings a fresh and contemporary look to your lingerie collection
Adjustable racerback straps, also made from pre-consumer recycled materials, ensure a perfect fit
High-cut leg elongates your pins, while middle strap flatters and enhances your waist
Comes in a gorgeous, 100% recyclable bag with tags, so it's ideal for gifting
Look fierce and fabulous in this sexy, seamless teddy from our Mindful collection. Made from recycled materials, this supremely comfy one-piece features a super-flattering high leg and a mint-green leopard pattern design that's bound to get you noticed.

Sensual, sustainable and easy to wear, this all-in-one is understated and on-trend. Not only will you look incredible and feel super comfy, you'll also be doing your bit for the environment. The Mindful seamless range is made from recycled, pre-consumer yarns (GRS certified) that would otherwise end up in landfill.

Arriving in a cornstarch bag, this ultra-sexy lingerie is perfect for gifting. All packaging is plastic-free, sustainable and 100% compostable.
Essential Info

Lingerie Features: Non-padded , One Size

How it Feels
Frequently bought together
Popular combos for more sexy fun
Customer reviews
4.7
4.7 star rating
6 Reviews
4.7
4.7 star rating
6 Reviews
Thank you for posting a review!
We really appreciate your opinion and hope to see you again soon.
Thank you for posting a review!
Your review was sent successfully and is now waiting for our staff to publish it.
Search reviews
5.0 star rating

4.0 star rating

3.0 star rating

2.0 star rating

1.0 star rating
So comfortable!
Review by Lovehoney C. on 29 Apr 2021
review stating So comfortable!
This body was received in mint condition! It is true to size and it fits wonderful. I would include this in the everyday lingerie as it is so soft and comfortable, and on the top of everything the design gives it a retro look in my opinion, so it is definitely a must.
My partner also loved the look so this was a plus!
Bottom Line:
Sexy and extremely comfortable
On Lovehoney Mindful Mint Green Leopard Print Seamless Teddy
Seamlessly Sexy
Review by MightyMunchkin on 26 Mar 2021
review stating Seamlessly Sexy
Wearing nice lingerie everyday helps me feel good. It's a bonus if hubby likes the look of it on but I wear nice lingerie for me - it's all about how I feel wearing it. So, I own a lot (gotta have options), but there's always a little part of me that worries that I'm adding to a waste culture with my frequent purchases. Don't get me wrong, I'm frugal with my choices and I recycle where I can, but if I really thought about it there's a niggle in the back of my mind, and that kind of ruins my cycle of feeling good…Roll in the new LH Mindful range. Lingerie made with over 80% recycled materials, FSC cardboard labels attached with string, all neatly packaged in a compostable bag. Be still my eco-conscious mind and leap my lingerie loving heart!
In more ways than one, my Mindful Seamless Mint Green Body makes me feel good. Like an eco-warrior Thundercat. The leopard print-esque spot pattern helps, as does the highly elastane quality to the opaque material that magically smooths and accentuates my gentle hourglass 32E, 27, 33 figure each time I pour myself into it. But knowing it's been made with 92% recycled material also goes a long way for me. Thanks LH.
When I first took my size s/m body out of the bag the thick feeling opaque cocoon looked quite petite, but I'd say there is a decent amount of stretch to fit a size 6 through to a large size 10 without distorting the pattern too much. My E cup cleavage looks great in this, but a larger cup may want to size up unless you want a lot of boob uncovered. The criss-cross spaghetti strap back can be adjusted to give me just the right amount of lift in the thick material to support my boobs without them feeling restricted or too flattened. The cut and stretch gives me a fantastic cleavage and side boob combo that both me and hubby find really sexy. I had to get in and out of the body a few times on first wear to get the straps in the right place as the sliders are underneath the criss-cross at the back, which, was a bit frustrating, but well worth the effort once they were in the right place.
The mint green base colour drops the black and grey spots and gets brighter on the seamless waistband, adding to the contouring nature of the design. It draws the eye and attention down from the cleavage enhancing neckline to an emphasised waistline - the seamless quality of the material accentuating natural curves as it goes. From there a high leg cut makes my short legs look longer and the cheek emphasising wide thong back drops into a naughty but practical three popper gusset that sits underneath but quite far round 'behind'; great for easy access for hubby when a bit of playtime ensues. The poppers are sturdy but easy to use. Their location quite far back took a bit of getting to used to practically for me, as although I'm short I'm quite long in the body. There is enough 'give and stretch' in the material for it not to be an issue, but taller trunked people may find this more of a challenge comfort wise if wearing for longer periods of time. The site of the poppers 'out of the way' does mean it's really comfortable to sit and move in and I quite happily wear it for the whole day. It's robust, easy to wash and dry, and bounces back into shape with no problems. For me, the overall comfort and look of this body makes it a great day to night / work to play outfit addition. I mean, who doesn't want to have a self- styled sexy eco - hero outfit hidden in plain sight under their clothes?
Pros:
The fit, style & look. Made me feel really sexy whilst feeling comfortable. Great day to night wear.
Cons:
Awkward positioning of sliders on adjustable straps.
Bottom Line:
Sexy, Comfortable. Powerful.
On Lovehoney Mindful Mint Green Leopard Print Seamless Teddy
Seamless is a dream come true
Review by нинаnin on 10 Mar 2021
review stating Seamless is a dream come true
I have two pieces from the Mindful range but this is my favourite; funky design with contrast colours. I feel like Karen Wheeler from Stranger Things in this body. It's got a kinda sexy retro feel.

I love the high wide waistband, I want to do aerobics in it. And I enjoy a body with poppers.

When the body arrives, you'll notice it looks small but it's got a lot of stretch to it. It fits great and looks fun.

I honestly can't wait until summer because I intend to wear it out with skinny jeans and high heels. I love how it looks.
Bottom Line:
Fun and flashy
On Lovehoney Mindful Mint Green Leopard Print Seamless Teddy
Mint condition
Review by Emmylouandbobbyj on 10 Mar 2021
review stating Mint condition
It's been a while since i've worn a body. During my 90s clubbing days it was my go to attire. As a curvy girl it always helped keep things secure whilst dancing the night away. So, with some happy and hazy memories i was keen to try this out. I'm a 12-14 and 36 ee, and this fit me really well. It's really good for body contouring and I had to try my rainbow fishnet tights underneath, it looked very 80s with some sweats band. This turned into a roleplay fantasy neither of us knew we had! The sexy 80s keep fit instructor.
The quick release poppers are very handy still.
We both love this. It's probably to item i'll wear in and out the bedroom more that any other. It's incredibly practical and looks great. Yes, we've used it for bedroom fun, but it's a really well made garment and looks great out the bedroom too.
Just about to order some ankle warmers, just to finish the look :-)
Pros:
The colour, the design, the material.
Bottom Line:
It's a blast from my past, but definitley a must have. It feels get od and looks great.
On Lovehoney Mindful Mint Green Leopard Print Seamless Teddy
Hold on Tight
Review by Mint-Monster on 4 Mar 2021
review stating Hold on Tight
Muchas gracias to Lovehoney for sending me this to review.

The thick but breathable material is nice and soft - similar to that of sportswear. The pattern and colour choice is also cute - animal like yet not too wild. It may be seamless, but the markings on one side don't quite line up right. Not a big deal, though. The mint band gives the illusion of either wearing a belt or a spotted two piece. If you wear leggings or tights underneath, then they will show up to this line. You can also throw it in with the rest of your clothes and underwear when it comes to cleaning.

This leotard has a clasp for the crotch so you don't have to take the whole thing off when you want use the loo or something. At first, the corner parts of the fabric where the buttons are were pretty sharp. Ow! I rounded them off with a pair of scissors, so everything is safe down there now. Even though there is a cotton crotch protector, I still prefer to wear a thong under it to avoid being on the fabric (and mainly because I always do with leotards).

So what's it like to wear? Snug and tight come to mind. While the overall material has a bit of give, the black edges aren't as kind. This can create more of a muffin top effect in some areas like my back, butt and thighs - more double-butt than bubble-butt. The material also seems to like gravitating to my ass crack. Less obvious with jeans over it, not so much with leggings. It's started to go slightly bobbly on the area where my lower back is (probably from sitting or rubbing on jeans), but nothing a debobbler or razor couldn't sort if it got worse.

There is some support for my breasts thanks to the material and I felt comfortable enough to go out with a shirt over it. Because of their small size, they don't require much to begin with. They even held up somewhat during my regular exercises with a bit of jiggle. I'm not sure how well this would go with larger breasts, though. It basically flattens mine like a swimming costume. The speckles can break up the appearance of erect nipples, too. Even though I've adjusted the straps to their loosest position, it still feels tight on my back and shoulders (which also can leave marks). It reminds me of those posture correcting harnesses. The ring clasp also makes creaking sounds now and again as you move around. Seems like it climbs up and clings like a baby monkey, too. It was a relief to get it off after a while to give my back and shoulders a rest.

I'm a UK size 8 and the garment is noted as S/M which I usually take as size 8-10? Unless it means Asian size or something which would be much smaller. The general rule for this is to order at least one size up to cover the size difference. I think I would recommend the same for this leotard. Then again, it could be down to my proportions as I have quite broad shoulders and a big ass. I would have still thought the max M size would be more forgiving. On a plus note, it keeps me warm and cinches in at the middle just right. Some of my body suits can miss this sweet spot so I'm happy about that.

It may look cute, but it isn't the most comfortable garment once you get it on. Some areas are more flattering and comfy than others, however, it's hard to ignore the parts that aren't.
Pros:
Pattern and colours. Quality. Cinches in the waist nicely. Keeps me warm.
Cons:
Feels tight on the back. Black edges can create a muffin top effect in places. Creaky straps.
Bottom Line:
Looks cute, but has some bite to it (and not the kind I like). Wearable and at times unbearable.
On Lovehoney Mindful Mint Green Leopard Print Seamless Teddy