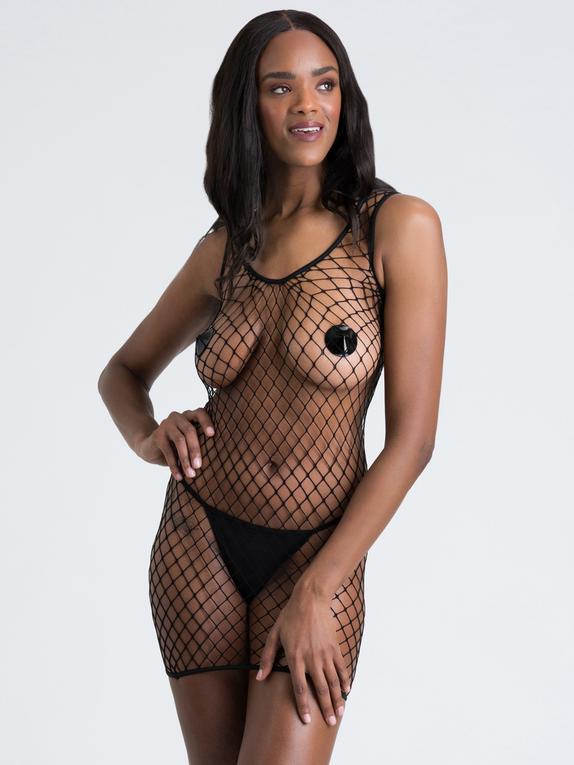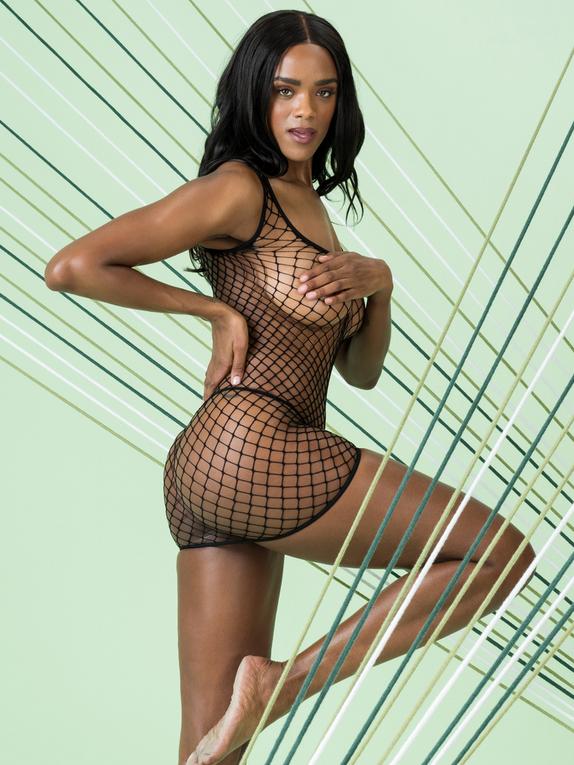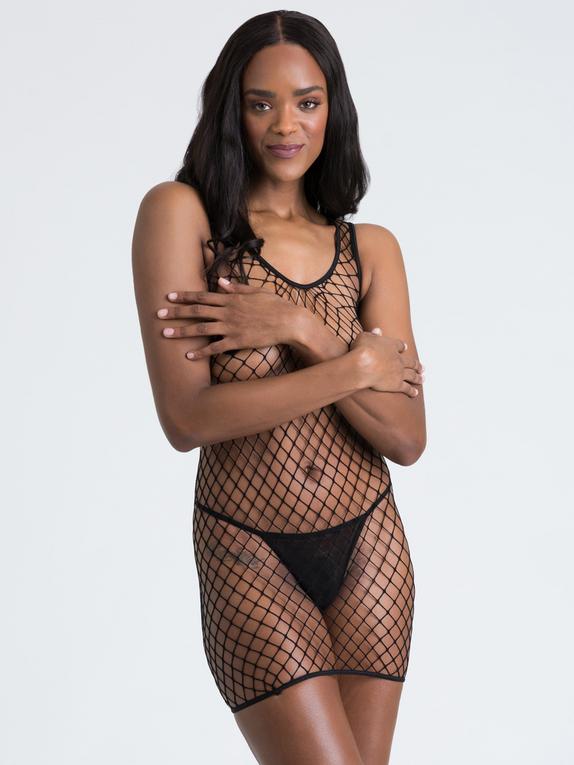 Lovehoney Mindful ECONYL® Fishnet Mini Dress
Last chance! This product is not going to be re-stocked!
Fishnet mini dress produced using ECONYL® yarn made from nylon waste such as fishing nets
Wide knit reveals every inch of your beautiful body
Comes in a 100% recyclable bag with tags, so it's ideal for gifting
Produced in Italy
You won't have to fish for compliments in this ultra-sultry dress. Super-flattering and sexy, this fishnet dress is produced using ECONYL® regenerated yarn made from recovered fishing nets and other waste that would otherwise pollute our Earth.

Boasting a wide fence net design, this dress shows off exactly what you're working with. Pair it with a matching bra set for sexy grunge style, or go commando for a daring look.

ECONYL® regenerated nylon is made from 100% waste that would otherwise pollute the Earth, such as fishing nets. No harmful chemicals are used during production, so you'll look good and feel even better.

Arriving in a cornstarch bag, this ultra-sexy lingerie is perfect for gifting. All packaging is plastic-free, sustainable and 100% compostable.

Frequently bought together
Popular combos for more sexy fun
Customer reviews
4.5
4.5 star rating
6 Reviews
4.5
4.5 star rating
6 Reviews
Thank you for posting a review!
We really appreciate your opinion and hope to see you again soon.
Thank you for posting a review!
Your review was sent successfully and is now waiting for our staff to publish it.
Search reviews
5.0 star rating

4.0 star rating

3.0 star rating

2.0 star rating

1.0 star rating
Great Mini Dress and It's Eco Friendly
Review by Calie on 5 May 2021
review stating Great Mini Dress and It's Eco Friendly
I have to say, before this arrived I was a little concerned about the material. Fishnet is not always one of the most comfortable choices and with the regenerated material, I did expect this to be a bit scratchy. However, I need not have worried as this is one of the most comfortable fishnet pieces I own. I wouldn't go as far as calling the fabric soft, but it didn't cause any irritation, even after wearing for a couple of hours.

Like other lingerie in this style, this dress comes out of the packaging looking far too small but it actually stretches really easily. I was worried that the material might be a little brittle, but it never felt in any danger of tearing. Once in the dress, you can move as vigorously as you like without having to worry about destroying it.

I am a size 18/20 with a bra size of 40E and the queen size fitted me perfectly. It would definitely stretch larger so I am in no doubt that it would fit the intended size range. The material follows your curves enough to keep your shape but doesn't cling or dig in anywhere, making it pretty flattering for such little fabric.
Pros:
Really comfortable and sexy
Bottom Line:
Eco friendly lingerie with no compromise
On Lovehoney Mindful ECONYL® Fishnet Mini Dress
An eco dress in the right direction
Review by gosig on 5 May 2021
review stating An eco dress in the right direction
Always a pleasure to review for LH, especially when a company you love moves in a more eco-aware direction. And who doesn't love a black minidress!
Having bought many a revealing/ fishnet dress from Lovehoney over the years, I can honestly say that it doesn't look any different once on. Like some fishnet/ fencenet items though, there is a slight 'heart in mouth' moment when trying to shimmy into something that, to be blunt, does not feel at all sturdy. I am amazed I got it on (and off) without breaking it.
Fit-wise, it was fine, and I'm a size 18, and there was still plenty of stretch, without the (to me, rather unsightly) obviously gaping holes in the fabric when pulled over extra lumps and bumps. The length was good (I'm average height), and the re-enforced edging felt well made, sturdy yet soft.
My only grizzle would be the (possibly intentional) design whereby the fencenet effect is pulled smaller around the edges, most noticeably around the neckline. This did me no favours whatsoever, and I felt merely highlighted how much the rest of the fabric was being made to stretch elsewhere. Maybe it was designed like this to help reduce the risk of splitting, but from an aesthetic perspective, this didn't work for me.
Pros:
The eco-credentials, and the net-effect is usually a winner.
Cons:
Extra small net near seams did me no favours.
Bottom Line:
The first of hopefully a much broader range of eco-sexiness.
On Lovehoney Mindful ECONYL® Fishnet Mini Dress
Be Mindful of the Fishnet
Review by Audrianna87 on 4 May 2021
review stating Be Mindful of the Fishnet
Delivery as always was fast and discreet, Never anything less from Lovehoney.

The packaging for the Mindful ECONYL range is a nice simple design basically plain and straight to the point, oh and its recycled materials win win all round.

There is not a lot of ways you can change a Fishnet dress but you can improve on it and this has certainly done that. The Dress itself feels well made and a of a great quality, and what's more even the dress is made from recycled materials feels good looks good and it is helping the world, you can not beat that. The dress has a great amount of stretch to it as with nearly all fishnet items. Super small to look at but amazing stretch makes for an amazing fit. It is amazing how a little fishnet can make you feel so good.

As I have stated in the past with all fishnet type materials they can easily be ripped either catching it on sharp objects etc, so that is something to be carful with.

Pairing this with dress with a pair of knee boots is the style we love but you can wear this in any way you want.

All in all this is an amazing addition to our ever growing collection and it has not disappointed us.
Pros:
Fit, Recycled Materials, Quality, It's Fishnet
Cons:
Nothing that comes to mind
Bottom Line:
Simple yet amazing
On Lovehoney Mindful ECONYL® Fishnet Mini Dress
What a Catch!
Review by For_Your_Eyes_Only_x on 28 Apr 2021
review stating What a Catch!
Pulling this dress out of the packaging (which I must add is fantastic - totally recyclable!) it looks absolutely tiny. I find this common with fishnet/stretchy items and gently stretched it around each hand/arm to get an idea of it's size and shape.

I couldn't quite work out which was the front and which was the back so I put it on, soon realising that the front has the lower cut. Must remember for future reference!

At size 10/12, 36C and 5ft6, I found it fit me really well. The material is very stretchy and would easily cater to smaller/larger sizes, and is very comfortable. The elasticated hem is great; it stops the dress from rolling up when bending over so no worries there.

As with many fishnets, it can be delicate. I always take my rings off with such materials as I know I'll end up getting them caught.

I put a black g-string and a basic black bra on underneath the dress and really loved the vibe I was getting. Going naked underneath is fun too, and very revealing.

What really sells this dress though is the mindfulness that's gone into it. From the packaging to the dress itself, it's all made from recycled materials. Eco-friendly and sexy don't often come hand in hand but Lovehoney have proved it's possible.
Pros:
Fit, comfort, simplicity, fishnet
Bottom Line:
Eco-friendly and sexy, with the added bonus of being able to dress it up or down.
On Lovehoney Mindful ECONYL® Fishnet Mini Dress
share
' Share Review by For_Your_Eyes_Only_x on 28 Apr 2021
facebook
facebook Share Review by For_Your_Eyes_Only_x on 28 Apr 2021
twitter
twitter Share Review by For_Your_Eyes_Only_x on 28 Apr 2021
LinkedIn
linkedin Share Review by For_Your_Eyes_Only_x on 28 Apr 2021
Was this review helpful?
0
0
Fishing for compliments
Review by handbanana on 26 Apr 2021
review stating Fishing for compliments
Male Perspective:
Having never tried fishnets, and never thinking it would be for me, we decided to try this along side the fishnet underwear and i must admit how wrong I was!
Its incredibly sexy, especially with proud nipples (doubly so if pierced) and shows enough to get you worked up without sacrificing the build.

Female Perspective:
I've always avoided fishnets, as a curvy girl I felt them might "cling" in all the wrong places and make me conscious of my softer bits. I was, utterly and completely wrong. This top felt fantastic, so comfortable to wear whilst clinging beautifully to the breasts but leaving the rest flat against the skin and giving a gorgeous shape. It was incredibly comfortable to wear but made me feel so sexy. The outline of my breasts along with my nipples being displayed left the air in the room being a tease in its own right. That's before my partner had his way! Totally recommend for a little show and touch with your partner!
Pros:
The shape and fit of it. Sexy but comfortable!
Cons:
Nothing! It was great!
Bottom Line:
A great addition to the lingerie supply. Definitely getting used again to make me sexy and him hot!
On Lovehoney Mindful ECONYL® Fishnet Mini Dress