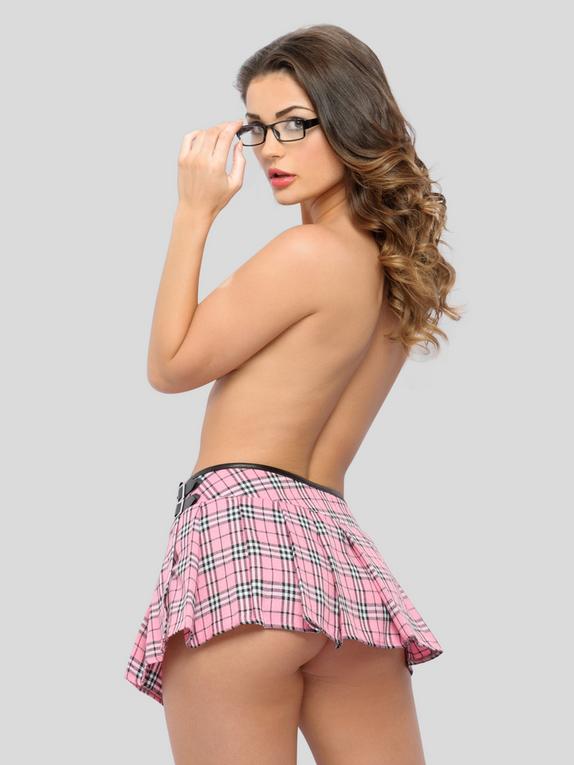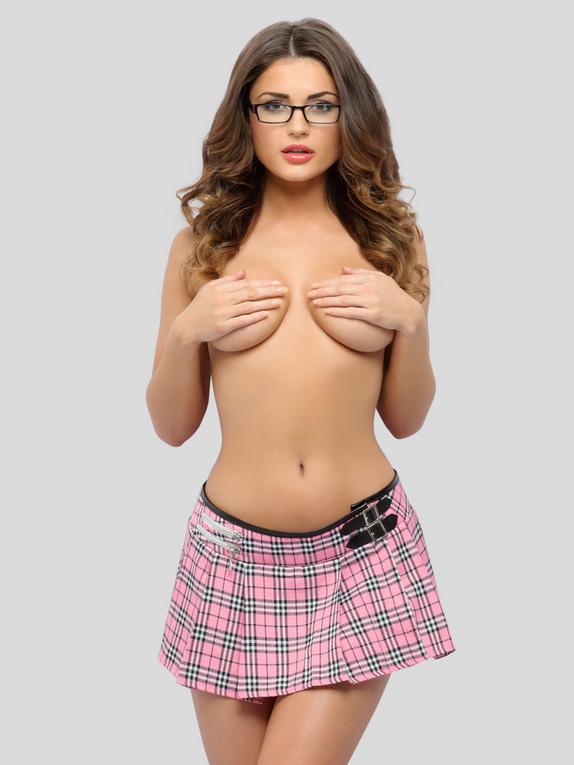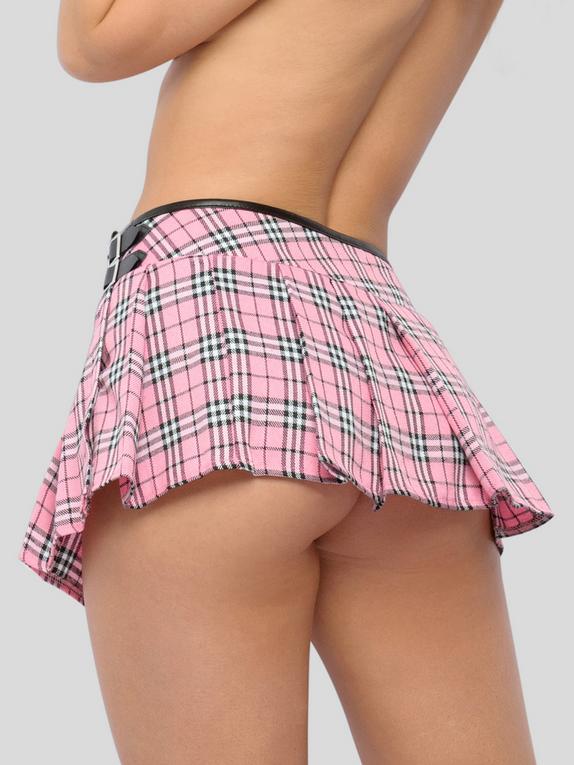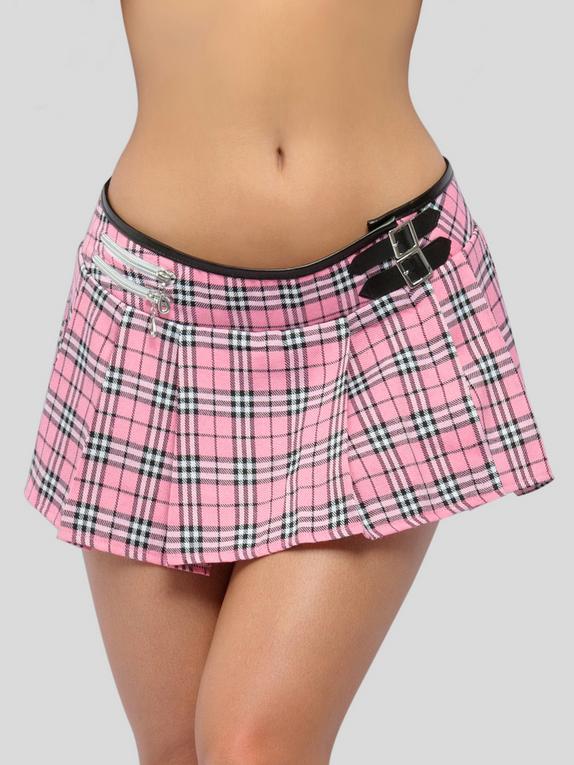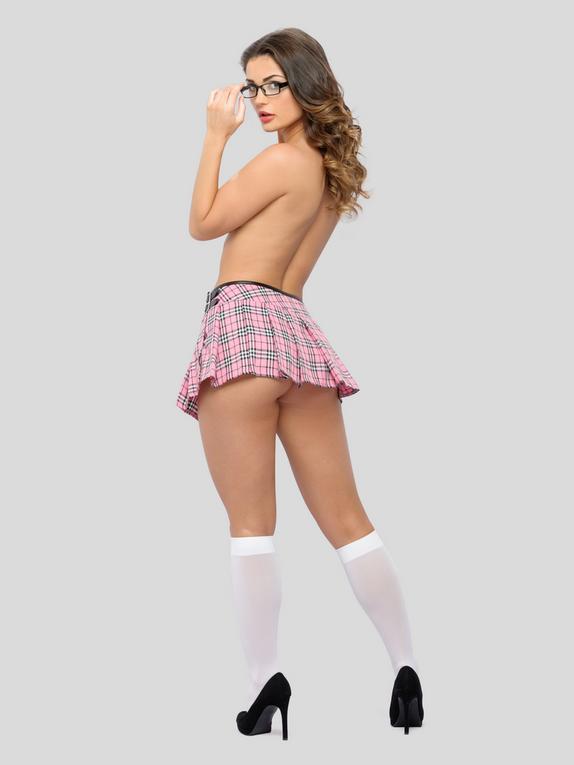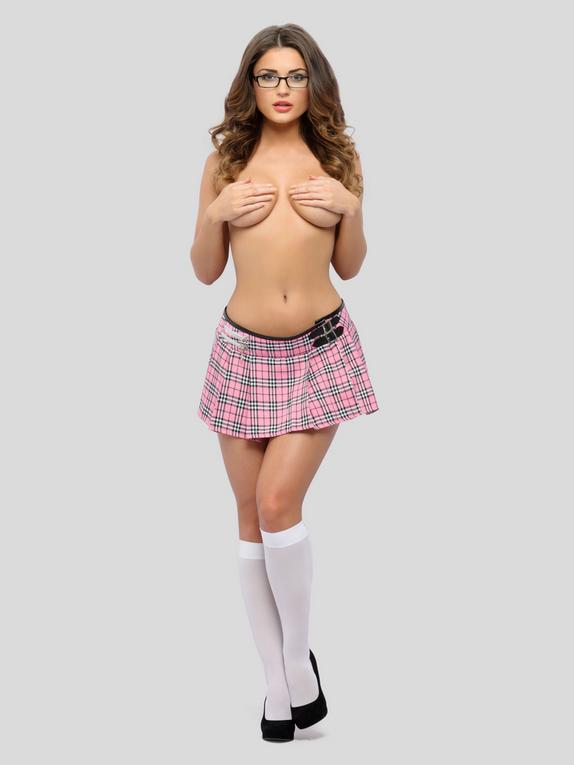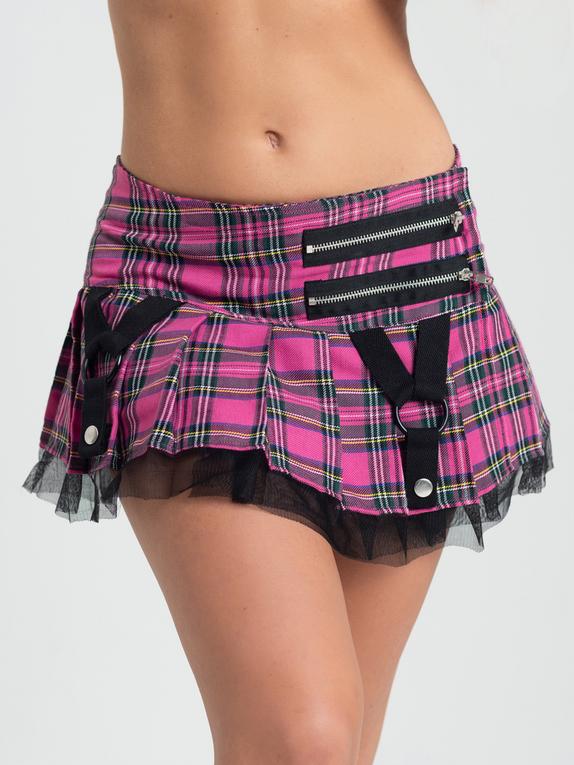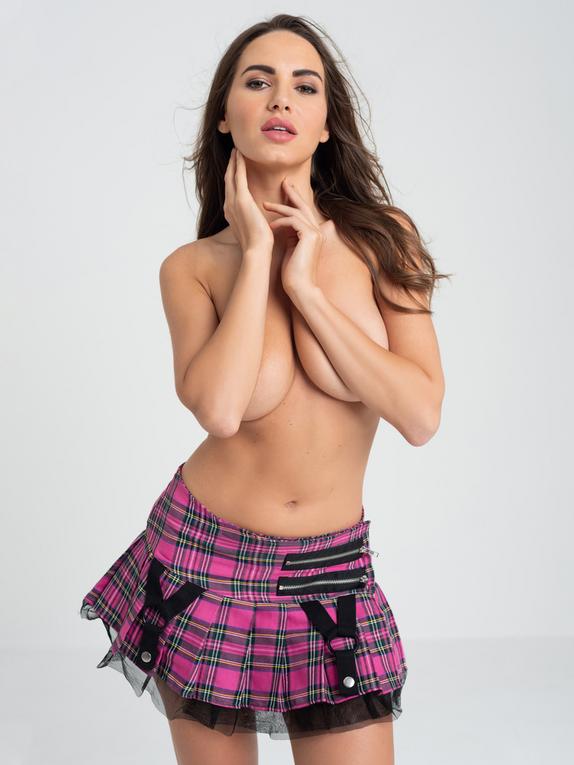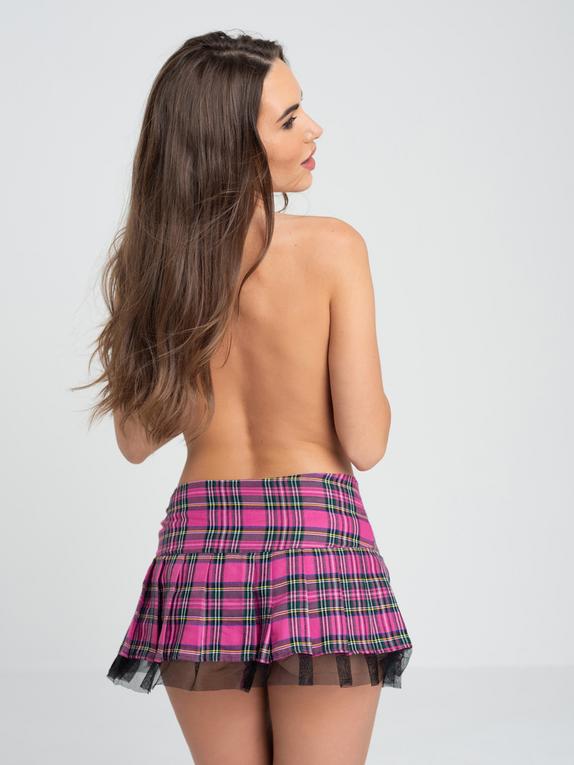 Lovehoney Fantasy Plaid Buckle Detail Mini Skirt
Last chance! This product is not going to be re-stocked!
Pink plaid pleated mini skirt for sexy role play
Decorative zips and functional buckle fastening add a rebellious touch
Super-short hemline skims your butt
Velcro fastenings make it easy to slip on and off
Buckle down to some raunchy role play fun with this pleated mini skirt. Wet look trims, buckle fastenings and decorative zips give a punky look to the pink pleated plaid, while the short hemline will really test your lover's self control.

Beneath the two buckles on the hips, Velcro tabs make it simple to slip the mini skirt on (or off).

Indulge your sexy fantasies with the Lovehoney Fantasy costume collection.

Model is a US size 4 and wears a size S/M.
Frequently bought together
Popular combos for more sexy fun
Customer reviews
4.7 star rating
4.7
24 Reviews
Design:
Fit:
Quality:
Sexiness:
Value:
Thank you for posting a review!
We really appreciate your opinion and hope to see you again soon.
Thank you for posting a review!
Your review was sent successfully and is now waiting for our staff to publish it.
Design:
Fit:
Quality:
Sexiness:
Value:
Cute and very sexy
Review by Kinkypup on 26 Oct 2020
review stating Cute and very sexy
This beautiful skirt caught my eye as soon as it was uploaded on to Lovehoney. It's got a gorgeous punky schoolgirl vibe and pairs just amazingly with anything from a bra, to a bodysuit and even a chest harness. The material feels high quality and so soft and the lace detailing is so cute! It's sized slightly small so if you are on the edge of the standard and plus size then it might be best to go for the plus size. It will however fit a range of sizes as the velcro which works to hold the skirt closed is long allowing for a high amount of adjustability. I just hope this gorgeous skirt comes out in different colours!
Pros:
Size adjustable, high quality.
Cons:
Slightly small on sizing.
Bottom Line:
Beautiful skirt that will look good on most people.
On Lovehoney Fantasy Plaid Buckle Detail Mini Skirt
Design:
Fit:
Quality:
Sexiness:
Value:
Short and sweet
Review by Trine on 2 Sep 2020
review stating Short and sweet
Comes in the normal discreet LH packaging :) First impressions: it's short and sexy. We've had so much fun with this item but I'm struggling with a review, it really is what it says on the tin. MrTrine tried it on and he would be a dress size 10 at most. MrsTrine fits it perfect at size 14. It leaves little to the imagination if that's your goal, perfect for a (swingers) party if that's the look your going for :) Velcro all round, fancy pockets and suspenders hold up. The best and last part of the review is the material and make. It's so robust, well made and feels like it'll last forever even after 20+ washes so far. Get one even if it's the only thing you wear :P
Bottom Line:
Short and sweet.
On Lovehoney Fantasy Plaid Buckle Detail Mini Skirt
L
Lorelei L.
5.0 star rating
Design:
Fit:
Quality:
Sexiness:
Value:
Naughty schoolgirl skirt
Review by Lorelei L. on 29 Aug 2020
review stating Naughty schoolgirl skirt
I was the lucky recipient of this secret item, to test in exchange for an honest review. Being that this is a secret test item, I did not know what to expect, nor did I get a description or a picture of the skirt. As per usual it was delivered i a plain brown box, wrapped in tissue paper. The item itself is a pink tartan skirt, almost rectangular with a fixed waistband and a pleated skirt. There is a velcro band to fasten the skirt. The skirt measures 122x30 cm with a 3 cm black mesh ending. On the front are two decorative zippers and two black "Y"-shaped straps with a snap at the bottom fold. I am not quite sure if they are meant to be some sort of suspender straps and I was not going to ruin a perfectly nice set of stockings to find out. (Maybe it makes more sense when I see the picture and the description). It fits me perfectly and since it is a wrap around skirt it will fit a lot of different sizes. All in all a very nice item.
Pros:
The colour, the fit, the sexiness of it all.
Cons:
I don't know the purpose of the two straps in front.
Bottom Line:
Very sexy schoolgirl costume.
On Lovehoney Fantasy Plaid Buckle Detail Mini Skirt
Design:
Fit:
Quality:
Sexiness:
Value:
I like it more than I thought I would
Review by Gosig on 12 Aug 2020
review stating I like it more than I thought I would
It's always a blessing to test for LH at the best of times, but every now and again, I receive something I otherwise wouldn't choose for myself, and it turns out to be a bit of a revelation. Case in point: this skirt. I'm fully aware that the whole schoolgirl fantasy is a longstanding staple of roleplay, but it's never been something I've been keen to try out. This skirt, however, whilst being perfectly suited to such play, goes well beyond this limitation/ specific role to just being a darn-fine mini-skirt ideal for leaving on during sex. I'm not sure how many other dress-up items there are that can be tailored to meet a specific fantasy, but also, courtesy of such a good design, have a stand-alone use in their own right. As a schoolgirl skirt, we have unsurprising tartan and pleats, but we also have black netting, a butt-skimming hem, faux zips, and what I can only describe as two bondage hoops sewn into the front. It is these little extras which adds an element of 'adulting' to the whole school skirt appearance which I must say I'm more comfortable with than the more traditional, text-book examples of school skirt. As I mentioned, this has potential far beyond just a fantasy role-play outfit. As it is so very short, it stays on during sex without any problems, and would work just as well with a black vest or bra (I'm thinking latex or wet-look) as it would with a school shirt. If it was a few inches longer, I think I could wear it out and about over some leggings safe in the knowledge that no-one would be wondering why a forty year old was wearing a school skirt. It is that cute that I'm kind of sad that I can't show it off out and about. Fit-wise, I would never prefer velcro fastening before trying this item, but for this skirt, it works a treat. I'm size 16-18 and it fits fine but with plenty of scope for other plus sizes. Should you wish to take it off prior to sex (lord knows why you would) having your partner rip it off courtesy of the velcro fastening is a wonderful touch in terms of the dom-sub roles, and therefore a very good design choice for this particular skirt. I can't really fault it, and I say this a someone not massively into role-play costumes. The little details and additions would make me feel a lot more comfortable with the idea of dressing as a schoolgirl, and if that isn't the sign of a successfully designed role-play garment, I don't know what is.
Pros:
The black details, the velcro fastening, comfortable fit.
Cons:
Wish it was longer so I could wear it out!
Bottom Line:
Well designed, well made, and very sexy.
On Lovehoney Fantasy Plaid Buckle Detail Mini Skirt
M
Mr&Mrs A.
5.0 star rating
Design:
Fit:
Quality:
Sexiness:
Value:
Naughty but VERY Nice
Review by Mr&Mrs A. on 12 Aug 2020
review stating Naughty but VERY Nice
I was lucky enough to be picked to review this Naughty School Girl Skirt. As with all packages that come from lovehoney this arrived in a very discreet box so you have no worries if you are shy that no one will know what you have ordered. Upon opening the box i was greeted with a beautiful taran like pink coloured skirt. It is absolutely beautiful. To put this on you use the Velcro that is around the waist, There is a lot of Velcro so would definitely fit the majority of people that order this. The skirt is really nice and short and sits just at the top of my bum cheeks which my OH found a massive turn on. There is some suspender clips on this skirt also so can attach some nice stockings if you wish also. The Velcro is really handy if your OH likes to rip things off of you and it is a massive turn on for me also. The skirt is made really well and from excellent materials and would last a very long time. I would definitely recommend buying this if you love sexy skirts. It is labelled as a Naughty School Girl Skirt but for me it was just a really sexy short skirt and did not look much like a school skirt which is not an issue at all for me as it was incredibly sexy.
Pros:
Supper sexy skirt that looked amazing.
Bottom Line:
A must-buy if you like sexy skirts in the bedroom.
On Lovehoney Fantasy Plaid Buckle Detail Mini Skirt