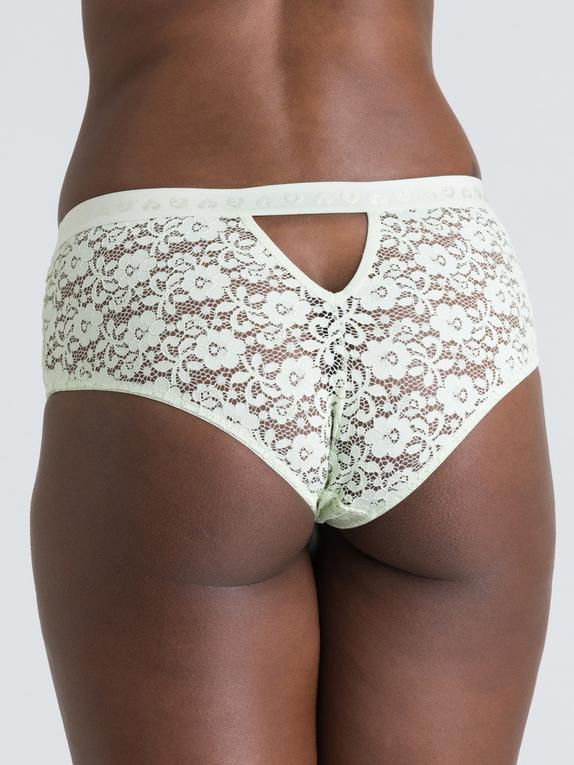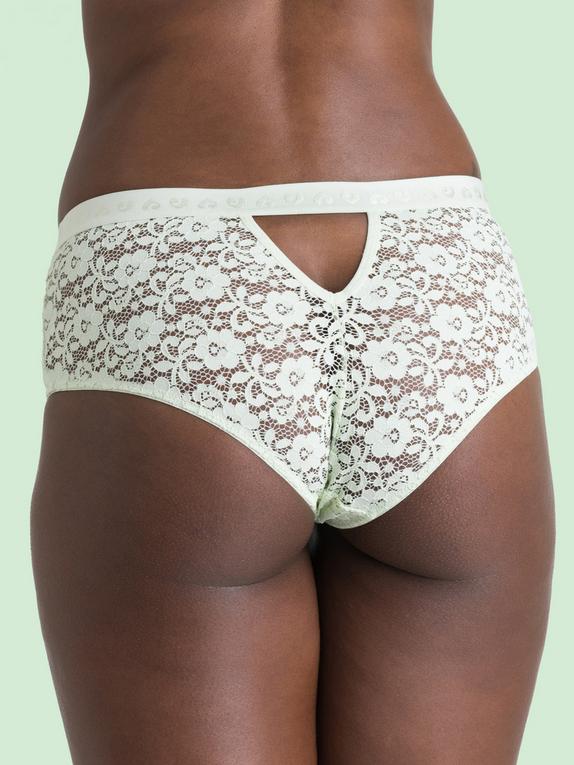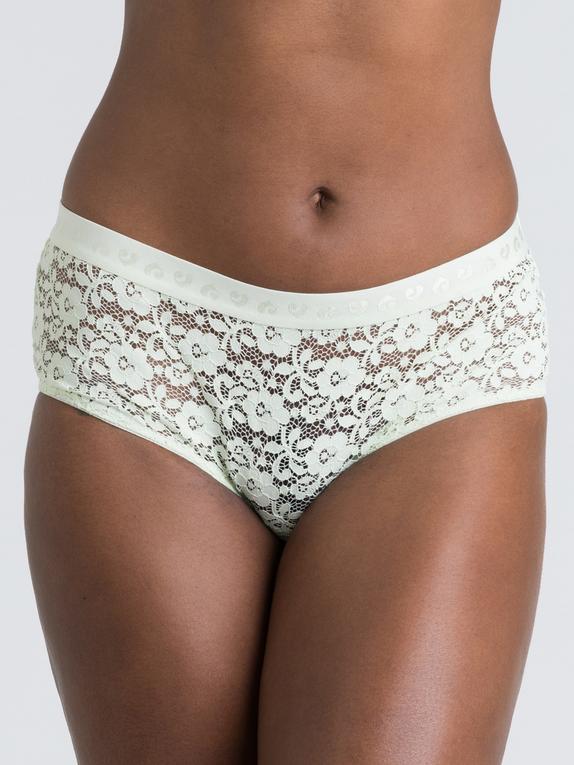 Lovehoney Mindful Mint Green Lace Shorts
Last chance! This product is not going to be re-stocked!
Sexy mint green lace shorts made from pre-consumer recycled materials for sustainable sex appeal
Flattering wide elastic waistband with Lovehoney hearts adds style and shine and is also made from pre-consumer recycled materials
Comfortable yet sexy for everyday wear and sexy reveals
Comes in a gorgeous, 100% recyclable bag with tags, so it's ideal for gifting
Go a little greener and get these cheeky lace shorts from our Mindful collection in your lingerie drawer, asap. Made from recycled materials, with a sexy keyhole back and a waistband adorned with hearts, these adorable undies are pants-down perfect.

These super-cute, super-comfy shorts are on-trend and irresistible. While the waistband features the Lovehoney heart pattern, the saucy keyhole detail draws the eye to your beautiful booty.

Not only will your booty be thanking you, so will your conscience, as the Mindful lace range is made from recycled, pre-consumer fabrics (GRS certified) that would otherwise end up in landfill.

Arriving in a cornstarch bag, this ultra-sexy lingerie is perfect for gifting. All packaging is plastic-free, sustainable and 100% compostable.
Frequently bought together
Popular combos for more sexy fun
Customer reviews
4.7
4.7 star rating
6 Reviews
4.7
4.7 star rating
6 Reviews
Thank you for posting a review!
We really appreciate your opinion and hope to see you again soon.
Thank you for posting a review!
Your review was sent successfully and is now waiting for our staff to publish it.
Search reviews
5.0 star rating

4.0 star rating

3.0 star rating

2.0 star rating

1.0 star rating
Lovehoney Mindful Mint Green Lace Shorts
Review by lovehoney-withoutatrace on 4 May 2021
review stating Lovehoney Mindful Mint Green Lace Shorts
Arrived in normal Lovehoney packaging.
Absolutely love these shorts not only are they green in colour but green for the environment. The lace is soft and the coverage good. I like that these have a crotch and a thick waist band. So comfortable yet sexy too - who knew! Amazing fit.
Pros:
the colour and that they are eco friendly
Cons:
should come with matching bra top/cami
Bottom Line:
great shorts
On Lovehoney Mindful Mint Green Lace Shorts
share
' Share Review by lovehoney-withoutatrace on 4 May 2021
facebook
facebook Share Review by lovehoney-withoutatrace on 4 May 2021
twitter
twitter Share Review by lovehoney-withoutatrace on 4 May 2021
LinkedIn
linkedin Share Review by lovehoney-withoutatrace on 4 May 2021
Was this review helpful?
0
0
Totally Green
Review by Melody1 on 18 Mar 2021
review stating Totally Green
I'm a planet person so it's great to see Lovehoney creating its own range of eco driven lingerie, Mindful, to complement the others they already stock. The underwear arrives in an obviously bio-degradable bag so that's a good start. The printed blurb confirms it is made from corn starch. This means that once I've finished with it, it will be heading straight to my compost bin. Another box ticked.

Out of the bag, my first thought is "Granny" as the knickers look massive, even in the S/M size I've ordered for my 30-inch waist. The material feels soft though. The label confirms that they are made from 80% recycled polyamide. This is a quick drying fabric derived from things like old fishing nets. Not very sexy sounding but right on point, given the ethos of the product. Polyamide also has a reputation for being hard wearing, again important for eco products. The shorts themselves look well made and built to last, using traditional stitching in construction. This is in contrast, some competitor products which are glued together and have come under criticism for poor quality and lack of longevity. The only minor quibble at this stage is the label, or rather labels. Why? Sure, the paper and string branding label looks pretty, but completely unnecessary for people wanting to reduce carbon footprint. Inside the waistband there is a second, traditional label when surely a better and arguably more fashionable option would be to print directly onto the fabric.

The pants themselves though are very pretty, with an attractive floral lace pattern. The chosen shade of green is uplifting, like the coming of spring after our dull, grey winter. There is a cute string of little Lovehoney hearts embossed around the waistband. At this stage they don't particularly look like shorts but slipping the knickers on, they immediately come alive. They look fantastic! Surprisingly figure hugging, they feel really snug on my hips. Spinning around, the stand-out feature is the triangular keyhole cut out at the back. This shows off the remains of last summer's tan at the base of my spine and is large enough to reveal a cheeky glimpse of bum crack. For the boys in shorts, the best thing for me is the way they hold the man stuff. Secure, but not overtight, so there's no chance of slippage. It's also shown off nicely against the delicate flower petals and is always going to look big, juxtaposed with the femininity of the panties, looking a lot more like shorts now they are on. A significant point at this stage is that the gusset is 100% cotton to keep the lady anatomy happy too.

Wearing all day, they are so comfortable, it's almost a surprise when you see them again in the evening. It's not just the eco credentials that add to your sense of well being but the general cheerfulness of the product too. Totally green.

Overall, I am extremely happy with the knickers. I am excited to see what else the Mindful range will have to offer. This choice ticks many boxes and I expect them to be gracing my body regularly.
Pros:
Eco-ness, Prettiness, Comfort,
Cons:
Two too many labels
Bottom Line:
Way to go Lovehoney! Impressive entry for the new Eco range.
On Lovehoney Mindful Mint Green Lace Shorts
These pants are mint for you!
Review by Happy B. on 18 Mar 2021
review stating These pants are mint for you!
These were kindly sent to me to test and review:)

These pants came into a biodegradable bag as part of the new collection at Lovehoney "Mindful" which is made of recycled materials. Something to note is that the label says these can only be hand washed cold.

These pants are made from recycled polyamide with a 100% cotton gusset so there is no discomfort when wearing them and I could wear them all day! I honestly couldn't believe how comfy they were even being from recycled materials. The band is lovely with the Lovehoney hearts which is soft and stretchy so it doesn't feel like it's cutting into you. For reference, I am usually a size 6 and hips are 32 inches and I was sent a size S/M but I definitely think these would fit size8/10 due to the stretchy waist band.

Although these have a more comfy than sexy vibe, they are still very cute when wore due to the unique colour and cut out near the butt.

I love that Lovehoney is trying to branch out and expand their range to those who want to be more sustainable:) would love to see these in black or a bra come out to match in the future!
Pros:
Love that it is sustainable, even the packaging bag is biodegradable and the label is cardboard!
Cons:
These are more "comfy" underwear rather than sexy for me personally.
Bottom Line:
Unique colour and concept for lingerie, cute cut out at the back too!
On Lovehoney Mindful Mint Green Lace Shorts
Mindful Mint Marvels
Review by Labyrinth on 13 Mar 2021
review stating Mindful Mint Marvels
I was thrilled to be asked to review the Lovehoney Mindful Lace Mint Green Shorts. I am I so proud to see an eco-conscious range landing and loved to be a part of it! The shorts were shipped out super quickly and arrived with me discreetly in plain (recyclable) packaging.

The first thing to notice about these panties, are the beautiful Mint colour. They are like a delicious scoop of fresh Mint ice cream. They are pretty and summery and an unusual colour to find! They are patterned with a flower design in the lace, and the signature Lovehoney hearts on the waistband. A peephole is also featured on the derriere.

Wearing them, they fit like a dream! The colour is beautiful against the skin, and they just hug the curves just right. Although the lace is completely see-through, it is well designed to add a little bit of mystery still. The peephole on the butt is super cute and just makes them a little bit cheeky.

They look wonderfully sexy on, but are also comfortable enough to wear out and about. The fact that they are eco-conscious too makes them a wonderful buy for those looking to make sustainable choices.
Pros:
Unusual colour that complements any skin tone with a well thought out design
Cons:
That they aren't part of a matching set!
Bottom Line:
Pretty little panties that are comfortable to wear and sexy at the same time.
On Lovehoney Mindful Mint Green Lace Shorts
Eco, but still definitely LH lingerie
Review by gosig on 11 Mar 2021
review stating Eco, but still definitely LH lingerie
Lovehoney Mindful Lace Mint Green Shorts

Credit to Lovehoney for jumping on the eco-conscious bus with this new 'Mindful Collection' of undies made from recycled materials (and delivered in their own little compostable bag). For a complete clothing womble such as myself, who tends to buy everything apart from pants second-hand, this is a good way to keep up the 'green is good' attitude without the involuntary grimace at the thought of wearing pre-worn knicks.
I reviewed these shorts at the same time as the 'Mindful' thongs, and as a complete surprise, I think the shorts are far more on-brand for Lovehoney in their design (and I say this as someone who much prefers thongs). The floral, lacey pattern, the little Lovehoney heart logos on the waistband, and the little triangular cut-out at the back will all feel like familiar touches for a regular Lovehoney lingerie shopper. They might be made out of repurposed fabric, but they still look and feel like any other pair of Lovehoney lacey shorts. Surely this is the trick to convincing more people to buy ethically; when there is no drop off in design or style.
The material is soft, the good build quality is as expected, and there is enough leeway in the cut to be worn either on the hip (as designed)s or higher up on the waist. I'm a size 16-18 and these fitted well. The price isn't cheap, but as repurposed clothing is still a relatively new and novel prospect, I think this is to be expected. Overall, I quite impressed by them, regardless of whether I'm considering them purely on their eco-credits or not.
Pros:
The little 'Lovehoney brand' touches, soft lace, flattering cut.
Cons:
Would have loved a slightly more bold mint green, but otherwise spot on.
Bottom Line:
A perfect mix of eco-conscious intent and the tried and trusted LH lingerie touches.
On Lovehoney Mindful Mint Green Lace Shorts