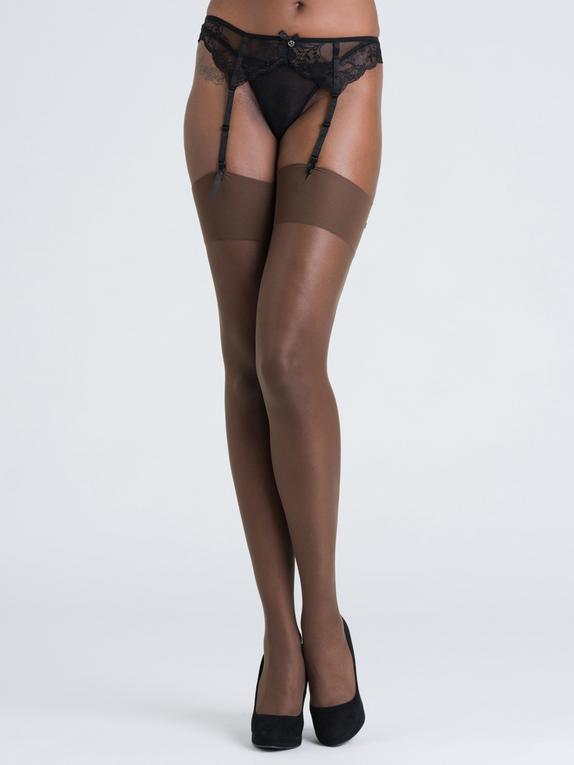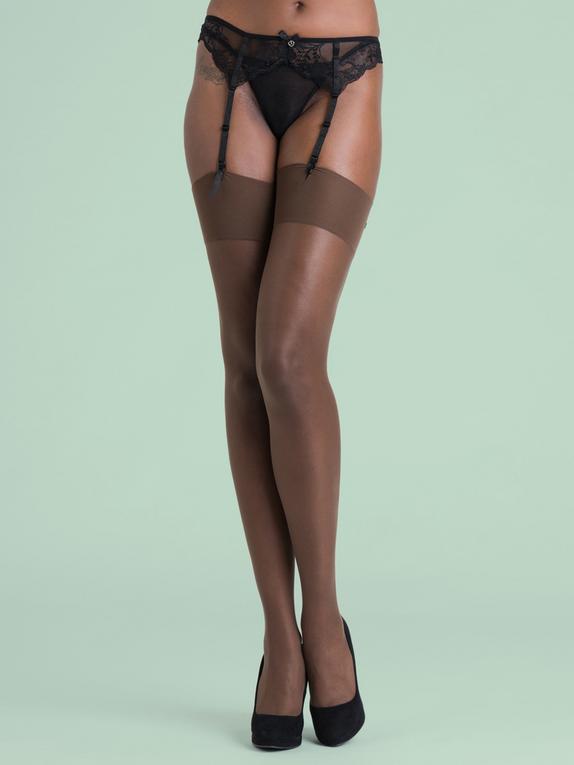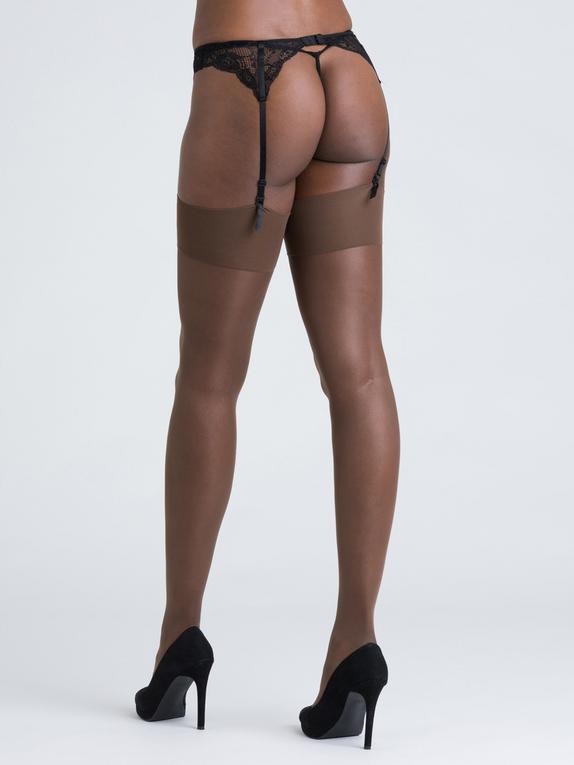 Lovehoney Mindful Stockings (Shade 3)
Last chance! This product is not going to be re-stocked!
Stockings made from pre-consumer recycled yarns for sexy, sustainable style
Attach to your favourite garter belt for retro glamour
Made in Italy using no harmful chemicals
Packaging is sustainable and 100% plastic-free
Add an essential staple to your sex siren wardrobe with these stockings from our Mindful collection. Made from recycled yarn, these saucy thigh-highs are no virgins. Produced in Italy using no harmful chemicals, they look good and feel even better.

These stockings come in shade 1, shade 2, and shade 3, 1 being the lightest and 3 the darkest.

Simply attach your stockings to a garter belt to add a touch of retro glamour to your lingerie look.

Made from 100% recycled materials, these simple stockings are a more planet-friendly way to flaunt what your momma gave you. Pair them with your favourite undies and make not love, not waste.
Frequently bought together
Popular combos for more sexy fun
Customer reviews
4.7
4.7 star rating
6 Reviews
4.7
4.7 star rating
6 Reviews
Thank you for posting a review!
We really appreciate your opinion and hope to see you again soon.
Thank you for posting a review!
Your review was sent successfully and is now waiting for our staff to publish it.
Search reviews
5.0 star rating

4.0 star rating

3.0 star rating

2.0 star rating

1.0 star rating
A lovely tan shade
Review by PrettyKitty24 on 6 May 2021
review stating A lovely tan shade
I am a little on the paper side and when I put these on the colour tone was very obvious and I initially thought I needed a lighter shade for them to be wearable. However once I looked in the mirror I saw they looked really good on me- they resemble the shade I would be on holiday and I actually thought they looked super sexy and preferred these to the skin tone colour.

These are from the mindful range so they are made from recycled materials- yay for the environment. These felt soft to wear but they didn't have that silky feeling I get with nylon stockings and hold ups but that's to be expected.

Please remember these are stockings so will need suspenders to hold them up. They held up really well with the suspender straps I used on all different sets and didn't ping off or wrinkle down which has happened to me with others.
I really liked how high they sit on my thighs, I am 5'3 so they come almost to the top! These would definitely suit taller people and they have a lot of give for thicker thighs like mine.

I paired these with a white piece of lingerie, red and a darker black and plum piece and I think they suited all three.
I have to say my bf didn't think these were sexy at all :( he loved the outfits but not the stockings unfortunately.
Pros:
I loved how long they are and how high they sit. I like the shade as it's new and different for me.
Cons:
The fabric isn't silky soft
Bottom Line:
A sexy pair of stockings to suit all outfits.
On Lovehoney Mindful Stockings (Shade 1)
Simple yet effective
Review by JoJoXxX on 5 May 2021
review stating Simple yet effective
These stocking are an absolute staple to my lingerie collection.
I am 5ft 9and a size 18. I have the stocking in plus size. The fitted me well and stayed up brilliantly !
They are simple yet have some slight differences to stockings I have had before. Lovehoney have rely thought about the shaping in the feet. The heel and instep have been shaped meaning you don't get that baggy unattractive bit around you feet like you get in many stockings. These are also super soft ! They feel great against the skin and great to the touch!
The colour is perfect for me. They gave my legs a very natural tanned look which I loved !
They are from the ' mindful' collection and you can really tell that Lovehoney had been mindful in the packaging. Not only is the main packaging cardboard but I was pleased to see that there was no plastic bag inside. The stockings come wrapped around a thin cardboard insert ! I actually love the look of the new packaging and it does have a high quality feel to it still !
Pros:
The shaping around the feet is a very clever idea !
Cons:
I liked everything about these
Bottom Line:
A staple for any lingerie collection, great quality.
On Lovehoney Mindful Stockings (Shade 1)
Eco friendly and pretty!
Review by Sappphire on 3 May 2021
review stating Eco friendly and pretty!
I was send these stockings by LH in exchange for a review. Mine were the shade brown, which while not an exact match, suited my skin tone. They were true to size with enough give to be a bit flexible. They stayed in place when stationary but did roll down a little when walking, that being said, that happens to most stockings I've tried.

They're absolutely gorgeous on! I particularly like that they're made out of recycled material, including the packaging it came in. These would be incredible if they came in more shades. All in all, a great pair of stockings.
Pros:
The way it looked and that it's eco-friendly.
Cons:
Limited choice of colours.
Bottom Line:
Great nude stockings.
On Lovehoney Mindful Stockings (Shade 1)
He got an eyeful of my mindful stockings
Review by MrsG1 on 29 Apr 2021
review stating He got an eyeful of my mindful stockings
The Mindful stockings are not only recycled themselves but they also come in recycled cardboard packaging. Don't be afraid of the quality or appearance because these are made from recycled materials there is no skipping qualtity control on these lovely stockings. I love a nude colour stocking as you can pair them with any colour outfit in your lingerie wardrobe, I decided to pair mine with a red suspender belt and matching bra set. The OH had no idea what I had on under my dress when we were walking through the high street til I came back and sliped it off my OH eyes and hands were drawn to my thighs and he's always had a thing about him removing stockings slowly rolling them down off my legs, he was in his element with these but not before a little play first. So overall I can confirm the quality and feel of these stockings is of a high standard. The wearability of them is comfortable with a good amount of stretch to them, no digging into my thighs but a nice firm and close to fit to my skin. Finally in my opinion what I love about stockings if you buy two pairs and one ever snags you replace it with one leg from the extra pair and you still have a back up stocking. And with the luscious stockings you are helping not only your complete your lingerie outfit but your also helping the environment.
Pros:
The way these stockings are made. Loved the quality, feel and appearance of the nude stockings.
Bottom Line:
A finishing item to most lingerie sets and a Mindful one. Like recycled goods keep the love going.
On Lovehoney Mindful Stockings (Shade 1)
Super Sleek Stockings
Review by Melody1 on 28 Apr 2021
review stating Super Sleek Stockings
Springtime is stocking time. Time to push the heavy jeans and tracky bottoms to one side. Pop on a basque, slip in a skirt and pull up these new Mindful stockings. Throw in a bit of sun, glimpse of blue sky and instantly you're full of the joys.

As a 'planet person', I'm loving this new concept: eco conscious lingerie wear from Lovehoney. I already have a couple of pairs of super comfy knickers and had to give the stockings a go as I get through a lot. They arrive in a plain, non-glossy cardboard packet, itself made from recycled materials. There are no ink hungry colour images, just a suitably simple Lovehoney heart to adorn the front. The packaging is therefore generic, useable across the range, potentially reducing waste. Slightly disappointingly though, the 'blurb' is the standard Lovehoney 'Discover a sexier you'. There is no mention off the product's eco-credentials which can themselves contribute to the 'sexier you'. The small barcode label is the only confirmation of the environmentally friendly materials. 92% recycled polyamide made from recycled yarn. Lifting out the stockings and gone is the usually compulsory clear cellophane wrap. The product is simply folded around plain cardboard, not even the usual bleached white card. So we are off to a good start. 10/10 for the packaging. I can almost overlook the 'stocking miles' and made in Italy adds style kudos. Maybe this is the nearest location where the technology is available. Anyway, you can fit a lot of stockings in a truck and Italy also gives more confidence that worker's rights will be respected than some other more far away clothing producers.

Pulling the stocking on, they feel really comfy, extremely smooth. Spring is also a time to spend in the garden and my hands can be a little rough. With some of my other stockings I wince as they catch or snag as they run through my fingers, but this Mindful pair go on real well. Plain tan stockings aren't the most glamourous but the nice broad tops add a hint of sexiness with the occasional flash below my skirt. The tops also take suspender fastenings well with none of the annoying 'sticky' stuff that is difficult to work with when 'hold ups' don't. The stockings have a defined heel and are plenty big enough for my size seven feet. I have the one size 8-16 which fit perfectly. They just about reach the top of my skinny 32½ inch legs and feel nice and snug, not loose or baggy on the knees or thighs. They also hold their shape well, not starting to sag as the day wears on. The 'tan' shade looks good on my own gently tanned pins and my legs look terrific in them. They are super slick and I frequently find myself running my hands, absent-mindedly over them. One thing I did notice though that some people will like but other may not, is that they rustle slightly as I walk if I wear them with a lined skirt. I quite enjoyed swishing along. In fact, I enjoyed them so much, I kept them on to step out in the evening, even running to catch up with a friend.

Again, important for the eco-minded, the stockings felt very durable. I bumped and brushed against a few things as the days have worn on but no sign of any laddering when lesser hosiery would have been in the bin.

Traditionally, plain tan stockings or tights are perfect office wear - except now we are all working from home. In our PJs. Not me though. When my day needs a lift from the drudgery of bedroom, front room, kitchen, it's time to change gear. I can feel sexy all by myself and good about myself too in my sleek Mindful stockings, paired with some kicking heels. Zoom y'later.
Pros:
The Mindful concept. Smooth, soft yet durable
Cons:
Stocking miles from Italy
Bottom Line:
Super Springtime Stockings
On Lovehoney Mindful Stockings (Shade 1)