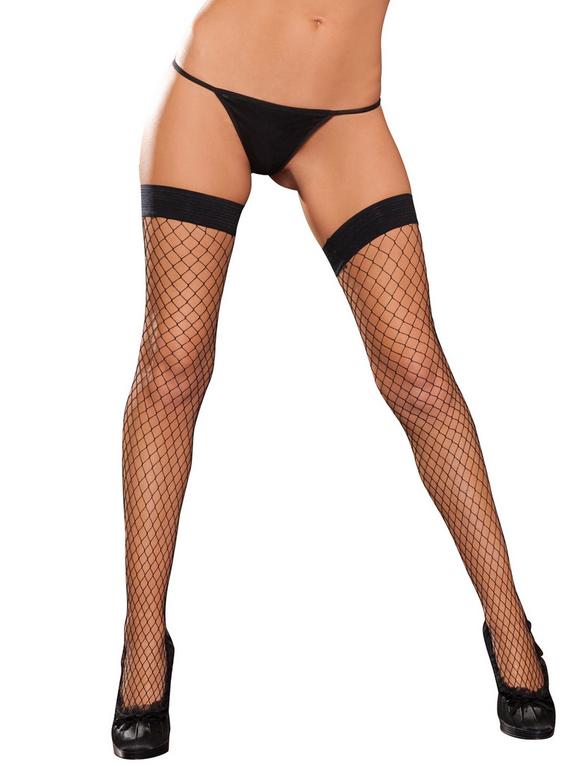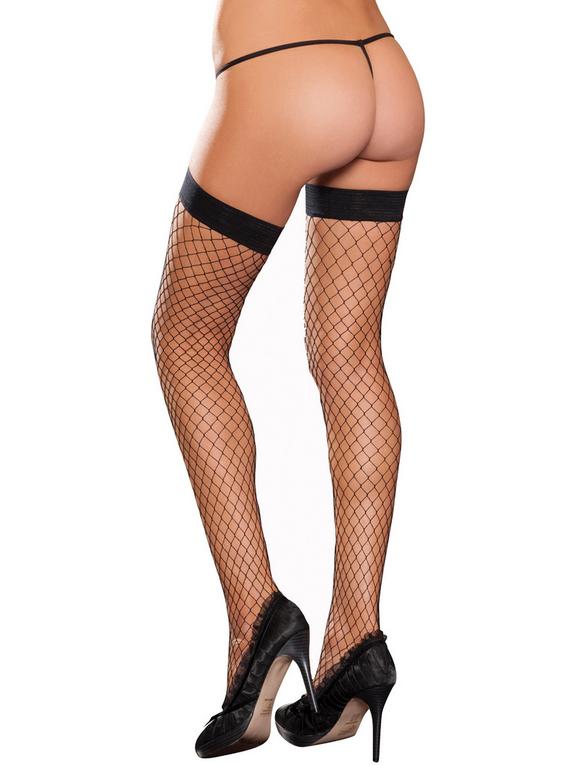 Seven 'til Midnight Diamond Fishnet Thigh High Stockings
Last chance! This product is not going to be re-stocked!
Fishnet thigh-high stockings for classic sex appeal
Versatile stockings are the perfect finishing touch to any sexy outfit
Thick stocking tops help keep them in place – wear a garter belt so they don't slip
Versatile and ultra-sexy, these diamond fishnet stockings can take you from foxy French maid to punk rock princess without breaking a sweat. Seamless and easy to wear, the stocking tops are solid with horizontal stripes running across them.

Please note: These are shown without a garter belt, but as they do not contain silicone we recommend wearing these with a garter belt to avoid them slipping down.

Beautifully presented in a display box.

One size fits most.
Frequently bought together
Popular combos for more sexy fun
Customer reviews
4.4 star rating
4.4
9 Reviews
Design:
Fit:
Quality:
Sexiness:
Value:
Thank you for posting a review!
We really appreciate your opinion and hope to see you again soon.
Thank you for posting a review!
Your review was sent successfully and is now waiting for our staff to publish it.
N
Nudgewink
4.0 star rating
Design:
Fit:
Quality:
Sexiness:
Value:
Great addition to any night
Review by Nudgewink on 10 Jun 2018
review stating Great addition to any night
He Says: They feel nice, the net spacing is a good size not showing too much skin but allowing you to still feel skin. The material itself is soft to touch. Stockings are always a great addition to the bedroom. If you enjoy a snapping sound against skin then these give a great sensation for him and her. She says: Typical pair of fishnets, holes at the toe are smaller, just as they should be. The tops hold in place even with out suspenders as they are quite tight but wont stay there if you are moving loads they are fine for walking around. The elastic at the top is a decent width so if your partner or you like to ping and snap them they don't hurt but you can feel it.
Pros:
What's not to like?
Cons:
She doesn't wear them everyday!
Bottom Line:
Essential addition to any couple's top drawer!
On Seven 'til Midnight Diamond Fishnet Thigh High Stockings
L
Lovehoney B.
5.0 star rating
Design:
Fit:
Quality:
Sexiness:
Value:
Only one minor niggle
Review by Lovehoney B. on 16 Nov 2015
review stating Only one minor niggle
I received these stockings as a gift from a lovely forum friend so thank you! They arrived in pretty light pink cardboard packaging with black detailing. There's a picture of a model wearing the stockings on both the front and back of the packet and although she's half nude I don't find the photo's to be tacky or off putting. Inside the packaging there's a plastic pouch which contains the stockings with a piece of cardboard inside to help maintain shape whilst packaged. They are very quick and easy to put on, usually I worry when it comes to fishnet about tearing the material so it takes me a little longer to put on any clothing made from it but these seemed very sturdy and I didn't get the impression they would tear easily. The stockings are made from a wider fishnet everywhere but the toe area, the fishnet here is much smaller as it's supposed to protect your toes from slipping out between the netting, I would personally prefer this to cover a little more of the foot as it only seems to be wide enough to cover four toes, my little toe always pokes out. It almost looks like I have a hole in my sock! If worn with shoes it isn't an issue but without I do need to readjust a little to keep all of my toes covered. It wouldn't be noticeable to my partner but I'm incredibly vigilant and once I noticed it, I couldn't help but keep noticing it! The stockings have a thick wide elasticated band at the top which do help to hold them up and keep the fishnet looking right. I personally have not needed to wear a suspender belt so far with these as they seem to stay up fairly well on their own. They do fall slightly if worn during a particularly rough session, but not so much that they're falling down my legs, it feels more like they loosen after a while. I have tried these with some of my lingerie that has attachable straps just for this review's purpose and they do stay up a little firmer with some support from the straps but there isn't much difference in my experience. I really like the fit of these stockings and they have plenty of stretch in them that they'll easily accommodate someone of a taller height than my minimalistic 5ft self. They seem to just adjust to the size/length of your legs which is great as they should accommodate most sizes and heights. They are very comfortable to wear and I'm perfectly happy wearing these for long periods of time, I highly recommend these for anyone looking for a great pair of fishnet thigh highs.
Pros:
Quality, fit, packaging, comfortable, stay up without a suspender belt.
Cons:
Need a slightly longer smaller fishnet area to protect all toes.
Bottom Line:
Great pair of stockings.
On Seven 'til Midnight Diamond Fishnet Thigh High Stockings
Design:
Fit:
Quality:
Sexiness:
Value:
Fabulous fishnets
Review by Leila K. on 26 Jul 2015
review stating Fabulous fishnets
I love these fishnets, they were part of my first order from Lovehoney. They arrived in the usual Lovehoney style the discreet brown box along with some other goodies. The fishnets themself come packaged in a little plastic bag. The description describes these as stockings, but in fact they are hold ups never once have I used a suspender belt with these fishnets. They are a wide fishnet and they have a reinforced smaller fishnet area around the toe which prevent your toes get caught. They feel nice and soft against the skin and have a thick elasticated band at the top which stay up perfectly even though vigorous sex sessions. I am a size 12 and they fitted me perfectly, the elasticated band at the top is very stretchy so they would accommodate larger thighs as well. I teamed these up with a body harness and it looked amazing and oh could not keep his hands off me. I am really pleased with these fishnet stockings, I've had them a while now and they still look great. For £5.99 they are great value for money, and I would highly recommend them to anyone looking for fishnets that look fab and are reasonable priced.
Pros:
Quality, fabric, sexiness, comfy, and they stay up without suspender belt.
Bottom Line:
Fabulous fishnets, would highly recommend.
On Seven 'til Midnight Diamond Fishnet Thigh High Stockings
H
Hopkins 1.
4.0 star rating
Design:
Fit:
Quality:
Sexiness:
Value:
Pretty decent
Review by Hopkins 1. on 3 Mar 2015
review stating Pretty decent
The other half loves stockings and the bits that attatch to them so I got these with another item to go with it. no complaints, good stockings, haven't noticed any tears in them after quite a few uses so that's always good. Not sure that there's much to say about a pair of stockings really but they made her legs look sexy as hell.
Pros:
Complements the legs.
Cons:
Nothing I didn't like.
Bottom Line:
Good buy, does what it's supposed to.
On Seven 'til Midnight Diamond Fishnet Thigh High Stockings
Design:
Fit:
Quality:
Sexiness:
Value:
Don't forget suspenders
Review by Ruby1878 on 7 Oct 2014
review stating Don't forget suspenders
These stockings are lovely, but I didn't read the description properly and thought they were hold-ups. They will stay on the leg without, but will roll down and wouldn't last long 'in use' so you need suspenders with them. They look great on though, the toes feature a closer fishnet so they don't poke through and it gives them a bit of reinforcement. They sit nicely on the leg and aren't loose around the back of the knee as some fishnets are, and the band round the thigh isn't tight. My fiancé is a big fan of classic stockings, but he loved these too!
Pros:
The look and style.
Cons:
Need suspenders with them but picture gives impression of hold-ups.
Bottom Line:
Great fit, but don't forget suspenders!
On Seven 'til Midnight Diamond Fishnet Thigh High Stockings