$7.40
$36.99
You save:
$29.59 (80%)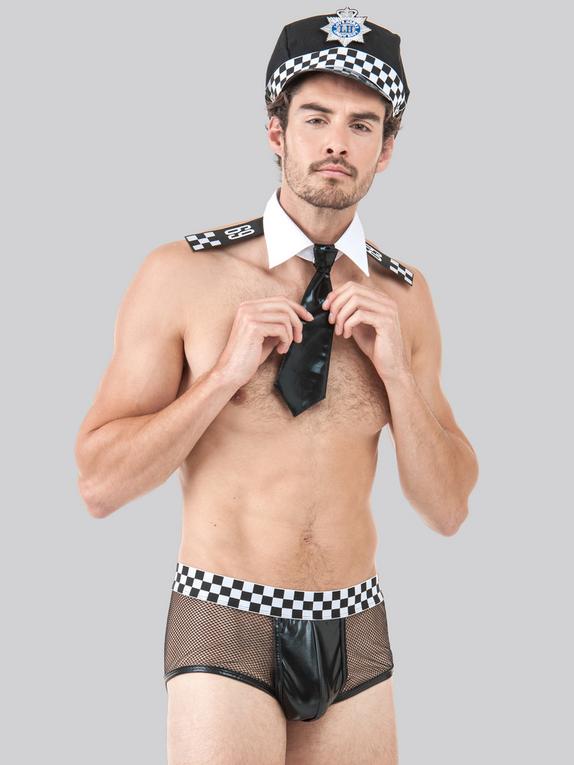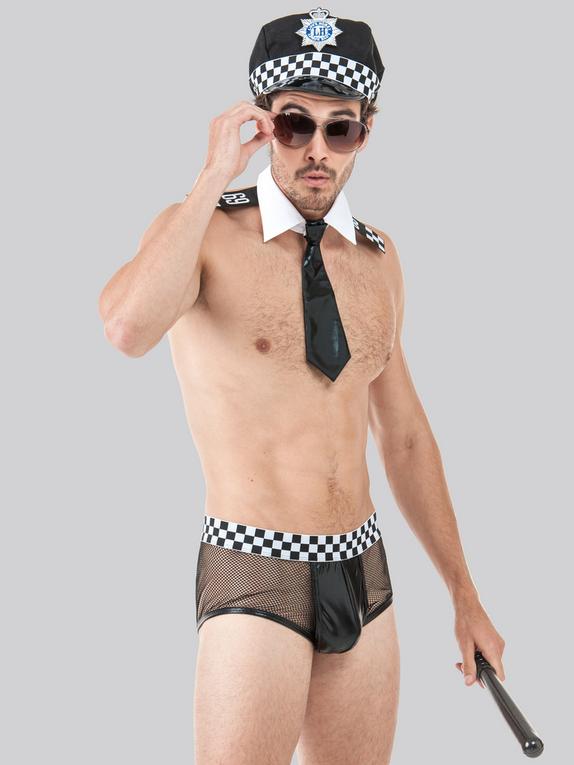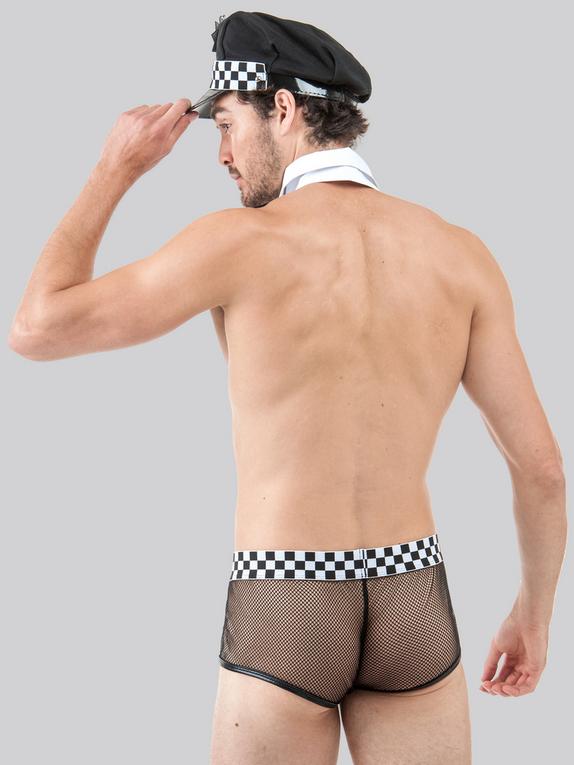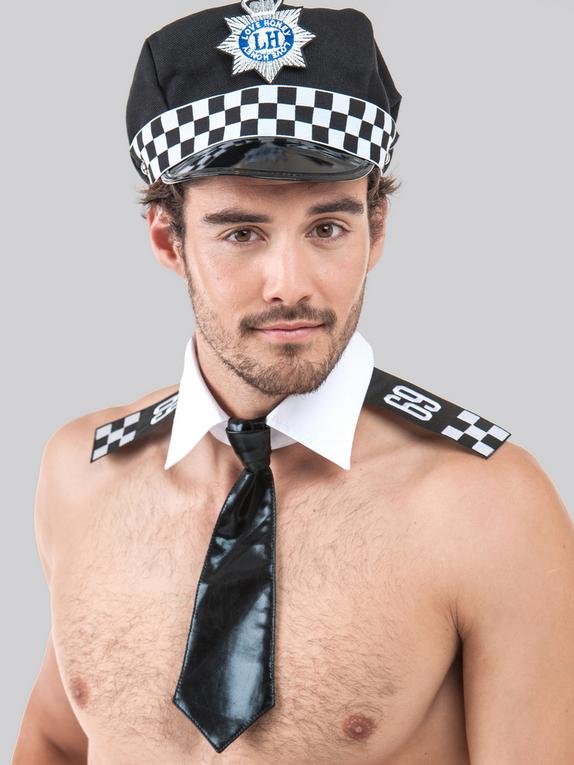 Lovehoney Fantasy Officer Frisk-em Costume
$7.40
$36.99
You save:
$29.59 (80%)
Last chance! This product is not going to be re-stocked!
$7.40
$36.99
You save:
$29.59 (80%)
Sexy policeman fancy dress costume for men
Wet look and fishnet boxers draw attention to your bulge
Wet look tie, white shirt collar and chequered lapels for added authenticity
Hat features Lovehoney police badge
Comfortable collar fastens with metal poppers
Just add handcuffs for the complete look
This very British bobby dazzler of an outfit will have you and your partner banged to rights. Complete with black and white chequered detailing, wet-look tie and fishet detail boxers, the only thing missing from this Policeman's Ball is a stiff truncheon.

Add the matching cap, adjust your tie and get ready to take your lover downtown – this costume takes no prisoners when it comes to sex appeal.

Model is 6'0" with a 32" waist, and wears a size S/M.
Essential Info

How it Feels
Frequently bought together
Popular combos for more sexy fun
Customer reviews
5.0
5.0 star rating
3 Reviews
5.0
5.0 star rating
3 Reviews
Thank you for posting a review!
We really appreciate your opinion and hope to see you again soon.
Thank you for posting a review!
Your review was sent successfully and is now waiting for our staff to publish it.
Search reviews
5.0 star rating

4.0 star rating

3.0 star rating

2.0 star rating

1.0 star rating
PC Everhard is here to take down your particulars!
Review by Optimized on 23 Sep 2019
review stating PC Everhard is here to take down your particulars!
With its great novelty details, like the Lovehoney badge on the cap, and the cheeky '69' collar numbers, it's clear that this police costume is all about naughty fun. In some ways it's like a male stripper's version of what a police officer's uniform might look like, and that's no bad thing. Certainly if you're new to role-play, or are just looking for a playful, light-hearted way to experiment with different scenarios, then I think this is a perfect option. Included with the costume is that all-important police cap, with stiff vinyl covered peak, authentic-looking, chequered strip and the Lovehoney police badge. The cap has a completely adjustable popper strip at the back making it suitable for all hat sizes. I've got quite a big head (59cm) but it fits me fine. My only minor criticism is that the upper, fabric part of the cap is a bit on the large size, but I guess this is so it can mimic the peaked-cap look. However, if you've got a smallish head you might find the cap looks a bit over-sized. For me one of the elements that really makes this costume great is the white collar, with shoulder epaulettes and black, shiny tie. It's really easy to put on – my collar size is 16" and there was room to spare – but perhaps more importantly it's very easy to take off, should you wish to. Personally, I like to keep it on during role play as it does a great job of suggesting a police uniform whilst at the same time allowing me to have a pretty much naked torso. Talking of revealing flesh…the black mesh boxer shorts, with chequered waist band, are very cheeky! The mesh reveals everything around the back, as well as providing sexy side glimpses around the front. The pouch is made of shiny black poly-elastane, which perfectly showcases PC Everhard's concealed truncheon. I'm a size 32" waist and these shorts were a great fit – they weren't too tight, but equally weren't loose and saggy. BTW, the washing instructions for all elements of the costume are on the label sewn into the shorts. They were very comfortable to wear and my partner said that inspecting my police tackle through the soft, wet-look pouch was a big turn-on. Which brings me on to the main purpose of wearing this costume – the horny role-play with my partner! He's already got a bit of a thing for police officers, so I knew this would be right up his heavily-patrolled street. We devised a scenario where I caught him attempting to burgle a house, leading to me apprehend him, using a pair of Lovehoney handcuffs to ensure he wasn't going to resist. Needless to say, he had to negotiate and bargain with me until we agreed, and carried out, the 'unconventional' terms of his release. Yes, I'm afraid police corruption is rife in the Lovehoney Force! The outfit is great for helping to set the scene but also has that fun, naughty element that means that it doesn't feel like we needed to take things too seriously. I find laughter, humour and play essential for good role play otherwise it can feel a bit pressurised, as if you're auditioning for RADA. We've already got several more scenarios lined up that feature this costume…including a probing investigation in the police interview room, a strip search in the detention cell and a private performance from a male stripper. No doubt standard-issue police ball-gags, blindfolds, dildos and vibrators will feature in these! In summary, the 'frisk-em' police officer costume is a great way to explore a number of different scenarios, ranging from light bondage and control, to full-on BDSM scenes. Or, you could take an alternative route and pretend that you've been set up with an unexpected 'strip-o-gram' arriving at your door! The costume is well made with the emphasis on including just the right details to suggest a copper's uniform whilst leaving other parts of your body exposed for easy access. I only wish that cap fitted a bit more snugly!
Cons:
Cap, whilst fully adjustable, is just a little too big in my opinion.
Bottom Line:
A sexy, well-made, male-stripper inspired take on the police officer uniform.
Pros:
Costume was sexy, revealing, well-made and had fun details.
On Lovehoney Fantasy Officer Frisk-em Costume
Allo, Allo, Allo! A great bit of sexy fun
Review by Dave S. on 17 Sep 2019
review stating Allo, Allo, Allo! A great bit of sexy fun
What the product is like I received the Lovehoney Fantasy Officer Frisk-em Costume (Black S/M) 2 days after I received the 'e' mail to say that it had been posted. The package was nicely discrete and all boxed up in a plain cardboard box with strong tape around the opening, no chance of the packaging coming apart! Even before we intended to use it I was keen to see what was inside so I opened it straight away. On opening there was an inner plastic bag with the products inside. I was nicely surprised to see what was included, the Policeman's hat is very sturdy with Lovehoney embroidered on the front badge and the string briefs have a leather effect front and a string back which leaves nothing to the imagination! They are also nicely lined so are quite comfortable with elasticated edges and waist band. I am a 32" waist and the S/M fitted me great. The collar clips on with a press stud and the leather effect tie hooks through it for fitting. The truncheon in the photo is not included (or the sunglasses). How the product works You could use it as a surprise during a date night, at home of course unless you are feeling very brave! The collar is fitted with a press stud and the tie hooks around it to fit, really easily. The hat is ready to go as are the briefs. My experience of using the Lovehoney Fantasy Officer Frisk-em Costume. I decided to try this out on a night at home. Part way through the evening I nipped out of the room and put on the costume then appeared with a set of handcuffs that I had bought separately. What a laugh as I proceeded to carry out a strip search and pat down! I tried to be Mr serious and carry out my search professionally but it soon turned into a passionate, thorough check of all areas! The costume would have been comfortable enough to wear for long periods and looked the part as well as being very revealing and skimpy. For us it stayed in place for about 10 minutes and was easily removed in a hurry, worth it though for the fun that we had and the surprise it caused when I first appeared wearing it. A great evening and a memory that will stay with us for a long time, thoroughly recommended.
Bottom Line:
A great bit of fun for a date night, giggles and a lot of fun!
Pros:
Easy to use, comfortable, very effective, sexy briefs!
Cons:
Hat a bit large for me, everything else okay.
On Lovehoney Fantasy Officer Frisk-em Costume
Allo Allo
Review by Throbinhood on 14 Sep 2019
review stating Allo Allo
I received this item from Lovehoney in return for my honest review. This looked amazing on, it consisted of 4 items. A superb police hat, a white collar with the Number 69 on both sides, a black tie that fixes to collar and finally some very sexy black netted jersey boxers with a black PVC crotch area. Truncheon not included but that will probably be in your shorts by the end of the night lol This was really well made and of good quality. if you fancy a bit of fun in the bedroom department then this is a must have but be warned, don't wear it in public or you might get arrested haha. I used it with my fifty shades grey handcuffs which is a perfect accessory for this outfit. sexy and a lot of fun!
Bottom Line:
A must-buy for sexy fun and laughter in the bedroom.
On Lovehoney Fantasy Officer Frisk-em Costume