A Beginner's Guide to Condoms
A form of contraception, condoms prevent pregnancies and protect against the spread of sexually transmitted infections (STIs). As one of the best forms of contraception to do so, condoms should be a part of your bedroom routine.
In this day and age, there's no excuse for not protecting yourself and your lover. And with so many different colors, textures, and varieties available, using condoms can even enhance your play!
If still curious about all things condom, we're here to answer all your questions.
From success rates to sizing, read on to learn more about the wonderful world of condoms.
What is a Condom?
A condom is a form of external contraception worn by penis owners.
It's the only form of contraception that also prevents pregnancy and the spread of STIs to/from the wearer.
What are Condoms made of?
Most condoms are made of very thin latex (rubber), helping them fit comfortably over the penis.
You can also get non-latex condoms if you or your partner has an allergy.
What are Condoms used for?
Condoms are a common form of contraception and protect against unwanted pregnancies. But, did you know they can also:
Protect against sexually transmitted infections
Enhance play with textures and/or flavors
Revolutionize and improve sexual happiness
How should a Condom fit?
When it comes to choosing condoms, size definitely does matter.
Condoms should fit around the penis without being loose. If the condom is too big, it could slip off during sex, decreasing its effectiveness as a contraceptive/STI barrier.
But you don't want the condom to be too tight either, as this can be uncomfortable and may lead to the latex tearing.
To help make sure the fit is right, many brands make condoms in a range of sizes.
If you're bigger than average and find that regular-sized condoms don't provide the comfort and fit you need, extra-large condoms are the perfect option for you.
If you find that regular-sized condoms feel loose or uncomfortable during sex, discover the perfect fit with small condoms. Offering a close snugness for great security, safety, and pleasure during lovemaking, small condoms can make a big difference.
Choosing the right size condom can make a world of difference to both you and your partner's pleasure and sexual health, so take some time to work out the best fit for you.
For more advice, including tips for putting on a condom, check out our How to Use a Condom guide.
Different types of Condoms
At Lovehoney, we have condoms for everyone, from ribbed latex ones to condoms that glow in the dark.
If you're wondering which condom to use, acquaint yourself with the different types below: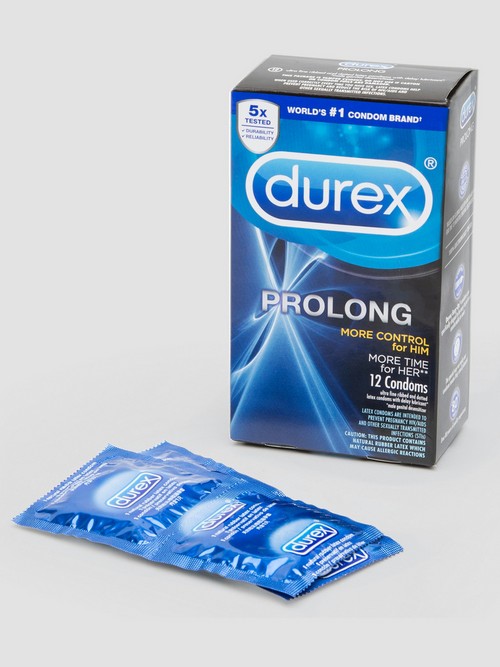 Regular Condoms
Designed to offer the best fit for standard-sized penises, regular condoms are produced by a variety of trusted brands. Their standard size, thickness, and ability to protect make them the best condom for beginners. In general, the size of regular condoms measures 190mm in length and 54-66mm in width to comfortably protect most penises.
Delay Condoms
Delay condoms are the most effective condoms if you're looking to last longer. Using a tiny amount of light anesthetic, like benzocaine, delay condoms reduce sensitivity throughout the whole of the penis, effectively working to delay ejaculation.
They have exactly the same features as regular condoms but are often slightly thicker to help reduce over-stimulation and keep the pleasure going for longer.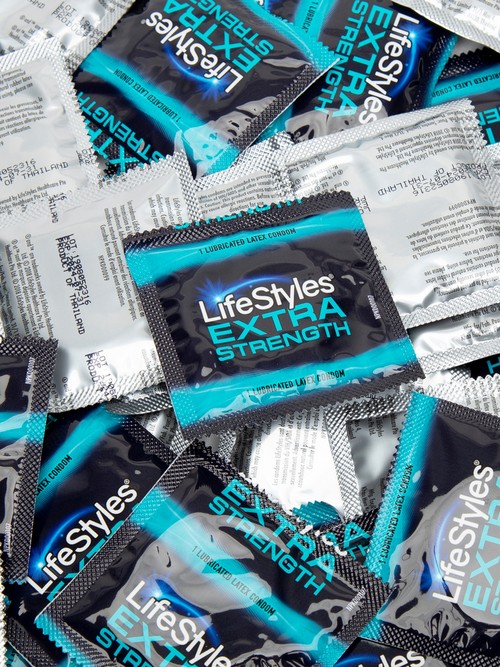 Extra-Safe Condoms
Ensure total peace of mind during sex with extra safe condoms. Thicker than regular condoms, and with added lubrication, extra safe condoms provide even more safety without compromising on pleasure. The extra lubrication means these condoms are also a great option for anal sex.
Oral Sex Condoms
Taking 'getting fruity' to a whole new level, flavored condoms can help you transform your lover into a tasty treat.
Covered with flavored lubes, these condoms come in various tastes and scents, from fruity and sweet to fresh and minty.
And, as well as adding to the fun, using condoms during oral sex can help protect you from many orally-contracted STDs.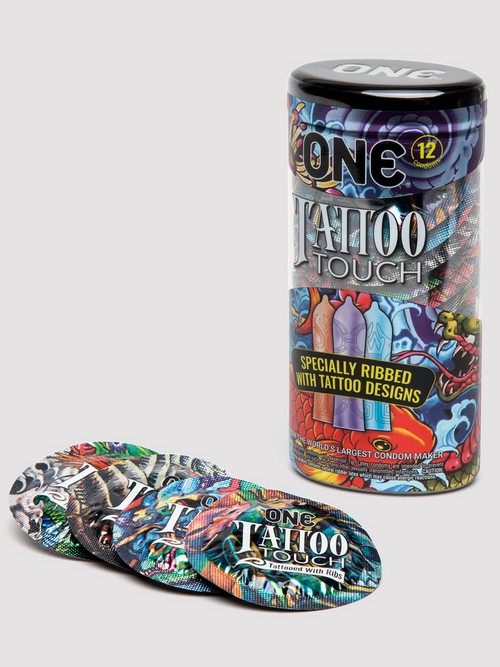 Latex-Free Condoms
Non-latex condoms are a fantastic option if you or your partner has a latex allergy.
Made to the same high-quality standard as regular condoms, these clever creations use innovative materials including polyisoprene, polyurethane, and natural membrane to provide the same level of comfort and protection.
Textured Condoms
Offering different textures to stimulate both partners during sex, textured condoms feature sensual dots, ribs, and beads to bring an extra exciting dimension to your pleasure.
With a large selection available from a wide range of trusted brands, make it your mission to discover why these condoms are perfect for both safe sex and great sex!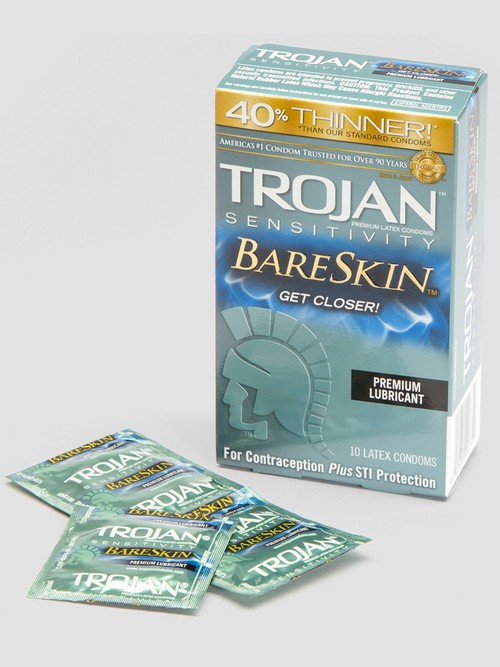 Extra-Thin Condoms
Experience a closer feeling without compromising on safety with extra thin condoms. Designed to enhance your pleasure with a skin-on-skin feeling, the minimal thickness allows for greater intimacy between both partners during sex.
Each sensitive condom is made to the same high specifications as regular condoms, offering both quality and security.
Female Condoms
If you or your partner has a vulva, female condoms are a great option. Ideal for insertion hours before intercourse, these condoms allow you to carry on your evening adventures without interruption.
They're also a great alternative for those who don't enjoy the sensation of external condoms.
Interested in this topic?
Sign Up for our newsletter to receive expert advice, sale alerts, and exclusive offers straight to your inbox. Plus, receive 15% off your first order.
Are condoms 100% effective?
While they're the most common form of contraception, condoms aren't 100% effective.
But, don't panic! Condoms are 98% effective, meaning they are pretty darn effective. And, since they're external, you can combine them with other contraceptive methods like the pill or the implant (IUD) to minimize the risk of pregnancy.
Condoms are also the only contraceptive that prevents the spread of STIs, so they are still worth using during anal or oral sex.
Condom FAQs
How long are condoms good for?
All condoms have an expiry date which should be printed on the packet. After this date, the condom becomes a lot less effective and can be damaged more easily, so be sure to check the packaging before use.
Can condoms cause infection or irritation?
While most people should be okay to use latex condoms, they can cause irritation if you have an allergy. If that's the case, try out some non-latex condoms to see if that helps. If the irritation or infection comes back, speak to your doctor.
How often do condoms fail?
Since they're 98% effective, condoms don't fail that often. When they do fail, it could be for several reasons such as being expired, getting torn or getting damaged from oil-based products like vaseline or oil-based lube.
Can you re-use condoms?
No! Condoms are single-use and should be thrown away once you've finished. Re-using condoms can lead to the spread of STIs and even pregnancy.
What does a condom look like on?
The condom should cover the penis, from the head to the base, with a little space at the tip to collect the semen.
More Sexual Happiness Advice
You can never know enough about sex, right? Why not join us on our sexploration journey? Stay up to date with the latest advice on our blog, the Lovehoney forum and the weekly Sexual Happiness podcast.