How to Style or Shave Your Pubic Hair
Call it 'manscaping' or 'lady gardening.' If you are in the staggering 92% of women or 83% of men who like to primp their downstairs hairs in some way, then you are in very good company.
Just like the hair on our heads, eyebrows, and faces, pubic hair styles come in a wide array of shapes, styles and colors. Some people like it bald, some people like it neatly trimmed; and others prefer to follow the spirit of Woodstock and let it run wild and free.
Video: Intimate Shaving
If you prefer to be trimmed, neatened to completely hairless for sex, there are a few methods you can take. Some people like to get waxed, others epilate, but for many of us the most convenient method is to shave at home. Learn how to shave intimate areas properly whilst avoiding that pesky shaving rash in this week's episode of Better Sex 101 with Annebelle Knight.
If you prefer to trim, neaten or completely remove your pubic hair for sex, there are a few methods you can take. Some people like to get waxed, others epilate, but for many of us the most convenient method is to shave at home. Our guide below is packed with plenty of advice on how to shave your pubes and keep things neat and tidy.
Should you shave your pubic hair?
The truth is, there is no right or wrong answer to whether you should remove your pubic hair. Those who advocate for the full Hollywood (that is, to say, entirely bare) say that it feels cleaner, is less hassle for their sexual partners, and increases sensation.
"The Bathmate Trim USB Rechargeable Grooming Kit is an amazing trimmer for grooming. The purpose of my purchase was simply to shave off body hair and hair in the most sensitive area. :)" - Perfectly Groomed
The Full Bush Administration, however, would counter that pubic hair is there to protect your sensitive areas, makes you less prone to catching STIs, and also helps to retain libido-boosting pheromones that make you even more sexually appealing.
Many also find their partner's personal preference often influences their own choice, but when it comes down to it, the decision (and the razor) are entirely in your hands.
Best way to remove pubic hair
There are a number of methods that you can use to style your intimate area:
Waxing gives you the longest-lasting results (up to four weeks), and can either be done at home, or in a salon. The wax is heated and smoothed onto the skin in the direction of the hair growth, then a cloth is applied, before the cooled wax is pulled back in the opposite direction, taking the entire hair with it.
Hair removal creams work by using a chemical formula to thin the root of the hair, to the point where it breaks and can be simply wiped away. Although you can get hair removal cream for the bikini area (the parts of the skin where the edge of your knickers would sit), it's not recommended to use it for all-over genital hair removal as it can be an irritant.
Trimming pubic hair doesn't remove the hair completely in the same way as other methods, but shortens it for a more groomed appearance. Many special trimmers have a small head that allows you to get to those hard-to-reach areas, as well as sculpting the hair into patterns or shapes using stencils.
Shaving is the most popular method of hair removal, as it's quick, convenient, and relatively painless (unless you accidentally cut yourself). There's a huge range of intimate razors and accessories available in our Personal Grooming section.
Here's some of our most popular products in that area:
Recommended Personal Grooming Products
How to shave pubic hair for a smooth finish
It doesn't matter what genitals you have - our tips for the best ways to shave pubes to get a silky soft result without any horror stories are the same for everyone.
1. Trim the hair
Before you start, get out the scissors or trimmer and give everything a nice close crop. Not only will excess hair clog up your razor faster, it will also dull the blade much more quickly, which can cause microscopic cuts on the surface of the skin.
2. Steam to open the pores
In order to get the closest, most comfortable shave, you'll need to open up the follicles and soften the hair by having a bath or shower beforehand. If you don't have time, holding a warm, moist flannel over the area for a few minutes will do the trick.
3. Foam the area
Use shaving foam or cream. Dry-shaving increases the chances of irritating the skin, so grab that lotion and get foaming! Always use a fragrance-free gel as this will reduce the risk of upsetting the delicate pH balance of your intimate areas.
4. Pull the skin
Make sure that the skin is taut by pulling your skin upwards, starting just below the navel. If you're intending to get rid of every little bit, positioning a mirror beneath you so that you can see everything will help reduce accidental nicks and help you to see any bits you may have missed.
5. Check your blade
For the greatest comfort and sleekest finish, make sure that you're using a razor with a minimum of two blades. Many also have lubricating strips at the top which reduce friction during your shave.
6. Go against the grain
If you're looking for a long-lasting and extra-smooth finish, draw the razor across your skin in the opposite direction to the direction of hair growth. Although this will leave a smoother finish initially, be aware that it can irritate the skin and lead to in-growing hairs developing later on.
7. Avoid shaving rash
To minimize shaving rash, move the razor in the same direction as the hair growth. The result won't be as smooth, but you'll reduce the irritation once it starts to grow back.
8. Exfoliate
Once you're happy with the look and feel of your pubic hairstyle, exfoliate your skin to remove any dead skin and help prevent in-growing hairs developing. You can also use moisturizer or oil to keep your skin feeling extra-soft, but avoid any fragranced lotions, and look for skin-soothing formulas containing aloe vera for extra comfort.
Grooming must-haves
Best for mixing it up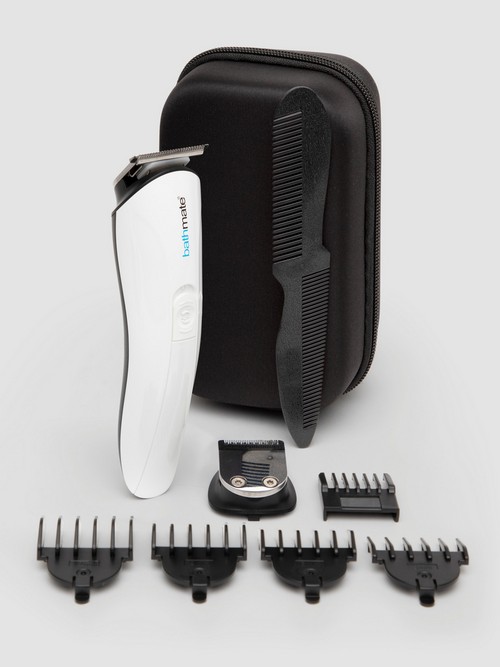 If you're looking for a trimmer that'll take you from rough to smooth in the blink of an eye, the Bathmate Trim USB Rechargeable Grooming Kit is ideal.
"The grooming kit is the best I've ever used. Doesn't catch on my hair, either. Would definitely recommend it. Lots of different shaving lengths too, so great all round. Has a long battery life too, so can do everything all in one." - MarshW
With two different heads that allow you to shave, shape, or trim depending on your mood, a variety of length settings mean you can keep things as long or short as you fancy.
Best for soft, silky skin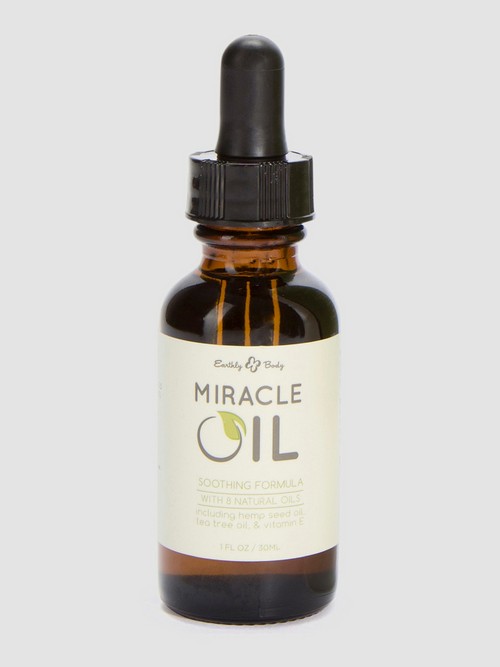 It's vital to look after your skin, before, during, and after your shave, which is where the Earthly Body Miracle Oil and Shave Cream comes in. Slick on a hearty helping of the tea-tree infused shaving cream before running your razor over your skin to minimize friction and irritation.
"I thought I'd give this a go. It has stopped the rash and itching completely. It's packaged well, smells lovely, and feels good." - Horny lady
Once you're finished, dab a little of the soothing Miracle Oil on the shaved area. The nifty formula reduces redness, moisturizes your skin, and gives a long-lasting slick sensation for you to enjoy again and again.
More Sexual Happiness Advice
You can never know enough about sex, right? Join us on our sexploration journey via the thriving Lovehoney forum, our weekly Sexual Happiness podcast and our blog.