How to Simulate a Blow Job Using Sex Toys
Learn all about how to simulate a blowjob for the most realistic oral sex experience and pleasure during solo play or mutual masturbation with a partner.
Ahh, the almighty blowjob - the ultimate fantasy for many penis owners. Unfortunately, it takes two to tango (or fellatio!), and finding a willing partner to give you oral sex is not always easy.
So, what's an eager oral pleasure seeker to do?
While learning auto-fellatio might be on your bucket list (or not), the mechanics of giving yourself a BJ are pretty arduous, even if you have a bigger than average size penis and are as flexible as a yogi.
That leaves the next best option - the DIY blow job - that is, using a sex toy to simulate a realistic blow job experience. The good thing is, there are lots of blow job toys available, from blow job strokers, sleeves, and "pocket pussies" with mouths, to automatic BJ sucking machines and sexy Fleshlights - artificial blowjob toys give you many choices to explore a wide range of textures, sensations, and types of stimulation.
Lovehoney has the best BJ toys that give you all the feels, from licking, sucking, and deep-throating, to stroking, gripping and vibrating pleasure.
So, if you're looking for tips on how to simulate a blowjob that feels almost as good as the real thing, we got you covered.
Get ready to be blown away!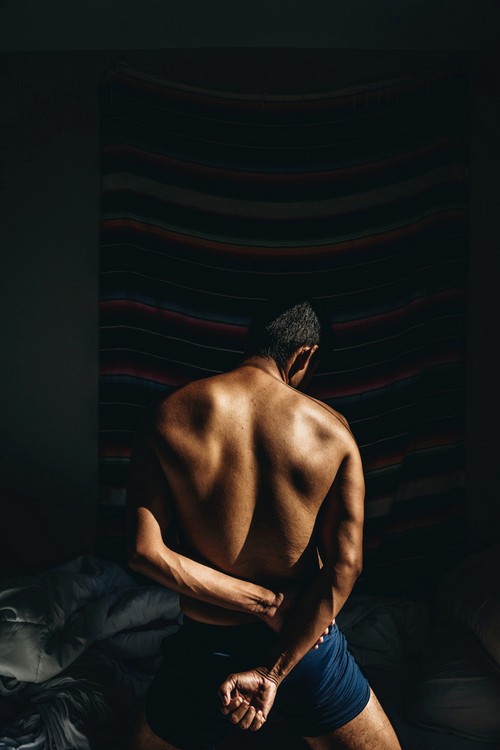 Can a sex toy perfect that hot, slippery, wet sexy feeling through blowjob simulation?
It all depends on which toy you use and who you ask.
Here are some comments from Lovehoney's customers about their experience with some of our toys:
"Well, I wasn't sure what to expect, but wow... just incredible. Great orgasms that come on quickly… so much better than a hand." - Verified Customer
"Crazy Good. The simple adjustable suction is insane, toe-curling goodness." -Verified Customer
"Unbelievable!" - Verified Customer
"Just like the real thing!" - Verified Customer
"Feels incredible, almost too good… I'm never going back, lol." - Verified Customer
"Overall, this is a great product that produces a lifelike experience." - Verified Customer
"Suction power is great." - Verified Customer
So, there you have it. While everyone's experience will be different, one thing is for certain: a sex toy that can mimic blow job stimulation is better than a date with Rosie Palmer and her five sisters (aka your own hand)!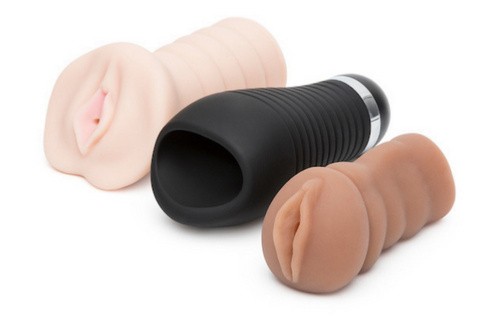 Blow job sex toys are pleasure sleeves and strokers made for penis owners who love the feel of oral sex and want to enjoy a simulated BJ - with, or without a partner.
Masturbation sleeves replicate the unique sensation of oral sex for a simulated blow job experience. Most blow job strokers are handheld devices featuring an open mouth entry that you can thrust into to mimic blowjob pleasure. At the opposite end of the toy, it is often closed, thus creating a euphoric suction sensation that feels like a mouth sucking on your penis.
The majority of BJ toys are non-vibrating sleeves, but others are automated, with some featuring vibrating components as well. The cool thing is, you can turn any masturbation sleeve into a vibrating toy just by adding a small vibrating bullet, and - SHAZAM! - get ready to feel the power!
Let's check out the various options available...
Lovehoney carries a variety of artificial blowjob simulators for penis owners. Here are our favorites and the top sellers as rated by Lovehoney customers:
Fleshlight Turbo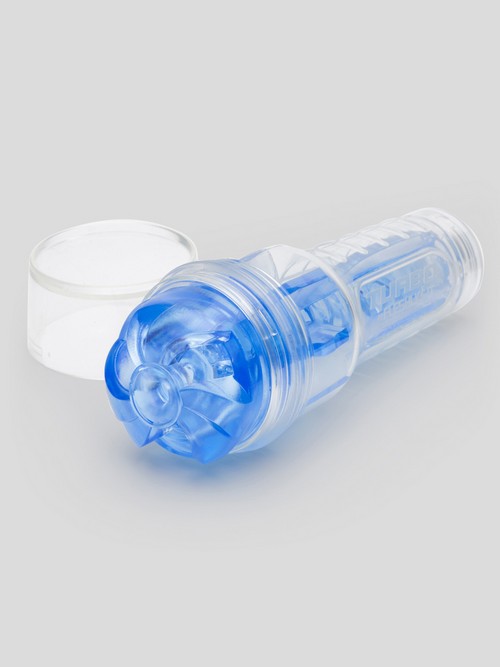 The Fleshlight Turbo Thrust Blow Job Masturbator is one of the top sellers when it comes to DIY blowjobs. Fleshlights are discreet male masturbators that look like flashlights with a soft, succulent masturbator sleeve encased in a hard plastic see-through case. These patented blow job simulating masturbators have a unique design, featuring 3 pleasure-providing areas of stimulation that mimic different areas of the mouth (lips, tongue, and deep throat action). The textured canals grip and suck the entire penis to provide mind-blowing sensations that feel even better than a real blow job.
Head Master Blowjob Stroker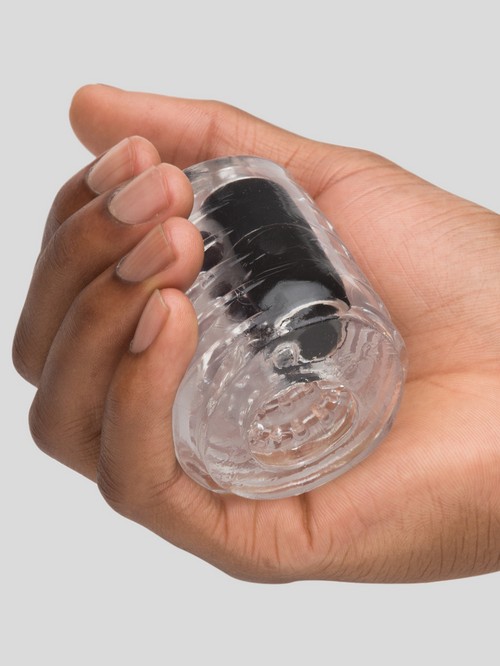 The Lovehoney Head Master Vibrating Blow Job Stroker takes oral sex to the next level of incredible pleasure with tiny stimulating fingers in the textured tunnel for intense sensations and a vibrating bullet to send you soaring. Make sure to use with lots of good quality water-based lube for the slickest pleasure and to avoid unwanted friction.
Blow Bob Sleeve With Mouth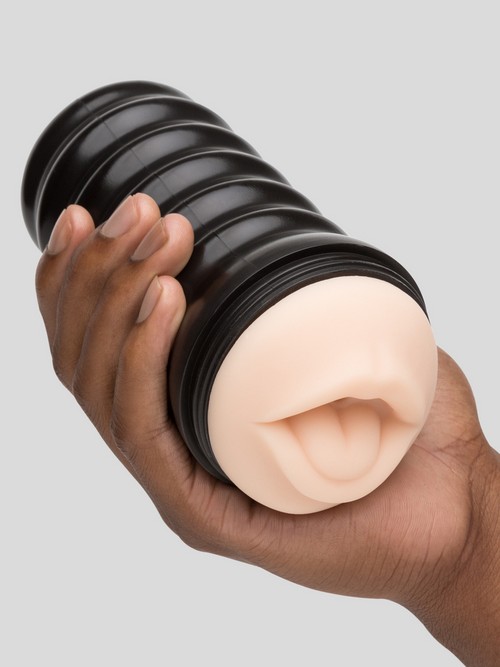 Blow job sleeves featuring lifelike mouths are very popular because they are realistic looking and help in creating the ultimate BJ fantasy. These realistic blow job mouth strokers have ultra-realistic flesh-like skin and textured tubes for deep-throat sensations and the most lifelike oral sex imaginable. Submerge your masturbator in warm water before your play session to increase real-life sensations and pleasure.
Male Masturbators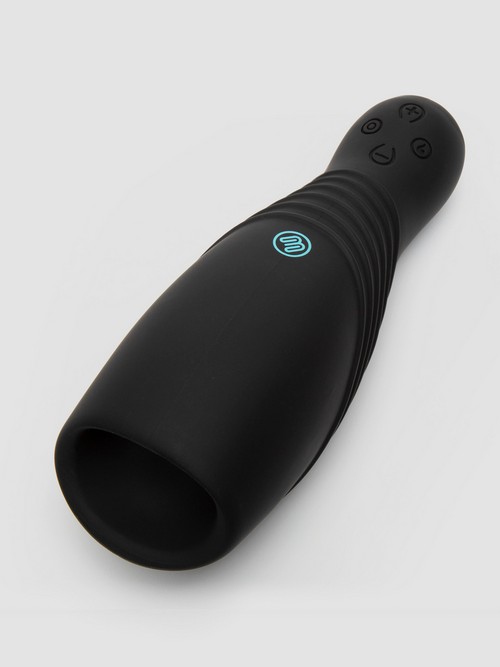 There are lots of other types of male masturbators that have sensational features that will deliver just the unique types of stimulation you are looking for. Some mimic vaginal or anal sex, while others look and feel like a simulated blowjob, like the other ones mentioned above. Most are waterproof, so you can enjoy your pleasure in the shower or bath, and some are automated to suck you to orgasm. Others feature warming functions to heat up your solo pleasure, and still others have "pleasure air" technology for mind-blowing frenulum stimulation! Lovehoney also carries interactive autoblow masturbators that you can use with VR videos for amazing stroking pleasure.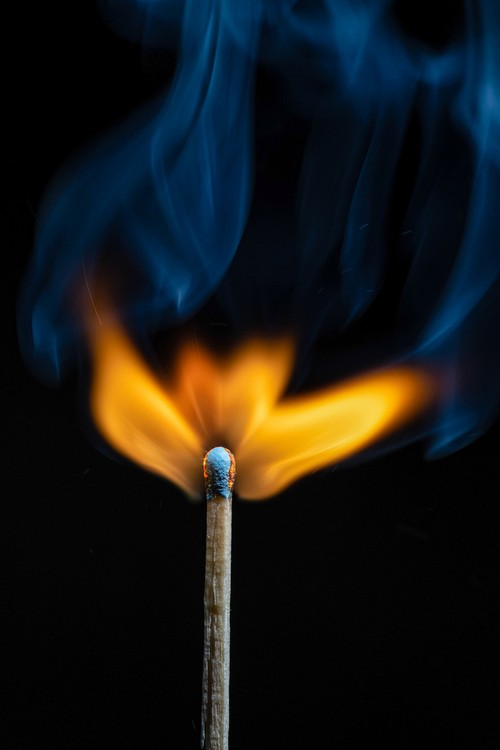 Nothing feels the same as the real thing. In some ways an oral sex blowjob simulator can feel better than real oral pleasure, and in other ways it will be different.
Having a real-life person and seeing their enthusiasm as well as their sexy skills and body as they give you oral delights will be much different from a sex toy, for obvious reasons. Even sex dolls with real-looking bodies and torsos still can't embody the intimacy of having sex (or a BJ) with another human… yet!
If you are looking for the ultimate way to mimic an artificial blowjob, just follow these tips for the best experience and pleasure possible.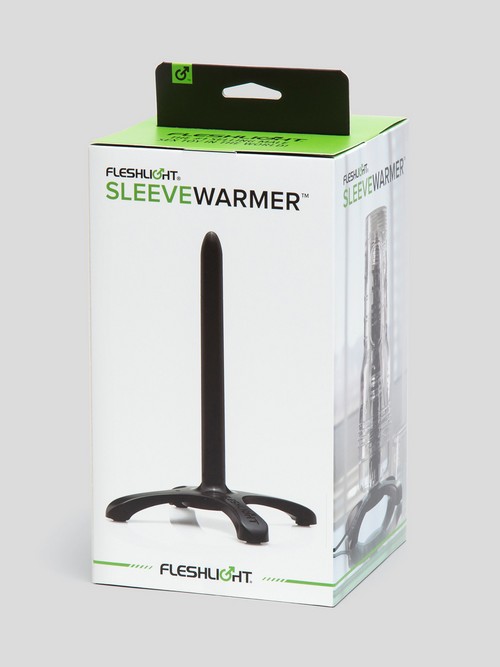 Warm it up
One of the things that feels different from masturbator toys and the real thing is body temperature. Sex toy material are a bit cooler, so doesn't feel the same as diving your penis into a warm body.
This is super easy to fix, however - just immerse your masturbator sleeve into warm to hot water for a few minutes to bring it to body temperature. A USB Fleshlight Warming Rod heats your toy from the core for ultimate realism and pleasure.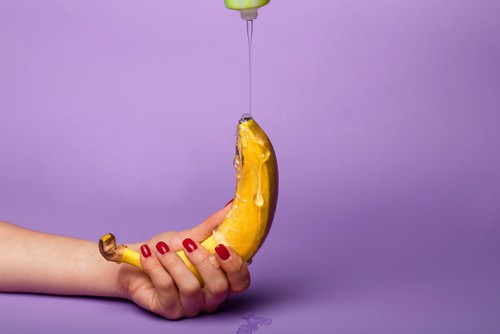 Lube it up
The most important tool you can have in your sex toy box of tricks is lubricant. Lube makes everything feel way better, especially sex toys, since they don't self-lubricate like a mouth or vagina.
We recommend water-based lubes that are compatible with all types of male masturbators for a slick, juicy ride. Make sure to lube up the opening, as well as inside the toy with your fingers and the entire length of your penis, before you get started.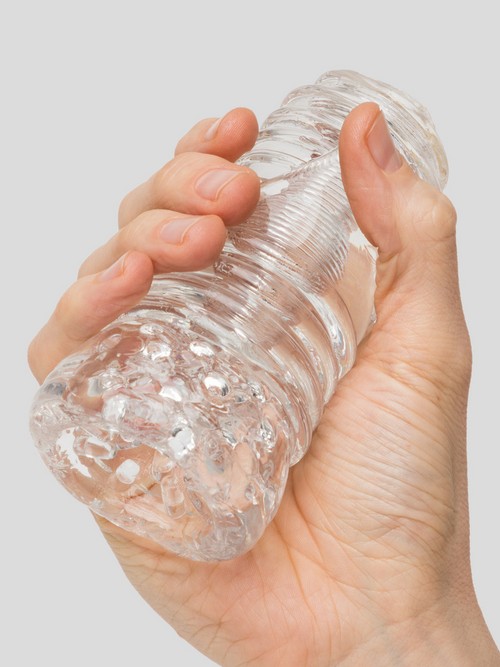 Insert penis here
This one is a bit obvious, but it does take a bit of finesse. Start slow, by inserting just the head of your penis and enjoy the feel of your frenulum getting massaged. Gradually build momentum as your slide the BJ toy down your shaft for deep-throat action.
Stroke it
Work up a regular rhythm depending on what feels good to you or change it up as you like. Lots of penis owners like going slow to begin with and then build to a faster pace upon climax for a more powerful orgasm.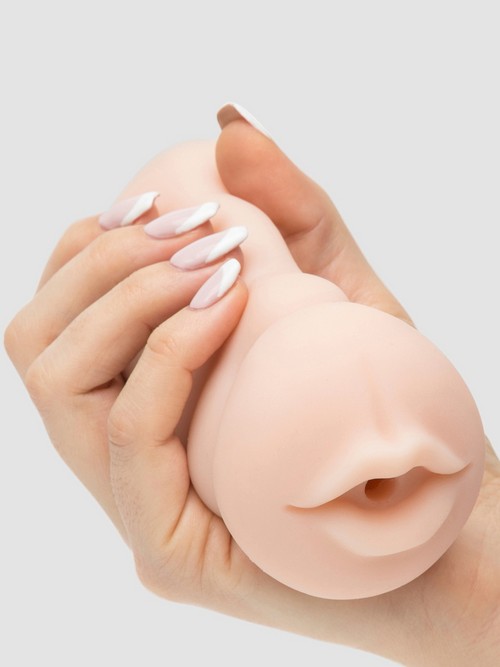 Squeeze play
If your toy doesn't come with a hard case, you can squeeze around your toy with a firm grip for a more intense, tighter sensation, or alternate between tight and loose to vary the sensation.
Twist and shout
While the old in-and-out feels great, you can also try the "twist and shout" method where you rotate your wrist while stroking, to adjust sensation and pleasure.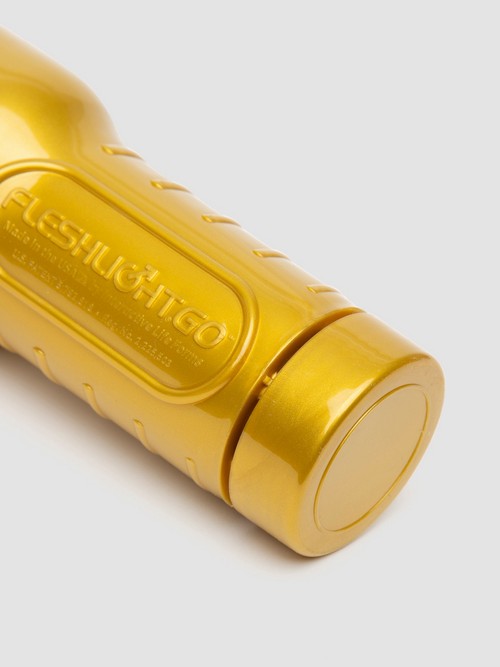 Suction sensations
Toys that come in a case often have a cap on the end that you can unscrew or tighten to change the amount of suction. You can also pinch the end of an open-ended masturbator closed for more powerful sucking action.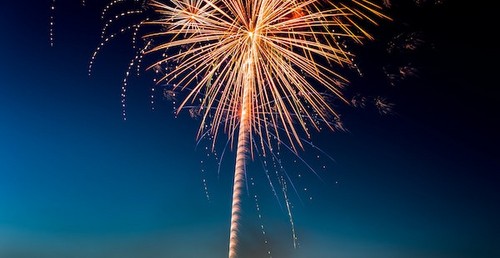 Happy ending!
Whether you decide to go for the long haul with edging, or have a quickie, a DIY blowjob simulation toy will always give you a happy ending!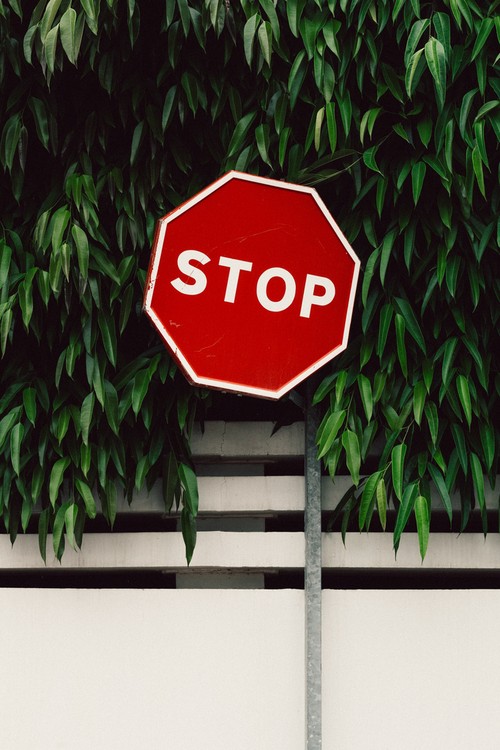 Lots of folks try to make their own DIY blowjob sleeves and masturbators from stuff they have hanging around the house. We have heard of people using toilet rolls, electric toothbrushes, and razors (eeek!), latex gloves, grapefruits, sponges, pillows, bubble wrap, corn starch concoctions, and many other strange DIY sex toys.
Bottom line? People get very inventive when they are horny!
Here are ones we DON'T recommend:
Vacuum cleaners
Please, please, PL-EASEEE! If there is one thing you remember from this article, we hope it is NEVER to use a vacuum cleaner as a male masturbation toy. Yes, it has suction. But if you want to keep your penis attached to your body, then stay away from them.
They are super dangerous, and you would not believe how many people end up in the ER every year by trying this out while masturbating. Not only is it super-embarrassing, it is also very painful and dangerous.
Slabs of raw meat
While this may seem like a good idea, as raw meat can feel similar to a real body, it is very unhygienic. Raw meat has lots of bacteria which can get inside your body and cause nasty infections. Plus, in terms of value, you get a lot more bang (literally) for your buck with a sex toy that can last years. Using meat for purposes of masturbation is a waste of good meat.
Jelly desserts
For some reason, people think that food make good masturbating alternatives. Hello Jello, where have you been all my life? First of all, while it may feel okay at first, with all that pumping and thrusting going on it won't take long to turn your jelly into jelly soup. Plus, its cold, messy, sticky, and not so great to masturbate with.
Mom's apple pie
Although the movie American Pie made this trick look like a good idea, again, putting food on your genitals is never a good idea. You'll be left with a sticky, crumbly, yucky mess, and still have a hard-on because it just isn't that fun. Apple pies are made to eat!
Auto-fellatio
While we referred to this jokingly at the beginning of this article, most penis owners are not that gifted, or flexible enough to pull this one off. And, even if you do manage to do so without getting a back or neck injury, it will take lots of years of practice and yoga sessions to ever get close to being able to suck your own penis. Think of all the years wasted when you could have just been experiencing awesome solo pleasure with a blowjob stimulator sex toy!
Okay folx! We hope you enjoyed our guide on "How to Simulate a Blowjob" and have learned lots of exciting tips and tricks when it comes to DIY blowjobs. When you want to use something better than your sock or a hollow pool noodle, and have the ultimate BJ experience, artificial blowjob sex toys are the way to go.
Whether you are going solo, with a partner to spice up the excitement, or are a beginner looking to try something new, blow job sex toys are lots of fun and will give your hand a break. So upgrade your solo time with a thrilling blow job simulator and give yourself a happy ending today.
Remember, "masturbation is sex with someone you love!"