$84.99
$99.99
You save:
$15.00 (15%)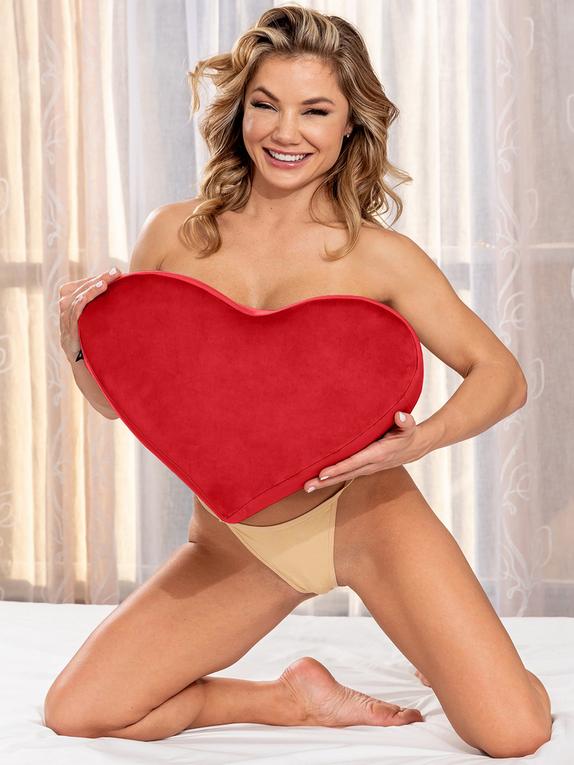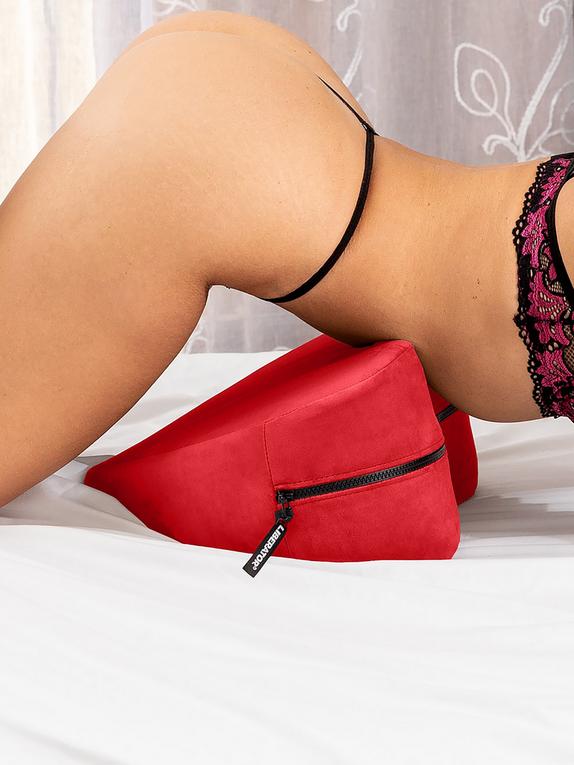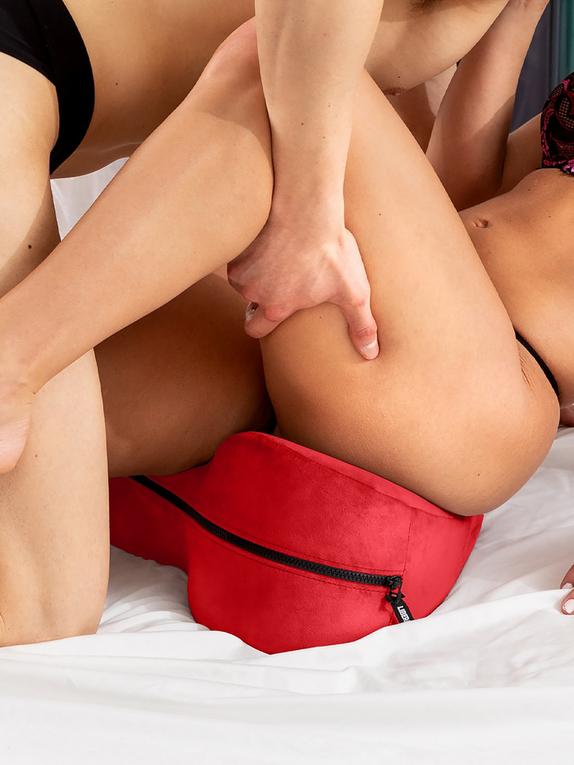 Liberator Heart-Shaped Sex Position Wedge
$84.99
$99.99
You save:
$15.00 (15%)
Last chance! This product is not going to be re-stocked!
$84.99
$99.99
You save:
$15.00 (15%)
Velvety-soft sex wedge for comfortable, confident positioning
100% polyester lining and removable cover, making it easy to care for and protected from liquids reaching the core
Discreet heart shape means you can leave it out in your bedroom
Dimensions: 18 inches x 14 inches x 7 inches
Be still our beating hearts – Liberator's velvety-soft, heart-shaped sex position wedge makes reaching erogenous zones a piece of cake. Providing the perfect incline for deeper penetration, it transforms sex from 'no-go' to 'the big O' in a heartbeat.

Thanks to the cute heart-shaped design, this sex position wedge blends in with your other bedroom furnishings, enabling you to leave it on your bed, rather than under it!

Simply un-zip the cover and throw in the washing machine after each play session to keep your pleasure-wedge feeling and looking lovely.
Essential Info

How it Measures Up
Bondage Advice
If you're looking to dip your toes into the world of Bondage and BDSM, our advice guides are here to help you get started in the easiest possible way.
Frequently bought together
Popular combos for more sexy fun
Customer reviews
5.0
5.0 star rating
5 Reviews
5.0
5.0 star rating
5 Reviews
Thank you for posting a review!
We really appreciate your opinion and hope to see you again soon.
Thank you for posting a review!
Your review was sent successfully and is now waiting for our staff to publish it.
Search reviews
5.0 star rating

4.0 star rating

3.0 star rating

2.0 star rating

1.0 star rating
Superior product that delivers and some
Review by Lancs c. on 4 Nov 2020
review stating Superior product that delivers and some
We had been looking to add a cushion to our arsenal of toys as we sometimes find change of posistion a little uncomfortable. Both being on the wrong side of 50 not as flexible as once were, despite yoga classes.So glad we bought this , screams quality as soon as open box , you get what you pay for. Use is very very simple , even included are position suggestions ( fellas try the one with it under your hips for added cowboy expereince )Makes oral sex so much easier and better , no more crick neck and allows a more attentive posture. We now use this at some stage in all our sessions
Bottom Line:
Not cheap but more substantial than an ordinary cushion or pillow.
On Liberator Heart-Shaped Sex Position Wedge
Total Game Changer
Review by Submarine S. on 9 Oct 2020
review stating Total Game Changer
When I ordered this I was somewhat doubtful, especially when it arrived. The box looked really small but its vacuum packed. When inflated with the quality, washable cover attached it looks like a heart and can be placed on the bed looking totally innocent. Well its perfect for many positions and allows for great penetration and getting just the right angle. It's firm enough to give support during more rigorous escapades but compact enough not to get in the way. It is expensive but it oozes quality and is made to last...better than using a couple of pillows.
Bottom Line:
A must-have for active couples looking for perfect angle.
Cons:
Nothing, it's perfect.
Pros:
Perfect shape and excellent quality.
On Liberator Heart-Shaped Sex Position Wedge
Beautiful Quality
Review by Beckey B. on 24 Apr 2020
review stating Beautiful Quality
This cushion screams quality and luxury. I initially stumbled across the product on the internet after searching for products to aid people with mobility problems for sex as I have multiple health problems including a spine that is fully fused together (so it doesn't bend at all), and ME so I get really worn out easily. This cushion, and the family it comes from, were promoted as being really helpful. Once discovered, I then (obviously) logged on to LH as my trusty go-to provider to see if they stocked it. I was pleased to find that they did (and the rest of the range!). I was sceptical about the price of the product - after all, it's only a cushion, I thought. However, after receiving it I can vouch for it and say that it is worth every penny, and it most definitely is not "just a cushion". It arrived promptly, as with all LH deliveries, and was discreetly packaged. I was worried that I had been sent the wrong product at first as the box was so small - but there was no need to panic. Upon opening the box we found that it was vacuum packed. We cut the packaging open and it expanded to over twice its size! We fitted the luxurious velvet cover and put it to work straight away! It is so beautifully soft to touch, yet firm enough to 'wedge' - much firmer than a regular cushion, it is made of a firm foam - like memory foam, but firmer. My husband wedged it under my backside to raise my legs so he could get a really good look and good access to my lady bits. He was very appreciative of the better view - and I could tell from his reactions he was more turned on than usual. I felt even more exposed than usual which was great for me as I love it when he looks at me. He ended up having a good play with me with various toys and was so turned on that we both came before we had got as far as intercourse! We would completely recommend this product (and its brothers and sisters if this one is anything to go by!). It also makes a great room decoration. Our 12 year old daughter came into the bedroom and saw it today and said "what's that new cushion?" and I said "Oh, its just a support cushion", and promptly put it behind my neck, and she bought it! :-D
Bottom Line:
A definite must in the bedroom.
Pros:
The luxury yet practicality of the product is wonderful.
On Liberator Heart-Shaped Sex Position Wedge
Better than expected. The perfect gift.
Review by Orgasmic E. on 21 Feb 2020
review stating Better than expected. The perfect gift.
Got this as a Valentine's gift due to the cute shape and thought it may be kind of nice. I was pleasantly wrong. It's not just nice, it's a bloody game changer! Who knew just a slight adjustment of the hips is all it'd take for both my partner and I to be experiencing the best sex of our lives and in such comfort too. That slight incline makes the world of difference and there are so many great poses you can do with this and its not too massive if you want to hide it in the closet either. It's super supportive but super comfy. It really is the perfect pillow.
Bottom Line:
100% worth every penny and would replace in a heartbeat.
Cons:
It made me a sex addict.
Pros:
It reinvigorated my love life and redefined pleasure.
On Liberator Heart-Shaped Sex Position Wedge
Better than a pillow, but still slipping
Review by Lets T. on 27 Nov 2013
review stating Better than a pillow, but still slipping
So before getting this we used to use pillows to prop us in various positions, which were never all that great. Mainly because over time (and pounding) they flatten. The sponge inside this wedge doesn't flatten. It is squishable and comfy, but it retains it's shape, and hence helps you keep your position for longer. There are lots of different positions you can use this in, but my favourite (and the main reason we bought this) is with me on my front, with the top of the heart positioned underneath my pubic bone, and the point of the heart pointing towards my chest. This angles my vagina perfect for doggie style entry, and helps my husband to enter me deeply. The great thing about this cushion, far better than a pillow, is the coverings. This actually has two covers, the red one is a soft velour type of material. This is really soft to touch. Under this is a waterproof black fabric, which helps to protect the foam inside. The red velour cover is washable, so any bodily fluids or lube that gets on it will come off and not stain it. I have washed this as part of my normal washing, and it has come out ok, but I cannot find the recommended washing temperature, so I'm hesitant to say what I washed it at incase you ruin yours. The thing I was disappointed in, was because the red velour covering is so soft it's also quite 'slippery'. I find if we are having hard sex my body slides off (down) the heart which can impact on the position of our bodies, and cause us to pause to rearrange ourselves or chuck it on the floor. We overcome this to some extent by positioning ourselves so I have a wall to push against with my arms/hands. The best thing about this heart wedge is it is a more affordable wedge that some of the other Liberator wedges/postion enhancers, whilst giving similar if not the same angle/height.
Bottom Line:
So much better than pillows!
Cons:
The red velour is sometimes too soft and I can slide off it.
Pros:
The washable covering, the retention of the shape, and the cost.
On Liberator Heart-Shaped Sex Position Wedge