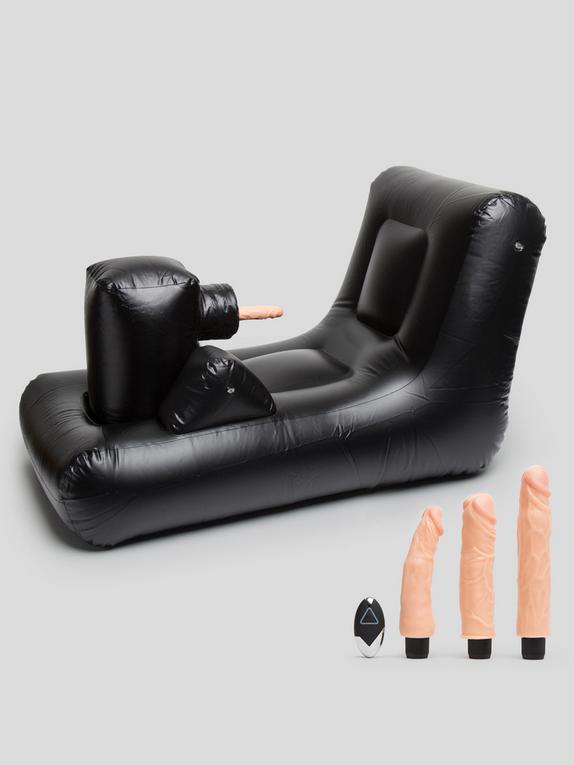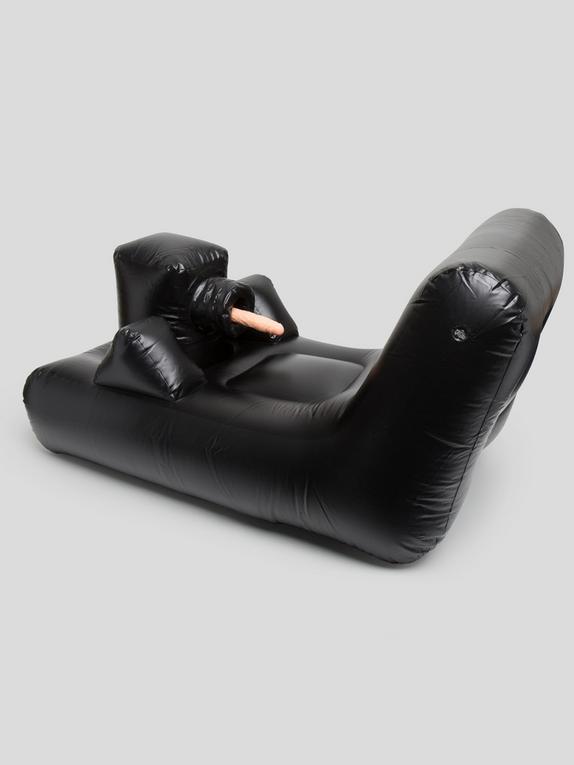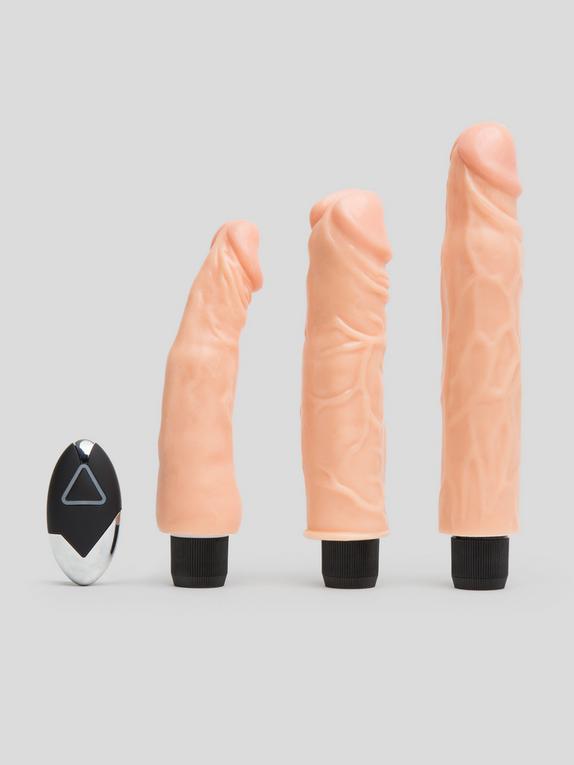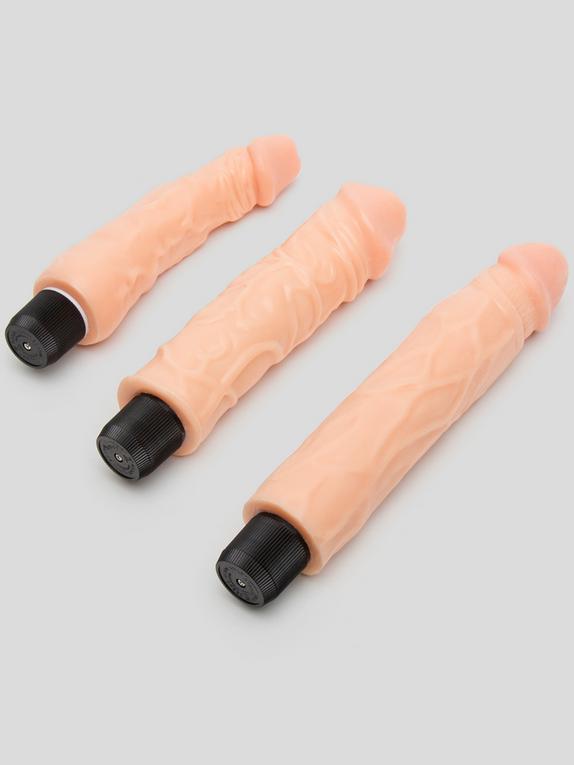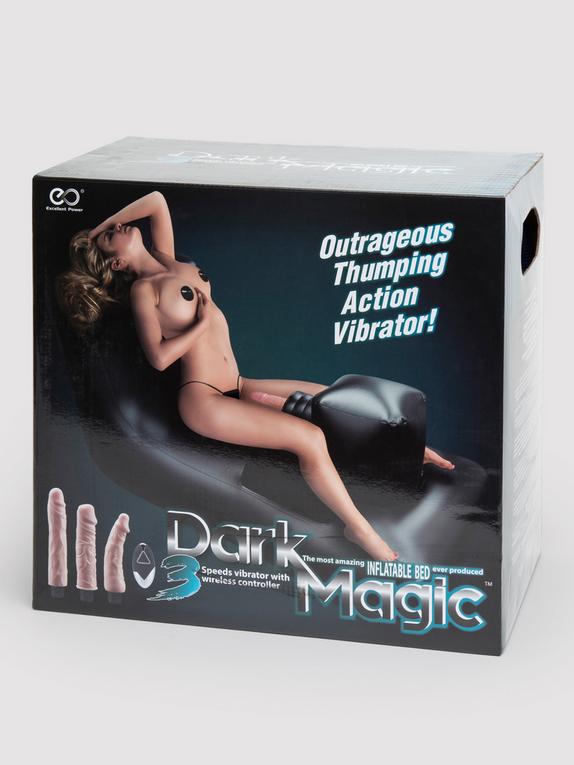 Dark Magic Inflatable Remote Control Thrusting Sex Machine
Last chance! This product is not going to be re-stocked!
Inflatable thrusting sex machine with 3 x realistic vibrators for hands-free pleasure
Curved, tapered vibe measures 6 inches in insertable length and 5.4 inches in maximum girth
Girthy vibe measures 6.75 inches in insertable length and 5.5 inches in maximum girth
Largest vibe measures 8 inches in insertable length and 5 inches in maximum girth
Inflatable chair with back and leg supports offer comfort during play
Includes remote control for hands-free easy operation
Once inflated, bed measures 50 inches (L) x 28 inches (W) x 30 inches (H) and holds up to 300lbs
Battery info: 1 x 23A for remote (2 x included), 5 x AA for vibrators (not included) 8 x C for thruster (not included)
Comes with a foot pump for easy inflation
If lazy loving is your style, then you'll love this ergonomic thrusting sex machine that takes care of everything for you. Simply attach your choice of 3 realistic vibrators to the thrusting unit, lie back and use the remote control for hands-free bliss.

Each lifelike attachment can also be used independently as a 3-speed vibe for handheld pleasure.

Vibrator vital stats:
- Curved, tapered vibe measures 6 inches in insertable length and tapers from 3.5 inches in circumference at the tip, to 5.4 inches at the base. Requires 1 x AA battery.
- Girthy vibe measures 6.75 inches in insertable length and 5.5 inches in circumference. Requires 2 x AA batteries.
- Largest vibe measures 8 inches in insertable length and 5 inches in circumference. Requires 2 x AA batteries.
Power and Speed

Power Type: Batteries (not included)
Vibration speed: Three speeds

How it Measures Up

How it Feels
Bondage Advice
If you're looking to dip your toes into the world of Bondage and BDSM, our advice guides are here to help you get started in the easiest possible way.
Frequently bought together
Popular combos for more sexy fun
Customer reviews
4.0
4.0 star rating
7 Reviews
4.0
4.0 star rating
7 Reviews
Thank you for posting a review!
We really appreciate your opinion and hope to see you again soon.
Thank you for posting a review!
Your review was sent successfully and is now waiting for our staff to publish it.
Search reviews
5.0 star rating

4.0 star rating

3.0 star rating

2.0 star rating

1.0 star rating
She loves it!!!
Review by Jim on 7 Feb 2021
review stating She loves it!!!
At first i was sceptic about this product because of it being inflatable. But i put it up against the wall and it seemed stabilized. I'm telling you this design is so cool because you can tilt and shift the viberator/thruster into different positions. I lubed it up and i was nervous that it would tear her up when it started. Though I would have liked it to vary more speed to slow down and she would have definitely enjoyed it to thrust faster than the fastest setting, it honestly was a fun purchase. Thanks to this machine and a few other gadgets I purchased she had the best orgasms of her life last night!

Downsides are not enough power or speed

Viberator attachments don't have any control of vibration. They are hard to twist mount and once you do they stay on until you unmount them.

Chair is so comfortable but it's not stable enough to do anything extra like having sex on it. It's basically a device to lay on. Felatio is ok but I wouldn't do too much couple stuff on it.
On Dark Magic Inflatable Remote Control Thrusting Sex Machine
Double edged sword
Review by X on 4 Feb 2021
review stating Double edged sword
So firstly don't expect a magnificent machine of pure pleasure! Infact wait out. It took 45 min to blow up so a work out in its own right! For the price the budget foot pump is rubbish and should come with a better inflation device!

First try (the day after) d it's not to bad! You have get the position right otherwise it will hesitate and stop moving which is frustrating but when it's going it's great!!!!

It is I would say mid range at best but still lots of fun! Time will tell how long it lives, as the device has plastic arms to thrust. The remote feels cheap but you do get a puncture kit!

Would I buy it again, probably it is fun and theirs definitely fun to be had! Just don't set your expectations to high even with the price tag it's a budget machine compared to the more expensive variants. Oh it's also very large so you'll need plenty of space if your going to keep it up! Not like you would deflate it after the effort to get it up.

Buy it!!! It's fun and the man can use it too if your into that thing.
On Dark Magic Inflatable Remote Control Thrusting Sex Machine
Love it
Review by Ole B. on 3 Jan 2021
review stating Love it
My wife ordered this! When I saw it I thought it would be a waste of money. After inflating and filling with batteries we gave it a whirl. I must say I was wrong. She started slow until she got really wet and turned up the power. When her toes curled up I knew it was a keeper. She came over and over until her stomach muscles were sore. We Love to use it while I stand over her and she gives me oral. Has held air since day one and the batteries hold up pretty good. If you are thinking about this just order it you won't be disappointed.
Bottom Line:
If you like a little one on one sometimes, this is your toy.
On Dark Magic Inflatable Remote Control Thrusting Sex Machine
WOW!!
Review by Scott S. on 22 Oct 2020
review stating WOW!!
We decided to take the plunge into a sex machine and chose this one as a starter. I have to admit at first it looked a little daunting but once the wife had straddled it I could see her eyes rolling into the back of her head. Admittedly to begin with we had to lube it up lots, also it's probably wise to work yourself onto it whilst it's not in motion as when it switches on it goes hell for leather. Only found 2 issues with it. First of all it takes more batteries than originally advertised (8 C type not 6) luckily we bought rechargeable ones as this is going to get plenty of use. Second issue was trying to inflate it. I ended up giving up with the foot pump and went out to buy a mains powered pump which had it inflated in less than 5 minutes. Well worth the money in our opinion.
Bottom Line:
A great starter machine on a budget.
Cons:
Foot pump isn't great.
Pros:
Made orgasms more intense.
On Dark Magic Inflatable Remote Control Thrusting Sex Machine
Will get used again but so many niggles!
Review by Gosig on 9 Jul 2019
review stating Will get used again but so many niggles!
Once the machine is set up, I found it to be a joy. The operative word here is ONCE. Yes they have included a manual footpump but it takes a good forty-five minutes to inflate it. I'm all for getting warmed up prior to sexual activity, but this was ridiculous. I'm not sure how many people warm up to a spot of masturbation with a good 45 minute work-out. I know I don't. Once inflated, the chair I found to be rather comfortable. The position of the inflated knee rests was spot on for me, and I had plenty of space either side of me without feeling swamped by it (I'm about 5ft 5" and a size 16). Right, so it is all inflated, and the batteries are included for the little remote control. Once you've unwrapped your dildo of choice (and gotten over the quite frankly awful smell that they have), you think you are all set to go, right? Wrong! Now is the time you realise you need literally a gazillion type C batteries to power the fucking unit. So, you've potentially parted with around £200 for a machine, and there are no batteries in the unit. Seriously? It just feels so cheap to ask someone to pay that much for something and you can't even use it straight away, but must spend some more money on some batteries. I'm also surprised it is powered this way, as I have a suspicion that, as this thing goes literally like the clappers, I dread to think how much money would be wasted on batteries if you were to use it regularly. Yes, many toys are still battery run, but with AA and AAA batteries you can at least get rechargeable options. We were about an hour all in to 'operation fucking machine' by the time I actually got to try it. Out of the long, girthy and curved dildo options, I went for the curved, as I was keen to see what my g-spot made of it. Here we encountered the second 'what the heck was this company thinking?' point in proceedings. Even having read a previous review, NOTHING quite prepared me for the machine starting to thrust at full tilt the moment you switch it on. I am convinced that even those of you out there who might be thinking 'ah yes, but I prefer a good hard dicking' might find that first thrust takes you somewhat by surprise, and not necessarily in a good way. You have a choice of two speeds: fast, or faster. Once I'd gotten over the initial shock, I was quite happy with this, as for g-spot stimulation I need hard and fast, and it can do both with aplomb, but why was there not slower settings? I've had my fair share of vibrators and I don't recall any of them having their hardest and fastest settings as the first option when first switched on. Right, amongst all of this doom and gloom there were some positives! I did very much enjoy using it, and given a bit of practice with position I think I will be able to have hands-free g-spot orgasms and possibly squirting too. There is a solution to the over-zealous initial thrusting as well: I found that if I squeezed my muscles around the dildo, I had the strength to stop the thrusting altogether. Whilst I'm aware that this is probably very bad for the motor in the unit, it is a far more pleasant way to start using it, as I could then gently release my grip on the dildo to control the rate of thrusting. This technique also worked a treat when changing position, when I just wanted to slow things down rather than stop completely. By far and away the highlight of this machine, one that I didn't fore-see, was what an absolute thrill it was for my husband to watch me use it. He has never liked using dildos on me and yet for some reason watching me on the machine was nearly as enjoyable for him as it was for me. It is, with a little bit of careful manoeuvring, entirely possible to simulate a threesome, which, for all of it's faults, was a blessed discovery. It almost made up for all the faff and extra cost. Almost. Due to (unrelated) injury I've not been able to test it as thoroughly as I would have liked prior to writing a review, but I think this machine does have potential for other uses and work-arounds which I fully intend to explore at a later date. I see no reason why this couldn't be used for anal, albeit with a massive amount of warm-up prior to that first thrust. Also, to save on time and aggravation, you could use the unit without the chair allowing the dildo to be positioned facing vertically, as well as horizontally. It just feels like such a shame that, for retailing the whole set at maybe £10-£20 more to include the batteries and a better pump (we spent £10 on a little USB chargeable pump, inflated in 10 minutes), they could have produced a far more accessible and enjoyable machine. Yes I am definitely going to use it again, but I assumed that with a higher price item like this, that the need for work-arounds and the feeling of compromise wouldn't be as prevalent as they are here. Shame.
Pros:
Good seating position, wonderful curve on dildo, great for simulating threeways.
Cons:
Pump, needs more batteries, general time and faff.
Bottom Line:
Useful, but feels 'done on the cheap' for something costing hundreds.
On Dark Magic Inflatable Remote Control Thrusting Sex Machine