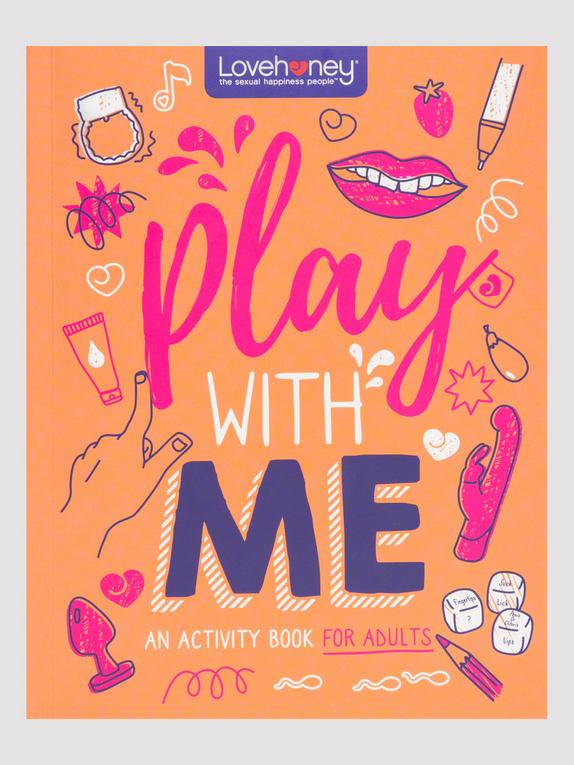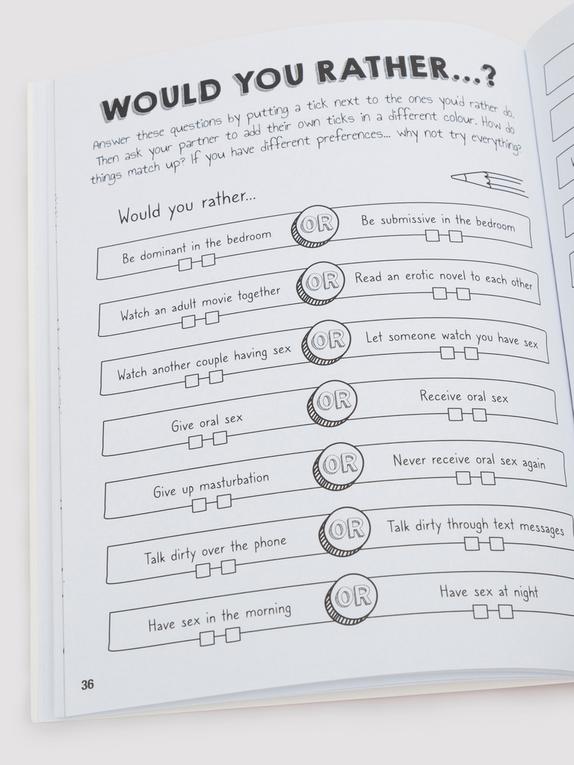 Lovehoney Play With Me: An Activity Book for Adults
Saucy activity book for spicing up your adult play
61 packed pages of games, puzzles and activities for you and lover to play
The perfect cheeky gift for a lover
Step aside sudoku, on yer bike crosswords, we've got new rainy day activities up our sleeves. Featuring 61 saucy pages, packed with scandalously sexy activities, our book of fun is sure to keep you busy. Spot of bondage bingo, anyone?

This tongue-in-cheek activity book makes a great gift for a lover. Grab a pen, a willing competitor and enjoy games like: Clue Me Up, a very adult crossword, Sex Scramble, a naughty take on anagrams, and Safe Word Search, a word search set to get you giggling.
Essential Info

Book Format: Paperback
Book Contents: Sex Tips
Frequently bought together
Popular combos for more sexy fun
Customer reviews
4.5 star rating
4.5
12 Reviews
Thank you for posting a review!
We really appreciate your opinion and hope to see you again soon.
Thank you for posting a review!
Your review was sent successfully and is now waiting for our staff to publish it.
P
Purplegreen
4.0 star rating
A real good laugh
Review by Purplegreen on 12 Jul 2020
review stating A real good laugh
Bought this as a joke gift. Was actually really funny. Well worth the money for something to do on a lazy Sunday afternoon! Few pages were easy,short or bland Really good for a long term couple who think they know each other inside out. Some results will surprise you
Pros:
Good verity in pages. Good for long term couples.
Cons:
Some of them were a bit bland. Would never get you in the mood.
Bottom Line:
Really funny as a gag gift or to mess around.
On 76871
A
Anonymousfemale
4.0 star rating
Unique
Review by Anonymousfemale on 9 Jul 2020
review stating Unique
I bought this as part of the 3 for £15 Fun & Foreplay offer. Whilst it feels a bit strange to pick up what is essentially a puzzle book when you are in the mood to do much more than puzzles, it is a fun little book! It particularly comes in handy when I am working late and my partner already wants some action! To keep him interested whilst I wrap up work, he has completed a dot-to-dot and a word-search! There is a double page spread of 'position bingo' and three 'quizzes' – It would be great if there were more as this promotes sexual conversation, but the book is still a good novelty item!
Bottom Line:
Good novelty item for the time before foreplay.
On 76871
A bit of fun but not all sexy
Review by Wrasse on 17 Jun 2020
review stating A bit of fun but not all sexy
As always with Lovehoney this arrived very quickly and discreetly. The book itself is great quality and looks well made. We bought this to hopefully have some fun together and get some ideas as we went through the book. There are quite a lot of ideas for positions to try or light bondage ideas. You can pick these at random to give yourself something new to try. Some of the activities are fairly basic and not particularly sexy but you can still have quite a lot of fun with it.
Pros:
Well made. Quite fun and quite sexy.
Cons:
Not quite as many "sexy" activities as we'd hoped.
Bottom Line:
Quite good but could have more ideas for couples.
On 76871
Great Unique Product
Review by Kinky L. on 9 Jun 2020
review stating Great Unique Product
This product is fantastic and I think lovehoney should make more like it. A great item to use in foreplay or, during quarantine, some of the pages could be used long distance (the questions of the word scramble). Most of the activities in this book are brilliant however I have two minor critiques, firstly, word scramble (which is a genius idea) is ruined by having pictures of the unscrambled item next to the scrambled words which gives away what it is. And secondly, the book feels a bit repetitive, but that's a minor issue as the book itself is wonderful and for the price point this isn't a major issue. As always Lovehoney are the best company for discreet packaging and I would reccomend this product to anyone who's on the fence about buying it.
Pros:
Brilliant product, great for use in foreplay.
Cons:
Can be a bit repetitive.
Bottom Line:
A truly unique product, Lovehoney should make more.
On 76871
Brain teasing
Review by G&Amp;Cx on 6 Jun 2020
review stating Brain teasing
We ordered this activity book as we like to do little quizzes and quirky activities together, and what better than some raunchy brain teasers?! The book is quite small, A3 size, so can be put in your bag to take out with you on your travels. There are various activities in the book to keep you busy, that you can do together and can also do them alone if you like. There are couples quizzes, dot to dots, crosswords, code breakers and word searches. There are also some physical games to play, such as position bingo, and some date planners and love tokens! The only improvement that we think could be made is to make each opposite page the same for the quizzes so you could do them together, maybe in a race etc. It's quite hard to do a puzzle on a small page between two of you. Overall, it's a very quirky little idea and adds a bit of something different to the bedroom. It gets you thinking about naughtiness in a way that is not often utilised! Bring on volume 2!
Cons:
Some puzzles better suited to one.
Bottom Line:
A nice little activity book to stimulate the mind before stimulating your body!
On 76871