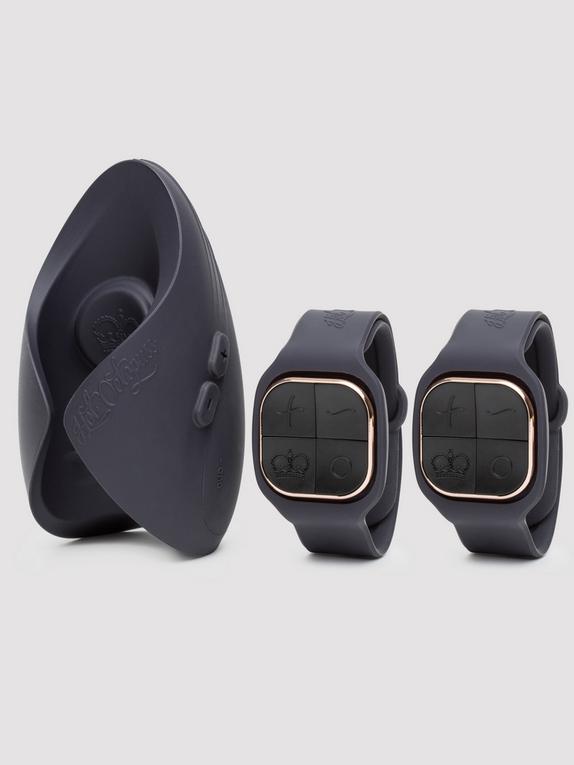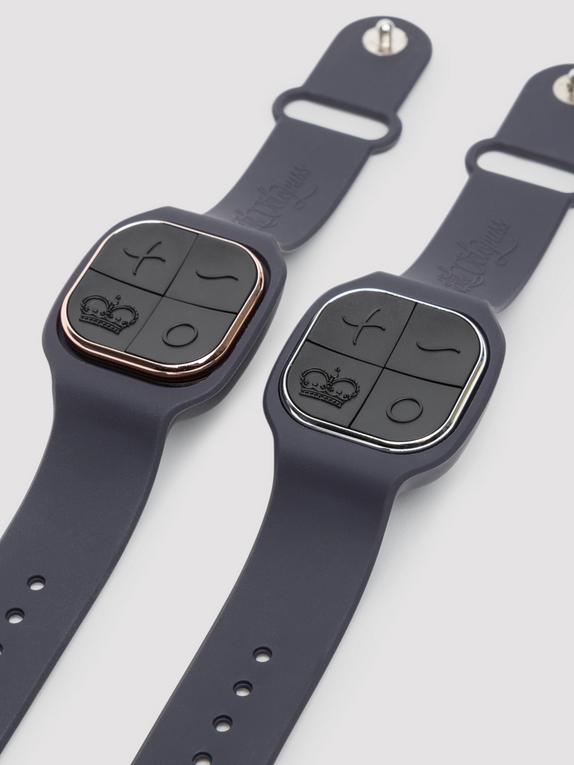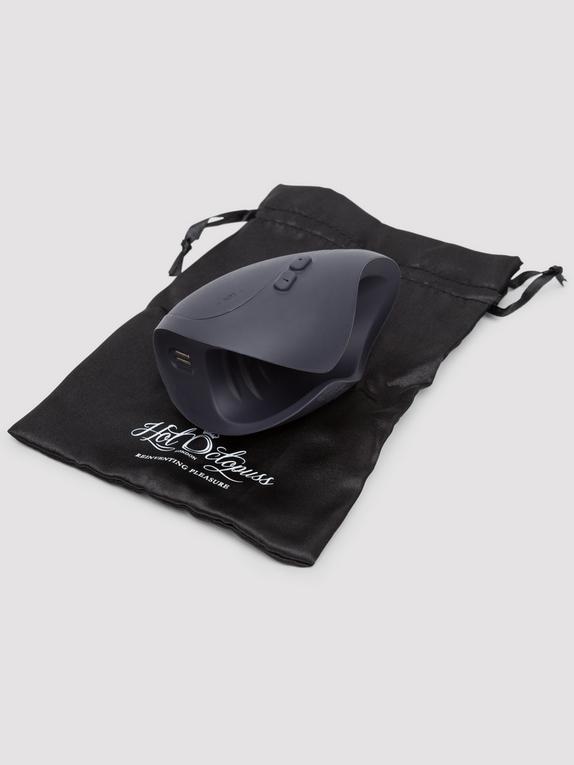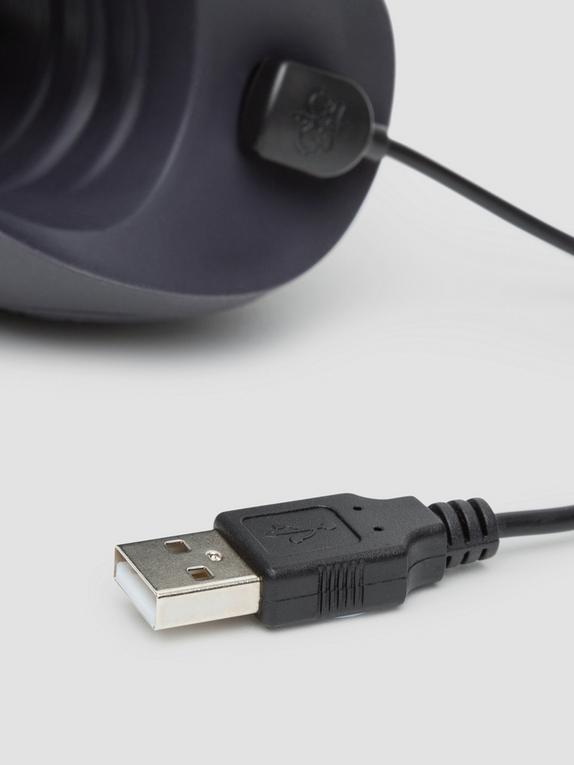 Hot Octopuss PULSE Duo Remote Control Vibrating Male Masturbator
Last chance! This product is not going to be re-stocked!
Ultra-strong male masturbator with patented oscillating PulsePlate technology for incredible stimulation
Includes a remote control and source of vibrations on the reverse for wickedly satisfying couples' play
5 thrilling patterns with 9 different intensity levels let you tailor your pleasure every time
Expanding wings fully envelop most girths
100% waterproof for aquatic enjoyment
Share strong vibrations and incredible stimulation with the PULSE Duo, a rechargeable male masturbator designed to please two. Hot Octopuss's throbbing PulsePlate powers you towards climax, while the reverse thrums with vibes for your partner.

Intense sensation blasts out of the oscillating central plate that forms the core of the patented PulsePlate technology. Simply slip your dong inside the spreadable silicone wings to enjoy a comfortable fit and embrace the 6 powerful patterns with 8 intensity levels each.

Pass the remote control to your partner and invite them to climb aboard. With 3 vibration functions on the reverse, it's easy to add extra satisfaction while you play together.

On top of that, it's completely waterproof and recharges via the included USB cable.

Splash with a generous dollop of water-based lubricant for mind-blowing sensations.

Since you don't need to be erect or even physically stroke to use the PULSE Duo, it's a great choice for anyone who experiences erectile dysfunction (ED) or struggles with mobility or grip.
Essential Info

Allergens: Latex-Free , Phthalate-Free
Waterproof: Submersible

Power and Speed

Battery Info: 1 x CR2032 battery (remote)
Power Type: Rechargeable
Run Time: 60 minutes
Vibration speed: Speeds and patterns

How it Measures Up

How it Feels

Flexibility: Flexible
Material: Silicone
Product videos
Share strong vibrations and incredible stimulation with the PULSE DUO LUX, a rechargeable male masturbator designed to please two. Hot Octopuss's throbbing PulsePlate powers you towards climax, while the reverse thrums with vibes for your partner.
Male Sex Toy Advice
Unlock unlimited pleasure by consulting our Male Sex Toys guides, written to help you choose and use the best Male Sex Toy for you.
Frequently bought together
Popular combos for more sexy fun
Customer reviews
4.2
4.2 star rating
5 Reviews
4.2
4.2 star rating
5 Reviews
Thank you for posting a review!
We really appreciate your opinion and hope to see you again soon.
Thank you for posting a review!
Your review was sent successfully and is now waiting for our staff to publish it.
Search reviews
5.0 star rating

4.0 star rating

3.0 star rating

2.0 star rating

1.0 star rating
Pulsing Erections
Review by Calie on 12 Jan 2021
review stating Pulsing Erections
This review is written from the perspective of using this toy as part of partnered sex in a cishet relationship. The writer is the female in the relationship.I have been looking for something to use with my partner for a while. He isn't the hugest fan of using toys by himself and so most of our collection are toys that we use on me. He sometimes has issues with overthinking and getting stuck in his head which makes him lose his erection so I was looking for something that could help stimulate him and/or allow us to continue having some fun without the need for him to have an erection. After looking around, I thought this could be the perfect answer. The cost was a little off putting at first but when comparing it to the others in the Hot Octopuss Pulse range, we felt this was the best option for us.On first inspection, the silicone is super soft and a complete dust magnet. It has a fair weight to it and feels like a substantial toy. The wings are flexible so it should accommodate a wide range of girths, although if you are very girthy you may struggle with this toy. You don't need the wings to wrap all the way around the shaft to get the full benefit of this toy. Turning it on, the first thing you will notice is how loud this toy is; it definitely isn't one to be using in the middle of the night if you have kids or housemates! You can control the toy with the buttons on the side but it is easier to do from the remotes. Although it isn't very clear in the pictures, the remotes have distinct colour bands. The silver controls the pulse plate and the rose gold controls the vibration. I am not 100% sure how I feel about the watch style remotes, they don't exactly scream sexy. The squares do come out if you would prefer to use them that way, although the watch does keep the remotes in easy reach, but you do have to make sure the squares are in the holder properly as they can pop out in certain positions. I like the dual remotes as you can chose to control your own pleasure or your partners (although being on your wrist makes it pretty easy to reach and use the one on your partner's wrist!). The remotes are nice and simple to sync and use. I do wish they weren't battery operated though. They come with a battery each but they are the CR2032 cell batteries which not everyone has a stock of should they run out mid session. In terms of power, the pulse plate certainly has plenty. As well as the plate itself moving, the sensation spreads though the rest of the device and feels low and rumbly. My partner only needs to use this on the lowest setting to get a lot of pleasure and stimulation. The vibration part has a higher frequency vibration and is fairly strong. We used just the vibration setting as the pulse plate was pushing my partner to orgasm a little bit faster than we wanted and found that it was enough to keep him stimulated and hard without pushing too far. You can use the pulse plate or the vibrations by themselves or together. They work very well together but it is definitely fun trying out the settings individually as well as the different pattern combinations. The vibrations do spread over a fairly large surface area, I generally need more direct stimulation so this isn't an ideal toy for me to orgasm from a cold start. However it is still very pleasurable. I would strongly recommend using some lube with this toy. If you are holding it completely still, you may not need it but any movement will cause some friction. My partner uses a small grinding motion with this and found that although his penis wasn't moving much inside the toy, it was moving just enough to get a tiny bit of discomfort without lube. Cleaning is nice and easy as the toy is waterproof. The magnetic charger is slightly annoying though. It needs to stay very still to stay connected, and as the toy is rounded, even letting go after putting the charger on can make the toy move and then the charger loses connection. The charger does have a small light on it so you can see if it isn't connected and the light changes from red to green when it is finished, which is helpful.Overall, we think this is a brilliant toy and it really works for us. It certainly helps my partner gain and maintain a strong erection but it is also fun to use if he doesn't have one as you can simulate penetration and get much of the intimacy that comes with it.
Bottom Line:
A really fun couple's toy.
Cons:
It's loud, and battery operated remotes.
On Hot Octopuss PULSE Duo Remote Control Vibrating Male Masturbator
Powerful but loud
Review by NibbleNob on 5 Aug 2020
review stating Powerful but loud
I was lucky enough to be offered a chance to test this in exchange for an honest review, thanks Lovehoney. I was really looking forward to receiving a high end or at least high price item and comparing it to other similar devices I have bought before. As can be seen in the pictures the toy comes with watch like wristband devices to control the vibration strength and patterns, one for him and one for her with a small silver or rose gold ring around them to differentiate between them. There are also buttons on the side of the toy and a picture only leaflet explaining how to use both. This isn't particularly easy to follow, it's definitely not a quick glance to familiarise yourself and needs a bit of studying. I used the device alone initially, sneaking into the shower room - the device is waterproof. Geez this is one loud toy, even with the shower running I thought everyone in the house would be coming to see who was using a pneumatic drill upstairs. The source of the noise is the movement to the "power plate", a raised area that sits against the end of the penis and generates the magic. This really is powerful and the design of the toy allows you to position it in exactly the correct place. The wings and body of the toy also carry some of the vibrations and the overall sensation of being wrapped in a powerful toy soon tipped me over the edge, despite the loud noise and concerns of others in the house hearing. You often read of vibrators being classed as rumbly or buzzy and this would definitely fall into the rumbly category, it has serious power. A few days later I whipped it out in front of Mrs N and explained what we needed to test. She was actually turned off by the technology and not that interested in trying it when we turned on the vibrations designed to please her - these were very much of the buzzy variety and she's a rumbly kinda girl. We carried on but she fairly quickly wanted to move on so not a huge success as a couples toy at the first try. I think the noise was off putting for her. I'm pleased with this and it has become my current favourite solo toy when I am not concerned about the noise of it causing any issues. Easier to clean than a Fleshlight and offers a different sort of experience. Thanks for the opportunity to try it Brenna.
Bottom Line:
Good male toy but fell short of being a great couples toy.
Pros:
The powerful vibrations.
On Hot Octopuss PULSE Duo Remote Control Vibrating Male Masturbator
Game-changer couples toy
Review by Ms W. on 31 Jul 2020
review stating Game-changer couples toy
Never written a toy review before but I feel so passionately about this product that I think other people should know about it. I bought this toy to try with my partner....we have an issue where he always cums way before me. I'd heard that the PULSE DUO LUX can give a simultaneous orgasm so....obv I wanted to see if this was true! The toy is super elegant and beautiful, with watch strap remotes that you can wear on your wrist, or pop out of the straps and hold. It comes in a lovely soft silk storage bag and v cool packaging. The toy was charged when we received it and so we used it straightaway. Cut to the chase: first simultaneous orgasm we've ever experienced. I could cry!!! We put it onto my partner's d*ck and played around till we got it to a level he liked. Then I sat on top of him with the underside against me. I had his controller and he had mine. It was crazy-awesome. We were turning the vibrations up and down and teasing eachother for ages. It was incredible that we could stimulate eachother like that and control it to the point where we could orgasm together.... We've used this toy at least five times since it arrived and it has totally transformed foreplay for us....I'm addicted!
Bottom Line:
Game-changing!
Cons:
Lack of colour choice.
Pros:
Powerful, felt amazing, very classy.
On Hot Octopuss PULSE Duo Remote Control Vibrating Male Masturbator
Perfect for me, not so good for her
Review by Verified-Customer on 25 Jul 2020
review stating Perfect for me, not so good for her
The toy is packed in a cardboard box which has information and illustrations on the outside. Inside is a recyclable cardboard carton containing the masturbator, two remote controllers, a charging lead, a black drawstring storage bag and two small leaflets. The masturbator itself is quite heavy but feels sturdy and well made. It is made in black silicone with 'wings' which wrap around the penis. The outside has a ribbed area for clitoral stimulation, 2 control buttons on each side and a charging point. Inside there is a small raised circular area which is the vibrating section which stimulates the penis. The toy is fully sealed and waterproof. The remote controller mounts are designed to look like watches so that they can be worn on the wrist for convenience. I am guessing that they are bluetooth but there is no mention of this in the specifications. In any case they connect instantly without the need to 'pair' them. The charging lead has a standard USB plug at one and and a magnetic connector at the other. This type of connection is now becoming commonplace on fully waterproof toys. The storage bag easily holds all the supplied items. As soon as we unpacked the toy we put it on charge. The charging indicator light is on the magnetic connector rather than being in the masturbator itself. A red light indicates that the unit is charging and this changes to green when the charge is complete. We set aside some time to familiarise ourself with the toy and it was just as well that we did! In order, I imagine, to be multilingual the operating instructions are totally pictorial with no text at all. This makes them less than helpful. The sequence of button presses is particularly difficult to follow. Additionally this toy has two completely independent vibrating regions controlled by the two remote units. In the instructions these are referred to as Controller A and Controller B but there are no identifying markings whatsoever on the actual controllers. In fact they are identical apart from the fact that on one unit the bezel was silver and on the second unit it had a slight gold tint. As usual in such circumstances we simply tried out various button combinations till we had worked out all the functions. It turned out that the controller with the silver bezel operated the internal vibrator and it's patterns and the one with the gold bezel controlled the external vibrator functions. In fact the controllers themselves work well with no lost connections. Once we had established the basics of the operations we tried the unit out. Initially we used it as a solo male masturbator so, using water based lubricant, I slid my penis inside. The instructions gave no indication about which was the top of the unit but the illustrations on the box show that it can be used in either orientation depending on whether it is used solo or as a couples vibrator. With the pointed region at the top, the internal vibrating plate lined up exactly with my glans and frenulum so I used it this way. I started with the plain vibrations. There are 8 speeds of vibration controlled by the + and - buttons on the unit or the remote. They are all very powerful and very intense but also very loud. The unit was so loud, in fact, that it was difficult to concentrate on the amazing feelings the vibrations were producing. The internal plate vibrating against my glans and frenulum felt really good though. I worked my way through the speeds and patterns to see how they all felt and also stroked the unit up and down my penis to find the most effective spot. To be honest when I experimented with the patterns I found them frustrating although they may work well for people who enjoy edging. Eventually I settled on the steady speeds in the middle speed range and gently moved the unit up and down my penis building, gradually, to a very intense orgasm. Overall I was very impressed with this toy as I do not usually orgasm with strokers or masturbators. I could tell from the start though that this one was going to work for me as the feelings were so intense. A couple of days later we tried the toy in its second role as a couples vibrator. As before I used water based lubricant to ease my penis inside the sleeve then my wife straddled me and the toy in conventional 'cowgirl' fashion. I set the internal vibrator going first then my wife switched on the external vibrator and settled down on the toy. Unfortunately things did not go as well as we had hoped. Although the internal vibrations are powerful and intense the external vibrations are buzzy and shallow. They are not focussed at any particular point on the toy either so my wife found it difficult to position herself correctly for the best stimulation. Even more problematic though was the fact that the sleeve would not stay in place. It kept rolling to one side moving both vibrators away from the
Bottom Line:
An excellent male masturbator, but less useful for couples use.
Pros:
The internal vibrator was powerful, intense and very effective.
Cons:
Weak external vibrator and difficult to keep in place when used for a couple.
On Hot Octopuss PULSE Duo Remote Control Vibrating Male Masturbator
Hot or Not?
Review by XOXOX on 21 Jul 2020
review stating Hot or Not?
I was sent this toy to test and I had high hopes - both for the pulse as a solo and a couple's toy but it didn't quite hit the mark on either front. Firstly, the good - this toy comes in nice packaging and does have a high quality look and feel. The device itself is easy to use and charging is also fast and simple. Turn on the pulse plate and the duo gives out some really nice pulses that you can vary in strength and rhythm till you find just the right one. With a bit of lube and you can slide this on your penis and let it do all the work - the pulsing is a really nice change from basic vibration! Plus in addition your girlfriend can use the vibrating side for her own fun - with or without you! The 'ok but' - I like the idea of the two remotes but it could be clearer which is for the main 'male' bit of the toy and which is for the 'female' side. You can't see it in the pictures but the metal ring around each pop out control is a different colour - silver for the man and a kind of rose gold for the girl. The controls are a good addition but I really don't see the point of the watch straps - you can just both hold a control in your hand and use it that way - pretending you have a new smart watch feels a little redundant for a product like this when you want to be in the moment. I actually felt a bit stupid reaching over to play with the controller in the strap - it feels a step too far. And 'the noisy' - make no mistake, the power plate is loud - and not in a normal vibrator noise kind of way. It's more like a piston hitting a small drum kit kind of noise and is really hard to ignore. I would say the best thing to do is get your girlfriend to sit on top if you want to make the noise more bearable. And finally - this toy is okay for solo play but there are better toys out there for men. As a couple's play toy it really depends on what you want - I enjoy mutual masturbation if I can see what my partner is doing - this toy sits between you but there is no real connection with your partner in the way I would like. However, I can see how it would be a great choice if you have issues maintaining an erection or if you/your partner don't particularly (or can't) enjoy actual penetration. If you don't mind the noise of course!
Bottom Line:
A toy aimed at a very specific market, it feels.
Pros:
The power and variation of the pulses.
On Hot Octopuss PULSE Duo Remote Control Vibrating Male Masturbator