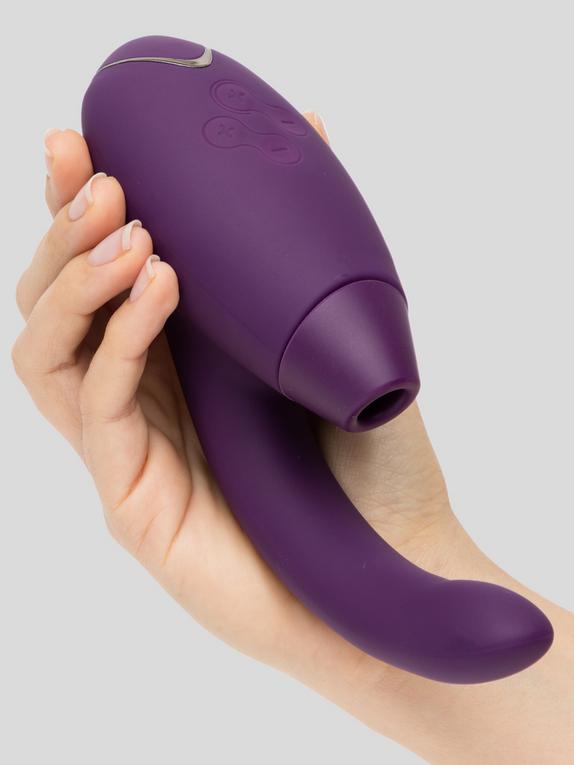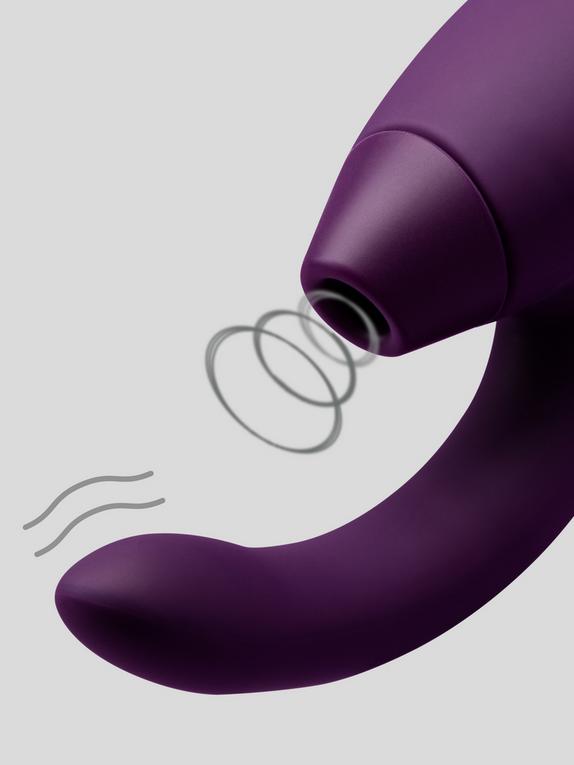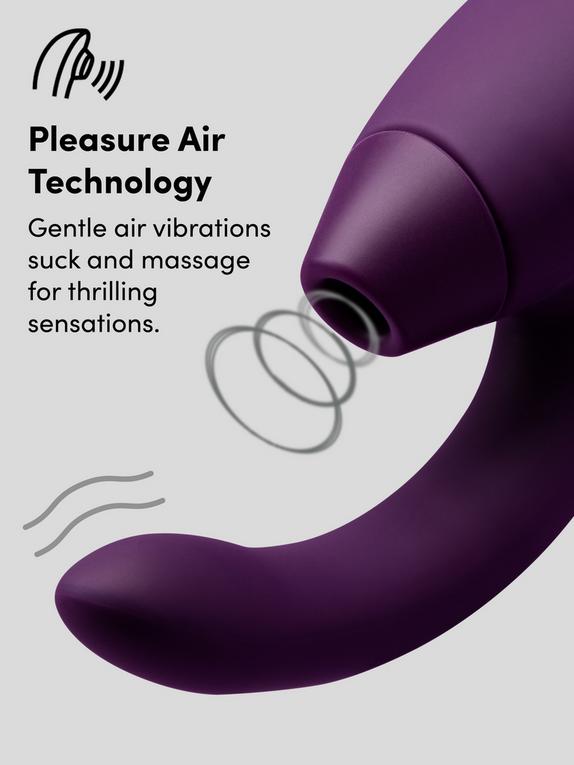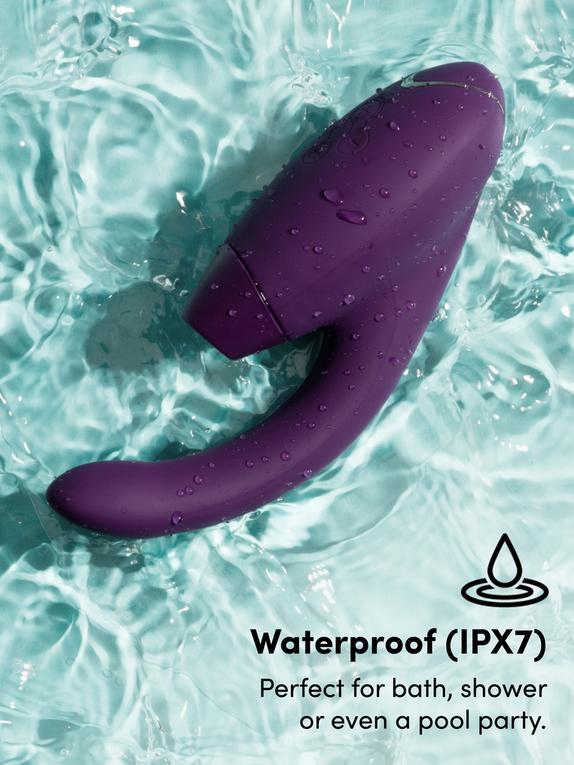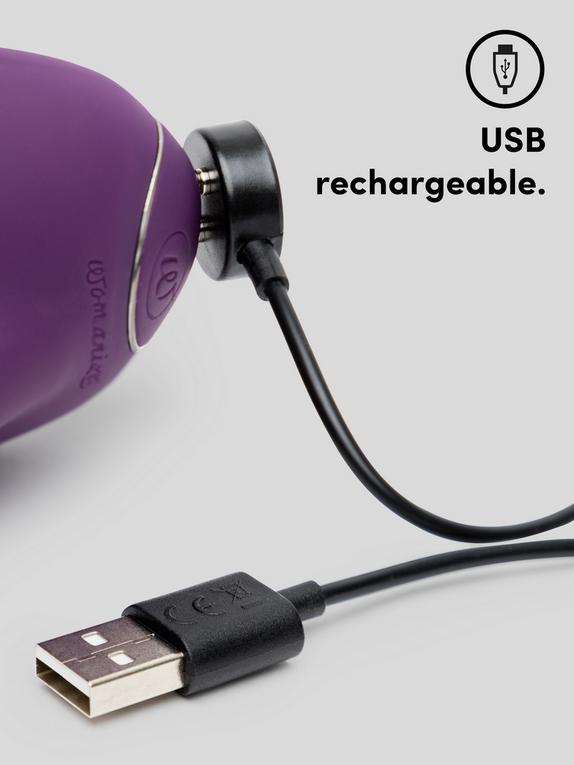 Womanizer X Lovehoney InsideOut Rechargeable G-Spot and Clitoral Stimulator
Last chance! This product is not going to be re-stocked!
Luxurious clitoral and G-spot stimulator for explosive blended pleasure
Patented Air Technology uses contactless stimulation to wow the sensitive clitoral nerve-endings
An additional curved G-spot stimulator teases your inner sweet spots
Explore 12 levels of intensity from both the G-spot stimulator and clitoral stimulator
Exclusive collaboration between the pleasure experts at Lovehoney and Womanizer
Some things are just meant to go together, like Womanizer and Lovehoney or the delicious combination of G-spot arousal and clitoral suction stimulation. Enter this exclusive version of the InsideOut, designed to satisfy two pleasure zones at once.

Using patented Pleasure Air Technology, the clitoral stimulator's pressure waves gently suck the clitoris to deliver an incredible new orgasmic sensation.

For added thrills, the smooth, curved silicone shaft expertly targets your internal erogenous zones.

Discover 12 escalating intensity levels in both the clitoral and the G-spot stimulator, and find the orgasmic level you crave. Control the functions separately for completely customised sensations.

Fully waterproof and USB rechargeable to boot, this luxurious toy is best enjoyed with lube. Just coat the rim and shaft with water-based lubricant to enhance pleasure during use.
Essential Info

Allergens: Latex-Free , Phthalate-Free
Features: Rechargeable
Waterproof: Submersible

Power and Speed

Power Type: Rechargeable
Vibration speed: Multiple speeds

How it Measures Up

Circumference: 3.5 inches
Insertable Length: 4.5 inches
Length: 7.5 inches

How it Feels
Vibrator Advice
Our handy Vibrator guides will help you navigate the wonderful world of vibrators, and choose and use the best Vibrator for you.
Frequently bought together
Popular combos for more sexy fun
Customer reviews
4.7
4.7 star rating
3 Reviews
4.7
4.7 star rating
3 Reviews
Thank you for posting a review!
We really appreciate your opinion and hope to see you again soon.
Thank you for posting a review!
Your review was sent successfully and is now waiting for our staff to publish it.
Search reviews
5.0 star rating

4.0 star rating

3.0 star rating

2.0 star rating

1.0 star rating
Inside and Out this is the crème de la crème of Sex Toys
Review by Peitho on 6 Apr 2021
review stating Inside and Out this is the crème de la crème of Sex Toys
So first impressions, good functional packaging which I will be keeping to store it in, no storage bag but when the box is ideally moulded to hold it that is fine.  The quality of the silicone is lovely with a beautiful silky, soft feel.  You get a brief safety instructions leaflet and a more detailed user manual which includes extremely thorough advice on cleaning which can be an issue for suction toys.

The InsideOut has an excellent magnetic charger point on a USB cable with a very secure connection compared to some others I have used.  When plugged in there is a flashing green light that appears in the suction opening which is a snazzy positioning for the light, once fully charged the light stays permanently on do you know you're ready to go. A full charge from flat takes up to 120 mins but the toy came with a substantial charge already so no waiting time to get started.

The IsideOut comes with two clitoral head attachments, a standard size pre attached and a second larger head in a sealed bag.  Having fully tested both I favour the smaller head but having the option is a definite bonus and they are very easy to change.

The buttons are a little fiddly to use until you get familiar with them as they are hard to see however they are cleverly designed with the positive buttons domed and the negative buttons recessed.  A firm press of the positive suction button turns the toy on and holding this button again will turn it off.

There are 12 intensity levels of both suction and vibration, no patterns which for me is a definite plus.  With just a couple of exceptions I am not a fan of patterns, I generally go up through intensities with a vibrator and then just when I don't want to, I hit a pattern and have to cycle all through again to get back where I want to be.  None of that here!  The vibrating G-spot arm works exactly the same as the clitoral suction and just gets more intense.

I imagine this can suffer from the same issue as rabbits in that one size does not fit all.  I have some bunnies that are spot on for my anatomy and some that although ideal on paper just don't hit all the right spots.  For me personally though, the InsideOut could not be any more compatible.  The G-spot arm is exactly in the key position, it has a great flexibility to it so the pressure and vibrations are perfectly focussed and the suction head is simultaneously planted perfectly.  Less than a minute in and that clitoral head is not going anywhere as my vaginal muscles have clamped on so tight.

Squirting is not my normal. This changes that, it is soooo good. 

I have a WeVibe Melt, also an exceptional device, but for me, this is better because you can let go and it stays locked and you have that full satisfied feeling for the most intense blended orgasms.  Truly the crème de la crème of sex toys and guaranteed results every time.

The only negative with the InsideOut is the volume, positioned perfectly it is not too loud but if you lose that clitoral lock or turn it on not connected you'll definitely hear it in neighbouring rooms.

Now, I did at first get sent a faulty InsideOut, I think some inner electrics had got a little cross wired in construction so it wouldn't turn on and then leapt into life when connected to the charger and wouldn't switch off again... it had to go and sleep on it's own in the spare room until the battery died!  Thankfully, Lovehoney's customer care is the best you'll find on the Internet.  Free return postage was provided as they wanted to know what had gone wrong with the toy and learn from it and a replacement provided immediately.  When this toy works as described there is no other better.

Final summary, the price tag may not be small but it's a lot less the Duo, which I can't see being any better so unless you need stealth for masturbation, in which case you may struggle, absolutely buy this.  You will not regret it and it's worth every single penny!
Pros:
Ideal anatomically for me, perfection on every pleasure point. Introduced me to squirting.
Cons:
A little loud but the same applies to all suction toys without the Smart Silence.
Bottom Line:
Perfection, buy it, do not hesitate!
On Womanizer X Lovehoney InsideOut Rechargeable G-Spot and Clitoral Stimulator
Womanizer X Lovehoney Inside Out
Review by Spoonerism on 23 Feb 2021
review stating Womanizer X Lovehoney Inside Out
I have a love hate relationship with this toy. It does what it says it does, and it does it incredibly well... but I don't always like that!

The Womanizer X Lovehoney Inside Out is a dual stimulator using a combination of Womanizer's "Pleasure Air Technology" for clitoral stimulation plus a slim vibrating shaft.

In the box you get the basics. Some instructions, a USB compatible charger and an extra, larger nozzle for the suction feature. The box is simple and tasteful with a clear image of the toy (not discrete) and a bit of text. There is no storage bag which is disappointing. The toy is waterproof and charges magnetically.

I am not a stranger to Womanizer's products. I own one of the very early models, the W500, the classic Pro40 and the teeny tiny Starlet. I like this style of toy though I'm not fanatical. I sometimes find it difficult to orgasm or find that it requires a lot of patience to get there - unlike the plethora of reviews out there that describe "60 second" orgasms. This has been my experience consistently across all the models I have tried.

The Inside Out is a lovely looking if slightly intimidating toy. It is way bigger than I had pictured it! It operates via a 4 button interface, two for the suction and two to control the level of vibration in the shaft. The + button of the suction controls also serves as the power on and off button. It is possible to use the toy with just the suction on or just the vibration, though obviously to get the most out of it you want to use both! There are no lights under the buttons and they aren't very raised/textured so I found them really awkward to operate, especially under a duvet.

Before I first tried it I immediately switched out the suction head for the larger one as this had always been my preference with the other models I have tried. I find the larger heads fit my anatomy better but also dampen the intensity a little bit which I prefer.

The maiden voyage was... awkward. I struggled a lot with the controls, found it difficult to form a seal and didn't care much for the vibrations. I did orgasm but it was sudden and unexpected and then short lived as I had to quickly rip the toy away from my body to avoid over stimulation which resorted in the toy making surprisingly loud slurping noises as I battled to turn it off. Not great.

Obviously I wanted to try again and as I became better acquainted with the controls I was able to relax and enjoy it a lot more. The vibrations eventually grew on me though they are not as strong and rumbly as I would prefer. I also find the shaft very slim which will be awesome for people who prefer less intense penetration, however I just found myself yearning for "more". It is however very flexible allowing it to bend to suit different bodies which is often the downfall of dual stimulators.

For testing's sake, before writing this review I tried out the smaller head, confident it wouldn't work for me. I was wrong. This head is substantially more intense and once I found the right spot it felt fantastic. I will definitely stick to this one! It does almost rip the orgasm out of me which I both love and hate, depending on how warmed up I am before using it. I have to be in a very specific mood for this toy, otherwise the intensity is more painful than pleasurable.

Overall, this is a lovely quality toy that really achieves what it sets out to do. My clitoris just isn't always up for such a thrilling ride!

If you already know you like or even love the Womanizer technology, the Inside Out is definitely worth checking out. I would not recommend this toy as an introduction to this kind of stimulation though.
Pros:
Very intense and pleasurable (when my body is in the mood for it!)
Cons:
Sometimes way too intense, controls difficult to get used to, internal shaft a bit too slim for me.
Bottom Line:
Does exactly what it sets out to do. Great for Womanizer fans looking for something different.
On Womanizer X Lovehoney InsideOut Rechargeable G-Spot and Clitoral Stimulator
Flutterly In Love
Review by Blonde B. on 1 Feb 2021
review stating Flutterly In Love
I will not lie to you, I own a lot of toys for my clit. This is now the fourth Womanizer in my collection - yes, I really do love these little suckers that much. But this is the first one that combines both that intense clitoral manipulation and internal filling pleasure I crave to get me gushing.

I won't bore you with the delivery, let's just say it came nearly as fast as I did when I first used this - albeit far more discreetly.

Just as I would expect from a Womanizer and Lovehoney collaboration, this special edition Inside Out is gifted to you in such luxury you'd easily mistake it's purpose. Included within is an optional larger clitoral head - trust me, just fit this clit engulfer straight away - a charging lead and instructions, but unfortunately no storage pouch - you can't have everything right.

It is made entirely from rich, purple, high quality silicone with a shining silver accent inlay at the base. This is completely my ascetic and I am totally smitten with how it looks. The seamless silicone feels amazingly soft to the touch, and has very little friction. It's the kind of silicone you can't help but rub on your face because of how soft it truly feels.

For its size the Womanizer InsideOut is fairly light to hold. The lower part of the toy is egg shaped and tipped with a smooth silicone suction nozzle for placing over your already excitedly engorged clit. Coming out of the back of the Womanizer InsideOut is a curved silicone arm for internal placement. This arm is fairly slim and flexible at the base. The tip of the arm is where the second motor is for the vibrations and is more rigid than the rest of the arm.

Before you can use the Womanizer InsideOut you need to charge it. The USB charger attaches to the base of the toy using two magnetic ports. Unlike some other magnetic chargers I have, this magnet is strong and I had no trouble with it keeping contact. You can then plug the other end in to any USB port and await the solid green light that indicates a full charge. Mine must have been already charged as only 5 minutes after connecting the USB cable it was ready to go.

As with all toys from Womanizer, it is incredibly quiet. It's not silent by any means, but the vibrations in the G-spot arm are genuinely whisper quiet, and the clitoral stimulator is the quietest I've heard yet. If you need to be discreet, but really want to try a clitroal suction / pressure wave toy, this might well be the product for you. Just make sure you've a towel over your mouth to dampen your screams.

With a small amount of lube around the hood of your clit and vulva - although I can assure you, after just holding this, lube is not needed - the Inside Out effortlessly slips into place and you can comfortably contract around it's slender shaft leaving hands free to caress and manipulate other erogenous areas. I'm a seriously lazy masturbator at the best of times, the less I have to be involved the better, and a hands free orgasm or three is always a goal I set - a goal everyone should always set. Just tie me to the bed and watch me squirm.

The vibrations from the internal G-spot arm are deliciously deeply rumbly but I'll be honest, the clit suction part of this toy has me cumming that hard and fiercely fast I don't even have time to think about the vibrations in and around my G-Spot. I don't have time to think about anything. But what I do love is just to have that insertable squishy arm there for me to clamp down on again and again and again.

Like so many others I'm sure, I'm one of those gals with an extremely sensitive clit. The smallest of stimulation and I'm either cumming or crying within minutes. Just like all the other Womanizers I own, this indirect, fluttering air pressure stimulation doesn't leave me with an untouchably sensitive clit after my first orgasm - or even before - and allows me to ride the waves of cumming after cumming, again and again, over and over until my heart says no more.

In summary, this revolutionary Womanizer exceeded all of my expectations. Not only does it's waterproof design make it a bath time must, more importantly it means it's soaking squirt safe too. Despite struggling with the controls to begin with, the intense orgasms delivered by the Inside Out has made it one of my new favorite toys and by far the best Womanizer I own. Perhaps it's shape won't suit every internal body, but it fits me very, VERY, well indeed. I am smitten.
Pros:
It's double trouble at its best!
Cons:
Buttons take a little learning.
Bottom Line:
I'm at smitten with this Henry the Hoover, this fluttering clit kisser.
On Womanizer X Lovehoney InsideOut Rechargeable G-Spot and Clitoral Stimulator