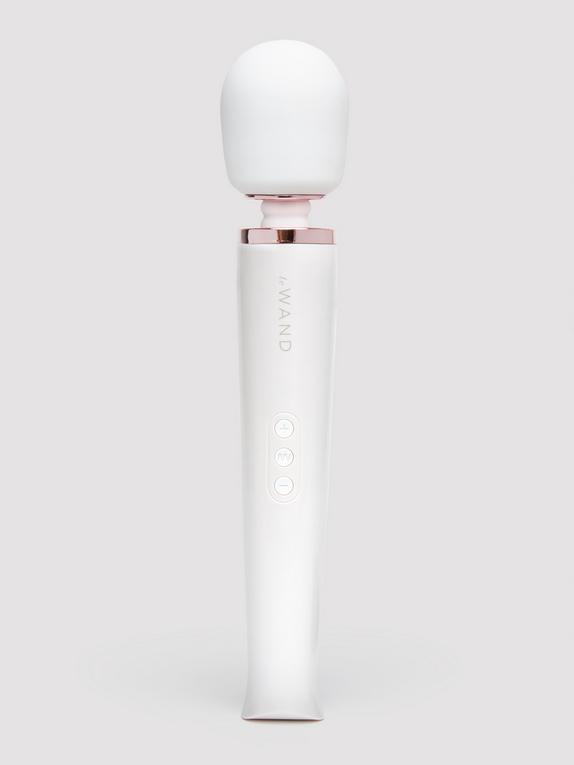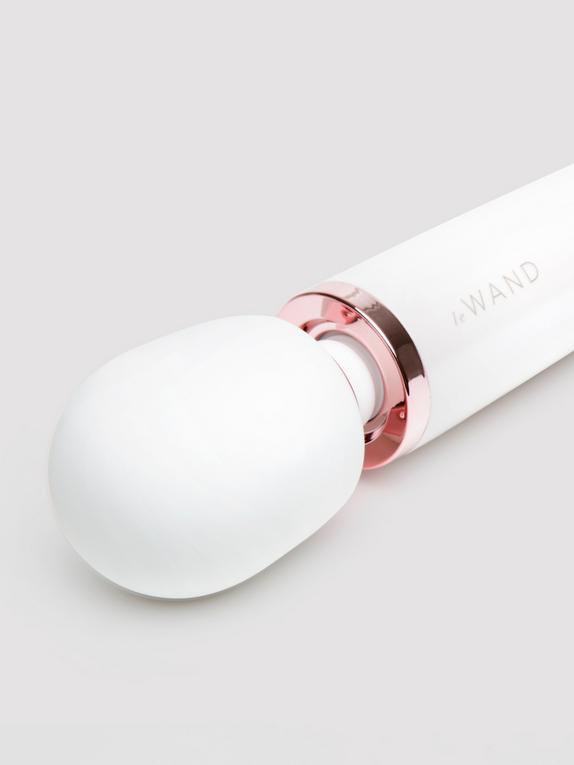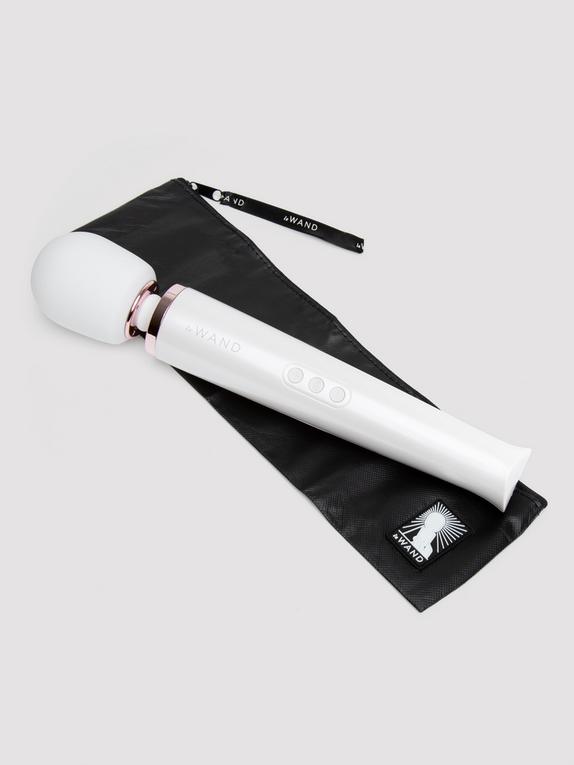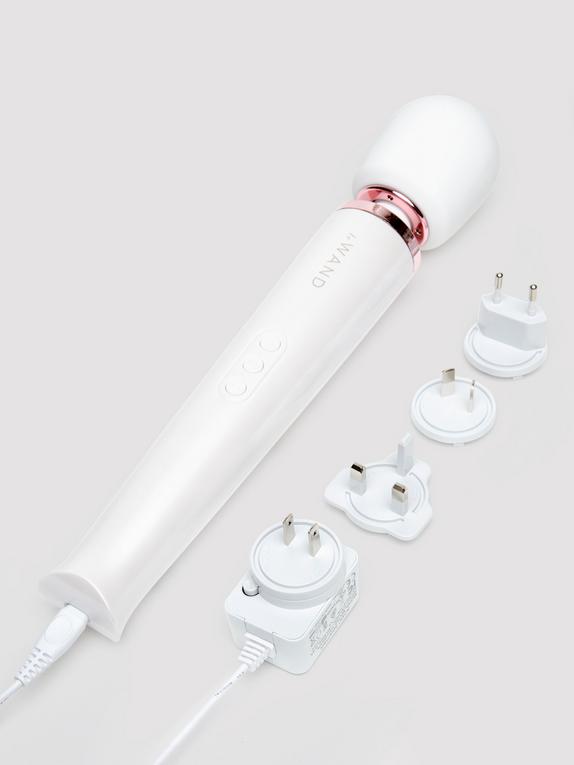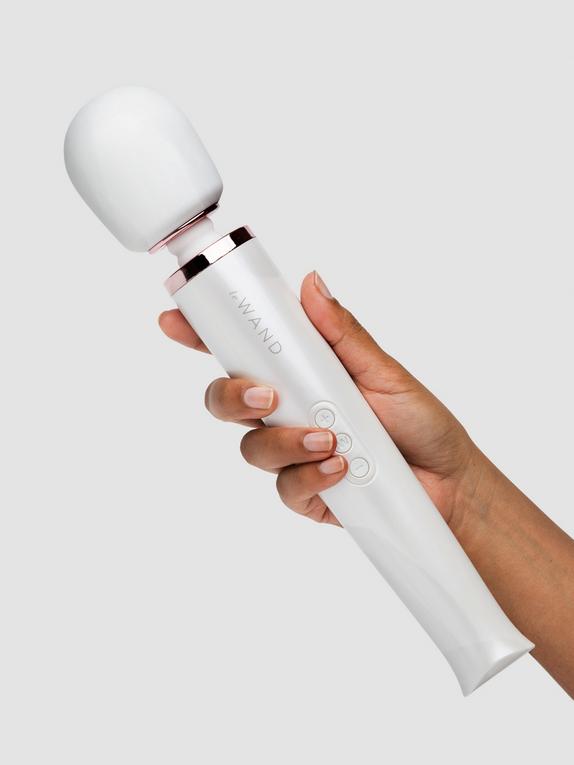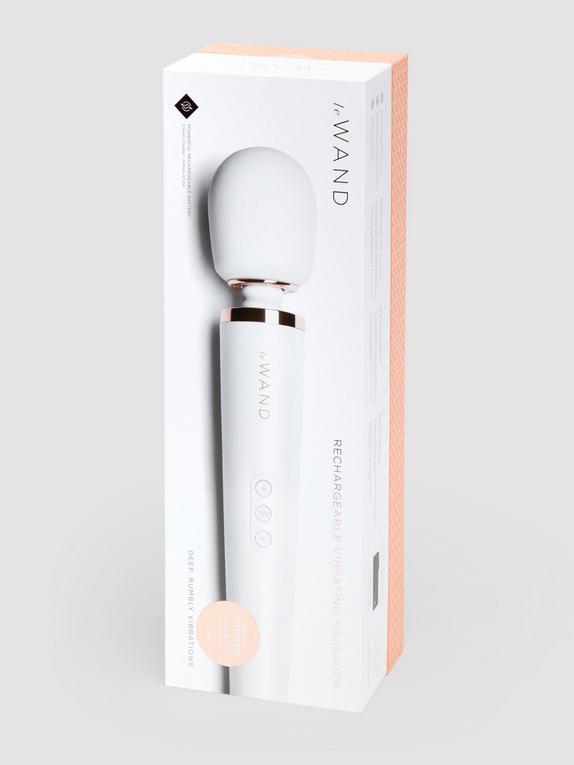 Le Wand Rechargeable Massage Wand Vibrator
Last chance! This product is not going to be re-stocked!
Extra-powerful massage wand vibrator for thrilling external play
20 tempting patterns with 10 intensities each give you plenty of variety
Flexible head for easy direction and precise external stimulation
Travel-ready thanks to its travel lock, included travel case and charging cable with plug adaptors
A feast for the eyes and the senses, Le Wand's luxurious wand vibrator delivers pleasure that feels as good as it looks. Sleek and beautiful to look at, Le Wand provides extra powerful rechargeable vibrations with a simple interface for oh-mazing delight.

Three easy-to-use buttons give you access to 20 vibration patterns with 10 rumbly, toe-curling intensities each, for the perfect level of satisfaction every time you play.

Also featuring a travel lock, storage case and USB charge cable, it's eco-friendly and suitable for sultry weekends away from home. Make the trek to pleasure peak solo, or pass it to your partner for intensified foreplay, sensual massages and sex.

Dab the flexible, silicone head with water-based lubricant for glorious glide and grandiose gratification.
Essential Info

Allergens: Latex-Free , Phthalate-Free
Features: Extra Powerful , Rechargeable , Travel Lock
Waterproof: Splashproof

Power and Speed

Power Type: Rechargeable
Run Time: 300 minutes
Vibration speed: Speeds and patterns

How it Measures Up

Circumference: 7.75 inches
Length: 13.5 inches

How it Feels

Flexibility: Flexible
Material: Silicone
Vibrator Advice
Our handy Vibrator guides will help you navigate the wonderful world of vibrators, and choose and use the best Vibrator for you.
Frequently bought together
Popular combos for more sexy fun
Customer reviews
5.0
5.0 star rating
4 Reviews
5.0
5.0 star rating
4 Reviews
Thank you for posting a review!
We really appreciate your opinion and hope to see you again soon.
Thank you for posting a review!
Your review was sent successfully and is now waiting for our staff to publish it.
Search reviews
5.0 star rating

4.0 star rating

3.0 star rating

2.0 star rating

1.0 star rating
Pretty & Powerful
Review by Verified-Customer on 2 Apr 2021
review stating Pretty & Powerful
When it comes to orgasms, I'm more of a clit focused type of girl, penetration just doesn't really do it for me. Having owned wands before this, I knew what to expect as far as button controls and vibration types (not that I use many unless I really wanna edge myself), however this wand is different. Not only does it beat out the others in both size and power, but it's beautiful! If I could I'd put it on my wall for decoration and intimidation.
Let's talk about size— the size itself now makes me realize those puny wands I had before were just medium sized, this right here is not a large but an extra large with a fry and a drink. About the length of my literal forearm, my first thought was, wow, no more tired wrists from having to angle my arm as I lay on my back! That being said, she does have some weight to her. If you're the type that doesn't care for big and bulky toys, this may not be for you. My second thought after this arrived was… so where am I gonna put it? Needless to say, she's a tall queen and may not fit in your dusty old toy bag, but if you're like me and happen to own a hard shell electronics bag, then you'll do just fine.
If it's power wasn't already obvious by the need for a plug in charger, let me tell you that I've only managed to make it to level one in the week that I've owned it. She may be cute looking, but sis packs a not a punch, but an uppercut. (Can I get a Shoryuken???) For example, I'm a bigger girl (250lbs plus) and needless to say, I'm working with a lot of FUPA, so when I first tried it out, I just placed it right against her, turned it on and the deep, rumbly vibrations were taking me places past vibrators never have.
Now let's talk about the visuals. I've never owned a white toy in my life, and honestly, I've avoided bright attention seeking toys for fear of someone seeing it on the rare chance I leave it out in the open, but when I tell you this wand is not only gorgeous, but commands attention? The opalescent white handle and rose gold trim truly are more beautiful in person and I'm excited for the post pandemic day that I may use it on someone else, because she truly deserves to be seen and fawned over.
With the size, strength, and beauty of this wand, I can tell you, this is no toy… this is a friend.

Now to mention some downfalls, as nobody is perfect, not even Le Wand.
Prior to this, all my previous wands were waterproof which meant shower and bath play, this wand is not. Not only that, the weight of the wand and the long nature of it, does tire my arm out a bit. Not awful, but to some it may be a turn off. Most significantly, it's quite noisy. The motor itself sounds much more powerful and deeper than other vibrator wands I've had. Luckily, it's not on too long if you're using it only sensitive erogenous parts as you'll be cumming very quickly.

Overall, the Le Wand is very sturdy, she'll stick around for quite some time and will likely outlast your next relationship if you treat her right! Like a true best friend!
Pros:
It's pretty, powerful, and punctual (in an orgasm type of way!)
Cons:
The long length & weight of it make my arm a little tired, and it's quite noisy.
Bottom Line:
The Le Wand is a ride or die kind of wand vibrator you only meet once in a lifetime. Cherish it.
On Le Wand Rechargeable Massage Wand Vibrator
Mind-Blowing Orgasm
Review by Lil S. on 24 Nov 2020
review stating Mind-Blowing Orgasm
My boy friend got me this last year as a birthday gift and let me just say, I use the wand more than his tongue ;) Not saying his tongue is bad because lord knows he's amazing but this wand is SO amazingly powerful ...put it this way..normally I take 30-45 mins to orgasm while I'm being licked but using this turned me into a minute woman lol. This wand is Perfect..especially if your a mom and have kids and you just need a fast stress relief in the middle of the day, you can just go, use it and BAM..done..and if one of your kids asks where were you? respond with "just going pee honey", it makes you orgasm that quick...you owe it to yourself to get this. my bf loves to watch me use it also..huge turn on for him. perfect wand in EVERY way.
Bottom Line:
A must-buy sex toy for ALL couples. No matter what age group. Amazing wand.
Pros:
Everything... Vibrations... Feel of it against my clit. All of it.
Cons:
Didn't like nothing about it, it's perfect. I love it.
On Le Wand Rechargeable Massage Wand Vibrator
Versatile va-va-voom
Review by Knottydevil on 2 Sep 2020
review stating Versatile va-va-voom
My wife and I were really excited when this little number arrived with the post! We'd put ourselves forward for the draw to test it in exchange for our honest review, then gotten busy and forgot all about it. What an amazing surprise to be picked! Thanks Lovehoney! First things first, unboxing this toy was a delight. The packaging and design is closer to those of hair and beauty products than cheap novelty sex toys, which is great to see! Our new Le Wand gives a real impression of glamour & quality, with shiny pink metallic trims, a subtly iridescent hard plastic body, and that gorgeous white silicone head. It doesn't look at all out of place hanging around with hair styling tools, makeup and jewellery. After a quick flick through the instructions, we had the charger plugged in, and waited a few hours for a full charge, before giving it a whirl. In the hand, this massage wand has a reassuring weight and balance, and fits in the hand nicely. The head end's heaviest so if it's held above the target spot, the wand's own weight helps keep the contact right where you need it. Lazy play is a definite option. The powerful vibrations are concentrated at the head, and don't really travel through into to the hand much, so it's also comfortable to use for longer sessions. It's a pretty strong toy, with a powerful little motor. The weight and broad contact give luscious, sometimes tingly surface sensations, while a bit of pressure sends the vibrations deeper. We managed to put quite a lot of pressure on this without dampening the vibrations much at all. The narrow neck flexes well in use, and the broad head's silicone surface has a touch of give, so it's kind to delicate areas in spite of it's solid weight and firm core. The silicone's also super smooth, seamless and doesn't have a lot of drag. This makes it feel luxurious to the touch, especially when a dab of water-based lube brings that sensuous surface to life. Constant vibrations are easily controlled with the plus and minus buttons. The plus button switches it on, and increases the speed, with minus decreasing and then switching off at the lowest setting. Holding down the minus button from the top setting, it takes about 5 seconds to switch off. With rapid presses of the minus button this took us about 3 seconds. Not the quickest basically. We tend to use the lower speeds so it's a bit more responsive for us. The lowest settings on this luxury Le Wand toy are, as usual, a favourite for my wife and I. We tend to prefer deep & rumbly over faster, more buzzy sensations. At times, this wand leaves us wishing there could be a super low speed setting for some really deep rumbles, but overall the lowest setting feels satisfyingly hot and sensual for our bodies, and higher settings are fun for a different, more teasing and tingly sensation play. Some of the patterns are really, really impressive. There are pulsing and fluttering patterns, ones that give a sort of 'chugging' feel to the motor, as well as the more basic ones that seem to turn the motor right down or off for a moment and fire it up again straight away. On this wand this gives a delicious rumbly wobble to that head when it starts and stops. This feels a thousand times better than the abrupt on/off patterns on some other vibes we own. We absolutely love the feel of this. None of the patterns are worse than just ok, and some feel downright amazing, so cycling through them is a fun journey. Once we found patterns we liked, we enjoyed playing with turning the speed up and down. Turning the patterns off is done by turning the speed right down to off, then starting up again, which resets the wand to constant vibrations. Given how much we liked some of the patterns, it's a shame not to have better controls to access these. Cycling through with a single button is a bit frustrating considering there are 20 patterns to choose from. We've tended to stick with the constant vibrations for the most part, or use a single pattern going up and down in speed. In terms of orgasms, there are so many ways to tease, excite, edge and combine this toy with others, it's difficult to give a single view on this. We definitely had some awesome orgasms using this, our favourite new wand. This was often because it combines so well with solo play for me or her, and adds luscious clitoral vibes to doggy position, for one example. This Le Wand even gives a surprisingly good neck and shoulder massage, as well as thrillingly livening up all our favourite spots, before, during and after sex. So goodbye mains wand... Hello LeWand Rechargeable! ;D
Bottom Line:
An adorable bedroom favourite.
Cons:
One button control to select patterns. Slow to turn off from higher speeds.
Pros:
Powerful, stylish and gives amazing orgasms. Easy speed controls, great patterns... and cord free!
On Le Wand Rechargeable Massage Wand Vibrator
Always a great time
Review by Onlyashmarie on 5 Aug 2020
review stating Always a great time
I love the size of this vibrator not too bulky, the different vibrations it has are all perfect. I'm pretty sure my neighbors all heard me having multiple orgasms. I almost use it everyday lol I definitely recommend this wand and the price is totally worth it! I had two other wands before this one and it's by far the best one I've owned !
Cons:
I didn't have any issues with it.
Pros:
I like the colour, size, intensity, vibration modes, price, easy to use.
Bottom Line:
It's a great sex toy full of orgasms.
On Le Wand Rechargeable Massage Wand Vibrator