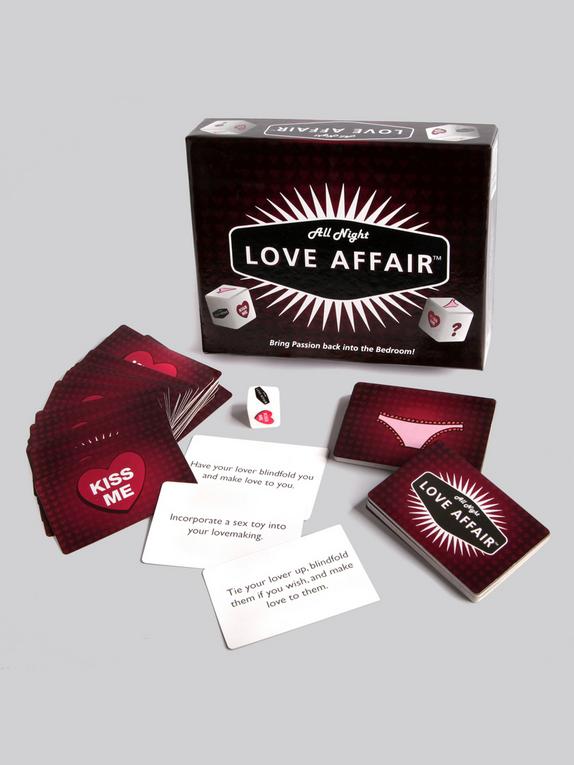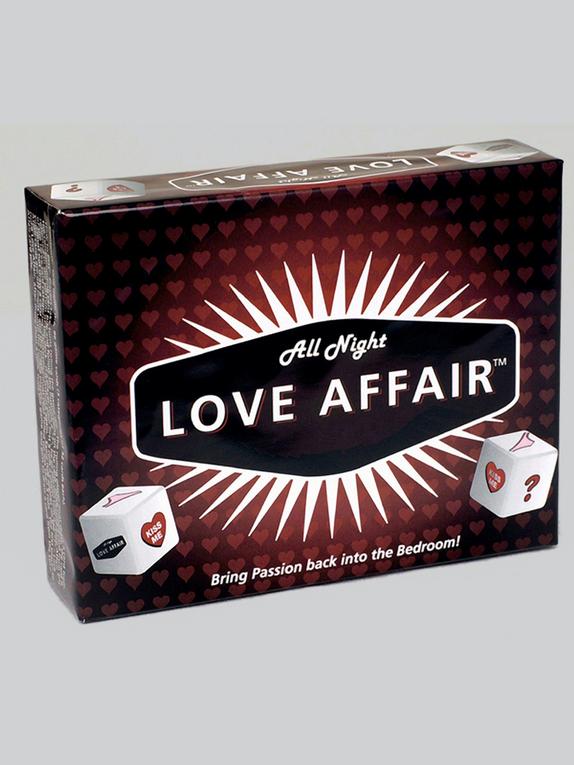 All Night Love Affair Dice And Card Game
96 action cards for hours of steamy fun
Ideal for enhancing foreplay and spicing up your sex life
Three exciting sections to choose from
Encourages intimate interaction between you and your partner
Spice up your love life with the fun Love Affair dice game. Roll the dice, pick a card and follow the instructions - soon you'll be kissing, touching, licking and a whole lot more. A great game for teasing.
Take it in turns to roll the die and draw a card from one of the three titillating categories, each of which has different saucy actions. French kiss your partner, blindfold and pleasure your lover, play doctor and nurse... Everyone's a winner with this one!
Explore other customer-favorite products:
Sex Dice
from Lovehoney Oh!
Frequently bought together
Popular combos for more sexy fun
Customer reviews
4.6 star rating
4.6
30 Reviews
Thank you for posting a review!
We really appreciate your opinion and hope to see you again soon.
Thank you for posting a review!
Your review was sent successfully and is now waiting for our staff to publish it.
M
Manchester L.
5.0 star rating
Helps spice things up
Review by Manchester L. on 21 Jun 2020
review stating Helps spice things up
Really easy to follow game with great results! Got this for my husband as a gift and can honestly say this has given us a bit of a boost in the bedroom. Great for beginners wanting to spice things up. Only thing I would recommend is stock up on the props to really add to the fun!
Cons:
The game should possibly come with a timer.
Bottom Line:
Fun with a bit of added naughtiness.
On 23221
G
Ghostonghost
4.0 star rating
Fun forfeits that can be used with anything
Review by Ghostonghost on 16 Jun 2020
review stating Fun forfeits that can be used with anything
I'm quite a fan of sex based card/board games and frequently have dedicated nights to it. We've tried many of the main ones sold here and all have their niches and themes. This game has been a success and has been used multiple times. The box, cards and dice are good quality and quite muted. The game doesn't specialise in any particular theme, which is great for experimenting. Playing it is rather simple, it's not really a game as such as there's no skill to it. Nice and simple two levels of cards, the first might ask for questions or basic foreplay like kissing and massaging. The second moves the foreplay on or might even suggest more sexual acts. Then there's the final cards which involve acts that bring the love making to completion. As I say the game isn't really a game, however the cards offer a good mix of suggestions, nothing to wild or niche. You can also add a lot of interpretation into the challenge, which means most cards are achievable. We have used the cards to make our own games, as challenges and it works really well. Anything from Jenga to betting on sports games.
Pros:
The style of cards and tasks.
Bottom Line:
Great collection of cards.
On 23221
J
Jord2018xo
5.0 star rating
Brilliant game
Review by Jord2018xo on 28 Aug 2018
review stating Brilliant game
All night love affair game is brilliant. To start off with me and my partner thought it was going to be another boring dice game, but after playing the game for around 5 minuets me and my partner loved it! Each cards had different activity and fantiesies to explore which is excellent! Would recommend
Cons:
The dice was a little bit too small.
On 23221
B
Babebear825
5.0 star rating
Great Way to Get More Intimate
Review by Babebear825 on 22 May 2018
review stating Great Way to Get More Intimate
My SO and I bought this game to get more intimate in the bedroom and my oh my did it work. We have been together for three years and have always been in sync but we learned more about what we both enjoy than I thought we would. We really enjoyed the different types of cards and actions they had us taking that pushed us beyond our normal activities. Some of the cards were a little too out there for us but this was few and far between so they were easy to skip. We did a few more of the foreplay cards than the instructions said to which was great at the time but made the culminating activity rather short, though we were both pent up and enjoyed every second of it.
Pros:
We learned more about what we each like in the bedroom.
Cons:
A few of the cards were a bit odd.
Bottom Line:
Great way to become more familiar with a long term partner and yourself.
On 23221
L
Ladybirdxox
4.0 star rating
Lots of fun
Review by Ladybirdxox on 6 May 2018
review stating Lots of fun
I bought this for me and my fiancé to try something different in the bedroom as he's usually a straight to the point kind of guy. The game ensured we had plenty of foreplay and lots of fun together trying new things, however after a couple of hours of rolling the dice and still not landing the final 'love affair' card we both ended up so turned on we gave in before finishing the game. We have bought other games since but this one is still currently our favourite.
Pros:
The new ideas it gave us.
Cons:
Depending on what you roll on the dice it can be long-winded.
Bottom Line:
A good game for trying new things and bringing you closer together as a couple.
On 23221