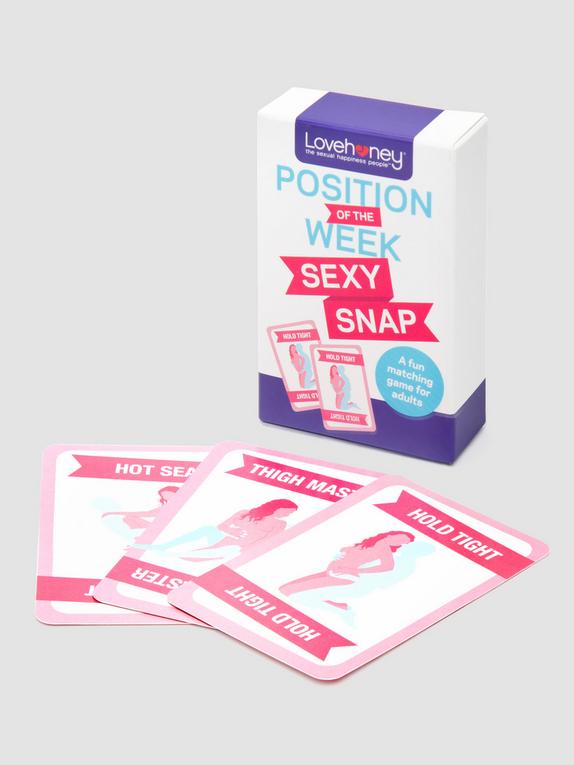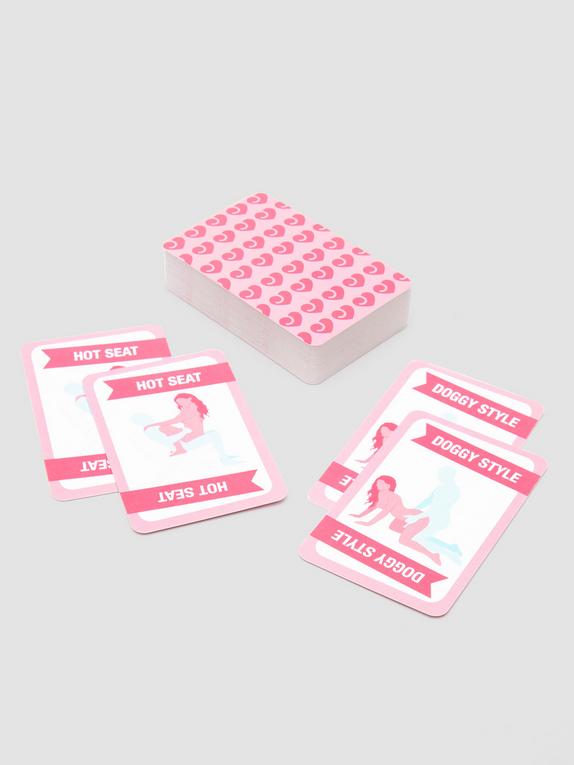 Lovehoney Position of the Week Snap
Last chance! This product is not going to be re-stocked!
Sex position snap for a cheeky rainy day activity
Makes a great stocking stuffer, Valentine's surprise or anniversary gift for your partner
Small and discreet for sexy weekends away
Challenge your other half to a rousing game of snap and ignite their imagination with these position cards. Whether you're a boudoir acrobat, or on a mission to be rid of missionary, this Position of the Week game will give you some tantalizing ideas.

Inspired by Lovehoney's popular 'Position of the Week' blog, this adult card game introduces you to a wide range of sexual positions in a fun way.

Go one on one with your lover and try to match as many position cards as possible. Amp up the stakes by adding a sexy forfeit, or remove a piece of clothing after each losing hand.

With positions ranging from simple to challenging, these cards are designed with heterosexual couples in mind, but most positions can also be enjoyed with a strap-on or anally.
Frequently bought together
Popular combos for more sexy fun
Customer reviews
4.2
4.2 star rating
5 Reviews
4.2
4.2 star rating
5 Reviews
Thank you for posting a review!
We really appreciate your opinion and hope to see you again soon.
Thank you for posting a review!
Your review was sent successfully and is now waiting for our staff to publish it.
Search reviews
5.0 star rating

4.0 star rating

3.0 star rating

2.0 star rating

1.0 star rating
Simple honest sexy fun
Review by Bearjamin on 22 Feb 2021
review stating Simple honest sexy fun
The graphic design of these cards are beautiful and go hand in hand with the 'Position of the Week' book. Since there are only 15 positions in the deck (4 of each) I think the game is best paired with the book so the winner has a larger sample to choose from! They are printed on simple glossy card stock so I'd advise keeping them away from moisture (i.e. drink spilled on table) to keep in good condition. Would be nice if they were the plastic coated kind as they are a a bit more durable.

Fun for a couple of rounds but probably limited in it's replayability; it is just a game of snap after all.

I would love to see Lovehoney bring out a full deck of 52 (54 inc. Jokers) playing cards with a sex position on every card! That would open up to a whole load more games to play!
Cons:
Not the highest quality card stock but it's fine enough.
Bottom Line:
Very good, but now I want a proper full deck of Position of the Week playing cards!!
On Lovehoney Position of the Week Snap
a Snappy way to have fun
Review by Arinargo on 17 Nov 2020
review stating a Snappy way to have fun
this is a good quality simple to play game, definitely giving that naughty twist to a card classic, the game of snap is easy to play, and a quick/simple way to add a little bit of spice, the cards are clear to read, and offer a nice variety in positions, (nothing to outrageous/impossible to follow)fun little game to throw in your travel back to take abroad with you
Bottom Line:
Pretty good.
Cons:
Would be nice if we could use as normal playing cards.
On Lovehoney Position of the Week Snap
Snap with a Sexy Twist
Review by BluePup on 8 Nov 2020
review stating Snap with a Sexy Twist
As soon as I saw these on the Lovehoney website, I just knew I had to have them! I absolutely loved the position of the week emails, and thought that this was the perfect way of playing around with a few of the positions shown before- with a fun twist in the form of snap! I wasn't wrong, and I'm very happy with my purchase!Who can resist the joys of games like snap? A true childhood classic, the nostalgia playing with these cards puts a twist on what you might usually expect from a game of snap. With 15 different illustrated and named positions and 4 copies of each card, you're spoilt for choice with positions to try out!If you haven't played Snap before, you draw the cards out equally between the players, with the first putting a card in the middle. Going between the players in order, you keep putting cards down until the card you put down matches the one underneath it- meaning the first to shout snap wins all the cards placed between you! The winner is the first one to take all the cards! The instructions are handily on a card inside as well as on the back of the packaging. The winner gets to decide which position to try first, which is a fun little twist and reward!One thing I absolutely love is inside there is a card all about consent and making sure all parties involved are happy, consenting and having fun. This is such a lovely addition!My partner and I have had many a fun games playing with this quirky card set. One thing we will say though, is that as the cards are all very similar looking due to the colour scheme, meaning the games you play can't be too fast paced as you have to read the names to sometimes tell them apart. The cards also only depict a heterosexual couple, and while the majority of these positions can be performed by couples of all different sexes and sexualities, it would be nice to see some diversity. While it isn't too much of a big deal, as someone who is transgender FTM and is in a relationship with another man, while the positions work for us, they don't depict the type of relationship we have so can feel slightly exclusionary. Again, this is just being fussy but would be nice to see!Overall, my partner and I love these cards, and I whole heartedly recommend them to those looking to have some fun!
Bottom Line:
Fun game with a unique twist!
Pros:
Good quality, nicely presented, variety of positions.
Cons:
Very heteronormative, can't be played too fast paced due to colour scheme.
On Lovehoney Position of the Week Snap
Great fun, if a little competitive, for a date night
Review by Dave S. on 29 Oct 2020
review stating Great fun, if a little competitive, for a date night
What the product is likeI received the Lovehoney 'Position of the week sexy snap' 3 days after I received the 'e' mail to say that it had been posted. The package was nicely discrete and all boxed up in a plain cardboard box with strong tape around the opening, no chance of the packaging coming apart! The box was a little larger than I thought it would be for a pack of cards but at least they were well protected in transit. The box of cards contains 60 sex position cards, 15 positions in total and 2 other cards, one explaining the rules and the other describing how to ensure consent is obtained before sex.How the product worksIt's as simple as dealing the cards out between the 2 players and each taking turns to turn a card over to reveal the sex position and description, the first to shout snap winning the pile of cards and the first player to take all of the cards wins- the winner deciding which sex position to try first!What the product doesThe Cards encourage a bit of fun into foreplay in order to reinvigorate your sex life.My experience of using the Lovehoney 'Position of the week sexy snap'. We decided to try these out on a date night and after a few glasses of wine and a good romantic film dealt the cards between the 2 of us. As the game progressed, it became very tense as we are both very competitive and personally I found it difficult to concentrate on the text on the cards to decide if it was a match to the one underneath it as I was checking out the sexy positions and wondering how each one would work out! We agreed that whoever won the most cards each time would be the winner and could save a card for a position that they wanted to try at the end of the game. The anticipation was killing us so we stopped playing when we had won 2 cards each and began to explore what for us were 4 new sex positions, well done Lovehoney for introducing us to them!
Bottom Line:
Great fun and an easy way to introduce new sex positions.
Pros:
New positions for us.
On Lovehoney Position of the Week Snap
Games Night
Review by Curious_Couple_19 on 26 Oct 2020
review stating Games Night
Me and my partner were given this item to review. We all know the situation with the discreet packing and everything else that we all love about LoveHoney products. So sexy snap position cards.... well what can I say, fun was had whilst trying this item out, clever and clean design to the cards with the added extra of a 'rules' and 'consent' card which was good to see. The cards themselves were a handy size and probably a tad smaller that a normal playing card. Plenty of variety in the sexy positions, but maybe something missing, such as a brief description of how to get into some of the positions in the picture. Overall a fun game to play and a handy size to take on trips away. Definitely worth a purchase as a stocking filler or even a cheeky secret Santa.
Bottom Line:
A fun way to start a sexy night in.
Cons:
Just missing a short description on how to get into the position.
On Lovehoney Position of the Week Snap