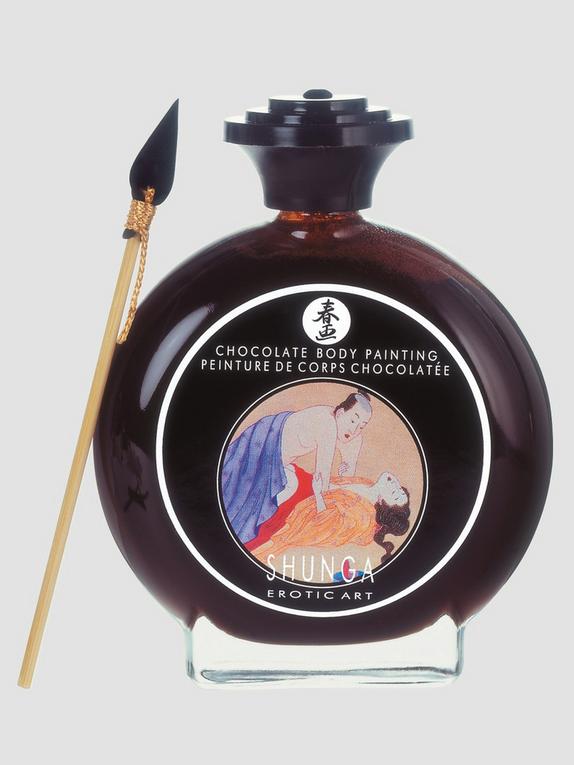 Shunga Deluxe Edible Body Paint
Combine your love of chocolate and your erotic nature with this deluxe body paint. Write love poems, draw pictures, play games, and, above all, enjoy licking it off...

Plan your romantic night in and practice the ancient Japanese erotic art of Shunga with this edible chocolate body paint.

Comes in a pretty 60ml glass bottle.
Customer reviews
5.0 star rating
5.0
4 Reviews
Thank you for posting a review!
We really appreciate your opinion and hope to see you again soon.
Thank you for posting a review!
Your review was sent successfully and is now waiting for our staff to publish it.
Lovely taste, used my own brush though
Review by Avery on 24 Aug 2018
review stating Lovely taste, used my own brush though
The taste and consistency of the body paint is fantastic! Didn't care too much for the sort of spongy applicator, so I used one of my own sumi ink brushes for a much prettier aesthetic. Didn't stain any fabrics and came out of the brush easily for later use as well! And the bottle is such a pretty shape and fits well in my grasp. It shipped safely internationally too!
Pros:
Taste, consistency, didn't stain, very pretty.
Cons:
Spongy brush applicator that's included.
Bottom Line:
Would recommend! Get your own brush if you don't care for the spongy thingy.
On Shunga Deluxe Edible Body Paint LHUSA
Body paint perfection
Review by Emmzi on 19 Nov 2012
review stating Body paint perfection
This body paint is available in two flavours and comes with a lovely little brush to apply to your partner to draw or write whatever is of your hears desire. This is good for anyone and everyone who wants to enjoy something new or something that tastes really nice that doesn't taste like ice cream sauce. Pros Tastes amazing The bottle looks so expensive You get loads Comes with a cute brush Bottle is GLASS Not like an ice cream sauce Cons The brush doesn't apply that we'll Can get a bit sticky/messy if your not very careful lol This product will be bought again by us, it doesn't have at ice cream sauce taste or consistency and is really nice and worth the price considering you get loads, the bottle is glass and really expensive looking and overall a great quality!!
Pros:
Tastes really good, looks really nice and its really discreet.
Cons:
Foam paint brush doesn't apply that great.
Bottom Line:
I recommend to anyone who wants to try something new, I love it!
On Shunga Deluxe Edible Body Paint LHUSA
Fantastic Product
Review by Miranda on 20 Sep 2012
review stating Fantastic Product
I bought the chocolate flavour to surprise my boyfriend with and it was completely worth it! It tastes amazing and is a wonderful product to share. The box it comes in is plain cardboard and perfectly discreet but the bottle itself is beautiful. The product works perfectly, pouring and spreading well, the only flaw I can think of is the brush. It's more of a small sponge on a stick than a brush which restricts what you can do with it, but you can work round it. I would definitely recommend this product, especially if you're just starting out and want some fun as a couple.
Pros:
Delicious, gorgeous packaging.
Cons:
The brush is a little fiddly.
Bottom Line:
Absolutely wonderful.
On Shunga Deluxe Edible Body Paint LHUSA