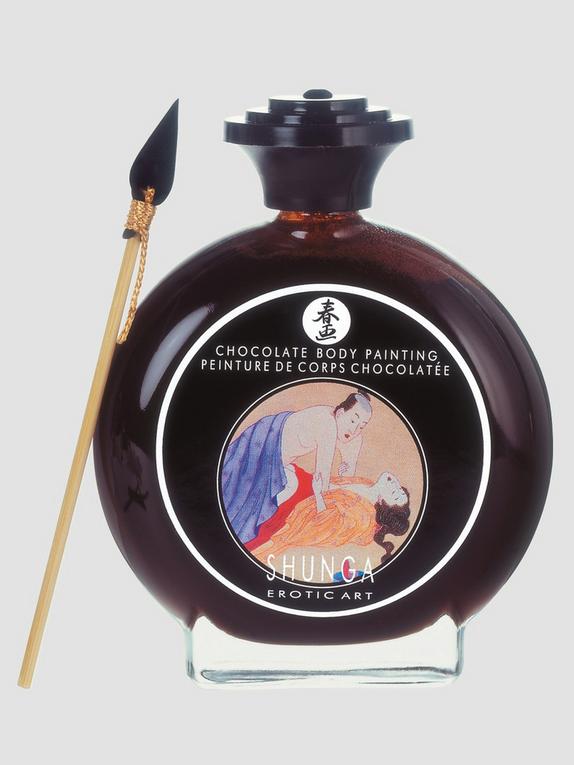 Shunga Deluxe Edible Body Paint
Last chance! This product is not going to be re-stocked!
Great taste with no artificial flavoring
Leaves your skin feeling silky smooth
Non-staining formula can be used anywhere
Includes an applicator for precision painting and tickling
60ml of chocolate paint to play with
Combine your love of chocolate and your erotic nature with this deluxe body paint. Write love poems, draw pictures, play games, and, above all, enjoy licking it off...

Plan your romantic night in and practice the ancient Japanese erotic art of Shunga with this edible chocolate body paint.

Comes in a pretty 60ml glass bottle.
Frequently bought together
Popular combos for more sexy fun
Customer reviews
5.0
5.0 star rating
4 Reviews
5.0
5.0 star rating
4 Reviews
Thank you for posting a review!
We really appreciate your opinion and hope to see you again soon.
Thank you for posting a review!
Your review was sent successfully and is now waiting for our staff to publish it.
Search reviews
5.0 star rating

4.0 star rating

3.0 star rating

2.0 star rating

1.0 star rating
Lovely taste, used my own brush though
Review by Verified-Customer on 24 Aug 2018
review stating Lovely taste, used my own brush though
The taste and consistency of the body paint is fantastic! Didn't care too much for the sort of spongy applicator, so I used one of my own sumi ink brushes for a much prettier aesthetic. Didn't stain any fabrics and came out of the brush easily for later use as well! And the bottle is such a pretty shape and fits well in my grasp. It shipped safely internationally too!
Cons:
Spongy brush applicator that's included.
Pros:
Taste, consistency, didn't stain, very pretty.
Bottom Line:
Would recommend! Get your own brush if you don't care for the spongy thingy.
On Shunga Deluxe Edible Body Paint
Body paint perfection
Review by Verified-Customer on 19 Nov 2012
review stating Body paint perfection
This body paint is available in two flavours and comes with a lovely little brush to apply to your partner to draw or write whatever is of your hears desire. This is good for anyone and everyone who wants to enjoy something new or something that tastes really nice that doesn't taste like ice cream sauce. Pros Tastes amazing The bottle looks so expensive You get loads Comes with a cute brush Bottle is GLASS Not like an ice cream sauce Cons The brush doesn't apply that we'll Can get a bit sticky/messy if your not very careful lol This product will be bought again by us, it doesn't have at ice cream sauce taste or consistency and is really nice and worth the price considering you get loads, the bottle is glass and really expensive looking and overall a great quality!!
Cons:
Foam paint brush doesn't apply that great.
Bottom Line:
I recommend to anyone who wants to try something new, I love it!
Pros:
Tastes really good, looks really nice and its really discreet.
On Shunga Deluxe Edible Body Paint
Fantastic Product
Review by Verified-Customer on 20 Sep 2012
review stating Fantastic Product
I bought the chocolate flavour to surprise my boyfriend with and it was completely worth it! It tastes amazing and is a wonderful product to share. The box it comes in is plain cardboard and perfectly discreet but the bottle itself is beautiful. The product works perfectly, pouring and spreading well, the only flaw I can think of is the brush. It's more of a small sponge on a stick than a brush which restricts what you can do with it, but you can work round it. I would definitely recommend this product, especially if you're just starting out and want some fun as a couple.
Bottom Line:
Absolutely wonderful.
Pros:
Delicious, gorgeous packaging.
Cons:
The brush is a little fiddly.
On Shunga Deluxe Edible Body Paint
A Real Romantic Treat
Review by Verified-Customer on 23 Feb 2011
review stating A Real Romantic Treat
Commendable as always, LoveHoney assured this arrived the very next day, discreetly boxed and wrapped up to avoid damage. The bottle is actually made of glass (very elegant!) so this was a fantastic thought! The first thing I noticed was the gorgeous packaging. The glass bottle is bigger than I thought, and the curvy contours fit beautifully in the palm of the hand. The Japanese label art is also wonderful and elegant... Very romantic and not at all cheap or seedy-looking as a lot of "rude foods" can be. The foam brush is attached to the front and has not be skimped on at all. It is finely detailed and well made, and makes the whole thing look like an erotic calligraphy set! I would have no problems keeping this on my bedside table, as it looks like an art set or bottle of perfume. Very attractive and innocent. I ordered the paint in Champagne and Strawberries flavour, as I thought I would try something different from the generic chocolate. I am so glad I did! The stuff didn't really taste alcoholic to me, though it did have that slight "fermented" tang, like super sweet strawberries left in the sun. As opposed to most paints which generally taste like ice cream sauce or cheap milkshakes, this actually TASTED expensive. It had a rich candy flavour that I just wanted to eat from the jar. It doesn't even get sickly too fast! The smell is just as lovely, but not too strong. It wouldn't fill your room, which could be a plus if you're going for subtlety! The texture is thick and gooey. It's like caramelised fruit and goes on like a dream. A little goes a long way, but make sure you get the most from your brush! As it's not a generic paint brush, you have to use the foam brush from all angles to get all the paint off. The colour is a brilliant vibrant red. The first thing I did was put some on as lipstick (worked AMAZINGLY) and have the OH kiss/lick it all off! It gets a bit sticky if you leave it on for a long time, but what do you expect? It'll also smear at first, but don't be put off! A couple more licks does the job! Ah, watch it on your clothes though! I was worried about the price of this, but now I am absolutely sure I will buy it again. Was a fantastic (and yummy) evening, very romantic, and we felt so high-class! You're definitely paying for quality. I'd recommend this item to anyone wanting to try something new, wanting a romantic night in, or someone who likes food-play but is fussy with their flavours!
Bottom Line:
Fantastic romantic treat, even at the price it's worth it!
On Shunga Deluxe Edible Body Paint