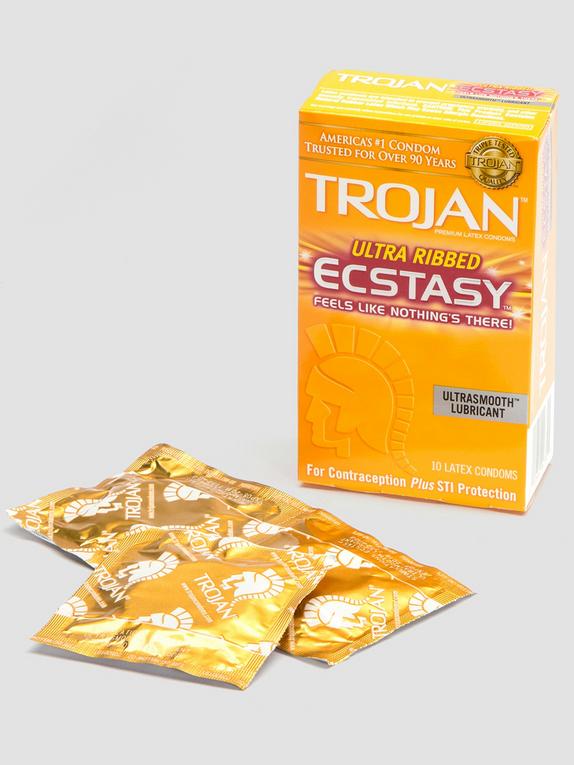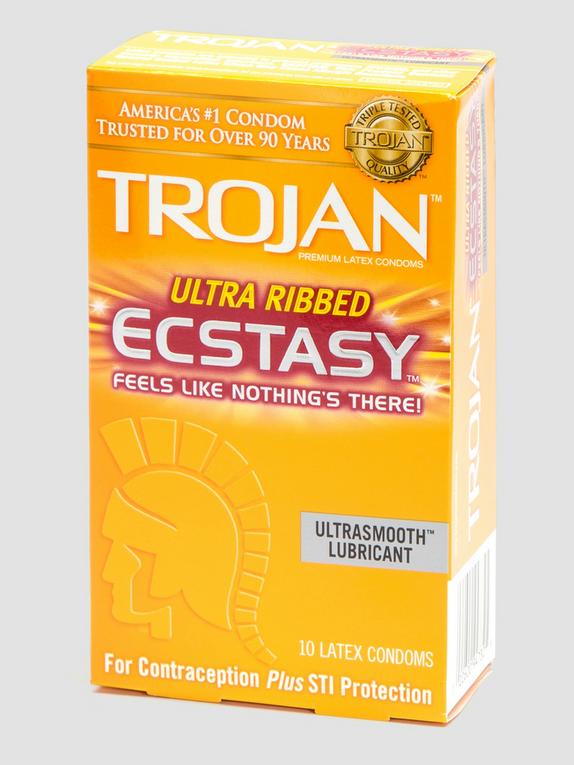 Trojan Ultra Ribbed Ecstasy Condoms (10 Count)
Last chance! This product is not going to be re-stocked!
Pack of 10 individually-wrapped ribbed latex condoms for intensified pleasure
Comfort design gives you more freedom of movement while bands of ridges add thrilling stimulation
Coated with lubricant to improve comfort for both of you
Tapered at the base for a secure fit
Reservoir end decreases the likelihood of splitting or tearing
Give your guy a little extra texture with Trojan's Ecstasy ribbed condoms. The revolutionary comfort design allows you greater freedom of movement for a more lifelike sensation, with the bands of raised ridges adding intense stimulation for your partner.

Made from premium, super-comfortable latex that's tapered at the base for a more secure fit, these condoms are coated inside and out in a layer of UltraSmooth Premium lube to increase your pleasure. With 10 in a pack, their thrilling sensations can be yours time and time again.
Essential Info

Condom Features: Ribbed
Pack Size: 10

How it Measures Up

Condom Size: Large
Length: 8.5 inches
Frequently bought together
Popular combos for more sexy fun
Customer reviews
4.1
4.1 star rating
10 Reviews
4.1
4.1 star rating
10 Reviews
Thank you for posting a review!
We really appreciate your opinion and hope to see you again soon.
Thank you for posting a review!
Your review was sent successfully and is now waiting for our staff to publish it.
Search reviews
5.0 star rating

4.0 star rating

3.0 star rating

2.0 star rating

1.0 star rating
Best Condoms
Review by Isis626 on 13 Nov 2018
review stating Best Condoms
My boyfriend and I recently started using these. He absolutely loves them and so do I. Feels like nothing for him and he can last for ages. They amplify the sensation for me. I such intense orgasms when we use these. I highly recommend these. You won't be disappointed.
Bottom Line:
Best condom.
Cons:
Packaging is too large.
On Trojan Ultra Ribbed Ecstasy Condoms (10 Count)
Amazing
Review by Dn H. on 16 Apr 2018
review stating Amazing
These genuinely do feel as though there is nothing there. They're a strange shape and fit with no teet at the end and quite a loose fit with the exception of the base which is nice and snug. The fit means they don't "strangle" and don't interfere with any sensations. They have a slightly strange smell to them but that is well worth overlooking.
Pros:
Feels like they're not there.
Bottom Line:
Best condom.
On Trojan Ultra Ribbed Ecstasy Condoms (10 Count)
Trojan Condoms
Review by Terriana340 on 7 Dec 2015
review stating Trojan Condoms
These condoms work really well. For the most part they are easy to get out, put on, and like the box says, feels like nothing is there. I can't say what it is like for the gentlemen, but I've never had a complaint from my partner about the sensation of these. They are very durable, at least for us. I think since we began using them, that not one of them has broken. The condoms stay put, tight to the object they are on. Yet very easy to take off. We are very pleased about this brand of condoms. We've used these for awhile and the quality has been amazing. I would recommend these.
Pros:
My partner and I don't notice it is there.
Bottom Line:
The condoms are of superb quality.
Cons:
They have a weird smell to them.
On Trojan Ultra Ribbed Ecstasy Condoms (10 Count)
A Toe-Curlin' Good Time
Review by Sex K. on 4 Nov 2015
review stating A Toe-Curlin' Good Time
I've spoken in the past about my on-again-off-again relationship with Trojan. I'm not a huge, huge fan of them and I definitely think there are better condoms out there. However, it's always good to have a list of backups just in case your "normal" selection is out of stock, or you can't get it; whatever. I've tried many different condoms in my day, always searching for that Holy Grail. The condom, I mean, that really feels like there's nothing there. And, by golly, folks, I think I may have stumbled upon it! Well, color me impressed, Trojan. You managed to one up yourself in the best possible way! Basically these are the "better" version of their ribbed condoms, in my humble opinion. Not only do they come with these lovely little ridges all down the shaft, they're pre-loaded with a FANTASTIC! lubricant ... What more could you want? I'm actually not entirely sure if the lubricant on these is different than the "Regular" ribbed ones, but it sure feels that way. That's my story and I'm sticking to it! As for the "man's" perspective, these are hands down my beau's favorite go-to when we actually have to use condoms. He says they fit snugly, but not so much that he feels like the life is being drained out of his penis. Which is probably a good thing! It really feels like there's nothing there in the heat of the moment for him, and he can stop focusing on the condom and start paying attention to what's important: Me! ... Just kidding. But you catch my drift. All in all, these are a Grade A pick. I adore how slickly lubed they are, and how deep the ridges run. Don't let that fool you into believing that these are perfect, however. There are definitely cons to the Ecstasy condoms. For some, there's too much lube and their skin reacts to it unfavorably. Something to keep in mind if you have sensitive skin for sure! Also, though I've never had it bother me, they definitely have a certain smell. It's quite strong, and if you weren't aware or are highly sensitive to scent, could possibly trip you up in the moment. That's really all I have for "cons", though! And with me, that's saying something.
Bottom Line:
A fairly solid condom and an upgrade for Trojan.
Pros:
The lube is super slick and the ridges are absolutely fantastic.
Cons:
They had a strong smell and the lube can be skin reactive.
On Trojan Ultra Ribbed Ecstasy Condoms (10 Count)
Not what we were looking for
Review by Loveandsex409 on 16 Apr 2015
review stating Not what we were looking for
Overview: Trojan is not my favorite brand of condoms, however they are a reliable brand of condoms so they do deserve a good review. These "ribbed" condoms fit snugly around most sizes, although a little snug if you ask me. The ribs seem to almost do nothing when engaging in any sort of sex. It would be better is they were bigger but that's probably pretty hard to do for a condom. The lube like always is short lived in any sort of Trojan condom and shortly cause enough friction to light a match. However the lube on the inside of the condom stays fresh. These condoms are medium in thickness and have never broke on me. Packaging: The box is big and orange which is not very attractive to me a male in his 20s. I would prefer a simple packaging that's not flashy and easy to put away. Inside the box are your condoms strung together and instructions on how to put them on and take them off when you're done. Quality: Trojan uses pretty good quality latex so you don't have to worry about the condom breaking on you unless you're ignoring signs of friction. The lube however is awful it dries up and is absorbed by my partner pretty much instantly. No matter how fast or slow we go I seem to stretch out the condom and loose all the lube on it making it uncomfortable for the both of us, which is why we rarely use condoms. Comfortability: One word: tight. Trojan is notorious for making extremely tight fitting condoms. The only Trojan condom I have tried on that wasn't tight was the type they don't make anymore, the wallet kind with the hard plastic packaging. So they aren't that comfortable to wear. Features: This particular type of condom features ribs on the outside for her pleasure. I've always found that the ribs are cool to touch for but not amazing to feel. They need to be larger or something in order to really give a different texture. Price: Trojan is the most expensive condom brand in my opinion. So I don't think this price is worth it. You're better off getting life style condoms or durex condoms. His point of view: Condoms in general are uncomfortable to me, they always get stretched out and j tend to blow through lots of condoms in a single session so it's important to me to get a good condom that'll get the job done in one go. Trojan is my least favorite brand for a reason, I don't like their condoms. They feel terrible, an this condom was just like any other condom I had ever tried. Tight, numb, and lube-less in 30 minutes. Absolutely disliked it. Her point of view: Her view: I'm a very sensitive person in that region, so much so that I can feel his natural veins and ridge quite easily. Therefore, I was quite dismayed in trying these condoms because they did absolutely nothing for me. The ridges were essentially useless and didn't bring me any added pleasure. However, if you are performing oral on him while he's wearing this condom, the ridges do feel interesting on your lips. The taste of the lube was pretty standard. It wasn't disgusting, but it wasn't enticing. During intercourse, the lube became tacky, and we needed more from a bottle. Lastly, it took away from the natural shape of his member, making it more like a dildo attached to a human. The condoms served their purpose by offering ideal protection and fulfilling their job requirements, but they just weren't my cup of tea. Conclusion: Don't buy these, it's a waste of money. Get a better brand.
Bottom Line:
Not worth my money.
Cons:
Pretty much everything.
Pros:
The fact that it works.
On Trojan Ultra Ribbed Ecstasy Condoms (10 Count)