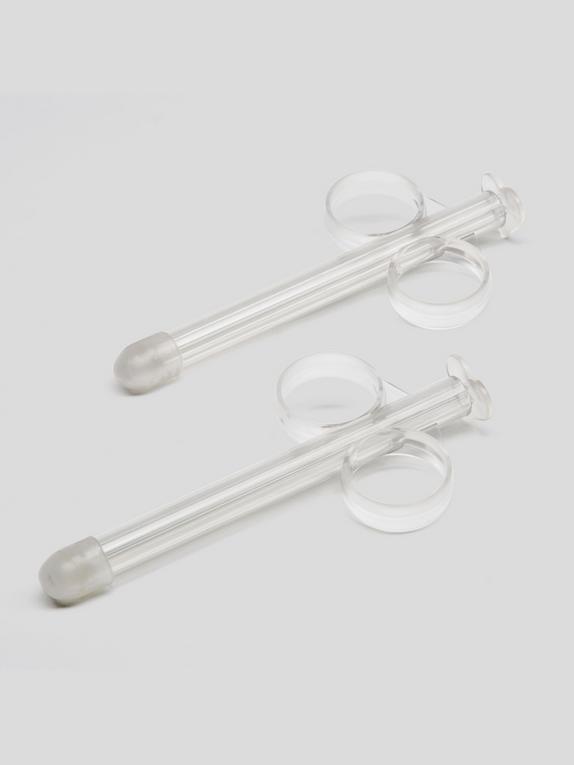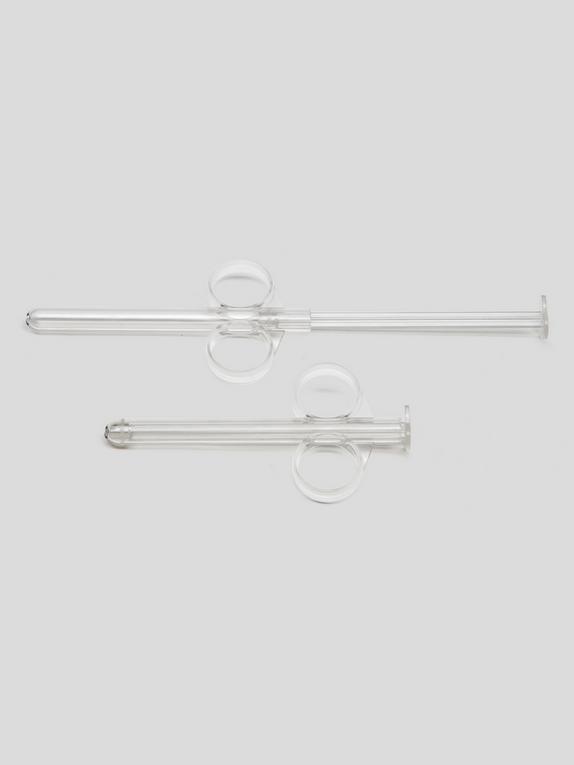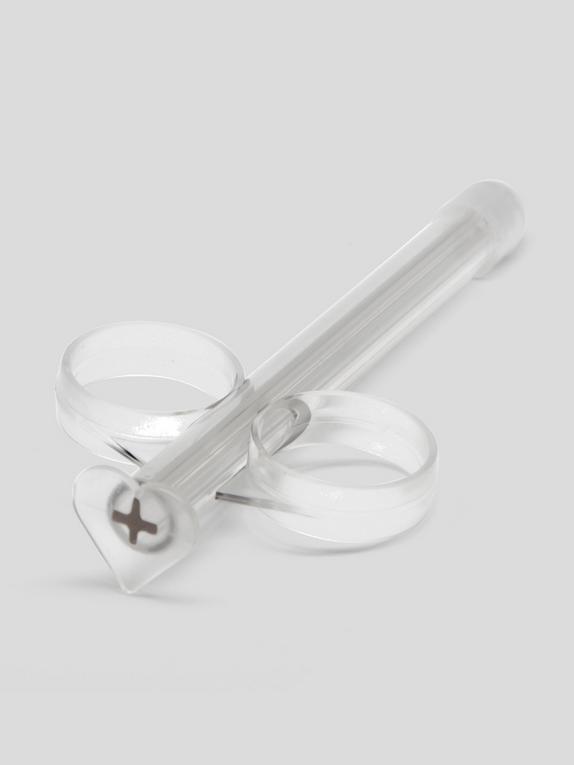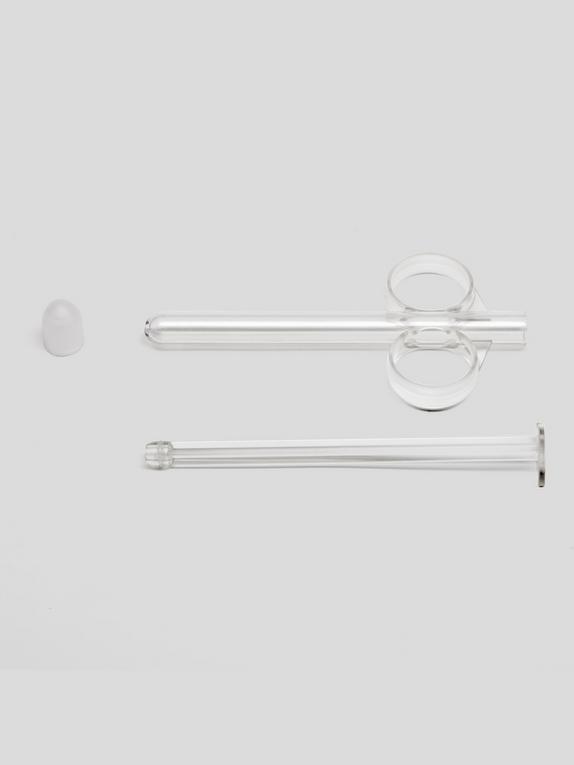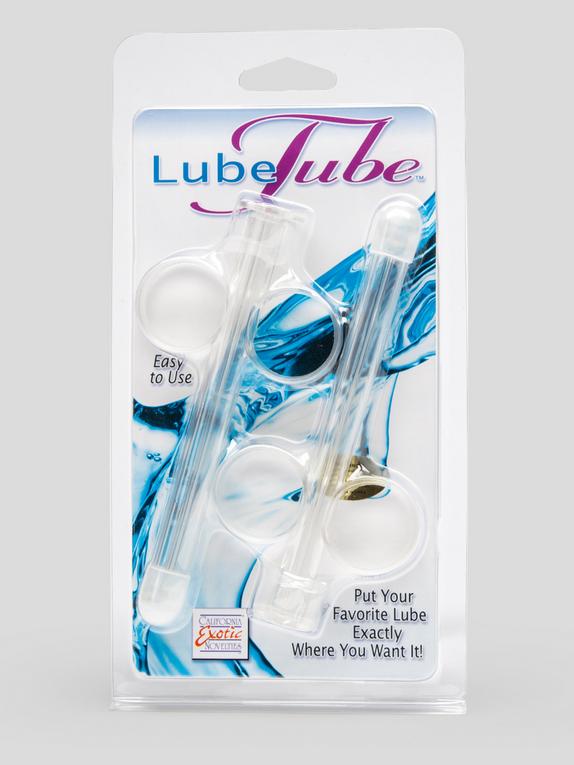 Lube Tube Applicator Syringe (2 Pack)
Apply your favourite lube precisely where you want it with a lube tube applicator syringe
Contains 2 syringes per pack
Use the exact amount of lube every time
Avoid messy situations with the easy-to-fill applicator tubes
Bring precision to your pleasure with this 2 pack of lubricant applicators. Simply fill the tube with lube and dispense the exact amount you need exactly where it's needed. Ideal for anal sex or other hard-to-reach areas.

Suitable for use with every type of lube, you just need to fill the applicator tubes with product before gently squeezing out the desired amount wherever you need it. With careful cleaning the syringe can even be re-used.
Essential Info

Lubricant Features: Suitable for Vegetarians
Lubricant Type: Applicator

How it Feels
Customer reviews
4.8 star rating
4.8
82 Reviews
Thank you for posting a review!
We really appreciate your opinion and hope to see you again soon.
Thank you for posting a review!
Your review was sent successfully and is now waiting for our staff to publish it.
Inject a little love
Review by G&Amp;Cx on 29 May 2020
review stating Inject a little love
We purchased this as part of a medical fetish and used it in a Doctor-Patient role play. We filled the syringes with lube, which is a very simple process, and used them to apply lube to the vagina before inserting a speculum. We also used this in a dominatrix role play and used the syringes to apply lube to the male anus before anal play. They are very simple to use and to take part to clean.
Pros:
Simple to use and easy to clean.
Bottom Line:
A novel and kinky way to inject a bit of lube in your life.
On Lube Tube Applicator Syringe (2 Pack)
S
Shamal C.
2.0 star rating
Needs sanding
Review by Shamal C. on 26 May 2020
review stating Needs sanding
The applicator does the job allright but the tip has rough edges. If you're trying to use these for anal there is sharp plastic round the shooter hole. Sharp for your anus that is. Trying to get the shooter around a toy scratches the skin. So I guess you can sand down the sharps with a nail file or something.
Bottom Line:
I think I can make it work.
On Lube Tube Applicator Syringe (2 Pack)
D
D&Amp;Z2410
5.0 star rating
Doctor, I need to be inseminated
Review by D&Amp;Z2410 on 30 Apr 2020
review stating Doctor, I need to be inseminated
This is precision when it comes to lube you hit the bullseye every time with these handy little applicators. I fill them up so they are ready and waiting for fun. Having the added bonus that they have caps on the end so no chance of loosing lube from them and you can make sure you get every last drop out of your bottles. Comfortable to use no sharp scratchy edges to damage your Rosebud or Lily Easy to wash and air dry out when your finished with them.
Pros:
Easy insertions for spunk lube.
On Lube Tube Applicator Syringe (2 Pack)
J
Jacket J.
4.0 star rating
Good product
Review by Jacket J. on 10 Feb 2020
review stating Good product
Good product. Does exactly what describes, only problem is the plunger washer keeps coming off and then unable to use. Apart from that, easy to use, discreet and handy to take away at weekends or holidays. Lube just glides out and very easy to use. Would be nice if there was a storage case.
Pros:
Easy to use and compact, ideal for weekends away and holidays.
Bottom Line:
Good product, practical, easy to use, compact and easy to take on holidays and weekends.
Cons:
The plunger's plastic washer keeps coming off. I have purchased 2 sets and same problem.
On Lube Tube Applicator Syringe (2 Pack)
Fantastic easy to use applicator
Review by Kdot80 on 1 Jan 2020
review stating Fantastic easy to use applicator
I purchased this needing something to lube me up on the inside before trying out my new larger anal plug and I can tell you it works a treat. The applicator is small and easy to handle and I recommend using with a lube that comes in a pot like the Fist It thick lube. This way you can simply dip it in a take out as much as you need whilst also lubing the outside of the applicator as well. Because it's quite small it's easy to use in yourself and it's perfect for prepping your butt so that you're ready for whatever you want to put up in there (haha!) Only slight downside is the plastic material feels a little rough when you first use it but don't let this put you off, just lube it up generously and you'll be fine. I have to say this is a must have for people who are advancing in anal play and want to be well lubed up and ready before play.
Bottom Line:
Great easy to use applicator.
Cons:
Material a little rough.
On Lube Tube Applicator Syringe (2 Pack)