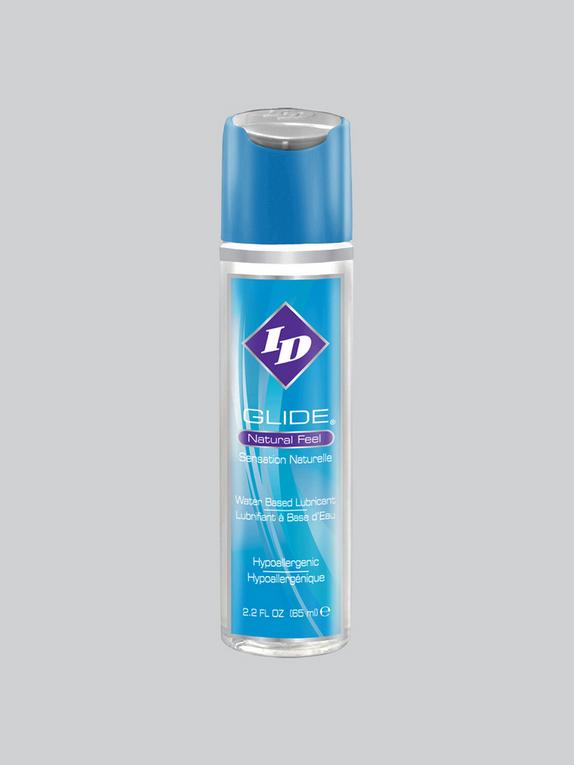 ID Glide Water-Based Lubricant 2.2 fl oz
Best-selling water-based lube for gloriously long-lasting glide
Clear, odorless and colorless for unobtrusive enhancement of solo play, foreplay, sex and toy time
Designed specifically to enhance the pleasure of intimacy
Latex-friendly for use with condoms
Get your extra pleasurable glide on with the number one rated lube by Men's Health. ID Glide is a must have for super-slippery pleasure when playing with sex toys or your partner thanks to its long-lasting, thick water-based formula.

Formulated from the highest quality ingredients, doctor-recommended ID Glide is designed specifically to enhance the pleasure of intimacy.

Ingredients: Water, Glycerin, Propylene Glycol, Cellulose Polymer, Polyethylene Oxide, Sodium Benzoate, Methylparaben, Carbomer 981, Tetrahydroxypropyl ethylenediamine, Diazolidinyl Urea, EDTA.
Essential Info

Bottle type: Squeeze
Lubricant Features: Condom-safe , Suitable for Vegetarians
Lubricant Type: Water-based
volume: 65 ml
Customer reviews
4.6 star rating
4.6
29 Reviews
Thank you for posting a review!
We really appreciate your opinion and hope to see you again soon.
Thank you for posting a review!
Your review was sent successfully and is now waiting for our staff to publish it.
S
Spiderbat
4.0 star rating
Appropriate name...
Review by Spiderbat on 2 Oct 2020
review stating Appropriate name...
...for an appropiate lube! I'm not actually using this at the moment, and I don't plan to use it again based on personal preferences. This size bottle is perfectly travel sized and I like the branding too! Big fan of anything that looks pretty so it drew my eye even just based on that. I knew the type of bottle wasn't for me, as I prefer the pump action type bottles which are super easy to get stuff out of. In practice though, it wasn't a huge issue, but lube did get stuck in the hole and opening and closing it got more difficult. So perhaps make sure to keep it clean when using and it'll be ok. The lube itself is really good, as others have said felt like quality stuff. Not too watery or sticky. When it did dry up, adding a bit of water to it or spit just made it glide again! Better than the free lube sachets I've picked up in town, that's for sure! (like, waaay better) Overall it's worth the extra money for the comfort. Glad I gave it a go. Main reasons for not returning to this product are the bottle type (specifically the lid) and the ingredients in the lube (preferring more natural stuff these days).
Pros:
Not too watery or sticky, little/no smell, portable size, feels great!
Bottom Line:
Worth the extra monies!
Cons:
The lid/bottle type, chemicals in the lube - boo!
On ID Glide Water-Based Lubricant 2.2 fl oz
F
Forever ♡.
5.0 star rating
Good overall lube for multi use
Review by Forever ♡. on 5 Jun 2019
review stating Good overall lube for multi use
We have tried water based lubes before and been left with a dry sticky feeling, not the case with this one. I had read a lot of reviews before purchasing and so glad we went for this one. It doesn't dry easy and it's a fair size tube for the price. The lid is a bit fiddly however but generally I prefer a pump action so that might just be me. This will be our go to water based from now on
Pros:
Size and longevity.
Bottom Line:
Go-to lube and perfect bedroom staple.
Cons:
Slightly tricky lid.
On ID Glide Water-Based Lubricant 2.2 fl oz
Very comfortable
Review by Owl1992 on 20 Oct 2018
review stating Very comfortable
'Comfortable' may be an odd word to describe a lubricant. But its exactly what this ID Glide lubricant is. We have used other cheaper lubricants in the past that have felt very cold and sticky when applied. However this one doesn't - it doesn't feel really cold when applied and it isn't sticky at all! You don't need to apply a lot either, just a small amount lasts a long time so whilst you may see cheaper products available, this one is great value for money. Little tip: don't forget to take the little seal off that is under the lid before any intimate situation ;)
Pros:
Great value, doesn't feel sticky or cold.
Bottom Line:
Brilliant lubricant for use during sex or with toys.
On ID Glide Water-Based Lubricant 2.2 fl oz
Just perfect
Review by Xro on 3 Sep 2018
review stating Just perfect
Great lube, does not stick on your hands after use like some others, and don't need too much of it to make it work. We both enjoy using this product. I can only recommend this item. Delivery was quick as always, and received a free gift too, can't complain.
Pros:
Perfect for the intended purpose.
Bottom Line:
If you are looking to buy lube that is not sticky, this is the one.
On ID Glide Water-Based Lubricant 2.2 fl oz
A Little Bit Goes a Long Way
Review by Eye A. on 9 Jul 2018
review stating A Little Bit Goes a Long Way
We've tried out a few different lubricants for various reasons, and the big issue we tend to have with water based ones is how quickly they dry out and need to be reapplied. Not so with the ID Glide. I can't imagine how much of this we wasted by using too much at first, but it's by far the best and longest lasting lubricant we've used and once you realise you can do a lot with just a small squirt it'll last a good while too. Yes, it might not be the cheapest lube going, but when you think about where you'll be putting it and what you'll be doing with it, a bit of extra quality goes a long way, and the ID Glide gives oodles of quality. We did start to wonder if maybe lube use wasn't for us as we were quite new to it all, but this was the one product that changed our mind. Whether you're an experienced lube user or a total newbie, don't bother looking at anything else. This stuff is the bees' knees.
Pros:
Long lasting, not much needed for plenty of fun.
Bottom Line:
A fantastic lubricant, perfect for a bit of extra slip and slide without drying up!
On ID Glide Water-Based Lubricant 2.2 fl oz