What is BDSM? What You Need to Know
Welcome to Lovehoney's guide on BDSM, where we will investigate everything you've ever wanted to know about BDSM practices, kink, and sexual roleplaying.
Let's get kinky!
What is BDSM?
If you are new to kinky play, you may be wondering, "What is BDSM - what does it stand for?"
BDSM refers to a wide spectrum of sexual practices, behaviors, and preferences that fall under the umbrella of sexual kink.
What does BDSM stand for?
The official BDSM meaning from the BDSM Kink Dictionary is:
BDSM is an acronym that stands for Bondage Discipline Sadism Masochism. It's an umbrella term that is used to describe a sexual practice involving physical control, psychological power, or pain. It typically includes the components of bondage and discipline, domination and submission, or sadism or masochism.
BDSM specifies a large variety of activities, practices, and kinks that are performed by mutually consenting adults for sexual pleasure. (Read more about Consent at the end of this article.)
Kink activities can range from sexual bondage, erotic spanking, or collaring your partner and making them crawl around on all fours with a leash. There is also a plethora of other tamer activities beyond these dynamics, such as sensation play which arouses the senses, roleplaying, and other forms of play that don't involve exchanges of power.
Bondage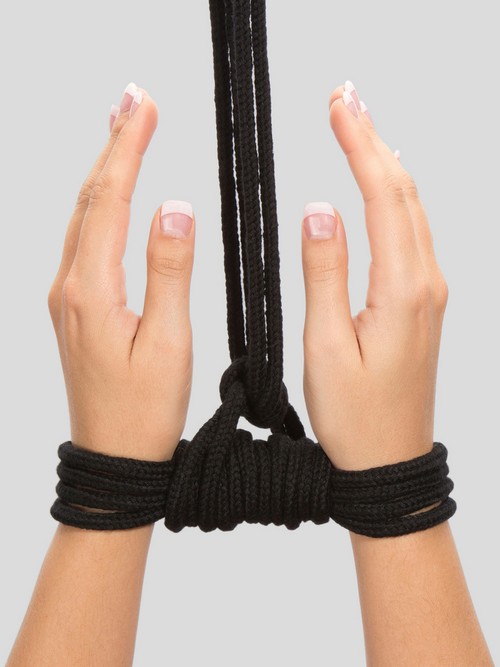 Bondage is any type of consensual activity in BDSM that consists of restraining your partner in some shape or form. This could include the use of ropes, handcuffs, Japanese rope bondage, or Shibari, mental bondage, the use of collars, and gags, as well as breast and genital binding.
People enjoy bondage for a whole array of reasons:
It is aesthetically pleasing.
They enjoy the somatic sensory feeling of being tied and the texture or smell of the ropes.
It is erotically stimulating.
Bondage is often a way of submitting to your partner during BDSM play so you can give up control and power. However, it may also be for aesthetic reasons or pure sensual pleasure.
Bondage can also involve sadomasochism, but that is not always the case, as it can be very tranquil, meditative, or erotic.
Many couples enjoy playing with bondage in their sex lives to spice things up. It can often incorporate a fantasy such as roleplaying or be used as foreplay and sexual arousal. During bondage, the submissive partner, or the person being bound often derives pleasure from being used as a sexual object for their partner's pleasure.
Discipline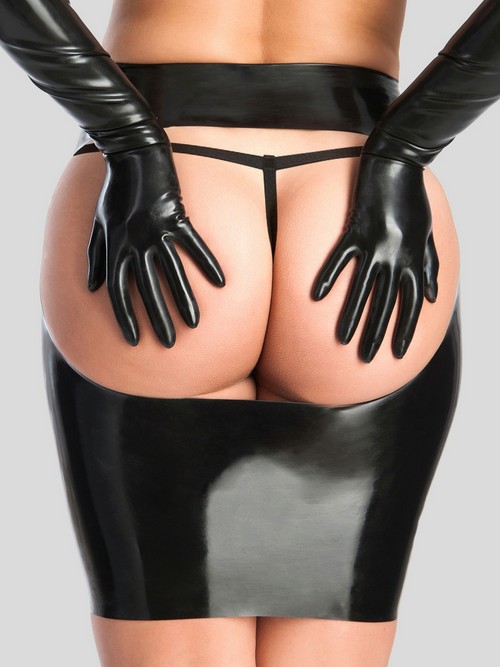 Discipline during BDSM play is when the dominant partner "punishes" the submissive partner for breaking the "rules". This is often done to teach their sub "proper" behavior so they can become better at submitting. In this type of relationship, consent is also used, as the submissive has given consent to the dominant prior to this arrangement. While a sub may be disciplined for mistakes they have made, some submissives may break the rules on purpose because they desire punishment.
Discipline can take many forms from verbal scolding to physical punishment such as spanking or whipping, using bondage or gags, or psychological discipline such as humiliation. Punishments could also take the form of erotic genital torture, the use of chastity devices, locking their sub in a dog cage, or making them stand in the corner.
What does it mean to be dominant?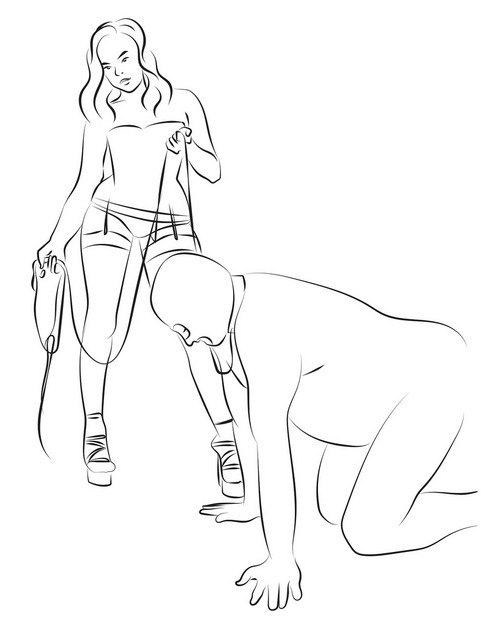 A dominant (or Dom/me) in a Dom/Sub (D/S) relationship is the partner who "holds the power" and is in "control". However, their control is only in so far as is given by the submissive, who in reality has all the control which they consensually give up, to their dominant partner.
The dominant and submissive relationship is an important part of BDSM for many people who enjoy playing with power exchange dynamics.
A Dom/me may derive pleasure from sexual dominance where they control their partner's submission, as well as pleasure and pain, through various types of play such as bondage, spanking, discipline, punishment, orgasm control, and other types of activities. A Dom/Sub relationship may also be referred to as a Master/Slave dynamic. A female dominant is often called a Domme or Dominatrix.
The Dom/me and Sub roles should not be confused with Top or Bottom roles. A Top in BDSM is a person who enjoys being the giver in the relationship dynamic, but they don't always identify as dominant. Likewise, a Bottom is someone who enjoys receiving, but may not be submissive. In this type of arrangement, a Top may perform the same types of activities to the Bottom, but without the power exchange or D/S roles.
What does it mean to be a submissive?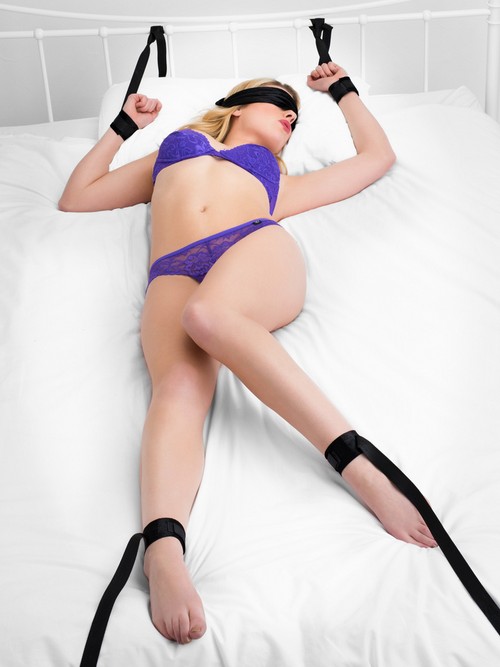 A submissive in D/S refers to the partner who is sexually submitting and giving up their power consensually to their dominant partner. The amount of control or types of control is something that is discussed in depth and "negotiated" at the beginning of a new relationship and usually before any play session, activity, or scene.
Communication is extremely important in any BDSM relationship, so the submissive can discuss and define their soft and hard limits, their desires, their motivations, their boundaries, as well as any mental or physical limitations they may have. This allows both partners to develop more trust as well as keeps them both safe during play.
D/S relationships are rarely the 24/7 type of lifestyle choice. More often, they are part of a fantasy that partners may or may not take part in whenever they choose, without making a long-term commitment.
While many relationships have a Dom/me and sub dynamic, some people enjoy playing both roles, which is called a Switch.
Who are Dom/mes, Submits, and Switches?
In a 2015 study, it was found that 29.5% of men active in BDSM identified as dominant, 46.6% as submissive and 24% identified as switches. In the same study, it was found that 61.7% of women active in D/S identified as submissive, 12.6% as dominant and 25.7% identified as switches.
Sadism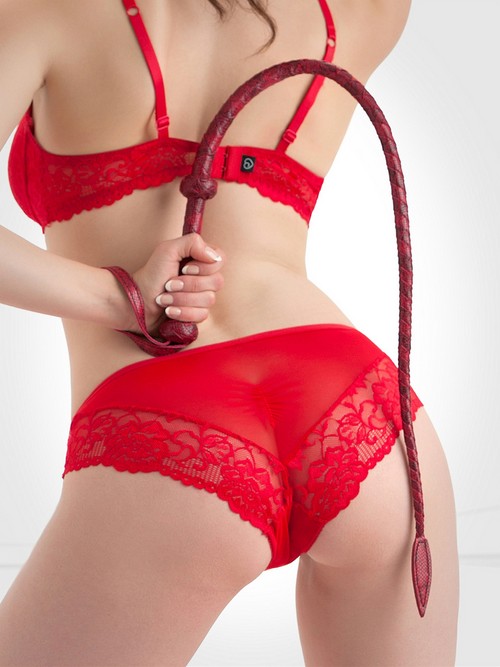 Sadomasochism is a term that combines both sadism and masochism. Sadism gets its name from the Marquis de Sade (1740–1814), who was a sadist, libertine, and writer famous for literary fantasies featuring acts of graphic sexual cruelty, including "The 120 Days of Sodom".
Sadism is an eroticized form of sexual torture, and a sadist derives pleasure and sexual gratification from inflicting pain, humiliation, or erotic punishments on others.
Masochism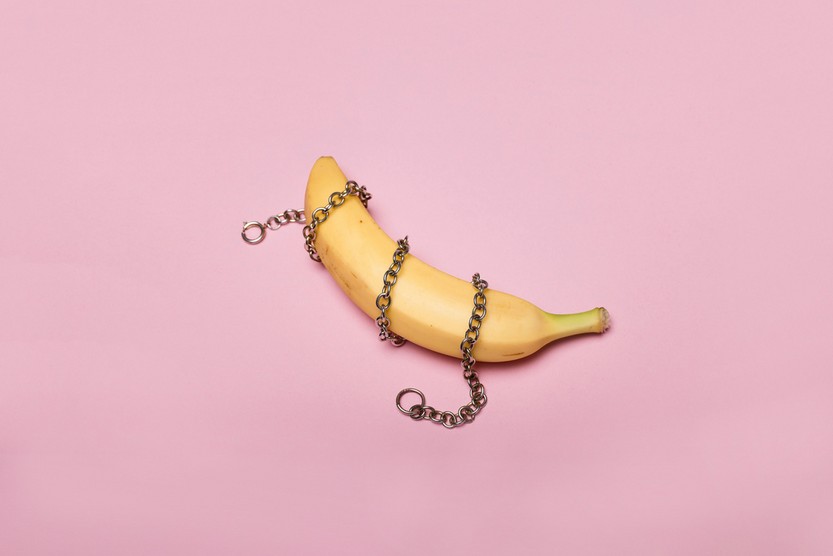 Masochism gets its name from Leopold von Sacher-Masoch (1836–1895), a writer also famous for novels containing descriptions of his masochistic fantasies, including his most famous "Venus in Furs".
Masochism describes the desire to experience pain as a form of sexual gratification, and a masochist enjoys some forms of pain or humiliation.
It is important to note, however, just because one enjoys one type of pain, such as erotic spanking, they may not enjoy all types of pain. And one may enjoy pain without humiliation and vice versa. There are also degrees and limits to an individual's preferences for pain, or pain tolerance as well. One may like light spanking or cruel hard punishment with a cane. With S/M there are always limits and boundaries that must be respected.
Why Do People Like BDSM?
There are numerous reasons why someone may be into BDSM or kink.
It could be the freedom to give up control and surrender, and the sexual enjoyment one gets from being submissive in the bedroom. For someone who is not normally submissive in their day-to-day life, submission can be a way to let go of stress. Or it may be about taking on a dominant or aggressor role, where one gets pleasure and empowerment from giving another person orders.
BDSM practices may also allow one to play with various sensations like pain or pleasure, or the feeling of rope against their skin. Pain releases powerful endorphins like dopamine (the same chemical that is released when you feel euphoria from pleasure) from the brain that can give you a "high", creating what is referred to as "subspace" and makes you feel good.
Some people enjoy enacting sexual roleplay fantasies, while others may enjoy the feeling of being restrained, bound, or having their limitations removed, so they can surrender to pleasure.
Many people get off on the excitement of exploring new ways to have sex or experimenting with erotic activities with their partner. Or it could be the lure of the taboo and forbidden fruit.
For some folx, it could be a form of sexual expression and a way they identify, like gender and sexual identities.
According to a couple of different studies, it may also just be the way we are wired when it comes to reproductive sex. And some scientists say it may be due to a biochemical response in the "brain's pain and reward systems [that] influence[s] BDSM orientation".
Kink and fetishes may also be derived from past experiences in childhood and adolescence, where an activity has been eroticized unconsciously, and as adults, we may still be driven to seek out similar fantasies and recreate them. For others, it may involve reenacting past traumas or abuse.
However, for many people, BDSM in the bedroom is just a way for couples to spice up their sex lives and add variety to an otherwise ordinary routine.
Is Practicing BDSM Common?
Depending on whom you ask, the statistics vary.
In one study (1993) researchers found that at least 14% of men and 11% of women in the US are into BDSM. Another study from Indiana University (2015) found that people into BDSM enjoyed these activities: 30% enjoyed spanking, 22% D/S roleplaying, 20% bondage, and 13% flogging.
Other studies report that at least 69% of adults have had BDSM-related fantasies, including bondage fantasies (72% for men and 59% for women), as well as tying up their partner (65% for men and 58% for women). Other fantasies included whipping or spanking someone (60% for men and 31% for women), and about 50% of adults enjoyed power dynamics.
So, depending on where you live in the world and who does the studies, these numbers can vary.
Roleplay & BDSM
We talk about Sexual Roleplay when partners play out an erotic fantasy that can involve many types of kinky play. There are many types of roleplay within the BDSM community.
Popular forms of Roleplaying
Popular forms of sexual roleplaying may include the classic Master/Slave scenario, where one partner is dominant and the other is their submissive slave.
In the bedroom, couples can come up with all kinds of sexy scenarios with a little bit of naughty imagination.
Typical fantasies can include Nurse/Doctor, Teacher/Student, Cheerleader/Football Player (or Team), Escort/Client, Pirate/Damsel in Distress, French Maid/Employer, Secretary/Boss, and many more. Check out our sexual roleplaying costumes and this article for more ideas!
BDSM in Relationships
Adding a splash of kink into your relationship as a couple is a great way to discover other erotic possibilities and crank up your libido. BDSM is an exciting way to explore sexual fantasies and find out what turns you on.
BDSM helps to build trust, fosters greater intimacy, and in one study it is said to help reduce stress and elevate your mood.
BDSM sex can and should be enjoyable for both/all parties involved—whether that is in the dynamics of your relationship with your partner or during a roleplaying in a scene with other kinksters whom you may not be otherwise romantically involved with.
Trying out new kinky types of activities doesn't mean you have to get into a 24/7 BDSM lifestyle. It can be a once-in-a-while scenario that you use to ignite more passion and excitement in your sex life.
How to Explore BDSM In Your Sex Life
Whether you desire to explore roleplaying, spanking, bondage and handcuffs, or rough sex like hair pulling and power play, there is a whole world of possibilities when it comes to kinky sex.
For beginners, it can be a great way to try out something new and find out more about your turn-ons and turn-offs.
How do you get started in BDSM?
First, you need to have a conversation with your partner to communicate your desires, fantasies, limits, and boundaries. Discussing all these topics beforehand is crucial to making sure you are safe during play, allowing both partners to be aware of any restrictions on play and keep healthy boundaries.
Read on to learn more about Consent and Safewords below.
Safety Always Comes First
BDSM activities often involve varying degrees of physical pain, physical restraint, and servitude as well as emotional and psychological triggers. For that reason, consent must be discussed as well as boundaries, limits, and safewords before any BDSM play in a scene.
Consent is the most important part of a BDSM relationship. All people involved need to give enthusiastic consent and outline clear boundaries about what types of play will and will not be included.
In BDSM, this is referred to as Negotiation and covers any activities, interests, desires, and fantasies, to establish a framework for the play. It also outlines any emotional, physical, or psychological limitations you may have that could compromise safety during play.
Negotiation can take the form of a casual conversation or a verbal agreement. Partners may also sign a BDSM Contract to make it formal, and/or to indicate a Slave/Master commitment.
Negotiation also consists of what safewords you will use during play as well.
Consent & Safewords in BDSM
Informed and enthusiastic consent is paramount to engaging in BDSM activities and is part of the Safe, Sane, and Consensual (SSC) and Risk-aware Consensual Kink (RACK) principles of kinky play in BDSM communities. Read all about "Everything You Need to Know About Consent".
Safe, Sane & Consensual
Safe: Safe from unreasonable risk of physical injury.
Sane: Safe from unreasonable risk of mental, emotional, or psychological harm.
Consensual****: Consent of all parties involved must be given of their own free will.
RACK acknowledges that some activities in BDSM are not without risks, such as breath play or other forms of edge play. RACK emphasizes the individual's responsibility to be fully informed of the risks that may be involved in these types of play.
RACK
The philosophy for RACK consists of the following components:
Risk-aware: Both or all partners are well-informed of the risks involved in the proposed activity.
Consensual BDSM: Considering those risks, both or all partners have, of sound mind, offered preliminary consent to engage in said activity.
Kink: Said activity can be classified as alternative sex.
Safewords
Safewords are code words or signals used during BDSM scenes to indicate when someone feels uncomfortable, if play gets close to overstepping someone's limits, or if they must stop the scene immediately. Common words such as "stop" and "no" are not usually used, as they can take away the illusion of non-consensual play.
For example, someone may say "No, stop!" during a consensual play BDSM scene where a forced sex fantasy is part of the play when in reality, they want the activity to continue. Therefore, other uncommon words are used like "pineapple", "banana", "pumpkin", "unicorn", "safe word", "mercy", and "Oklahoma". You and your partner can choose whatever safe word you like, but make sure you both agree that it is the term that will be used to stop play immediately.
Traffic Light System
The Traffic Light System (TLS) is the most commonly used safeword system, as is it easy to remember, and also contains other code words that allow play to continue while still communicating to their partner they are getting close to their limits.
Red: Means stop immediately and check the status of your partner.
Yellow: Means slow down or change the type of activity you are doing.
Green: Means all is good, or more, please!
If the submissive partner is gagged and can't use their safe word, they can use a safe signal, like a hand sign, drop a set of keys, use a dog clicker trainer, or ring a bell.
How to respond to a safe word or being told "no"
When your partner uses their safeword during play, it may make you feel as if you have done something wrong, or make you feel uncomfortable. As long as you have followed the tenants of SSC or RACK and observed their limits and boundaries, there is no reason to fault yourself.
Sometimes people feel that they can handle more in fantasy than they actually can in reality. So, more often than not, it is not about you or something you have done. That person has simply reached their limits.
And it is not only submissives who use safewords either. A Top or Dominant partner may use a safeword to slow down or stop play if they feel the scene is getting too dangerous or is close to surpassing their limits.
However, it is of utmost importance that both partners stop playing immediately and check in with each other when a safeword is used. It is often quite normal to check in with a partner during a scene anyway, whether a safeword is used or not, to see how they are feeling. Sometimes while a person is in subspace, they are not cognizant of any danger, or if the play has become too intense. So, it is the responsibility of the Dom/me or Top to check in, and also the responsibility of the sub/bottom to let their partner know whether everything is okay, or not.
Always accept your partner's safeword with grace. Just like in regular sex, you must always accommodate your partner's wishes if they said "no", or "stop". This assures the ultimate safety of everyone involved. Stepping over that line is considered sexual abuse.
It is critical to protect your partner from feeling violated and to limit the risk of unintentionally abusing their limits during play. It is important to create safe sexual boundaries during any type of sex, including BDSM, and to respect each other's limits.
For example, in a caging scene, a person may suddenly feel claustrophobic and panic and need to be released. During a punishment scene, a sub may reach their pain tolerance and need to stop. These are all common types of scenarios that are likely to happen, therefore you must always be prepared to stop if a safeword is used.
Communication About Sexual Boundaries and Limits
Sometimes it may feel awkward or embarrassing to communicate your sexual boundaries and limits to your lover, especially if you are shy. It is important, however, to be totally transparent and make your boundaries clear. That way, there is no miscommunication, and both partners can feel safe playing when they know the rules and restrictions. After all, your partner can't read your mind, and you can't expect them to know what is off-limits without you telling them first. Often, people's limits and desires are different, so it is important to talk about them openly and honestly.
Tips on how to talk about your sexual boundaries:
Be clear about your desires, and what you like and don't like.
Get comfortable talking about and expressing your desires and fantasies with your partner.
Try using a "Yes, No, Maybe" list, to find out about different types of activities you may like to try out. Fill it out and ask your partner to do the same. Then, discuss your lists together to find common desires, and fantasies, and talk about your limits and boundaries. You can find a very detailed BDSM list here.
Remember that your likes and desires will evolve, so communicate that to your partner so they are aware of your changing feelings.
Get comfortable with saying "no" and remember it is a complete sentence!
This article from Planned Parenthood goes over how to set healthy boundaries and communicate your sexual desires and limits with your partner.
Conclusion
While BDSM practices should be taken seriously when it comes to limits, consent, and safety, it can also be quite thrilling and a whole lot of fun! Check out our exciting article on "How to Build a Sex Room" for more ideas to incorporate into your kinky play!
Our top BDSM Toy Recommendations
More Sexual Happiness Advice
You can never know enough about sex, right? Why not join us on our sexploration journey? Stay up to date with the latest advice on our blog, the Lovehoney forum and the weekly Sexual Happiness podcast.
Sources
Jami Rodman, "BDSM". The BDSM Kink Dictionary. [https://jamirodman.com/bdsm-kink-dictionary-terminology-vocabulary/]. Accessed 14 October, 2022.
"Advanced BDSM Contract". O School. [https://assets-global.website-files.com/62b9db9cf59801e57e0720aa/62b9db9cf598016a57072296_Advanced%20BDSM%20Contract.pdf]. Accessed 14 October, 2022.
"Pleasure and pain: Study shows brain's 'pleasure chemical' is involved in response to pain, too." University of Michigan. [https://news.umich.edu/pleasure-and-pain-study-shows-brains-q-pleasure-chemicalq-is-involved-in-response-to-pain-too/]. Accessed 14 October, 2022.
Gareth May, "Your Brain on BDSM: Why Getting Spanked and Tied Up Makes You Feel High". Vice Media. [https://www.vice.com/en/article/j5e833/your-brain-on-bdsm-why-getting-spanked-and-tied-up-makes-you-feel-high]. Accessed 14 October, 2022.
John M. Grohol, Psy.D., "The Forbidden Fruit in Relationships". PyschCentral. [https://psychcentral.com/blog/the-forbidden-fruit-in-relationships#1]. Accessed 14 October, 2022.
Jozifkova E, Konvicka M, Flegr J. "Why do some women prefer submissive men? Hierarchically disparate couples reach higher reproductive success in European urban humans." Neuro Endocrinol Lett. 2014;35(7):594-601. PMID: 25617882. Accessed 14 October, 2022.
Jozifkova E, Bartos L, Flegr J. "Evolutional background of dominance/submissivity in sex and bondage: the two strategies?" Neuro Endocrinol Lett. 2012;33(6):636-42. PMID: 23160222. Accessed 14 October, 2022.
Joe Kort, Ph.D., "Shades of Play: Trauma Reenactment Versus Trauma Play". Psychology Today. [https://www.psychologytoday.com/us/blog/understanding-the-erotic-code/201502/shades-play-trauma-reenactment-versus-trauma-play]. Accessed 14 October, 2022.
Tanya Bezreh, Thomas S. Weinberg & Timothy Edgar (2012) "BDSM Disclosure and Stigma Management: Identifying Opportunities for Sex Education", American Journal of Sexuality Education, 7:1, 37-61, DOI: 10.1080/15546128.2012.650984. Accessed 14 October, 2022.
Herbenick D, Bowling J, Fu TJ, Dodge B, Guerra-Reyes L, Sanders S. "Sexual diversity in the United States: Results from a nationally representative probability sample of adult women and men". PLoS One. 2017 Jul 20;12(7):e0181198. doi: 10.1371/journal.pone.0181198. PMID: 28727762; PMCID: PMC5519052. Accessed 14 October, 2022.
Neef, Nele & Coppens, Violette & Huys, Wim & Morrens, Manuel. (2019). "Bondage-Discipline, Dominance-Submission and Sadomasochism (BDSM)". From an Integrative Biopsychosocial Perspective: A Systematic Review. Sexual Medicine. 7. 10.1016/j.esxm.2019.02.002. Accessed 14 October, 2022.
Wismeijer AA, Van Assen MA, "Psychological characteristics of BDSM practitioners". J Sex Med. 2013;10(8):1943-1952. [doi:10.1111/jsm.12192]. Accessed 14 October, 2022.
Slave David Stein, "Safe Sane Consensual". Leather Leadership. [http://www.leatherleadership.org/library/safesanestein.htm]. Accessed 14 October, 2022.
"Risk-Aware Consensual Kink". Wikipedia. [https://en.wikipedia.org/wiki/Risk-aware_consensual_kink]. Accessed 14 October, 2022.
"Safeword". Wikipedia. [https://en.wikipedia.org/wiki/Safeword]
Miriam, "How to Set Sexual Boundaries". Planned Parenthood. [https://www.plannedparenthood.org/blog/how-to-set-sexual-boundaries]. Accessed 14 October, 2022.