How to Give a Better Blow Job
Giving head, or fellatio if you're nasty, can be intimidating. How do you give a good blow job anyway? Everyone's personal preferences are different, but there a few tried and true techniques (and toys) for upping your oral sex game and making it enjoyable for both of you. Get ready to blow your partner's mind, pun intended.
Start with Your Hand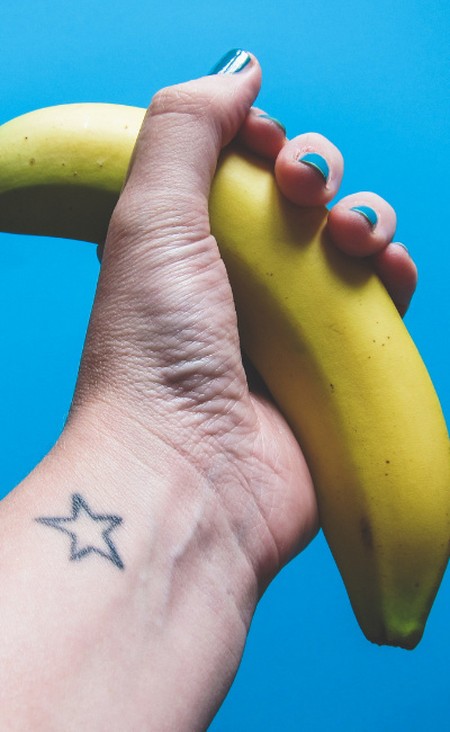 Let us share a secret - a fantastic blow job is actually a souped up hand job.
Think of your hands as your BJ secret weapon. The shaft of the penis responds well to massage and firm pressure, which your hands can do much more effectively than your mouth. The underside of the head of the penis, the frenulum, is where most of the nerve endings are located and this is where you can focus your tongue and mouth techniques. Priming the penis for focused frenulum and head stimulation with your hands builds anticipation and increases arousal for your partner.
If you want to level up the experience, accompany your hand techniques with an open ended masturbation sleeve on the shaft. When lubed up, masturbation sleeves intensify your hand strokes and can even simulate the sensations of deep throating.
Snazzy Hand Techniques
There's far more for your hands to explore than your standard up-and-down motion. Pair these shaft-focused hand job tricks with your mouth on your partner's head for a next-level BJ. And be sure to use plenty of lube for easy gliding! A flavored lubricant also gives you something yummy to lick off your partner's shaft.
A key to giving head like a pro is to match your hand strokes with your mouth. Get into a rhythm and apply similar pressure with your hands and your mouth so you create a fluid sensation for your partner.
The Pepper Grinder
Close one hand around the base of your partner's shaft and place the other in the same fashion directly above it, covering the full length of their penis. Then, twist your hands in opposite directions. The result? Stimulation of their entire Johnson with sensation variety that's sure to drive them wild.
The Shower Stream
Place one closed hand directly below the penis head, and with a firm grip, stroke downward. The moment your hand reaches the base of your partner's penis, repeat the same action with your other hand. Repeat this process indefinitely for a steady stream of delicious stimulation.
Want to wow your partner with your handiwork? Enlist the help of a lubed-up open-ended stroker that simulates oral sensations like the Lovehoney Head Master Double Texture Blow Job Stroker for variety. You can use the stroker for constant shaft stimulation while your tongue provides focused attention to the nerve-rich frenulum and penis head.
Don't forget to use your hands and mouth elsewhere too. Try massaging your partner's thighs if they're laying down or grabbing their ass to pull them towards you if they're standing up. You can turn up the heat using your hands firmly over your partner's body.
Interested in this topic?
Sign Up for our newsletter to receive expert advice, sale alerts, and exclusive offers straight to your inbox. Plus, receive 15% off your first order.
Explore beyond the penis
No one is going to complain having your mouth and hands lovingly devour their penis. But, if you're in it to win it, why not make all of your partner's erogenous zones work for you? Some testicle teasing, perineum pleasing, or prostate probing can take your blow job game to new heights.
Applying massage or vibration to the pressure point just behind the balls called the perineum (affectionately known as the taint) can give a little extra oomph to your mouth work. A finger vibrator can do wonders here. Press your thumb or finger vibe into this sensitive spot while your mouth is working on their erect penis. You can also use a finger vibe with great effect on their nipples or on the outside of their anus (if that's something they're into).

Testicle are incredibly sensitive and while ball play isn't for everyone, many people love it. Try licking, sucking, cupping or gently pulling the balls with your hands while performing fellatio or using a ball stretcher to engage the sensitive jewels into your blow job.

For adventurous explorers, the prostate cannot be overlooked. Adding prostate stimulation into oral sex (or even penetrative play, for that matter) can be an intensely satisfying. If your partner hasn't explored prostate massage, trying a prostate massager on its own before incorporating it into other kinds of play is highly encouraged. For penis owners who enjoy their prostate massaged, adding a prostate massager into your oral sex can be a truly mind-blowing experience. We're talking birthday sex.
Tongue Tips
Your tongue is one of the keys for giving amazing head - use it. Vary your strokes between long, smooth ice cream style licks and pinpointed tongue flicks.
Licking the length of the shaft is an epic way to introduce your partner's penis to your mouth. As arousal builds, you can increase pressure and focus your tongue action on the head of the penis.
Try flicking, holding pressure or swirling your tongue on the tip of the penis and the sensitive frenulum while your lips are wrapped around the shaft. You can also add suction into the mix by pulling your cheeks in as your tongue moves over the penis. You can move your mouth up and down the shaft simultaneously with these movements. If your jaw gets sore moving your mouth up and down the shaft, give it a break while your tongue and hands do the work for a bit.
Enthusiasm (and eye contact) for the win
All of the best BJ techniques cannot replace enthusiasm. Knowing that you want to be pleasing you partner can be the greatest turn on of them all. If you're not in the mood, your jaw hurts, or you're tired don't give your partner a blow job. You can offer to use a blow job simulation toy or to watch them masturbate. Save your fantastic fellatio skills for when you're really feeling like pleasing your partner. Your partner can feel your desire and enthusiasm and bringing that energy can take an average blow job to new heights.
Owning your blow job skills is also HOT. Making eye contact with your partner while performing oral sex, expresses confidence and know how. Don't spend the entire time staring your partner down but making eye contact at a few choice moments can be both arousing and intimate. Try taking the penis deep into your mouth then look up into your partner's eyes while you slowly pull back, or while you lick the length of the shaft. Watching your partner go wild can also be a real treat for you as the giver.
Most importantly, have fun. If you need to take that finger vibe and use it on yourself while giving head, your partner is not going to feel disappointed.
Explore More Oral Sex Guides