How To Go Down On A Woman: The Ultimate Guide to Cunnilingus
Giving oral to a vulva is one of life's unique pleasures. In fact, there are loads of people who prefer giving their partner cunnilingus over receiving oral attention themselves.
Your tongue has EIGHT muscles in it. All that flex, power and precision in one tiny organ. Make use of your superpowers! Is there any feeling quite as good as making your partner squirm and moan with delight?
Give yourself the gift of outstanding oral technique by having a browse through our guide and you may well come out the other side as a true master cunning linguist.
Note: We know that not everyone who identifies as a woman has a vulva and that not everyone who has a vulva identifies as a woman. In order to reach the largest number of people, this guide on giving cunnilingus presumes AFAB anatomy when referring to women, but aims to be inclusive and use gender-neutral language as much as possible.
What is Cunnilingus?
Whether you call it eating at the Y, clit-licking, going down on someone or simply giving head, all these terms refer to the same act of delivering oral sex to a vulva.
Just for the record, we want to state that vulvas are NOT dirty, bad, vulgar or smelly. They're just like any other part of the body in this respect: they'll have a bit of a scent to them, usually like musk or sweat.
Many women and people assigned female at birth are taught to feel shame and discomfort in their bodies, and they can feel really vulnerable about having someone down there looking at, smelling, and touching their intimate areas. Thus, engaging in oral sex with a partner is a way to build trust in your partnership.
How to Go Down on a Vulva
If you set out on a journey without a map, you're bound to get lost. Use our guide to stay on track.
Understand the Vulva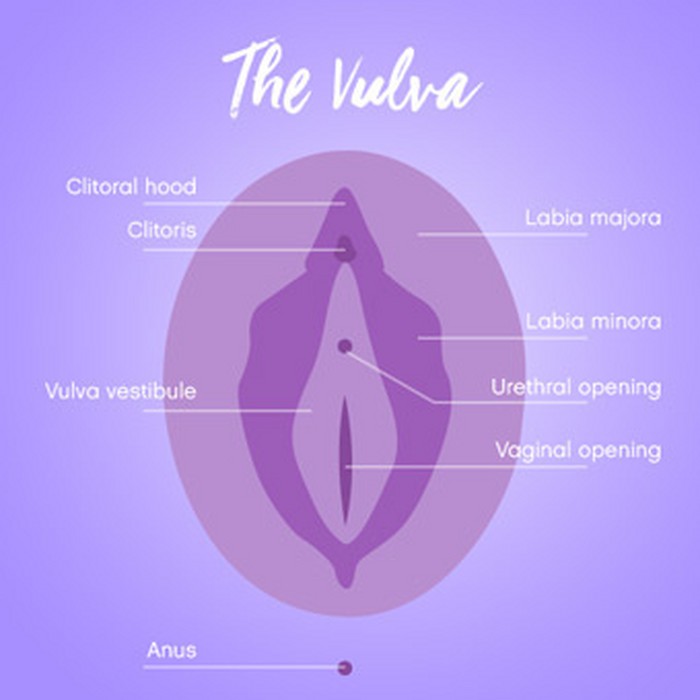 It might seem like there's a lot going on down there, but the vulva is actually pretty straightforward.
Like snowflakes and fingerprints, no two vulvas are alike! Regardless of what you may see in porn, all of the following are NORMAL:
Differently sized labia, including one side being larger than the other

Protruding labia, including inner labia visibly protruding beyond the outer labia

Labia having a different skin tone to the rest of your body or the rest of your vulva

An elongated clitoris or a clitoris that's visible outside its hood
Vulva diversity is a growing area of interest in sexual health and if you're curious, you and your partner can explore some images of real vulvas at Gynodiversity.com or LabiaLibrary.org.au.
To put it another way, your partner's body is unique to them, and that means the best way to pleasure them is to explore them specifically. With that in mind, all the techniques we discuss below are meant as guidelines. Make sure your partner can tell you what they like and don't like about your lower lip licking style, and soon you'll find one that works for both of you.
Establishing Boundaries and Preferences
Firstly, no means no. Some partners just aren't into cunnilingus, and that's okay! You don't need to persuade them or change their mind. Opt for other intimate activities you both enjoy instead.
Communication makes everything better. If your partner thinks they might be shy about vocalizing their enjoyment of your attention, ask them to give you a different sign, like a little tug on your hair. Make sure you've got a clear idea of what means "yes yes yes!" and what means "whoa", "no", or "stop".
Ensure You're Both Comfortable
This goes without saying: who wants to have any kind of sex when you're uncomfortable? Consider sexy furniture. Sometimes cunnilingus receivers find it helpful to pop a supportive cushion under their hips so the giver (that's you) has an easier time going to work.
Cunnilingus Comfort and Position Support Tools
Foreplay and Warming Up
You've seen that vulva diagram up there, right? Notice how many parts there are on it? That's because the clitoris, while awesome, is not the be-all and end-all to cunnilingus. In fact, starting out there can be just way too intense, and may bring an end to your oral session before it even starts.
Instead, take your time to get all hot and bothered with your partner. Kiss, nibble, or lick your way down their body. Start with touches on their inner thighs, bum and labia. Anticipation is key.
Get Into Position
What position, you ask? Missionary is a common fave. You can also have your partner sit on the edge of a bed or other surface and kneel or squat in front of them.
Of course, classic queening or facesitting also works, as does 69 or tilted 69 (where both partners lie on their sides – perfect if you need a little more physical support).
Start Light and Build Up
Think about your own masturbation sessions. Do you go all over the shop, trying every different angle and motion even once you've found a good one? Probably not – you probably experiment until you find the thing that feels best that day, and then you stay there.
Your partner wants you to know that licking the A, B, Cs is not the best way to go! Do experiment, do lick around and once you find something your partner seems to like, for goodness's sake stick with it. They — and their orgasms — will thank you.
Journey, not destination.
Mastering Your Tongue and Lips
Speaking of licking, there are a whole lot of different motions you can try on your partner. Swirl your tongue around their clitoris, flick your tongue across their lips, or given them long, broad licks with the whole flat of your tongue.
Get your lips in there too: gently suck their labia into your mouth or purse your lips over the clitoris and give it a little suction. You can even pause the physical action to draw back and blow a thrilling breeze over your partner's whole vulva.
There's a method known as the Kivin method that's said to feel really amazing, too. You can accomplish this by approaching your partner from the side (rather than between their legs). This puts you in a position where your up-and-down licking motions go across their clitoris horizontally. If your partner loves it, you'll definitely find out!
Incorporating Your Fingers
Fingers are an optional but highly recommended addition to oral sex, especially if your partner usually enjoys internal stimulation. In particular, providing consistent, rhythmic pressure to the G-spot can take oral from a great time to a truly spectacular one.
This pleasure center is less of a 'spot' and more of an 'area', and is often best stimulated by fingers. It's normally found a couple of inches inside the vaginal opening – you can usually recognize it by its different texture to the flesh around it. Curve your fingers up towards your partner's belly button and give it a stroke with the classic 'come hither' motion - adding some touch to this area during oral can really have your partner seeing stars.
Or you can try adding toys to get that G-spot purring.
Interested in this topic?
Sign Up for our newsletter to receive expert advice, sale alerts, and exclusive offers straight to your inbox. Plus, receive 15% off your first order.
Best Toys for Adding G-spot Play to Cunnilingus
Reading Their Body Language
Body language is everything. Some good signs include: breathing harder or deeper; grabbing or tugging your hair; curling or scrunching their toes; spreading their legs wider; and moaning, gasping or telling you to keep going.
Other things you should listen to? If your partner seems like they're trying to direct you with their hands, let them. They've probably got a pretty good idea where they want you to go.
Let Them Know You're Enjoying the Fun
You know that sexy feeling that jets right through you when your partner tells you that you feel so good or taste amazing? Make sure you return the favor and tell them how much you enjoy giving them oral.
More Cunnilingus Tips
Setting the Mood
Not everyone gets in the mood the same way, so we recommend making sure you've got the basics covered: clean sheets, bedroom not too warm or too cool, dirty laundry out of sight. If you want to take things up a notch and go for a romantic feel, you can turn the lights down low, light a scented candle or even play some low, sensual music.
Introducing Sex Toys
G-spot specific toys have been mentioned already, but they're far from the only sex toys you can use to boost your oral technique. May we recommend a fun finger vibe for buzz wherever your touch may go?
Also: anal toys. Oral sex tends to be front-focused, and butt plugs make everything better. Just trust us on this one.
Best Sex Toys for Cunnilingus
Exploring Different Positions
You'll want to find the position that works best for you and your partner. Experiment with what gives you the best depth and angle – best, in this instance, meaning most comfortable and most pleasurable for both you and your partner.
Don't even know where to start? Check out our top 6 positions for awesome oral sex.
Prolonging and Intensifying Orgasms
Edging and Teasing Techniques
Edging is normally talked about in relation to penises, but really anyone who orgasms can delay it. All it takes is getting close to the point of no return and then pausing on the action for a moment.
You can do this during oral with your partner, too. Evidence shows that building an orgasm slowly with edging techniques can make the actual climax itself super intense.
Combining Clitoral and G-Spot Stimulation
So rabbit vibrators. Considered the top tier echelon of dual-stimulation, right? Well, by your powers combined, you too can give your partner a stellar blended orgasm.
It's all about coordinating between your internal finger motions on their G-spot and your tongue movements on their clitoris. Keep this up and it'll blow their mind.
Overcoming Common Challenges
Nervousness and Performance Anxiety
It's okay to feel nervous when you're doing something for the first time, and that goes for you and your partner. That's why feeding back is so important.
Keep your focus on having a great time together, and hearing that actually, they want you to lick a little more on the left won't feel so bad.
Dealing with Potential Discomfort
If things feel uncomfortable, take a break! Physical discomfort can be helped by adjusting your positions or by switching to another activity for a while. If your partner feels uncomfortable, ask them what you can do to help and be ready to change things up.
Cunnilingus Safety and Hygiene
Personal Hygiene and Grooming
There's no better way to say this: hand and mouth hygiene is pussy friendly. If you know you're planning to have an oral sesh with your lover, make sure you've brushed your teeth or maybe taken a breath mint five or ten minutes before you get started.
Similarly, if you're going to incorporate your fingers into the game, it's best to have trimmed nails.
We said earlier that the vulva isn't dirty and that's still true, however, if there's a very strong or fishy odor in your partner's vulva, it could be a sign of an infection or illness, so it's best to shelve the oral for that evening and check in with the doctor.
Safe Sex Considerations
You may have heard that oral sex is a good way to avoid STIs or STDs. Unfortunately, that's not entirely true. Any time your mucous membranes, including those inside of your mouth, make contact with a partner's mucous membranes, there is a risk of passing along infection.
The easiest way to mitigate this risk is to use dental dams, which are square sheets of latex you place on the vulva between your mouth and your partner's skin. If you don't have a dental dam handy, you can use a condom in a pinch – just trim the ends, cut it in half lengthwise and unfold it. The CDC have a great guide showing how to do that.
If you're fluid bonded with your partner or you'd like to be, make sure you both get tested beforehand. Once you know you're clean, you can proceed, provided you're both sexually exclusive with each other.
Safe sex is sexy sex but we know some of you might worry about reduced sensation or less fun. That's where lube and orgasm balms come in handy. Slippery lube helps enhance sensation, as does tingly balm.
Essentials to Boost Cunnilingus Delights
Cunnilingus Aftercare and Emotional Connection
The Importance of Aftercare
Ideally, an intimate session with your partner doesn't end immediately after the fireworks go off. The whole concept of aftercare is centered around making sure you're both feeling good after things start to cool off. You may have heard it's only relevant to kink, but that couldn't be farther from the truth.
If it's your first time exploring oral together, make sure to take some time checking about how things went. If your partner is up for it, this is a good time to cuddle or stroke their skin.
Reflecting on the Experience
We're really in favor of chatting things out with your partner, and right after sex is a great time to do it because everything is fresh in your mind. However, if you both have to get up for work the next day, it might not be the right time for a full consultation on how the experience went. Plus, you or your partner may still be feeling raw or vulnerable.
Make some time to talk to your partner about the experience. Focus on what was good and what both of you would like to see more of next time, if that's what you're both up for. Highlight any parts you may not have liked so you can avoid them in the future.
More Cunnilingus and Sex Advice
More Sexual Happiness Advice
You can never know enough about sex, right? Why not join us on our sexploration journey? Stay up to date with the latest advice on our blog, the Lovehoney forum and the weekly Sexual Happiness podcast.