Cock Ring Sizing Guide: How to Measure for a Cock Ring
Put a properly-sized ring on it with our guide to measuring for cock rings!
So you've decided to get yourself a cock ring. Good for you! Cock rings (also known as "penis rings") host a bevy of benefits, like the potential to induce harder, longer-lasting erections and the provision of extra stimulation. Now you're probably wondering, "what size cock ring do I need?" Well, that depends on your measurements, friend! Follow our guide on how to measure cock ring size to find your penis's best fit.
Cock rings our customers go crazy for
Why Measure for a Cock Ring?
Like any other type of wearable item, you won't reap the benefits of a cock ring if there's an improper fit. Too loose of a penis ring may cause it to fall off during use; too tight of a cock ring can constrict to the point of discomfort or pain. Do yourself and your dong a favor and channel your inner Goldilocks by getting your cock ring sizing juuuust right.
How to Measure for a Cock Ring
You'll need a few supplies on hand (and later on cock) before you find out what size cock ring is best for you. So grab some string, a ruler, and a marker, and you'll be ready to start your penis ring sizing journey!
Step 1: Determine your ideal cock ring placement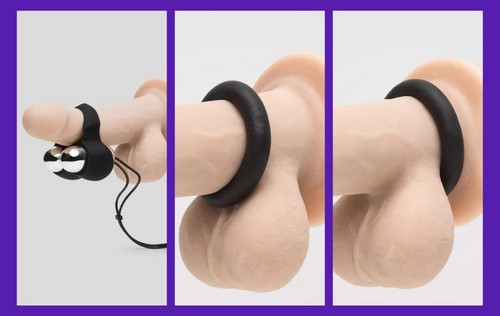 There's no singular proper way to don cock rings, so you'll need to decide how you'd like to wear yours before the measuring process takes place.
Some people place cock rings around the base of their penis and behind the balls, others just in front of the testicles and at the beginning of the shaft, and some directly behind their cock head.
However you choose to sport your cock ring, it's important that you measure around the part of your peen where your cock ring will rest.
Step 2: Wrap the string around your flaccid penis
Take the string and wrap it around the portion of your soft pecker you plan to wear your cock ring. The string's fit should be relatively tight but not so tight that it causes pain or discomfort. For a proper fit, you'll be able to juuuuust fit a single finger between the string and your peen.
Step 3: Mark the string and measure it
Mark both sides of your string right where they meet each other. Then, lay your string flat next to a ruler and measure the distance between your marks; that measurement reflects your ideal cock ring circumference.
Some penis ring sellers use diameter instead of circumference for their sizing. No worries - you don't have to undergo a completely different measuring process; all it takes is a simple math equation. Divide your circumference measurement by 3.14159, and BAM! You've now got your ideal dick ring diameter.
Step 4: Repeat steps 2 and 3 on your erect penis
With your dingaling now hard, repeat the string measurement process (using a new piece of string to avoid confusion) on the same portion of your penis that you took the first measurement. The circumference of your erect and flaccid cock should be roughly the same. If your measurements are wildly different from each other, something went wrong, so you'll need to go back to square one. If you're STILL getting crazy different circumferences on your second try, just use the average measurement between the ones for your hard and soft johnson.
Cock Ring Size Chart
Penis Circumference
Cock Ring Diameter
Shop Cock Rings
5"
1.6"
5.5"
1.8"
6.25"
2"
7"
2.2"
7.1"
2.4"
8"
2.6"
Consider Adjustable Cock Rings
If you don't want to bother with measuring for a penis ring, adjustable cock rings will be right up your alley! An adjustable cock ring is also a stellar option for those interested in letting their partner(s) wear the c-ring on occasion.
An adjustable penis ring to write home about
We-Vibe Bond App Controlled Rechargeable Wearable Vibrating Cock Ring
High-tech and highly customizable, the We-Vibe Bond very well may be the crème de la crème of adjustable cock rings. The Bond features a Custom Fit link to help users find their perfect size and a quick-release function so you can take your c-ring off at a moment's notice. App-compatible with 10 vibration modes to explore, wearers and their partners will delight in controlling the unique penis ring using their phones or the easy-to-operate included remote.
What customers say: "The perfect toy for men. You can wear it different ways on your penis to provide both partners joy. Makes the penis solid hard and provides great pleasure."
Types of Adjustable Cock Rings
Lasso-Style Ring
Lasso cock rings are super duper easy to adjust to your exact size needs. Their simple yet genius design consists of only a looped string of silicone and a toggle connector that you can slide up and down to adjust the penis ring's size.
Recommended lasso-style cock ring
Tracey Cox EDGE Maximum Control Adjustable Stamina Ring
Boasting a thick, strong silicone makeup, this adjustable lasso-style cock ring was built to last and built for you! Simply slide the penis ring's toggle to the best position for your member's size and rock on with your cock ring on!
What customers say: "Being new to rings I found the ones I initially tried were too tight, this allows me to set it to a comfortable size and train myself to go tighter as I get more confident. I use it a lot!"
Stretchy Cock Rings
Though not technically adjustable, stretchy penis rings feature a one-size-fits-most design that takes the guesswork out of cock ring sizing and the discomfort out of wearing an improperly fitting penis ring.
Recommended stretchy cock ring
BASICS Vibrating Rabbit Cock Ring
Both in terms of maximizing your own and your partner's pleasure, you can't go wrong with the super-stretchy BASICS Vibrating Rabbit Cock Ring. The wearer will rejoice in the stimulating ribbed inner panel gripping their penis and the strong vibrations the attached bullet vibrator delivers. Users' clitoris-owning partners, too, can enjoy the buzz thanks to the bunny-eared design that protrudes to reach and rumble against the clit with each thrust.
What customers say: "If I had of known the stimulation and pleasure this gives, I would have introduced toys like this into our sex life years ago, better late than never though."
More Tips for Choosing a Cock Ring
Now that you know your size, you can delve into the more fun aspects of choosing a cock ring! There are so many different designs and features to choose from to enhance your and your partner's pleasure. Ask yourself the following when browsing for penis rings to help determine which one hits the mark on your cock ring goals:
*What type of stimulation do you like - do you enjoy vibration? *What primary purpose do you want your cock ring to serve? *What materials feel best on your cock? *What is your partner's anatomy? *Would you like additional erogenous zones beyond the penis to be a main function?
Keep your answers to the above questions in mind and head over to our list of the Top 10 Best Cock Rings to find your penis's perfect ring!
More Sexual Happiness Advice
You can never know enough about sex, right? Why not join us on our sexploration journey? Stay up to date with the latest advice on our blog, the Lovehoney forum and the weekly Sexual Happiness podcast.