How to Make Your Penis Bigger
From visual effect to pleasing their partner, there are lots of reasons why people with penises may want to increase their size...
If you're unsatisfied with the size of your package, you're not alone.
According to a study by the University of Sheffield, 45% of men would like a larger penis.
At the end of the day, there's not much you can do about the size of your penis. Apart from surgery, injections or implants, all of which can cause complications, there is no permanent way to increase penis size.
But don't worry - toys, creams and pills can be a great way to temporarily boost your size and enhance your erections.
This guide will walk you through how to get a bigger penis safely using sex toys and other alternative methods. Whatever the reason, we'll help you find a way to increase penis size that works for you; from pocket-friendly quick-fix options to longer-term penis enlargement investments.
Does size matter?
The age-old question that has puzzled mankind since the dawn of time - "does size matter?"
Well, this may be tough to hear, but no one is thinking about the size of your penis as much as you are. We are often our own harshest critics when it comes to our bodies and can spend lots of time being overly self-critical.
Thanks to mainstream media and pornography, there is an expectation that bigger is better when it comes to penis size and sexual satisfaction. But this isn't necessarily the case.
According to American Sex Therapist, Kim Ronk, "Being in tune with your partner and feeling confident with your sexual self are more important qualities than size."
It's also important to remember that every body is different, and while one penis may be the perfect size for someone, it may be too big or too small for someone else.
However, if you find that penis size is a real concern for you, there are options out there to make your penis appear and feel larger.
Just remember, it's not the size of the wave but the motion in the ocean!
Is there a way to make your penis bigger?
Yes and no.
While options like surgery and implants provide a more permanent solution, the risks can often outweigh the benefits.
The American Urological Association considers neither fat injections nor suspensory ligament division procedures to be safe or effective.
Luckily, there are plenty of sex toys out there that can help you gain length and girth. Although the results may be temporary, toys are a much safer method to increase size when used properly. They can also come with added benefits like textured ridges and vibrations to increase your partner's pleasure (and your own).
Don't forget that while these methods may work for some people, results will vary. Don't get too disheartened if one method doesn't work for you.
How to make your penis larger using sex toys
Size certainly isn't everything, but if you want to experiment with a bigger penis, sex toys could be your answer
If you've ever found yourself wondering how to make your dick longer or thicker, toys like penis pumps and extenders are a great way to safely add some extra inches to your package.
When it comes to penis enhancement toys, there are lots of different options for all shapes and sizes. So, if you want to know how to get a bigger penis safely, keep reading...
Cock Rings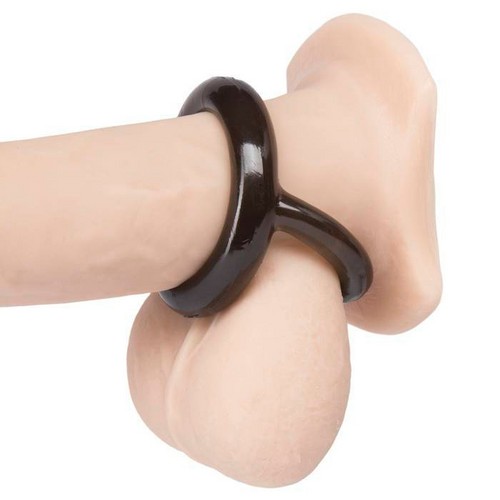 Cock rings (also known as "penis rings" and "love rings") are designed to sit at the base of the penis to restrict blood flow. Restricting blood flow can delay ejaculation and result in a firmer erection.
By keeping the blood where you want it, a cock ring can temporarily make your penis look and feel bigger.
The Lovehoney Bionic Bullet Vibrating Cock Ring is one of our most popular penis rings because it not only restricts blood flow for a
rock-hard erection but also transmits powerful vibrations through smooth silicone for heightened pleasure during sex or masturbation. You can also try a set like Lovehoney Get Hard Extra Thick Silicone Cock Ring Set to find the size that best suits you.
Safety Tip: While most cock rings are made of soft, stretchy silicone, make sure to check the size before you buy and add some lube to ensure a really comfortable fit.
Penis Pumps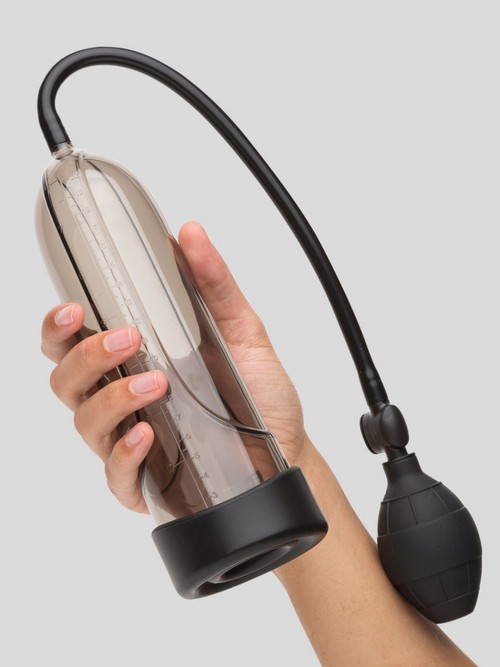 Penis pumps are designed to instantly enhance the size of your penis by increasing blood flow. When the airtight cylinder is placed over the shaft, the suction will increase and encourage blood flow. The tissue then expands, giving you a longer, thicker penis. They also produce a firm, reliable erection without the need for pills or supplements.
With regular use, penis pumps can have a longer-term impact on your size. Just remember to keep using your pump if you want to maintain any results you may see.
If you're interested in trying a penis pump, we recommend the Tracey Cox EDGE Ultimate Performance Stamina Penis Pump. This affordable option is a great choice for those who want to experience the benefits of a pump for the first time.
Safety Tip: Because this toy influences blood flow, it's important to not wear your pump for longer than 20 minutes at a time to minimize any risks and keep you safe.
Penis Extenders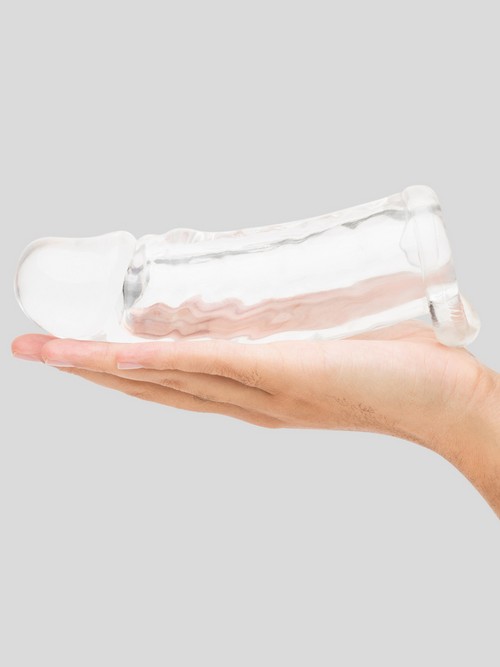 If pumps are a little intimidating, Penis extenders are perfect for adding instant length and girth with guaranteed results - If you've ever asked the question "how do I make my penis bigger?", this could be the toy for you.
Extenders come in all shapes, colors and sizes and are easy to use, making them an ideal first penis enhancement toy. Once erect, just slide yourself into the sleeve and secure it using the attached ball loop.
Smooth or ribbed for extra sensations, penis extenders are the perfect toy for those who want to treat their partner to a little something extra. You can even take things to the next level with a vibrating model for some dual stimulation.
Penis extenders are also great for those who want to alleviate the symptoms of premature ejaculation or erectile dysfunction because the extender stays rigid, despite the size or firmness of your penis inside.
Safety Tip: To keep everything comfortable down there, make sure to add a helping handful of your favorite water-based lubricant to your extender before use.
Strap-Ons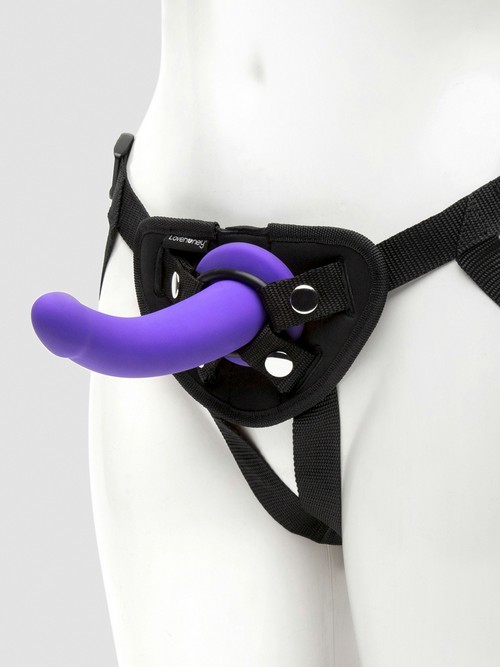 Despite popular conceptions, strap-ons are some of the most versatile toys out there and can be used by people with penises.
The term "strap-on" can refer to a harness and dildo kit, a strapless strap-on or sometimes dildos with a built-in elastic strap. While typically used by trans men or those without a penis, hollow strap-ons are great for penis-owners looking to increase their size.
And they can do much more than add a few extra inches to your manhood. Many include powerful vibrators or even multiple shafts for double penetration play.
Hollow strap-ons are also suitable for users hoping to delay ejaculation or those with erectile dysfunction.
Safety Tip: When using a hollow-strap on, make sure to use some lube to keep you and your partner comfortable.
Video: How to Make Your Erection Bigger
Watch our resident sexperts Jess Wilde and Annabelle Knight give you some tips and tricks on how to get a bigger penis using sex toys.
Other ideas for how to make your penis larger
Aside from surgery and sex toys, there are a couple of other ways to increase penis size:
Pills - you've probably heard of little blue pills before, but did you know that they use natural ingredients to boost your erection and penis size?
Creams - like penis pumps, male enhancement creams increase blood flow to the area and give the appearance of a larger cock.
Manscaping - if the idea of putting something in or on your body doesn't appeal to you, why not try some manscaping? By shaving your pubic hair, your penis can seem bigger as more of it is exposed.
Get turned on - if you're more of a "grower" than a "shower", sometimes, increasing your penis size can be as simple as doing something that really gets you hot under the collar to achieve a full erection.
Try These Penis Enlargement Toys
More Sexual Happiness Advice
You can never know enough about sex, right? Join us on our sexploration journey via the thriving Lovehoney forum, our weekly Sexual Happiness podcast and our blog.