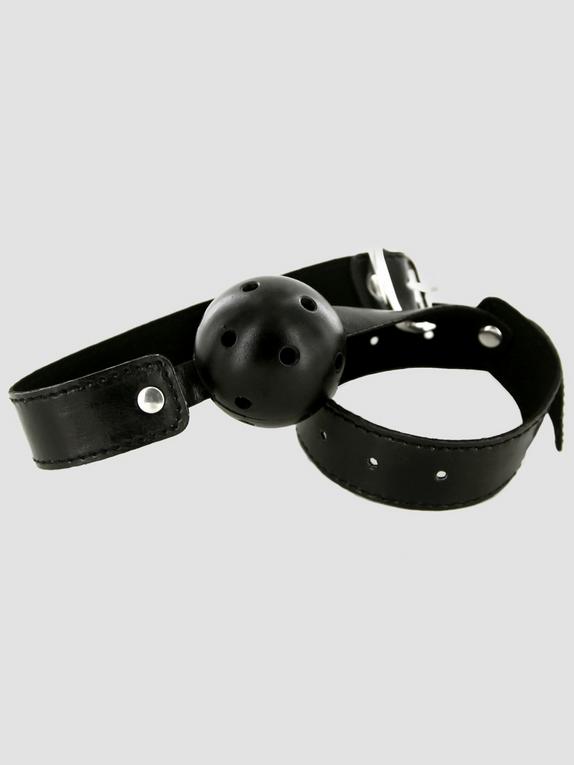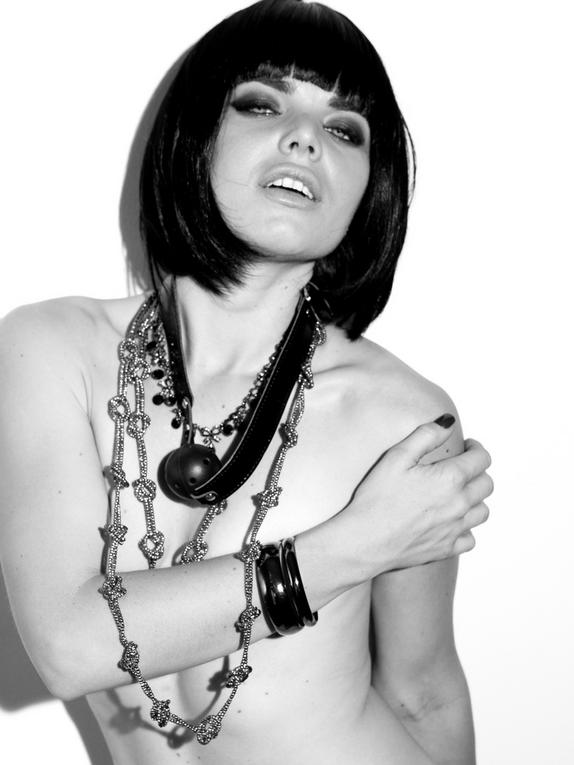 Sex & Mischief Breathable Ball Gag
Last chance! This product is not going to be re-stocked!
Plastic ball gag with 1.75 inch diameter
Breathable ball with holes
Fully adjustable faux leather straps (between 17 - 24 inches)
Suitable for first-time gagging play
Buckle closure
Easy-to-wear, this aerated ball gag is perfect for beginners who want to experiment with gagging, Made with faux leather, it features a 1.75 inch diamater plastic ball with aerated holes. A comfortable way to enhance S&M play.
With a fully adjustable strap, this gag will fit heads measuring between 17 - 24 inches in circumference.
Numerous holes throughout the hard plastic ball make this gag both breathable and easy-to-wear.
100% vegan and a great alternative to leather gags.
WARNING:Cancer and Reproductive Harm - www.P65Warnings.ca.gov
Bondage Advice
If you're looking to dip your toes into the world of Bondage and BDSM, our advice guides are here to help you get started in the easiest possible way.
Frequently bought together
Popular combos for more sexy fun
Customer reviews
4.1
4.1 star rating
24 Reviews
4.1
4.1 star rating
24 Reviews
Thank you for posting a review!
We really appreciate your opinion and hope to see you again soon.
Thank you for posting a review!
Your review was sent successfully and is now waiting for our staff to publish it.
Search reviews
5.0 star rating

4.0 star rating

3.0 star rating

2.0 star rating

1.0 star rating
Good Entry Level Gag
Review by Jrob1 on 7 Sep 2015
review stating Good Entry Level Gag
I bought this for my girlfriend as we were both interested in experimenting with gag's and this one seemed like a good place to start. We had no issues as we started to use it, and the holes in the ball were a huge help in allowing her to continue to breath while being gagged. Unfortunately the flip side of this was that the gag itself was very hard and did not sit very comfortably in her mouth. I also noticed that the leather strap that runs through the middle of the ball tended to cut into her skin if it was on too tight, resulting in small red marks on the side of her mouth for the next day or so after use. Finally the gag itself actually broke in half after about 6 months of use, splitting along the seam where the two halves of the plastic mould had been fused together In summary this gag is a good, cheap way to introduce someone to being gagged and allow them to become familiar with the sensation, but in the long run it isn't overly comfortable, nor is it very well made.
Pros:
Breathing holes. Price.
Bottom Line:
Good intro gag.
Cons:
Hard plastic. Poor quality.
On Sex & Mischief Breathable Ball Gag
Great first time ball gag
Review by Eimc94 on 28 Apr 2015
review stating Great first time ball gag
This product was my first ball gag. The breathable holes make it very practical and excellent for anyone who's new to ball gags. The strap allows for various settings depending on what you find comfortable. The only problem I had with this particular gag is I found the ball made my jaw ache as I only have a small mouth so I downgraded to a smaller ball. If you don't have this problem then this gag should be great for you!
Bottom Line:
Great piece for introduction to gags.
Pros:
Practical breathable holes.
Cons:
The ball was slightly too big for me personally.
On Sex & Mischief Breathable Ball Gag
Middle of the road quality at a reasonable price
Review by Loveandsex409 on 13 Apr 2015
review stating Middle of the road quality at a reasonable price
Overview: This product is underwhelming. Sure it has everything that a ball gag has but it's truly missing something. The ball itself feels cheap and small, which is what you pay for. The straps are also too big for head sizes of smaller people, so be prepared for modifications to the straps. The straps that connect to the ball themselves can at times be painful to the sides of the mouth with is a large drawback to this product. Packaging: The box as always is sleek and to the point. It's got the classic black and white scheme and a model on the front. Nothing creepy or trashy, no nude porn actress spread eagle. Quality: The gag itself is made of a hard PVC plastic, the straps most likely made of a pleather substance and the buckles are made of metal. The overall quality of these items is slightly lacking, however for the price it's not terrible. The gag has seems to it where the plastic was molded which are not nice to look at. However the holes are nicely drilled and allow the passage of air. The pleather straps feel slightly cheap but durable as do the buckles. Overall quality is middle of the road but you can't really get better for the price. Comfortability: This is slightly harder to judge because everyone has different head and mouth sizes. However if you have a smaller head like my girlfriend (she is 5'4" so we get a both extremes for sizes since I'm 6'2") you might find that this gag is too large and won't strap tighten around your head. During our experience we noticed that it would not stay firm around her head so I would recommend drilling or poking new holes to accommodate yourself if it does not fit correctly. The straps that connect to the gag are very uncomfortable in the long run. As you drool and move your lips during play you will feel a very uncomfortable feeling in the sides of your mouth. This is caused by the plastic strap that allows the ball to slide side to side. I could not find a way around this problem so please take not of it. Ease of use: This product is extremely easy to use. There's no set up and it's very quick to use. Just place the ball in your partners mouth and tighten the straps. Safety: This product is pretty safe, it's easy to take off so if your partner no longer wants it on you can take it off with ease. The only safety concern is the abrasions you will encounter on the sides of your mouth as previously mentioned. Monitor this as to avoid bleeding. Weight: This is extremely light weight. The plastic ball is the heaviest part and that maybe weighs 10 ounces. The straps are practically weightless so you'll hardly feel it weighing your head down. Look: This gag looks fantastic, it's all black and has metal accents. The blacks match well so the pieces blend into each other. This is a hot toy to have. If you're interested in getting it you'll be happy with the way it looks in your partners mouth. Storage: This product is relatively small and can be stored with ease. It's easy to pack away and travel with. It will fit in any bedside drawer. Just be sure to clean out the breathable holes with toy cleaner. Features: A breathable ball gag, that's the main point of the toy. Price: This product is well priced. It's not cheap but you do get what you pay for. There isn't any sort of scam with this product. If you pay a little more you can get better products. His point of view: I personally enjoy using this product. I love putting it on my girlfriend. It works really well for what we do. It's hard to add anything else than what I already wrote but I would honestly say this was a good purchase. In the future we will be looking for other gags that are better and do not hurt to use for long periods of time. Her point of view: Personally, I would prefer using a larger ball with smaller straps. I was able to wiggle the ball around and push it out of my mouth, even when we tightened the straps as much as possible. I can almost completely close my mouth around the ball, so I would recommend a larger diameter for most people, beginners included. However, for its price, it's not a bad addition to the toy drawer. Conclusion: For the price you pay you get a well rounded gag of decent quality. The gag works well and does exactly what it's supposed to. The ball could be bigger and the straps for offer more holes. Also keep in mind the problem with the straps that contact the sides of the mouth. Keep an eye out and listen to your partner.
Cons:
How small it was, the plastic straps.
Bottom Line:
Not a bad purchase for the price, be aware of the straps.
Pros:
The price, colour, ease of use .
On Sex & Mischief Breathable Ball Gag
Great for beginners
Review by Stefwright1988 on 1 Mar 2015
review stating Great for beginners
We have been trying with BDSM for a little bit now, we weren't sure if we would like a solid gag so decided this would be best to start with (the Bad Kitty restraint kit came with a rubbed gag anyway). This is definitely fun although it does take a little bit of getting used to when you first try it. I definitely recommend this to anyone starting out with BDSM, you won't regret it
Bottom Line:
Great product to start with.
Pros:
Perfect size to start off with.
Cons:
The smaller strap can feel a little bit sharp.
On Sex & Mischief Breathable Ball Gag
Great gag
Review by Chris9898765 on 10 Nov 2014
review stating Great gag
This gag is a good size for beginners to bondage play. this product is also breathable which also makes it perfect for beginners. The Gag is well made out of plastic so it is durable. In my experience this gag add the next level of fun in bondage play for beginners who haven't used gags before but are thinking about using them.
Bottom Line:
Great for beginners.
On Sex & Mischief Breathable Ball Gag