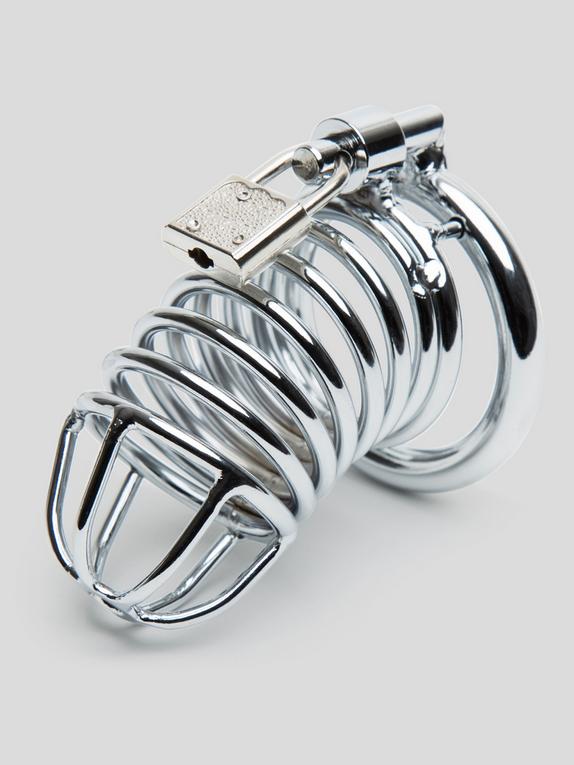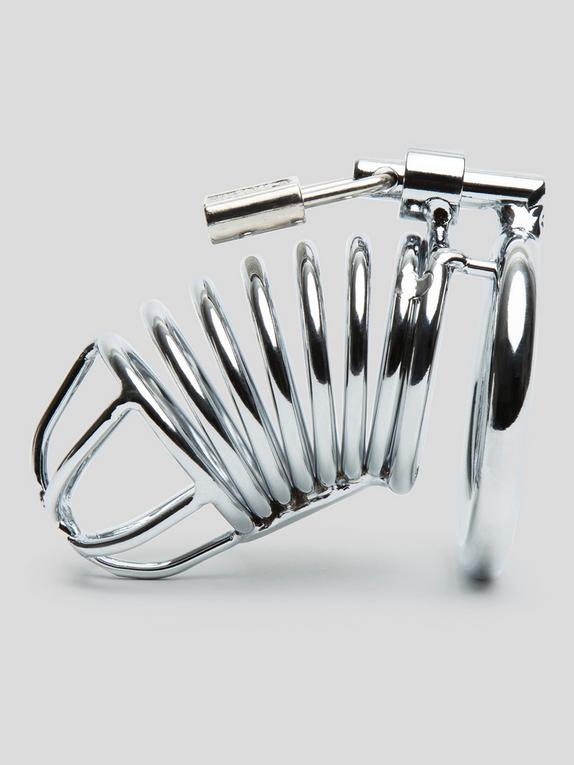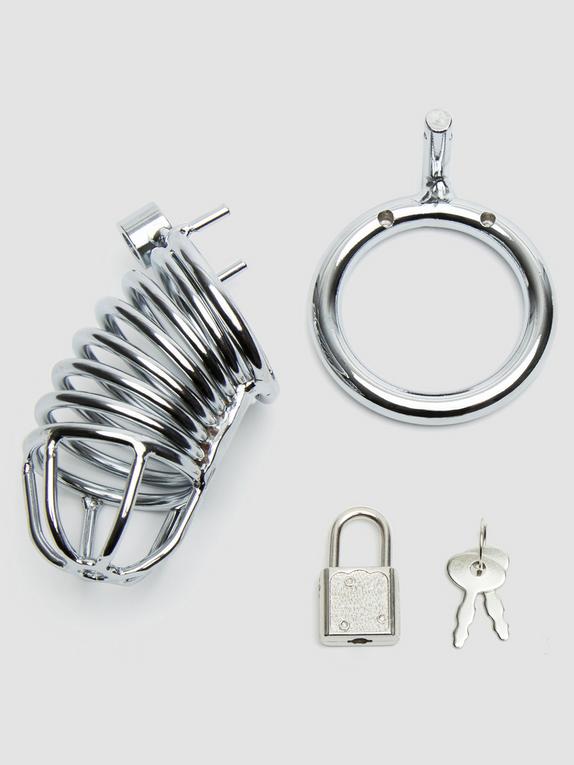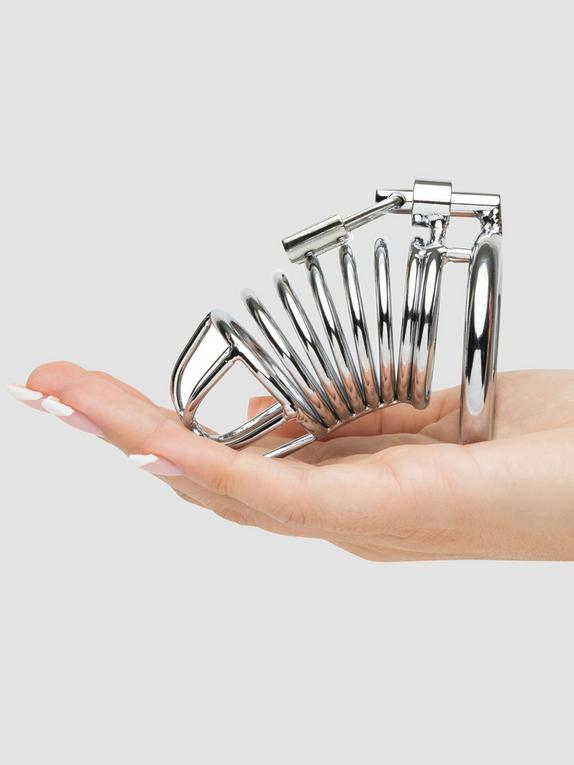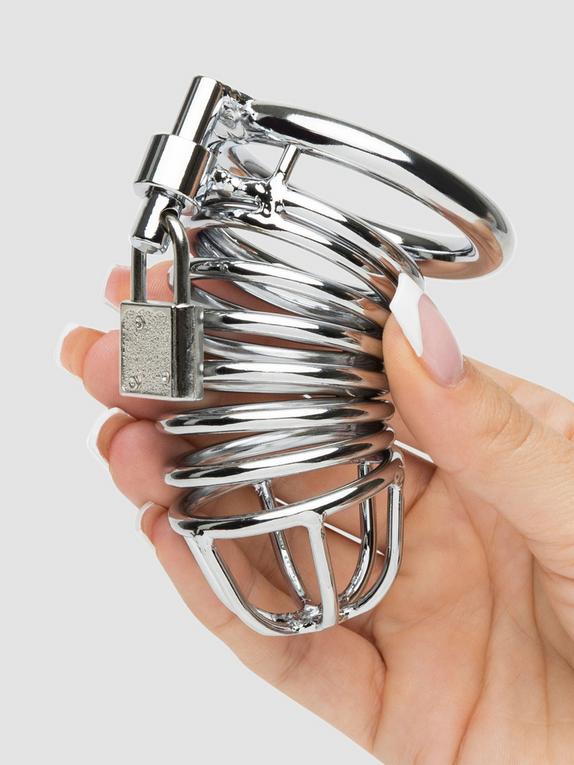 DOMINIX Deluxe Chastity Cock Cage
Last chance! This product is not going to be re-stocked!
Solid metal cock cage for orgasm denial play
Simple 2-piece design makes it easy to use for anyone wanting to try penile restriction
Open rings and end for ventilation, easy cleaning and bodily functions
Features a padlock and 2 keys
Chastity is the name, cock cages are our game. Starring more spirals than a slinky, you can sandwich his sausage in solid steel, sealing him in an unsatiated state.
A restrictive, solid design, leaving only 0.5 inch for his balls to rest, this cage is best suited to more experienced users who want to experiment with long term wear.
An open end allows for delectable teasing of the sensitive head, as well as easy cleaning. You decide how long your slave is subdued by padlocking in place and giving control of any of the 2 keys to whomever you choose.
As with all cock cages, always remove before sleeping.
WARNING:
This product can expose you to harmful chemicals. For more information,
please click here
How it Measures Up

How it Feels
Product videos
Chastity is the name, cock cages are our game. Starring more spirals than a slinky, you can sandwich his sausage in solid steel, sealing him in an unsatiated state.
Bondage Advice
If you're looking to dip your toes into the world of Bondage and BDSM, our advice guides are here to help you get started in the easiest possible way.
Frequently bought together
Popular combos for more sexy fun
Customer reviews
4.1
4.1 star rating
66 Reviews
4.1
4.1 star rating
66 Reviews
Thank you for posting a review!
We really appreciate your opinion and hope to see you again soon.
Thank you for posting a review!
Your review was sent successfully and is now waiting for our staff to publish it.
Search reviews
5.0 star rating

4.0 star rating

3.0 star rating

2.0 star rating

1.0 star rating
Very good experience
Review by Verified-Customer on 22 Mar 2021
review stating Very good experience
This is my first foray into the art of cock caging, and I'm pretty happy. It's clean, affordable, and gets the job done.


-Beware if you have a very large penis because it might not fit (I am 'thankfully' painfully average, and a grower not a shower.)
-Getting the ring on around the sack in particular takes some getting used to. I use lotion to kind of butter everything up before it slides in. It's a pretty tight fit, but as long as it's loose enough to slide art of your finger in, you're all good.
Pros:
Affordable and simple
Cons:
There could have been instructions/advice how to use it; the internet filled that gap.
Bottom Line:
Very good for one who wants to get into restraining the dick and also balls!
On lovehoney
J
Justanotherkinkystraightguy
Great cage (my first one)
Review by Justanotherkinkystraightguy on 5 Mar 2021
review stating Great cage (my first one)
This is the first cage I ever tried.  Feels solid, quality build. Unlike the complaints in other reviews, I do actually fit in the device and my cock has not yet reached the end of the cage :| My girth is restricted far more than my length.

The cage is sturdy, no sharp or rough surfaces to worry about. Howeve, the two prongs used to keep the cage from twisting can be challenging to place into the holes in the ring without pinching your skin.  When putting on, I find the biggest challenge to be getting soft enough to get my cock through the ring after I get my balls through. A little lube makes it much easier to get myself through without pinching or pulling my skin.

As it's your balls that keep the cage locked onto and close to your body, the cage tends to work its way slightly down my shaft rather than remain secure at the base of my cock. So the restriction against my hardon begins on the last 2/3 of my cock rather than the whole thing.  I always imagined cages would remain secure at my base so this was a bit disappointing and could affect long term use. This issue does looks like it would apply to any cage though & not just this one.

I will say there is NO chance that your balls will ever accidentally work their way out of the cage. Once you're locked in, you are definitely not getting free unless your key holder is willing to release you. That much is absolutely certain and the most scary & exciting part of being caged.

Daily challenges:  I first wore the cage for about two hours after I put it on as I ran errands. Sitting down takes a bit of getting used to. I needed to recline my car seat a bit so I could lean back while I drove. The issue is pressure and uncomfortability on my balls while sitting. While standing there is pressure but not too much. I'd have to wear longer to see if I started turning purple or blue. The two hours I wore it were not enough to fairly determine if I could go for days or weeks without removing. Sleeping is also something I would need to learn how to do. I normally sleep with a pillow between my legs. Even with that, my legs were still too close together and put too much pressure on my balls to remain comfortable. Sleeping on my stomach proved to be impossible as well so the only option is on my back.
Wearing the cage doesn't necessarily show too much in my jeans. My work uniform did show the cage but not a lot. It is noticeable if for any reason someone happens to glance at your cock. For its size though, it is rather discreet.

Long term wear with any cage will cause chafing & uncomfortable rubbing on your skin. Using petroleum jelly around the ring will significantly reduce the friction but also I think it's what causes the cage to slide down from the base of my cock. It's a necessary evil it seems. The lock itself seems to be made of questionable quality. Every time I click it shut I wonder if the key will actually open it or cause it to jam. Has worked so far during the 5-6 times I used it.

Lessons learned: I was lazy & didn't measure myself before ordering. Before getting another cage I'll definitely measure to get one with a proper fit. This cage fits well for not being specifically tailored to my specific measurements. I have a lot of experience tying & being mean to my balls. If this is your first cbt experience it may take longer to get used to. Be gentle, you don't want to damage yourself.
Pros:
Love being caged. High quality, solid construction
Cons:
Slides down from the base of my cock. Not a hit this specific cage, probably applies to all cages
Bottom Line:
Great cage. Solid construction. Measure yourself before buying any cage.
On lovehoney
share
' Share Review by Justanotherkinkystraightguy on 5 Mar 2021
facebook
facebook Share Review by Justanotherkinkystraightguy on 5 Mar 2021
twitter
twitter Share Review by Justanotherkinkystraightguy on 5 Mar 2021
LinkedIn
linkedin Share Review by Justanotherkinkystraightguy on 5 Mar 2021
Was this review helpful?
0
0
Cage
Review by Verified-Customer on 23 Feb 2021
review stating Cage
Arrived on time. Great quality. Excellent fun
Pros:
The excitement of using it for the first time
On lovehoney
Wicked fun!
Review by Verified-Customer on 18 Feb 2021
review stating Wicked fun!
Iv had this on for a little more than two weeks, after posting the keys to my "toys" owner in Oz! She'll send them back when she deems fit and my god it feels amazing wearing this! Comfortable and easy too on put... slightly heavy but after an hour or so you wouldn't even feel the weight! Being locked up in this way is a great way to prove you're loyalty to your dom and that in and of itself is reason enough to buy this! I'm not a big man, just slightly above average and it's quiet tight even when I'm soft so you Humore heavily hung gents may need something bigger!
Cons:
Slightly weightier than expected but you'll get use to it!
Pros:
Sliding it on feels stunning, wearing it for long periods, even better!
Bottom Line:
A must buy for any man wanting to please his owner! Prove to her your hers and buy this!
On lovehoney
Warning
Review by M M. on 13 Feb 2021
review stating Warning
The cage itself is fantastic, quality made & finished, exactly as described, but..., fortunately for my wife & I, testing the padlock beforehand saved us from what could have been an embarrassing situation, the supplied, very poorly made, thin, 'tin' padlock, completely collapsed within itself. A trip to the local hardware store, well known branded brass padlock for $5, solved the problem. We feel that this is something that Lovehoney should look into. Other than that, our first purchase from you was easy, reasonably priced with fast delivery. Thank you,
M & M
Cons:
The supplied padlock, absolutely disgraceful this garbage supplied with the quality of the cage.
On lovehoney